The42.ie / YouTube
This post is part of The42′s Facing History series, supported by Cadbury Boost. To read more, click here.
THE FIRST MEMBER of the Mount Albert Grammar First XV we meet is Isaiah Papali'i, the openside flanker who was named schools player of the year for the whole of New Zealand.
With a wide back – he is also a powerlifting champion – respectful manner and a firm handshake, the powerful back row seems mature beyond his years.
'Ice' still has a final term of school to finish, but already the New Zealand Warriors – Auckland's rugby league franchise – have signed him to come across to the 13-man code permanently next year. The NRL awaits, a potential union star lost to league.
Papali'i was one of the key men in Mount Albert Grammar School's drive to the Auckland 1A, Blues region and National First XV Championship titles this season – the school's third national title in their history.
Six of the other members of the team have already signed deals with the Auckland Rugby Union to ensure they will make first steps onto the professional ladder in 2017. Others may follow that route too.
We visit MAGS – as the school is known – on the final day of the third term of the year – New Zealand's secondary schools' calendar runs from February to December – and only weeks after they claimed the National First XV title. Spirits are understandably high.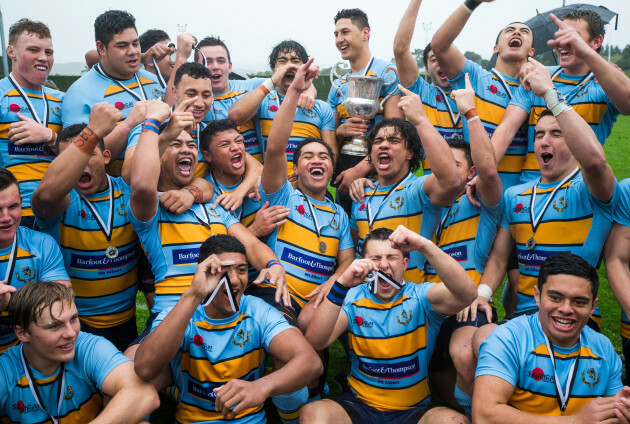 Inpho / Photosport/John Cowpland MAGs celebrate their National First XV final win over Hastings Boys' High in September. Inpho / Photosport/John Cowpland / Photosport/John Cowpland
Geoff Moon is the director of rugby and First XV head coach at the school, which has produced Sonny Bill Williams, Steven Luatua, a host of New Zealand league internationals, and 10 former All Blacks including Bryan Williams.
We meet at his office close to the school's pristine playing fields, where he tells us there are 10 rugby teams in total at MAGS – the First XV, Second XV, U16, U15 and U14 sides, as well as weight-graded teams at each of those age grades.
"You could be a little fella at U14 and play in restricted-weight grade with people your own size," explains Moon, who is also an assistant coach for the Auckland Mitre 10 Cup team. "We're trying to capture all boys and they grow at different times."
Some will choose open-weight grade, of course, but Moon stresses that the school's chief concern in rugby is to breed a love of the game among the students who opt to play the sport.
MAGS is a mixed school of around 2,700 students, and while they don't offer 15s rugby to girls, there is a popular female 7s team. Boys play 7s and touch rugby too, while the school also offers a rugby league team for those students more inclined that way.
"We embrace it and really respect rugby league, it's a really good game and we enjoy watching it. It's not a threat.
"We let our boys choose. 'Ice' is a Warriors signed-player, but he chose to play in the rugby [union] programme while at school because he thought it was better for his development and that he would grow more in this environment."
The school, located in central Auckland, is state-run and takes in students from its 'zone' in Mount Albert, which is a relatively prosperous suburb.
There are two heated indoor swimming pools, tennis courts, astro-turf pitches, a library, even a 15-hectare farm at MAGS. The only thing they don't have is a modern gym for the rugby team – although Moon and his players love their dusty shed and selection of free weights down the back of the grounds.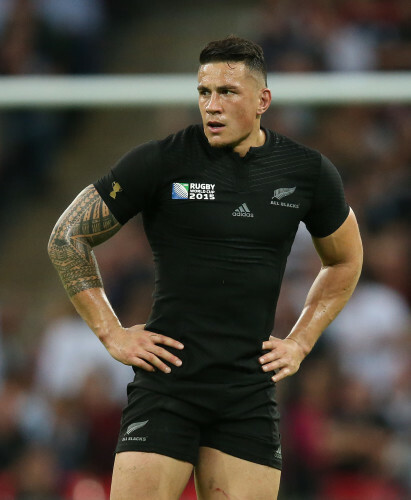 INPHO / Billy Stickland Sonny Bill Williams is one of MAGS' most famous alumnus. INPHO / Billy Stickland / Billy Stickland
Despite the apparent willingness of parents and alumni to donate resources, Moon says MAGS don't offer scholarships to players at First XV level, preferring to bring their own players through from Year Nine up.
International students living in the 'school house' do incur fees in the region of NZ$12,000 for the year, and some of those are rugby players, although the vast majority of students are from the local area.
Rugby is a big deal in MAGS, but Moon says that the "magic" of the school is that they do not prioritise any single sport.
"We don't think we're better, we don't think we're bigger," says Moon. "We have a magnificent netball team here, who have been New Zealand champs for five years in a row.
"We have a girls football team here, which is doing the same. Our cricket team have been top of New Zealand. We have a lot of success in sport, so we have a culture between our sport – which rugby is part of – where we all respect each other, learn from each other and support each other."
Rugby, however, is Moon's forte and his job. He was previously forwards coach of Bristol in the Premiership, also managing the club's academy for a spell. Moon has also coached the Blues Development side, Blues Colts, and at other schools.
Things could not have gone any better for MAGS in 2016. A clean sweep of the trophies, 22 wins in 23 games. Moon saw the single defeat during the Auckland 1A regular season as a valuable lesson for his team.
The highly-rated captain and lock Waimana Riedlinger-Kapa, prob Robert Cobb, second-five-eighth Paul Roache and centre Caleb Clarke all went on to play for New Zealand Secondary Schools this month against Fiji and Australia.
Fullback Niven Longopoa was on the New Zealand Barbarians team – essentially, the national schools B team – against the same opposition. Prop Michael Palmer was part of the wider training squad.
MAGS' Second XV also won the Auckland Championship this year. Those players will make up the First XV in 2017 and travel to Japan in April to take part in the prestigious Sanix World Rugby Youth Invitational Tournament.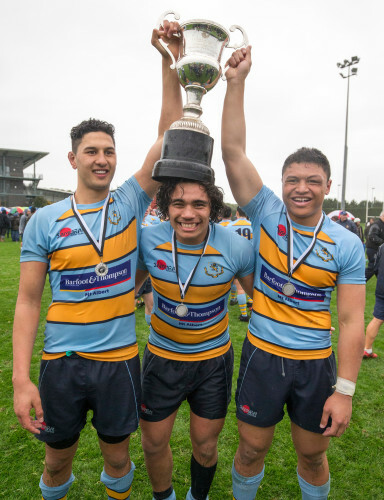 Inpho / Photosport/John Cowpland Captain Waimana Riedlinger-Kapa, openside Isaiah Papali'i, and centre Caleb Clarke. Inpho / Photosport/John Cowpland / Photosport/John Cowpland
Clearly, the rugby programme is doing many things right.
The physical talent of youngsters in this region of New Zealand is well-known, particularly with such a Polynesian influence, but a core part of Moon's philosophy at MAGS is ensuring that the players understand rugby.
"We do quite a bit of analysis to teach the boys," says Moon, who also teaches PE at MAGS.
"At First XV level here, we have a tactical group who coordinate game plans, work out our strategies with the coaches, design plays, analyse opposition lineouts, and change game plans on the field.
"We do that with 16 and 17-year-olds because that's part of their development. The tactical group meets twice a week in the classroom and we plan and organise our game plans and tactics for the next game."
That process allowed MAGS to implement a variety of game plans this season, something that was key in their national success, particularly as several of their key games were played in testing weather conditions.
First XV rugby is hugely popular in New Zealand and Moon admits that brings with it some unique challenges.
"We had six or seven games this year on TV," says Moon. "For young players, that's a challenge in terms of controlling parents' behaviours and parents' expectations around them getting a bit selfish, towards 'my kids has to get selected, my kid has to play.'
"We get a little bit of that, but we've controlled it pretty well."
Fascinatingly, Moon also explains that the popularity of social media has made his job all the more difficult.
"Social media is terrible for young people. We find our players are struggling to talk on the field. They're device-driven. We find that they can't talk as well as they used to.
Mount Albert Grammar School Director of rugby and First XV coach Geoff Moon. Mount Albert Grammar School
"Part of our programme we have here is about teaching young players to talk on the field and talk in the group. They're conditioned to be on a device all the time. For me, in my 40s, I see that as a real threat.
"I think it's terrible. They can't talk under pressure, don't know how to talk and they're scared of what other people will think. Go back a few years and no one cared."
Leadership workshops Moon runs once a month, involving players from all sports in the school, have helped reverse the trend somewhat.
Moon and his fellow coaches spend a large amount of their time working on the players' position-specific skills and helping them to understand their roles on the pitch in more detail, but the basic skills of the game are the foundation for everything.
"Core skills are the same for every single player, and they hold your game plan together. Catch-and-pass, tackle technique, ball into contact, carry and clean – those are the fundamentals for every single player and those are the most important things we coach.
"We want our tight forwards to be able to catch and pass as well as our backs. We work really hard on our core skills."
These fundamentals are echoed throughout New Zealand rugby, right up to the All Blacks. With every visit to places like MAGS, the appreciation for why and how the All Blacks are so skillful grows deeper.
One of the other core elements of the All Blacks' success in Test rugby has been the their famous squad culture.
Sweep the sheds, be humble, no dickheads. Even this aspect of the All Blacks' success is echoed, or perhaps kick-started, in places like MAGS.
Moon brought Dr. Ralph Pim, an expert on culture and team building from the United States Military Academy, on board before the season began to ensure that the process of MAGS developing an unbreakable 'culture' began.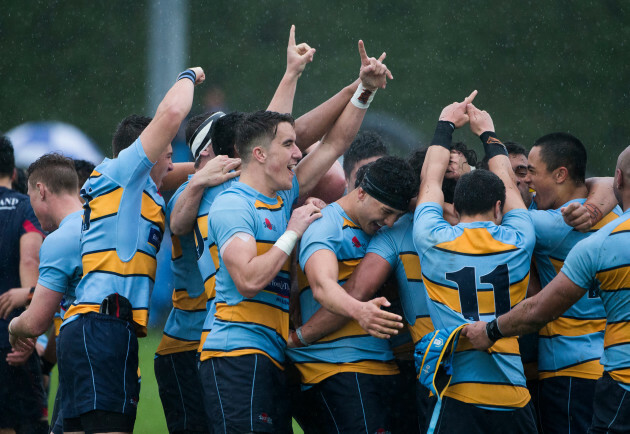 MAGs have focused on their squad culture this year.
"The strongest culture you'll ever have is your family," says Moon. "Inside your family culture, you understand right from wrong, you understand expectation, you understand who you are, you understand how you can't let anybody else down, you understand that 'I've got responsibilities to make the most of every opportunity I have.' That's culture.
"We take the concepts of our family, the values that we have in our family and family life, and bring them into our rugby team. We turn our team into a family, where all our behaviours are clear and they don't get compromised.
"We then get this environment where the boys start getting closer to each other, they start giving each other a bit of tough feedback and helping each other out. Everyone starts getting better.
"That's what we experienced this year. Culture produces results – there's not other way. When you get your environment right, your performance improves, people grow and people learn. At school level, the key is to make sure that the boys are in a good culture."
Meeting some of the First XV, including goal-kicking hooker Oliver Shepherd, it's clear that they have bought into these ideas wholeheartedly.
"We're a family."
"It's all about our culture."
"We're unbreakable."
If the All Blacks and professional New Zealand franchises and unions are looking for players to buy into their cultures, then MAGS is doing a fine job of producing them.
It's also clear very that Moon is working with some genetically gifted young players. We meet one 14-year-old prop who is almost as tall as me at 6'5″ and weighs in at somewhere in the region of 130kg.
This type of athlete is the raw material Moon and the coaches under his watch are working with, but he points out that size and power is nothing without the aforementioned tactical and technical skill, as well as the all-important culture.
John Cowpland / www.photosport.nz 'Ice' Papali'i will soon move into rugby league full time. John Cowpland / www.photosport.nz / www.photosport.nz
"In our young teams, we don't focus on winning," says Moon. "We focus on learning how to train and understanding the game and having a lot of fun. We'd rather they got out there and played, made a few mistakes and learned what works, what doesn't work, how do I control my mindset.
"It's not a relaxed approach to it, but we have a developmental long-term approach to our junior school where we want to grow athletes that are learning all the time. We don't have a win-win-win attitude, it's about 'let's get better and learn'."
While First XV rugby brings pressure and a winning mindset, Moon stresses that giving the players a long-lasting love of rugby is the ultimate goal at MAGS.
"Success for us is that when they're 25, they're still playing rugby. It's too easy these days to take the easy option.
"The easy option is that when school finishes, so do you and rugby. Success is that they're staying in the game, that they're still playing at 25. Young, fit, active, striving to be better than they were the day before."
The42 is on Snapchat! Tap the button below on your phone to add!