AMANDA CASEY IS a name that's been floating around ladies football circles for quite a while at this stage.
The 32-year-old midfielder has been pivotal for both her club and county for the past several years, and 2016 has been no exception as she donned the red of Donaghmoyne for the 18th year.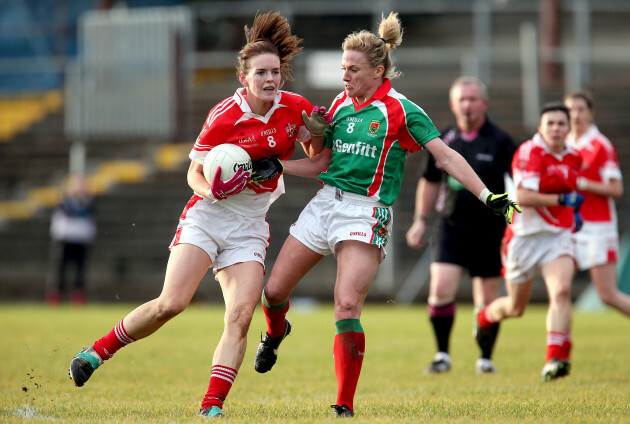 Ryan Byrne / INPHO Ryan Byrne / INPHO / INPHO
Having taken time out to have a baby last year, Casey is back captaining her side and hoping to get her hands on her fifth All-Ireland club medal. Beating Foxrock-Cabinteely on Sunday would also mean club history for the Monaghan side, as they would win back-to-back titles for the first time.
"Last year, I had a baby and I came back. I didn't even think I'd get back to fitness or whatever but I was delighted to be back. We won an All-Ireland and now I think, the more you win, the more you want to win. It's amazing," she tells The42.
"Back-to-back is the big thing after winning last year. A lot of the years, the following year after winning we haven't performed very well but this year it seems to be a lot different. We're really performing well, and that's a big thing so we're really gonna go for it and see where it takes us."
A tough battle with Cork and Munster champions Mourneabbey two weeks ago saw Donaghmoyne through to their seventh All-Ireland senior final, and in line to win the club's fifth title.
"I think a big advantage for us was that we had our home ground. We knew [Mourneabbey] would come up fighting, and we knew if we were going to win we'd have to fight even harder. There was nothing in the game, it could have went to either team.
"It was injury time and we scored two points from the reliable boot of Caitriona McConnell and Cora Courtney just grabbed a point at the end too. At the end of the day, there was nothing between the two teams, and they were devastated. You could see how upset they were at the end.
"It's a hard place to be but they'll be back next year, they'll probably be even stronger again. We lost a lot of All-Irelands before we won one, so I've no doubt that Mourneabbey will be back stronger than ever next year."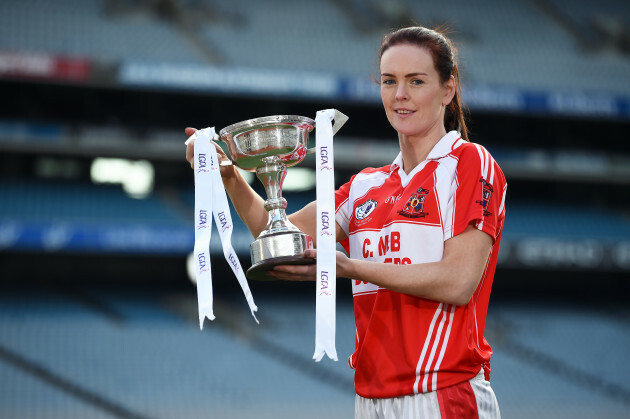 Matt Browne / SPORTSFILE Matt Browne / SPORTSFILE / SPORTSFILE
Casey, who owns her own gym in Castleblayney, has quite a challenging time balancing family, football and work commitments. She finds it easier than others may though.
"When you love something, it's very easy to motivate yourself. You want to play, you want to win and you want to play your best.
"I'm very very busy with the gym, thank God, and I work most evenings. Although, just lately I have a few more people in to help me so I'm not finding it as hard. For a long time there I was teaching classes, and then going on from there to training. And your body can't do that, especially when you're over 25!"
That said, she's unsure if she can commit to the inter-county set-up again having taken a step back after her son was born last year.
"I never officially retired [from Monaghan], I never ruled anything out. I was taking it one day at a time. And then at the start of last year I decided that I wasn't going to go back, I was busy with work, and it was just too hard with the kids and everything.
"As time goes on, your priorities change a little bit and it's hard to fit everything in. If there was more days in the week I definitely would play. It's just hard to fit everything in. I do miss it. If I had more time I'd love to go back, but look, you never say never.
"I think my husband would divorce me first of all if I told him I was going back! He'd be worried about his dinner every evening," she laughs.
"I don't know. I just don't know what next year is going to bring. At the minute I'm probably saying I probably won't go back, but you never say never."
Reflecting on the last few years with Donaghmoyne, the former All-Star midfielder looks back fondly.
"Playing with the club now for 18 years, it's a long time. A lot of brilliant times. We've four All-Irelands now so that's amazing. A lot of bad times too, we lost a lot of All-Irelands as well, but that's where you want to be."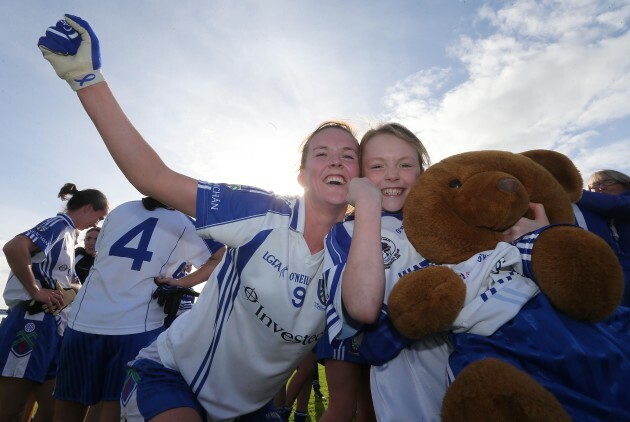 Lorraine O'Sullivan / INPHO Lorraine O'Sullivan / INPHO / INPHO
"It's still the same crop we've had a long time. A lot of us started playing together whenever we were 14 or 15 and we're still together.  A large bunch of that team probably won the All-Ireland in '06, you have probably 10 players still playing."
Donaghmoyne are a side that dominate the inter-county panel in Monaghan, with Casey alongside Sharon and Cora Courtney, Caitriona McConnell and Linda Martin to name a few, representing the Farney County year after year.
This year, however, several players decided against committing to the panel.
"I think what had happened to the Donaghmoyne players is it's year in year out, our club runs on till December, and an awful lot of the girls end up going back in January or February, so they just got tired, and it just gets harder.
Exclusive Six
Nations Analysis
Get Murray Kinsella's exclusive analysis of Ireland's Six Nations campaign this spring
Become a Member
"It wasn't to do with the team, it was to do with my own time. I think some girls just needed a little break.
"It probably is an advantage [for the club]. I think a lot of the girls are very fresh come the end of the year, whereas other years they mightn't be as fresh. You can see some girls are only peaking now."
And Casey is certainly hoping her side can peak on Sunday, with just 60 minutes between themselves and their coveted fifth All-Ireland title.
She's determined to captain her club to their first consecutive All-Ireland victory, but opposition comes in the form of a strong Foxrock-Cabinteely side.
The Dublin and Leinster champions are making their first All-Ireland final appearance, and boast some of the finest footballers in the country including Sinead Goldrick and Niamh Collins.
Matt Browne / SPORTSFILE Matt Browne / SPORTSFILE / SPORTSFILE
Donaghmoyne, however, are no strangers to the south Dublin side, having met them in last year's semi-final.
"They were super. They're very fast, very strong, very physical. Very like Donaghmoyne, maybe they're an all-round team, it's not like one or two really strong players and a few weak links. Sometimes you get certain players dominating on a club team but they're very strong all round, very fit, very fast.
"That game that day, we were lucky Linda Martin pulled off a couple of saves, as usual, to really keep us in the game. We were really lucky, saves that she had no right saving. But I think we played well that day, it was at home as well, and we really dug deep and it's going to take the same effort again.
"They have a year extra now, they're a year stronger. I just think the game is going to go right down to the wire, and I think maybe a little bit of luck on the day might determine the game, or a little bit more fight.
"But there's no doubt about it, there's still plenty of fight left in Donaghmoyne, that's for sure."
The42 is on Instagram! Tap the button below on your phone to follow us!