WHEN YOU SPEAK to Irish players based abroad, many of them talk about a desire to return to home soil in the future and challenge for provincial and international honours.
Others are completely content where they are.
Of course, the same applies to life outside rugby. Some emigrants pine for a return to Ireland, while others find themselves totally happy in their new surroundings.
Former Ulster wing Conor Gaston belongs in the latter camp.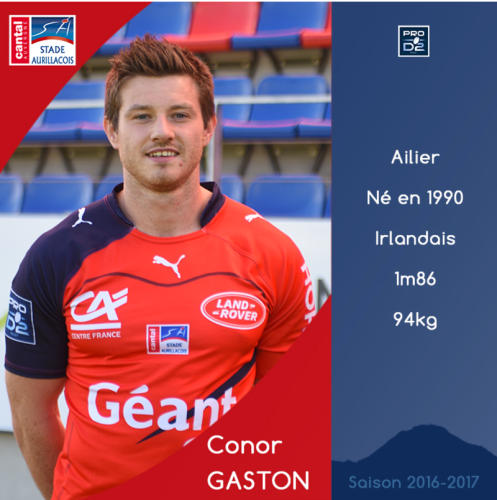 Stade Aurillac Stade Aurillac
Now in his fourth season with French Pro D2 side Aurillac, who are coached by ex-Ireland and Lions lock Jeremy Davidson, Gaston has no yearnings to get back home.
"I have no idea what I'm going to be doing in 10 or 15 years, when I've stopped playing rugby, I haven't thought about it much," says the 26-year-old. "But as far as I can see it, I would like to stay in France when I finish rugby and work here.
"I've no real pining to head back. A lot of my friends have moved on from home, to London or a couple in New Zealand. Apart from missing my family, there's no real desire to move back home."
Gaston has a French girlfriend – English by birth but having emigrated there in her youth – has an excellent grasp of the language and also appreciates the joie de vivre he has experienced since moving to France from London Irish in 2013.
"It's a calmer lifestyle," says Gaston. "People take off 12 until 2 for lunch, it's a lot more laidback compared to London especially, where everyone's running to do stuff. It's more relaxed."
While the harsh winters in Aurillac, set in the Auvergne region in south-central France, are tough – they have trained in temperatures of -8°C – the scorching summers more than make up for it.
Perhaps as importantly as his pleasure at life off the pitch, Gaston is part of an excellent club.
Despite having one of the smallest budgets in the league, Aurillac reached the Pro D2 final last season, but missed out on promotion into the Top 14 with a defeat to Bayonne in that decider.
Davidson has been at the club since 2011 and they have consistently punched well above their weight in the Pro D2, with the relatively minuscule budget failing to hold Aurillac back from being fixtures in the top half of the table and very often in contention.
"We have a good set-piece, good maul and good scrum," says Gaston of Aurillac, who are currently eight in the highly-competitive Pro D2.
"Everyone here likes to play as well. We like to play wide and it's not maybe the stereotypical French rugby where they stick it up the jumper with pick-and-gos around the corner.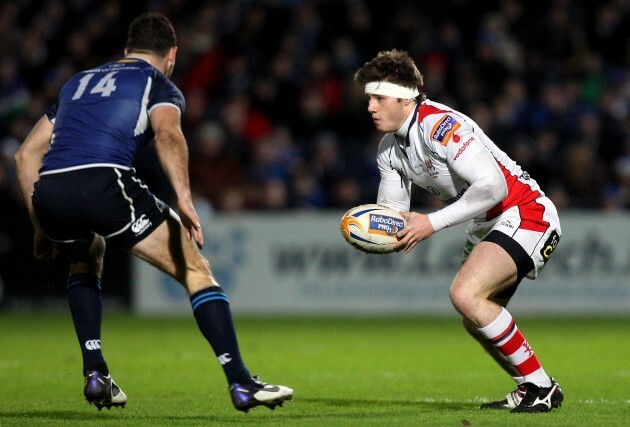 Ryan Byrne / INPHO Gaston looks to beat Leinster's Dave Kearney back in 2012. Ryan Byrne / INPHO / INPHO
"We like to throw it about a bit more compared to some other teams. It's slightly harder in the winter with the cold and rain, but at the start of the season and the end we like to play a bit of rugby and keep the other teams moving."
Davidson's achievements very nearly brought him the Clermont forwards coaching gig in 2013, only for former Leinster man Jono Gibbes to pip him to the post.
The ex-Ireland lock certainly deserves to be in the mix for positions like the vacant one at Connacht, while Ulster look like they could use his set-piece expertise right now.
Gaston is loving playing under Davidson, with the width in their attacking game and their aggressive defensive linespeed suiting his strengths out on the wing.
The Coleraine man has made 74 starts for Aurillac over the past four seasons, underlining how important a cog in the team he is.
Gaston's journey into professional rugby wasn't quite of the dreaming-of-playing-for-Ireland-and-the-Lions variety. As a youngster, rugby wasn't even his favourite sport and he only started playing because his older brother did.
"I actually preferred football, watching soccer. I've always been a Man Utd fan," says Gaston.
"Even now I prefer watching football. It's weird to say that as a professional rugby player, but I really enjoy football. I love watching rugby obviously, could watch it all day every day. I can only support Ulster now really."
Gaston's performances at school level when he was coming through Coleraine Inst. caught the eyes of the Ulster set-up and he was brought into the provincial fold at U19 and U20 levels, when he began to realise that there was a potential career there for him.
Brian McLaughlin and Jonny Bell were his two coaches with the Ulster U20s – "so two good coaches when you're hoping to be a professional. They start you off on the basics.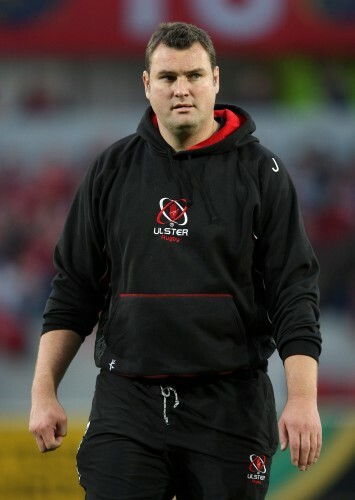 Cathal Noonan / INPHO Davidson is head coach at Aurillac. Cathal Noonan / INPHO / INPHO
"Jonny was a really good coach. He's a Coleraine Inst. man as well, a really good defence coach, and great for guys looking to make that step from underage to senior rugby.
"He was always there to do extras after, encouraging you to work on strong points and weak parts of your game."
There were brief thoughts of moving to the UK for university, but with his rugby career lifting off Gaston instead stayed at home, playing club rugby with Dungannon and joining the Ulster academy.
His senior Ulster debut came on the right wing in a Pro12 clash with the Dragons in March 2011, and he made a total of five appearances for his home province over the 2010/11 and 2011/12 seasons.
Coming through at Ulster, he also worked with Davidson – while they also linked up at club level with Dungannon. But Gaston's promising start with Ulster was stymied by the sheer depth of options in the back three.
"Tommy Bowe, Andrew Trimble, Craig Gilroy was established with over 50 appearances, Adam D'Arcy was there and doing well," says Gaston, before pointing out that young prospects like Jacob Stockdale and Rob Lyttle are now coming through.
A move to London Irish in 2012 was intended to see Gaston get more game time, but again he was in fierce competition for a place and played only in the Challenge Cup and Anglo-Welsh Cup in his single season in London.
He did manage to learn from competing with the likes of Marland Yarde, Anthony Watson, Tom Homer, Sailosi Tagicakibau and Topsy Ojo, with Gaston feeling that he left London a better player.
Davidson got in touch about a move to Aurillac – Gaston admits he didn't know too much about the club or town – but it made sense and he hasn't looked back once.
"I had no idea what it would be like here," says Gaston. "Some people had said before that coming to France it was a bit unprofessional, but I haven't found that.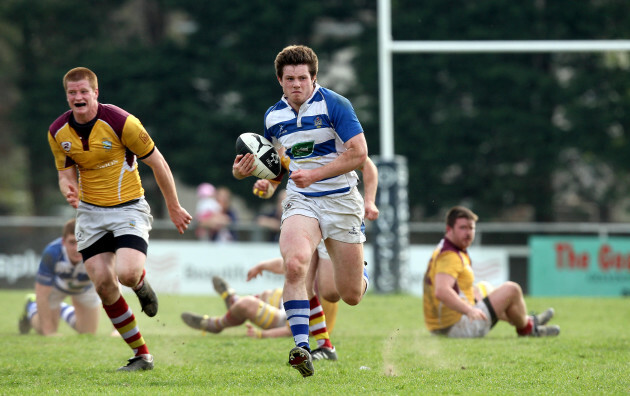 Ryan Byrne / INPHO Gaston was a Dungannon man in his time in Ireland. Ryan Byrne / INPHO / INPHO
"Their approach to rugby here in Aurillac is more out on the pitch and getting the ball in the hands, more time on the ball.
"When I was at Ulster, it was more gym-based and maybe more science-based than here. We're here to play rugby, go out make your tackles, get your hands on the ball."
Irishmen Charlie Simpson, Brian Hayes and Nigel Brady have passed through the club in recent years, while Gaston welcomed a new Irish face to the club this season when the Ireland U20s-capped Kelvin Brown arrived in November as a medical joker.
"He's a really nice fella," says Gaston of back row Brown. "It must have been difficult for him at the start, coming over and not really knowing anyone or knowing any French, but he's settled in really well. In his second week here, he was straight in.
"He's played a few games, but then it was unfortunate that he came over as a medical joker and the other boy came back a bit quicker than he thought. But Kelvin is still here now and doing well, so hopefully he'll stay on. It's good to have another Irish person about!"
Gaston himself has another 18 months left on his contract with Aurillac and would like to remain beyond that point if possible.
He may be out of the Irish rugby limelight, but life is good for Gaston.
"I play most games here, a lot of game time, so you've got to weigh that up. I've got my friends here, everyone gets on really well, so are you going to get that somewhere else?
"It's difficult to get home and people coming over is difficult sometimes, but I wouldn't change it."
Subscribe to The42 Rugby Show podcast here: