HERE ARE YOUR Ulster Bank League previews for the Division 1A and 1B weekend ahead.  Kick-off Saturday 2.30pm unless stated.
DIVISION 1A
DUBLIN UNIVERSITY (8th) v OLD BELVEDERE (7th), College Park, tonight, 7.30pm
It will be interesting to see what impact Eddie O'Sullivan can make following last week's announcement that the former Ireland boss will assist the Old Belvedere coaches for the rest of the season.
Belvedere could certainly do with a lift after a couple of disappointing defeats to St. Mary's and UCD. They face student opposition again in the form of Trinity who are scrapping to avoid a fifth straight loss.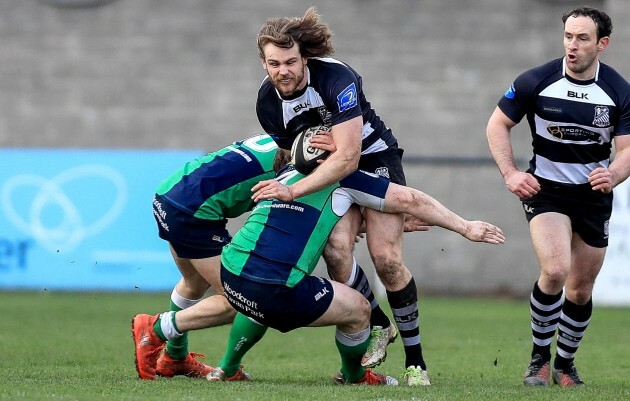 Donall Farmer / INPHO Shane McDonald has been in form for Belvo. Donall Farmer / INPHO / INPHO
Tony Smeeth's young guns need to cut down on the errors and start finishing their chances again. Easier said than done, but a floodlit College Park and a vocal home crowd should give them plenty of inspiration.
Ulster Bank League Season's Form:
Dublin University: WLWWWLWLLLL; Old Belvedere: WLWWWLLLWLL
Ulster Bank League Top Scorers - Dublin University: Points: Jack McDermott 68; Tries: Colm Hogan 6; Old Belvedere: Points: Willie Staunton 71; Tries: Shane McDonald 4
UCD (5th) v LANSDOWNE (1st), Belfield Bowl, tonight, 7.30pm
Both UCD and Lansdowne have won three of their last four games, but it is the headquarters club who are really catching the eye. Centre Mark Roche starred in the league leaders' 43-20 bonus point dismissal of St. Mary's, running in a superb 40-metre solo try.
However, Lansdowne did give away 14 penalties that afternoon and leaked two late tries. That will show UCD that they can live with them if they keep their own discipline and stay in touch on the scoreboard.
Set piece dominance was a key factor in Lansdowne's 35-point November victory over UCD who were comprehensively outscored by six tries to one. It is an area the visitors are sure to target again.
Ulster Bank League Season's form:
UCD: LWLLLWLWLWW; Lansdowne: WWLLWWWWWLW
Ulster Bank League Top Scorers - UCD: Points: Cillian Burke 27; Tries: Tom Fletcher 5; Lansdowne: Points: Scott Deasy 118; Tries: Daniel McEvoy 6
ST. MARY'S COLLEGE (9th) v GARRYOWEN (6th), Templeville Road
Precious league points and the Shay Deering Memorial trophy will be on the line here as St. Mary's and Garryowen both look to recover from heavy round 11 losses.
Mary's found it hard going at Lansdowne, an early injury to flanker Kevin Sheahan not helping, but they did win the final quarter 14-0 and busy winger Ryan O'Loughlin is now up to three tries for the campaign.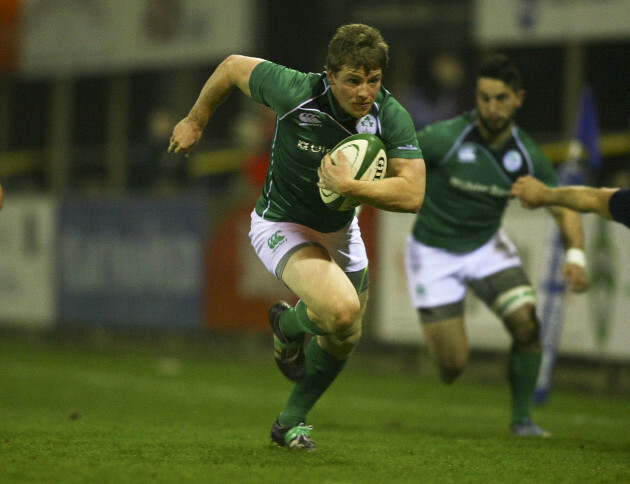 Ken Sutton / INPHO Neil Cronin in action for Ireland Club XV last year. Ken Sutton / INPHO / INPHO
Despite captain Neil Cronin's best efforts away to Young Munster, Garryowen are still winless in 2017 and with just three points separating them from ninth-placed Mary's, they cannot afford to fall short in the capital.
Ulster Bank League Season's Form: 
St. Mary's College: LWLWWLLLLWL; Garryowen: LWWLLLWWWLL
Ulster Bank League Top Scorers - St. Mary's College: Points: Sean Kearns 47; Tries: David Fanagan, Ryan O'Loughlin 3 each; Garryowen: Points: Neil Cronin 94; Tries: David Johnston, Liam Coombes, Steven McMahon, Andrew O'Byrne, Hugh O'Brien-Cunningham 3 each
YOUNG MUNSTER (2nd) v TERENURE COLLEGE (10th), Tom Clifford Park
The Young Munster juggernaut rolls on following a very impressive 22-point second half against Garryowen. Still, they will be wary of a Terenure team that upset defending champions Clontarf.
This week Munsters are without Dan Goggin and Abriel Griesel, who are on the Munster bench, and talented young winger Calvin Nash leads a Cookies quartet in the Ireland U-20 squad in Italy.
'Nure's last two meetings with the Limerick club have resulted in eight-point reversals so, given their recent form, James Blaney's men will be quietly confident of at least getting into bonus point range.
Ulster Bank League Season's Form:
 Young Munster: LWWLWWWLLWW; Terenure College: LLWLLLLLLWW
Ulster Bank League Top Scorers - Young Munster: Points: David O'Mahony 72; Tries: Rob Guerin, Jack Harrington 4 each; Terenure College: Points: Jack Swaine 63; Tries: Marc Hiney 4
CLONTARF (4th) v CORK CONSTITUTION (3rd),  Castle Avenue, 4.30pm
Another chance for last year's Division 1A finalists to go toe to toe. Cork Con claimed a 24-17 verdict at home in November, rattling off 10 points without reply in the second half.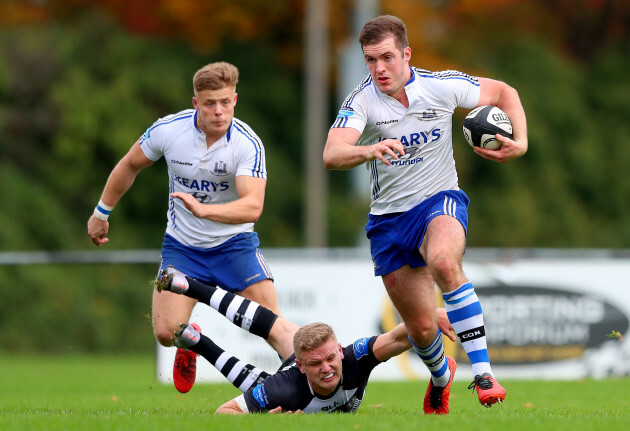 James Crombie / INPHO Niall Kenneally in action against Old Belvedere in October. James Crombie / INPHO / INPHO
Constitution have already won three times in the capital this season and their captain Niall Kenneally is regularly popping up with tries – he scored his fourth against Trinity last week.
Four losses in seven outings show that title holders Clontarf are blowing hot and cold. They were frustrated into submission by Terenure last time out and must make more of Mick McGrath's attacking threat out wide.
Ulster Bank League Season's Form: 
Clontarf: WLLWLLLWWWL; Cork Constitution: WLLWWWWWWLW
Ulster Bank League Top Scorers - Clontarf: Points: Rob Keogh 83; Tries: Matt D'Arcy 6; Cork Constitution: Points: Tomas Quinlan 116; Tries: Shane Daly 5
DIVISION 1B:
SHANNON (8th) v UL BOHEMIANS (2nd), Thomond Park, tonight, 7.30pm
What better way to test Shannon's 2017 resurgence than a full-blooded Limerick derby?
Tom Hayes' young side made it back-to-back wins last week with a late bonus point maul try at Old Wesley.
Their next challenge is lowering the colours of promotion hopefuls UL who have been trucking along of late without really setting the world alight.
After losing at home to Naas, second-placed Bohs have ground to make up on leaders Buccaneers, however they will have to out-muscle a resilient Shannon pack that seems to be growing in stature under Hayes' helm.
Ulster Bank League Season's Form:
Shannon: LLLLLWLDLWW; UL Bohemians: WWWWWLWLWWL
Ulster Bank League Top Scorers – Shannon: Points: Ronan McKenna 42; Tries: Shane Mullally, Riley Winter 3 each; UL Bohemians: Points: Rick McKenna 61; Tries: Finbar Aherne 6
BALLYMENA (6th) v GALWEGIANS (9th), Eaton Park, 12.30pm
The entertainment value should be high again as Ballymena and Galwegians lock horns three months on from the Braidmen's thrilling 35-34 victory out west.
However, they have collected just three points in their last three outings, noticeably giving away early leads. Former Ireland Under-20 hooker Adam McBurney is a welcome addition this week, especially with a number of Ulster absentees.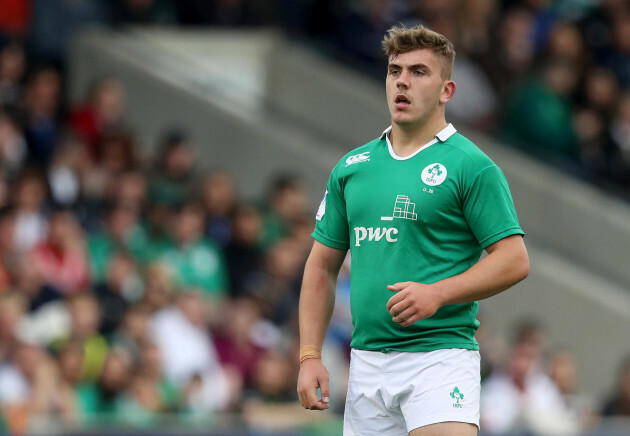 Ryan Byrne / INPHO McBurney was a key part of Ireland's run to the Junior World Championship final last summer. Ryan Byrne / INPHO / INPHO
'Wegians' failure to put away their scoring chances hurt them in a 25-14 beating by Buccaneers. Picking up points of any kind is a must in these back-to-back trips north to Ballymena and Ballynahinch.
Ulster Bank League Season's Form:
Ballymena: WWLWLLWWLDL; Galwegians: LWLLLLLLWLL
Ulster Bank League Top Scorers – Ballymena: Points: Ritchie McMaster 39; Tries: Rodger McBurney, Mark Best, James Beattie 4 each; Galwegians: Points: Aidan Moynihan 53; Tries: Cormac Brennan 6
Exclusive Six
Nations Analysis
Get Murray Kinsella's exclusive analysis of Ireland's Six Nations campaign this spring
Become a Member
UCC (7th) v BALLYNAHINCH (3rd), the Mardyke, 12.30pm
Having pocketed four valuable points away to Dolphin, it is time for UCC to turn the Mardyke into something of a fortress as they face into successive home matches against Ballynahinch and Naas.
Flanker Conor Barry's fifth try of the campaign was crucial in last week's Cork derby, but they are meeting a 'Hinch side who have crept up into third place thanks to three wins on the trot.
Peter Nelson's call-up for Ulster will see Justin Rea slot in at full-back for Derek Suffern's men. The head coach will look for a big performance in the back row from Callum Irvine who steps in for the injured Lorcan Dow.
Ulster Bank League Season's Form:
UCC: LLWLWLWLLLW; Ballynahinch: WLWLLWLLWWW
Ulster Bank League Top Scorers – UCC: Points: Kevin O'Keeffe 96; Tries: Conor Barry 5; Ballynahinch: Points: Chris Quinn 41; Tries: Davy Nicholson, Jordan Grattan 4 each
BUCCANEERS (1st) v OLD WESLEY (5th), Dubarry Park, 4.30pm
Old Wesley will definitely feel they owe Buccaneers one after a 25-9 defeat on their most recent journey to Athlone, along with November's heavy 39-22 reversal on their own 4G pitch at Donnybrook.
14 points is now the gap between fifth-placed Wesley and front runners Buccs whose flying winger Jordan Conroy (10 tries) starred with a brace against Connacht rivals 'Wegians.
Tommy Dickson / INPHO The prolific Conroy in action for Connacht Eagles. Tommy Dickson / INPHO / INPHO
With some ex-Buccs in their selection, including out-half Tim Clifford and prop David Henshaw, Wesley will not be overawed, but the strong-scrumming front row of Martin Staunton, John Sutton and Saba Meunargia should lay the platform for another Pirates success.
Ulster Bank League Season's Form:
Buccaneers: LWWWWWWWWDW; Old Wesley: WWLWWWLDWLL
Ulster Bank League Top Scorers – Buccaneers: Points: Alan Gaughan 96; Tries: Jordan Conroy 10; Old Wesley: Points: Barry McLaughlin 117; Tries: Ger Finucane, Paul Harte 4 each
NAAS (4th) v DOLPHIN (10th), Forenaughts, 4.30pm
An upturn in fortunes cannot come quick enough for bottom side Dolphin. A late penalty denied them a deserved losing bonus point at home to UCC last week.
Their best bet would be to keep things tight at Forenaughts and not give away kickable penalties to Naas' in-form kicker Peter Osborne who is closing in on a century of points.
The accurate boots of Cian McGovern and Cillian Monahan shot down the Kildare men (15-10) in November's meeting, but Johne Murphy's side should be backed to reverse that result here.
Ulster Bank League Season's Form: Naas: WLLWWWLWLWW; Dolphin: LLWLLLWWLLL
Ulster Bank League Top Scorers – Naas: Points: Peter Osborne 87; Tries: Fionn Carr 5; Dolphin: Points: Barry Keeshan 54; Tries: John Fitzgerald, Ryan Murphy 3 each.
UBL Division 2A
Galway Corinthians v Nenagh Ormond, 8pm tonight, Corinthian Park
Belfast Harlequins v Highfield, 12.30pm, Deramore Park
Cashel RFC v Banbdridge, 3pm, Spafield
Blackrock College v Queens University, 4.30pm, Stradbrook
UBL Division 2B
Wanderers v MU Barnhall, 7.30 tonight, Aviva Stadium
Greystones v Skerries, 8pm tonight, Dr Hickey Park
City of Derry v Old Crescent, 12.30pm, Judge's Road
Thomond v Armagh, 12.30pm, Liam Fitzgerald Park
Bective Rangers v Dungannon, 2.30pm, Donnybrook
UBL Division 2C
Bruff v Kanturk, tonight 7.30pm, Killballyowen Park
Boyne v Navan RFC, tonight 8pm, Shamrock Lodge
Midleton v Sligo, 12.30pm, Towns Park
Seapoint v Bangor, 12.30pm, Kilbogget Park
Rainey v Tullamore, 4.30pm, Hatrick Park
Subscribe to The42 Rugby Show podcast here: