COMING INTO A big inter-provincial clash, most of the focus will be on the Irish stars in action.
But at Thomond Park tomorrow afternoon, there'll be something of a Kiwi flavour surrounding Munster and Ulster as former Blues team-mates Francis Saili and Charles Piutau clash in their respective back lines.
While the lifeblood of these tense and fiery affairs is undeniably the home heroes, more often than not it can be those who must buy into the rivalry who have lasting impacts.
This weekend, Ulster's foreign legion are aiming to be the difference once more as they go for a first win at Thomond Park in just under three years. They'll be led by Piutau, making his first appearance in Limerick, and the All Black utility back says he's eager to experience the Thomond Park crowd.
"I've heard a lot [about Thomond] and seen a lot from the TV," Piutau says. "It looks like an awesome place to play rugby in, and I'm excited to get the opportunity to play there. I think just in terms of the atmosphere and the crowds, you know that wherever you are playing everyone wants to get one up on their neighbours and stuff."
And the excitement of facing off against a former team-mate in Saili is something the 25-year-old can't hide.
"Oh, definitely!" Piutau grins. "It's a great opportunity. I played a lot with him in New Zealand and it's great to see him back from injury to give him a chance. It'll be nice."
Tommy Dickson / INPHO Francis Saili pictured with Munster supporters at Musgrave Park earlier this week. Tommy Dickson / INPHO / INPHO
From a team perspective, this is now a make-or-break part of the season for Ulster as, with just three games left, they need three wins in order to reach the Guinness Pro12 play-offs.
It's a tough run-in for the Ulstermen, however, as after they travel to Limerick they must also visit Swansea to take on the Ospreys and then welcome Leinster to the Kingspan Stadium on the final day.
They no longer have any breathing space either — last week's home draw with Cardiff Blues means they sit in fifth, needing all three wins to stand a chance of overtaking either the Scarlets or Ospreys into fourth.
Piutau admits they have to improve from last weekend's performance, particularly with three massive games left to finish their season.
"I guess with the game on Friday, we had two days to take the learnings from it," he says. "There is no use worrying about it, we understand as a team that we cannot dwell on any other negatives in the past but learn from that and move forward.
"We left a lot of opportunities out there last week. When it comes to these big games, you don't get many opportunities, so you have to finish them. We've been working hard on our structures and stuff this week, but it's down to our passion and desire to front up and give everything we can, as we know we will be tested."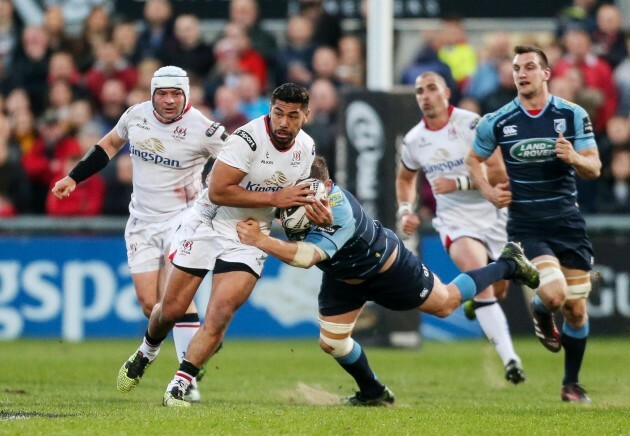 Presseye / Darren Kidd/INPHO Charles Piutau on the charge for Ulster in last weekend's draw with Cardiff Blues. Presseye / Darren Kidd/INPHO / Darren Kidd/INPHO
And what of his own aspirations? Piutau arrived in Belfast with a lot of hype surrounding him after his exploits with the Blues, All Blacks and Wasps, and so far he's been a game changer on several occasions for Ulster.
Having began the season as Ulster's starting full-back, the Kiwi has shifted onto the left wing where he has excelled and has caused defences havoc, meaning he is everything Ulster paid their big bucks for.
Now, with almost a season under his belt, the marquee man says he's just as driven to pick up trophies with his adopted province — even if that means five tiring performances to finish the year.
"Personally, for me it's all about wanting to win, win every game, and hopefully win championships," Piutau said. "The expectation has always been there.
"For me it's always wanting to be the best I can be in every game, and helping the team. That's all I can do."