MOST FOOTBALLERS WILL admit that luck plays a vital part in becoming a success in the sport, and before last Saturday, Mark O'Brien hadn't had much of it.
At one point, though, the Dublin-born defender seemed destined for stardom. He was just 16-years-old when he made his debut in the Championship for Derby in May 2009 — coming on as a 64th-minute substitute during a 3-1 end-of-season loss against Watford.
It was one of a series of impressive achievements for the teenage defender. Joining the Rams from top Dublin schoolboy side Cherry Orchard in 2008, days before making his senior debut, he was named the club's Academy Player of the Year, while that same year, he also picked up the Ireland U16 Player of the Year award.
His talent was obvious for all to see and O'Brien seemed set for big things, but life is rarely straightforward for young footballers.
Just a couple of months after making his debut, the Ballyfermot native underwent successful heart surgery to correct a valve problem.
This issue inevitably slowed his progress as a footballer, but somewhat incredibly, he was back on the first team's bench for the final game of the 2009-10 campaign.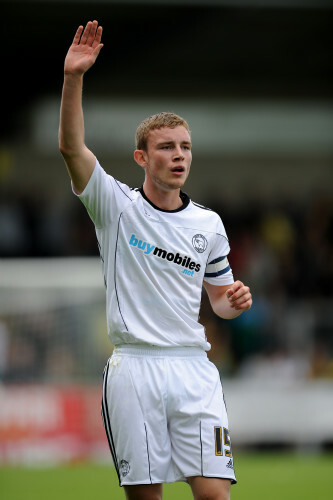 EMPICS Sport Mark O'Brien made his debut for Derby aged 16. EMPICS Sport
By then still only 17, O'Brien returned to the club's reserve and U18 sides for the majority of the 2010-11 campaign, though Derby's then-manager Nigel Clough had enough faith in the young defender to include him in first-team squads and bring him on as a late substitute for two games during the campaign, against Barnsley and Ipswich.
A breakthrough beckoned and O'Brien enjoyed a sustained run of games in the team during the 2011-12 campaign after first-choice centre-back Russell Anderson picked up an injury in the opening match of the new season. A month after making his first-team breakthrough, the player consolidated his encouraging progress by signing a new four-year contract with the club.
Two years on from his heart surgery, the Irish starlet was looking almost certain to become a senior international eventually. He went on to make 20 appearances in the Championship for Derby that campaign, before his season was cruelly cut short in December after damaging cruciate ligaments in training.
After 13 frustrating months, O'Brien was finally fit enough to return to the Derby starting XI, joining a sizeable Irish contingent in the first team that by then included Richard Keogh, Jeff Hendrick and Conor Sammon. Almost a month to the day after turning 20, he played 87 painful minutes of the 2-0 win in the 15 December Championship match away to Bristol City, before being taken off with cramp. It was Derby's first clean sheet on the road since the previous September and the Irishman was a big factor as they bucked this unfortunate trend.
He showed unbelievable character to play for so long because 13 months since a start is a long, long time at this level," manager Nigel Clough

told reporters at the time

.
Despite this high praise, O'Brien would play just seven more games for the club.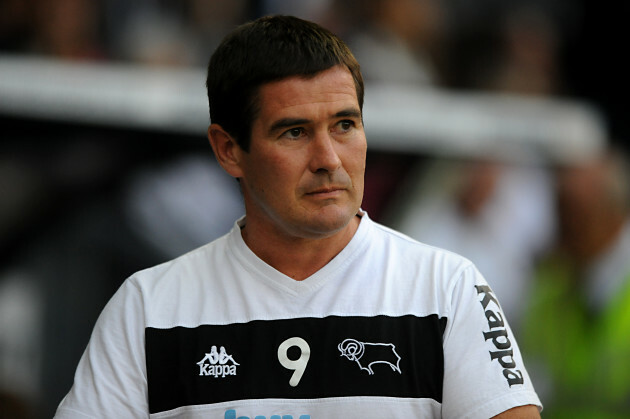 EMPICS Sport Nigel Clough was one of O'Brien's biggest supporters at Derby, though the player did not play for the club again after the manager was sacked. EMPICS Sport
Having won his place back in the first team, the Dubliner's season ended prematurely for the second time in his young career, as O'Brien suffered an injury in the warm-up for their game against Sheffield Wednesday on 9 February 2013. Having initially only been ruled out for a month, it turned out that the problem was worse than first suspected, meaning he would have to undergo knee surgery.
Despite this latest setback, Clough continued to back the youngster, saying at the time: "Given his character and his mental strength, we have no concerns about Mark coming back stronger."
Unfortunately for O'Brien, by the time he recovered, his biggest supporter had departed the club. After a poor run of results, Derby decided there was no room for sentiment and sacked Clough, whose father had famously led the team to unprecedented heights.
Steve McClaren was appointed as Clough's successor, and did not take a shine to O'Brien in the way the previous manager had. Ahead of the 2014-15 campaign, the youngster was loaned out to Motherwell, making 19 appearances in the Scottish Premiership. However, this successful run of games was not enough to convince Derby that the player who had been at the club since the age of 15 was worth holding onto. Having been advised by McClaren to leave, in May 2015, it was announced that the defender's contract would not be renewed.
That summer, O'Brien made the move to League Two side Luton. Again, there were promising signs early on, but as with Derby, a managerial change would ultimately have a big impact on the former Ireland U19 international's future. After nine appearances with the Hatters, head coach John Still was sacked. Nathan Jones took over and O'Brien never played for the club again.
Steve Paston Stoke City's Bojan Krkic and Luton Town's Mark O'Brien battle for the ball during a 2015 League Cup match. Steve Paston
O'Brien took another step down, going on loan to Southport in the National League, featuring for them seven times between March and the end of his loan spell there. But shortly after returning to Luton, the club announced that he had been transfer listed less than a year after joining. Then, last September, the Irish starlet returned to Southport, however his troublesome knee flared up again and the three-month loan spell was cut short.
Consequently, in the most recent January transfer window, O'Brien was on the move again. Luton terminated the player's contract by mutual consent, enabling him to join another League Two side, albeit one that were struggling at the bottom of the table rather than competing at the top — Newport County.
Reflecting on his time at Luton, O'Brien feels he was hard done by.
I got signed under John Still, he liked me, he was the one who signed me, but he got sacked and Nathan Jones came in," he tells The42. "For whatever reason, I never played a minute under him.
"I never got a fair crack at the whip and that's obviously down to what his personal opinion is. The majority of the time, football comes down to opinion just as much as anything."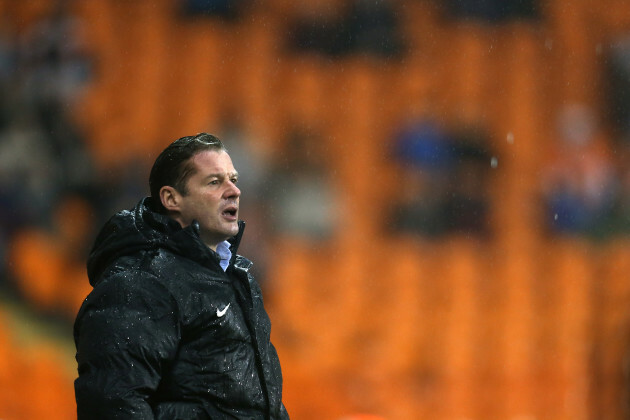 Barrington Coombs Graham Westley brought O'Brien to Newport after his contract at Luton was terminated by mutual consent. Barrington Coombs
The 24-year-old was under no illusions as to the difficulty of the task facing Newport, who were bottom of the table when he joined.
I knew what scenario I was coming in on. I knew the situation the club was in. The manager, Graham Westley, signed me and said: 'I've heard what you're capable of, I want you to come in and steady things. I don't want to keep conceding goals. I'm bringing you in to try to help with that.'
"I said: 'I'm coming in and want to give it 100% and see where it takes me… I hadn't moved away from Ireland to sit in a stand or on a bench to watch games of football. I'm happy when I'm playing games of football.'"
For O'Brien, it was a baptism of fire. The club continued to struggle early on, though at least he was getting regular game time. By 9 March, however, they were looking like certainties for the drop, as they sat 11 points from safety with 12 games to play, and Westley was sacked as a result.
For once, however, a change of management did not spell trouble for the centre-back. New boss Mike Flynn kept faith in the Irish defender and seemed to galvanise the entire team after taking over as caretaker boss.
"He inherited a good bunch to what Graham Westley set up," O'Brien explains. "Because he's a homegrown lad, he installed more passion in us. We didn't understand what it meant as a whole really, what it means to the club (for the team to perform well). But because people have respect for him, everyone worked really hard for him."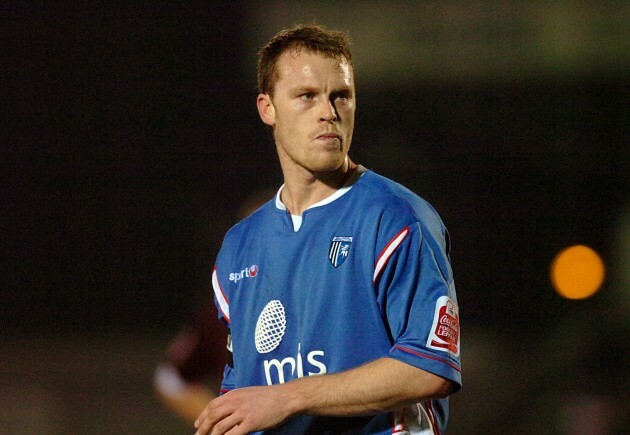 EMPICS Sport Homegrown Mike Flynn, who spent over 15 years playing in Britain's lower leagues, took charge of Newport as caretaker boss and helped inspire the club's revival. EMPICS Sport
This hard work started to pay off. Flynn inspired minor miracles as they threatened to pull off a great escape and secure their status in the Football League for another season.
Having seemingly been on the brink of relegation all season, last weekend, only Notts County stood between Newport and survival. The club essentially needed to better the result of drop zone rivals Hartlepool, who were playing Doncaster at the same time.
"In our stadium, the pitch isn't at the standard of other pitches but we always use that to our advantage," O'Brien admits. "So we knew having home advantage was always going to be a plus.
It was a nervous build-up, but I think everyone was more anxious just to get the game started. The build-up was more nerve-racking than actually playing in the game. Because it was a half-five kick-off, there was a lot of waiting around in anticipation of everything."
With five minutes remaining, Newport seemed set to be relegated. In the other game, Andy Williams had put Doncaster 1-0 up in the 31st minute. Nevertheless, Devante Rodney would ultimately prove to be Hartlepool's match-winner, scoring goals in the 74th and 83rd minute. Meanwhile, at Rodney Parade, Mickey Demetriou's 32nd minute penalty had been cancelled out just after the hour mark, when Jorge Grant equalised for Notts County.
Consequently, with the Hartlepool game not going their way, Newport desperately needed a goal to stay in the Football League.
O'Brien and his teammates didn't know the precise score in their rivals' match, but they could easily tell it wasn't favourable.
You hear the moans and groans of the fans, so you kind of know there's something up," he says. "When we scored our goal at half-time, we didn't know anything about Doncaster.
"In the last 10 minutes, the manager threw on another striker and said: 'Lads, we can't draw.'
I looked over at the coach, Wayne Hatswell, and said: 'Let me go up front. In certain games, he put me up front to win a header or get a flick-on or make something happen.'"
The odds of O'Brien scoring a last-minute winner were not good. In eight years since making his debut, he had only ever scored once in senior football — during Southport's 3-3 draw with Welling in the National League last season.
However, with little to lose at that point, the coaching staff relented, and O'Brien went up front in the dying minutes as Newport desperately searched for a winner. After years of wretched fortune, the makeshift striker was finally about to enjoy a moment of sublime luck.
Exclusive Six
Nations Analysis
Get Murray Kinsella's exclusive analysis of Ireland's Six Nations campaign this spring
Become a Member
Boomone / YouTube
With one minute of normal time remaining, a hopeful cross fell to the Irishman, who volleyed home superbly to send the home crowd wild, securing the club's safety in the process.
The whole significance and the scenario of it — when the goal was scored, it felt so surreal," O'Brien says, having had a few days to reflect on his famous thunderbolt.
"I've seen the goal back from the many people who have sent it to me and it still doesn't seem real. I'm enjoying every minute of (the aftermath) and it's something that will go down in the history books over here.
A lot of lads have texted me and said: 'If there was anyone that the ball could fall to, it shouldn't have been you.' I've had funny responses from lads I played with previously. They've all been saying things like: 'Where have you found that? You've never scored for our team. You've never done this.'
"It was just one of those scenarios where when it falls to you, 9/10 times, I'd be in the same situation and it'd go miles over the bar. The situation we were in — everything went right for us on the day. And in the end, we got what we deserved."
The goal and the subsequent sound of the final whistle prompted an emotional reaction from O'Brien among others, as Newport players were overcome with a mixture of relief and joy knowing that all their considerable efforts over the course of a gruelling 46-game season had at last been rewarded.
When the final whistle went, I saw everyone go onto the pitch and just literally fell onto my back. I didn't know what to do.
"Because of the situation I was in, because I scored the goal, it nearly brought a tear… It just all came out and then, when we got back into the changing room, we all sat down, the coaching team, the backroom staff all stood up and they (said a few words). But the minute the chat was finished, everyone went crazy, singing: 'We are staying up.'
It was just one of those feel-good moments that you don't experience in football that often.
"I didn't really expect it to be as hard-hitting in Newport as it was. It wasn't just the stadium that went crazy, they said there were people running out of houses, in the town centre, people were running in the middle of the street.
It kind of hits you — what it meant to everyone and not just the team itself. Because everyone wrote us off over the last six months, it was really just the (coaching) team who believed in us and we all believed in each other that we had a chance of doing this. Then, the more fans that came on board, you just realise what it had done all over Newport. It just feels great to be part of it."
To a degree, it was also vindication for O'Brien on a personal level. Saturday was his 20th game of the season since joining Newport in January and a record-high 25th overall. Only twice previously had he broken the 20-game barrier in a single season — in 2011-12 with Derby and in 2014-15 with Motherwell. Those who had dismissed him as too injury-prone to make a substantial impact as a footballer were proven wrong.
For the goal itself, it's great for the club and everything. But for me personally, it means so much more than just the situation we were in," he explains.
"I've proved it to myself, because at certain times, if a manager doesn't fancy you or teams don't take chances on you, you doubt yourself after a while, thinking: 'What are they seeing that I'm not seeing? Or is there something not right that I think in my head is right.'
In a way, it reassures me. I have a feeling that I can get on really well with playing. It just proves a lot to myself and it proves it to everyone else who doubted me on this journey I've been on. It shows that all the hard work I've put myself through, that people who are close to me know I've put in, it goes to show that it has paid off in the end. And now, I can kick on, and hopefully put my career back on track."
Yet having only signed on a six-month deal, the future remains uncertain with O'Brien out of contract this summer. The club recently confirmed the release of eight players, though the Irish defender was not one of them. And with Flynn just announced as permanent manager, he will presumably be keen to keep hold of the man whose goal kept them in League Two.
PA Archive / PA Images O'Brien and Jeff Hendrick both came through the ranks at Derby around the same time. PA Archive / PA Images / PA Images
For now though, O'Brien is eager to spend time back in Dublin with his family and friends. The signing of contracts, whether it's at Newport or elsewhere, can wait.
The last two or three days since the goal have been hectic, with people talking to me and the contract (situation) thrown in the mix as well.
"I want to have time to get my head sorted and do things properly rather than having a rush of blood in the moment."
It's still less than a decade since O'Brien made waves by debuting as a 16-year-old for Derby and while much has changed since then, the player's ambition to play at the highest level remains the same.
I've known (Ireland and Burnley star) Jeff Hendrick since we were 10 years of age. When I was with Cherry Orchard back in Ireland, he was with St Kevin's, so we were always playing against each other. For Kennedy Cup teams with the DDSL (Dublin and District Schoolboys League), we always played on the same side. For junior Irish squads all the way up to the U17s and U19s, we played with each other.
"When we signed for Derby, we already knew each other. I lived with him for four or five years at Derby and I knew what he was capable of, having played against him for years. It was just a matter of time before everyone else saw it. I always knew he was going to go on to bigger and better things and he deserves everything he has.
There are loads of people in the same scenario (as I was with my injuries) that may not get the chance again. Living away from home, you know what you're over here for, you dedicate everything to it, because you don't have many distractions.
"I look at people like Jeff Hendrick and then there's John Egan and Robbie Brady — I've played with them along the way and you see them going on to bigger and better things. I look at myself and think: 'I know they can go on and do it because they deserve it.' So hopefully, if I get my bit of luck along the way and show people what I can do, maybe one day it can happen for me as well."
The42 is on Instagram! Tap the button below on your phone to follow us!