A WEEK IS a  long time in rugby, the old adage from Harold Wilson goes*.
Little wonder then, the strides Munster have made in year.
52 weeks ago, Niall Scannell was in Cork wrapping up the last week of Munster's bi-location training. The sessions were useful, vital maintenance and upkeep ahead of some rest weeks and Rassie Erasmus' arrival in July. But keeping motivation high must have been a challenge.
It had been almost three full weeks from their last match of the season – a Champions Cup place-sealing win over Scarlets.
"They are the worst weeks of the year," said Niall Scannell, now seated in a lecture hall-style team room on the second floor of Munster's training base in UL.
"You are just teetering and just watching the games… the thing about last year was that we were not close to the Pro12 semi-finals. We weren't close to the final of course, either, so there wasn't a huge amount of what-ifs, just more frustration at games that we let slip away at different times in that season.
"There has been a massive turnaround and it is massively exciting too.  It would certainly nice to top off this season on Saturday with a win."
Saturday, in case you weren't aware, means the Pro12 Grand Final. 2016′s fifth and sixth-ranked teams now unquestionably the two who most deserve to battle it out for the title in the Aviva Stadium.
For Scarlets, it's a first Pro12 decider. Munster have been down this road before, and more recently than they care to remember. But the southern province feel like a completely different outfit to the one who succumbed to the fierce and fluid Glasgow Warriors in Belfast two years ago. Not least because there will be 12 faces in this squad that didn't feature in Kngspan Stadium – including Conor Murray and Peter O'Mahony.
"I think we are probably in a different frame of mind as a squad. It won't be referenced too much because we can't rely on anything history wise going into this game. We just got to perform. It sounds so basic, but we know the performances are there, we brought them out at different stages of the season, but we just have to bring one out of us on Saturday."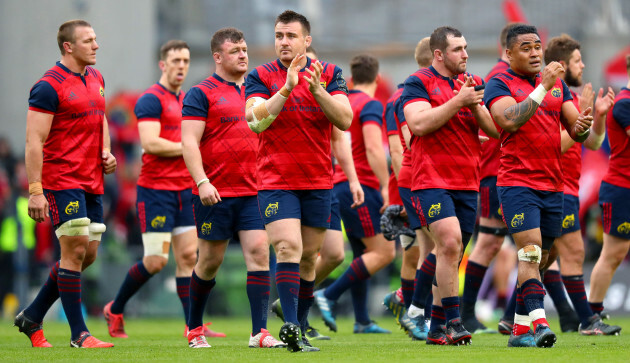 James Crombie / INPHO James Crombie / INPHO / INPHO
The steely confidence from Munster is based on the very fresh memories of consistent performances throughout this campaign. As a squad, they kept the leg drive going right to the end of the regular season to take top seed for the semi-finals. Now in the final, Scarlets' breakdown threat and scything attack will give them plenty to ponder, but they have a body of work, as individuals as well as a group, that makes them confident of taking a 21st win in their 24th match of this Championship.
"When you start to get nervous about a big game like Saturday, you can reassure yourself that this is where you wanted to be and (look) where we have come from too. We can be positive about that.
Exclusive Six
Nations Analysis
Get Murray Kinsella's exclusive analysis of Ireland's Six Nations campaign this spring
Become a Member
"I think that is something I will look back on this week. When you start to get those nerves, like: 'this is where we wanted to be and we have worked hard for that'.
I think sometimes, it can be an Irish thing, that sometimes we find it hard to say: 'yes, we deserve to be in this final. We have been consistent all season. We didn't fluke it, we finished top of the table'. And I think we need to keep telling ourselves that. I think sometimes we can be too critical of ourselves and maybe overly humble or self deprecating, however you want to say it.
"We just have to say, this is exciting, we have worked hard to be here and give ourselves every chance to get a win on Saturday."
Scannell is a different player than he was 12 months ago too, a senior international and comfortable in his role. That doesn't necessarily manifest itself in any one large obvious way. It's the little things.
"I was listening to an interview with Paddy Jackson on Newstalk last week. When he was going down to South Africa, he was saying that you would keep telling yourself you are good enough and you have the ability, but you really have to go in there and do it probably to prove it to yourself more than anything.
"That was my focus against Italy. Keep things basic and do what I do well. There is probably some reassurance there that I did it, but for me it is time to push on at that level.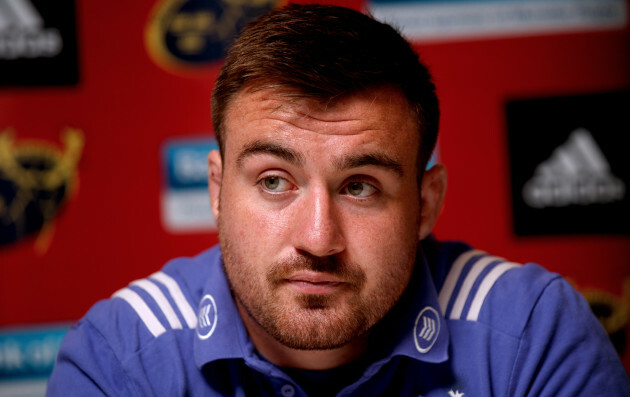 James Crombie / INPHO James Crombie / INPHO / INPHO
"Joe's coaching style is massively helpful in that too. He always says: 'you are what you repeatedly do', to I take that on board and do the little things well in training and even at home when you are visualising doing things. If you do that, you will start to have an impact at this level. If you trust the process , trust the coaches here at Munster and up with Ireland, hopefully you can make an impact at that level and hopefully get some more caps this summer.
"I have more experience, but it is not like I'm going into games thinking any differently. I don't know how much that stands for, especially with a game like Saturday because I have never been in that environment, but I think I am probably a bit more assured around the things that I am good at.
"I have probably taken on board this year that different hookers offer different things. If you take me and Rhys (Marshall), for example, he is going to bring a huge amount on the attacking side of the ball, he is very dynamic. Then I have to just realise that around set-piece, that is my kind of area and I have to make sure that I get that right.
"That is probably something I'm good at. Then, in the pre-season, I can take a step back and look at a lot of weaknesses I want to work on and pick a few of those out and try and build on them."
The42 is on Instagram! Tap the button below on your phone to follow us!
(*Yes, Harold Wilson was talking about politics, not rugby)