LIFE AT THE bottom of the League of Ireland First Division is a precarious one. Occupying eighth spot with just one win after 13 games so far this season, Wexford FC's chances at gaining promotion to the first tier currently stand at 2500/1.
These odds exist largely because just one team out of eight will be promoted at the end of this season, as the league undergoes a complete structural overhaul in order to establish two 10-team divisions.
There are currently 12 teams in the Premier Division and eight in the First Division. So, to balance it out, three teams will be automatically relegated from the top tier and only the champions of the First Division will go up.
The decision to structure the league in this manner has been incredibly divisive between three factions: sides competing at the top end of the Premier Division, those at the bottom, and the castaways of the second tier – seven of which will, ultimately, be exactly where they were this time next year.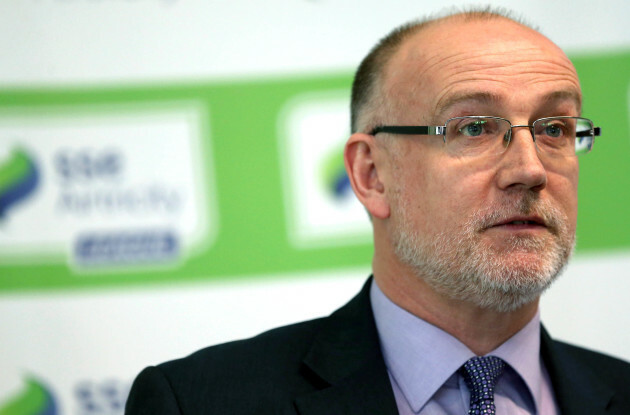 Donall Farmer / INPHO FAI Direcor of Competitions Fran Gavin. Donall Farmer / INPHO / INPHO
With the annual play-off now eliminated and a three-way battle for first between Waterford FC, Cobh Ramblers and UCD firmly established, the remaining five sides in the league have very little left to compete for – with 15 games and over half of the season still to play.
This state of affairs was anticipated and brings with it arguments that were aired immediately after the new league structure was announced back in December.
Namely that lesser sides will quickly have nothing to play for, players on those teams will become disinterested, owners may fail to see a reason to pay players if they have no chance of promotion, all on top of the looming threat of a steady decline in match attendances due to weekly fixtures that are uncompetitive and have nothing at stake.
The realities of these predictions are slowly coming to the fore: there were 228 people in attendance for Wexford's game against Cabinteely on 28 April, 146 for their away trip to Athlone on 21 April and 196 at home in Ferrycarrig Park when they hosted league leaders Waterford FC on 4 April.
Wexford manager Damien Locke, a 29-year-old Tralee native who took over from the long-serving Shane Keegan who joined Galway at the end of last season, realises the futile nature of getting frustrated at the predicament.
It is not that he does not care – far from it. Rather that he accepts the reality of the situation and is focused on his priority: his players' futures and establishing a future for Wexford FC. Pragmatism to ensure future success.
"My selling point to the players is that we'll do the best of our ability and we'll go from there", he says. "I spoke to the players when we met originally and said to them, 'Use Wexford as a stepping stone. This is your platform to get a bigger move to a club where you might get to play full-time football.'
"That's something that we want to help our players to achieve. The players know that they have their fate in their own hands. From that point of view our message seems to be getting across."
Indeed his brutal honesty to his players, ranging from veteran 38-year-old goalkeeper Graham Doyle to 17-year-old Eoin Porter, seems to be getting through.
Look at the age profile of the current Wexford squad and you begin to see a lot of fresh faces. Ten of the 25 players are 20-years-old or younger and teenagers starting is a weekly occurrence, with goalkeeper Corey Chambers turning 19 just last January.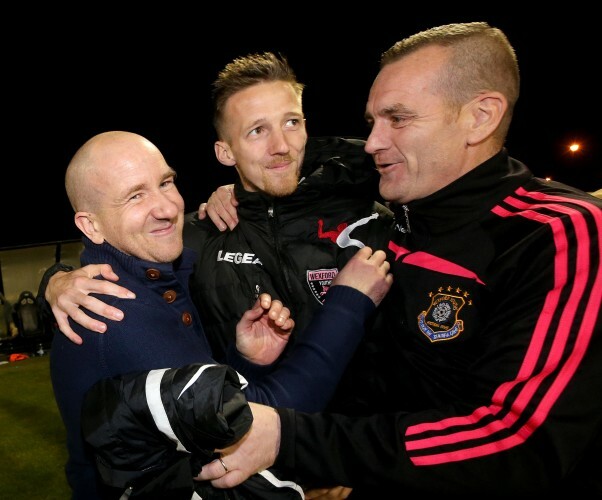 Ryan Byrne / INPHO Damien Locke (centre) following Wexford Youth's First Division title win in 2015. Ryan Byrne / INPHO / INPHO
Locke is not pessimistic about the situation his club find themselves in, even if it was one in which they had no pulling power. While the new league structure was initiated by a proposal by the Premier Club Alliance, Locke says Wexford had no say in the decision.
Wexford never had the option to propose anything. As far as I'm aware, they had no input in the decision at all. From my own personal point of view with the two 10-team leagues, I think it could be a good idea, but the way it has happened is a bit unfair to both sets of teams in the Premier and in the First Division.
"I think there could have been a better way of structuring it, rather than it being dramatic with three teams automatically going down and the play-offs being wiped out.
"If you imagine having a seven-team First Division and three places in a fight to go up. That would produce great interest in the league. But losing the play-offs was a massive blow. From the club's point of view, we were never really asked if we were interested or in favour in the restructuring or not.
There hasn't been a week go by in the first seven or eight weeks of the season that I haven't met with an opposition manager and talked about how we have no say in this. But the longer it goes on that the players and the managers in the First Division don't try and put a stamp on things and don't come out – things aren't going to change."
So, with over half of the league campaign still to go, what can Wexford aspire to as the side propping up the rest of the League of Ireland? Developing players, Locke says. That and progressing the club's underage teams as well as making links with local schoolboy clubs. Aside from the possibility of a cup run, there is nothing to achieve this season and the club must be grounded enough to accept that.
Promotion is not a possibility this season and maybe not even next season, he admits. But building for the future is something they can work on now and something which offers them a goal to aim towards in the future, even if that goal is three or four years further down the line.
"Unless things change from the whole league's point of view, with the clubs in the league coming together, I don't think anything is going to change soon.
We hope that the players we have this year that are 17, 18, and 19 years old will be ready to be competitive in the league next season and be standout players, because we certainly feel that they have a lot of potential.
"From this year the club are focused on getting our Under 15s into the National League, we have our Under 17s and Under 19s already up and running and the women's team are doing great as well.
"We have a very good structure in place right up through the ages and making links with local clubs is a big focus this season too. Hopefully all of that will transfer out onto the pitch in the next two or three years."
Admittedly Wexford is a shadow of the club it was two years ago. With Locke working under manager Shane Keegan the club won the 2015 First Division with an amateur squad, fighting the good fight during 2016 to stay in the Premier Division.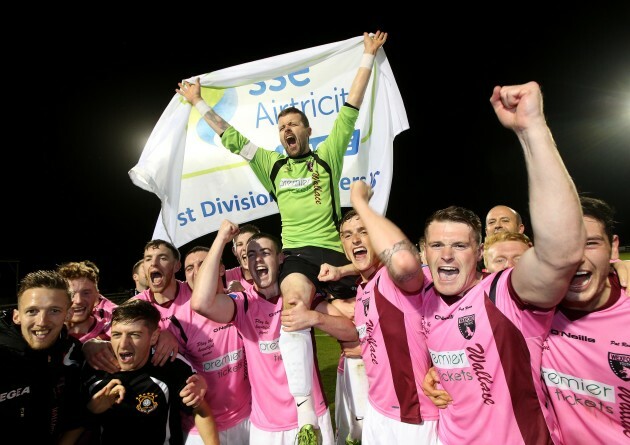 Ryan Byrne / INPHO Better days: Wexford Youths were crowned First Division champions two years ago. Ryan Byrne / INPHO / INPHO
They lost the fight however, with a dramatic and heartbreaking 3-2 playoff defeat to Drogheda United having initially won the first leg a comfortable 2-0 . It is a game which has become infamous for the involvement of Wexford hurler Lee Chin and the announcement of manager Keegan's departure the day of the second leg.
The club also came close to its second-ever piece of silverware when they got to the 2016 Leinster Senior Cup final. Chairman Mick Wallace, however, watched on from the stands in Dalymount Park as Bohemians defeated his side 4-0.
Wexford were seemingly a team on the rise, but since relegation the club has also been renamed and rebranded. A new crest adorns their pink shirts as does a new name. No-longer Wexford Youths (2007-2016), but Wexford Football Club (2016-present), following financial issues.
"If you compare us to the team from 2015 – that was a man's team," Locke says in the context of his squad's age profile.
"It was a team that had all been in the league for three or four years. Now it's a case of producing six or seven lads who will hopefully play for us, but even better if they can go further again – like Ryan Delaney last season.
That's what the club is all about: trying to get young players through and get them good enough to play in the first team. If they are even better, then they can go up another level again. I think that everyone involved with the club this year realises with one club going up that there's certainly no pressure on us at all and, in fact, there was no pressure on us from the very beginning to get promoted.
"I don't think the club would be in that position at the moment with the experience that we have in the squad. It's a matter of can we be at another level in terms of that talent developing in two or three years."
Locke also enjoys the lack of media spotlight on his club. He says that if First Division clubs were regularly featured on television and commented upon in newspapers, it would put unnecessary pressure on his players.
Bryan Keane / INPHO Former defender Ryan Delaney moved from Wexford Youths to Burton Albion last July and is now on loan at Cork City. Bryan Keane / INPHO / INPHO
With virtually no coverage of the First Division, he enjoys the peace it offers. A rare benefit of the league's state, he concedes.
"From my point of view because we are at the bottom of the First Division it's probably better that there isn't too much media attention. We can't look forward to big cup games or league games that are going to be on the TV or Soccer Republic – because there won't be any for us.
Do we feel cut off? Well, we're bottom of the First Division, so it's a blessing in a way. You could imagine if there was a lot of media surrounding our position in the league and weekly press conferences and in the paper and on Soccer Republic – then that brings pressure on the players and pressure on the club.
"From that point of view I don't feel upset or cut off, but certainly it could be a lot better from a league point of view."
With one of the League of Ireland's smallest budgets, Locke says the club can only offer its players little by way of wages, adding that most merely get expenses covered. Yet despite this, and having gone 12 weeks without a single win this season, he says his squad all still turn up to training each week with renewed enthusiasm.
"Our boys are actually doing my job for me at the moment. They're turning up every single Monday for training – and I don't know if it's become they have a good relationship as friends, or if it's because the group has clicked socially – but the atmosphere in the dressing room is fantastic. I can't fault them once throughout the whole season.
Ryan Byrne / INPHO Hurler Lee Chin scored in Wexford's 2-0 first-leg victory against Drogheda United. Ryan Byrne / INPHO / INPHO
"Some of the players only get expenses covered like the lads travelling from Dublin. It's basically just costs covered and no more than that. In one way you could say that is reflective of our position in the league, but I don't think that has a major effect.
"When we won the league in 2015 we certainly had one of the smaller budgets and it was just a matter of that group of players being together for three of four years. They got more experience together and knew each other inside out. I don't think the budget comes into league standings.
"You look at the league at the minute: Waterford has the biggest budget and are top. But Cobh has one of the smallest along with UCD and they are both pushing at the top of the table."
At 29-years-old, Locke is the second-youngest manager in League of Ireland history, second to one Stephen Kenny who took charge of Longford Town aged just 27. Having worked his way through the ranks at Wexford firstly as an analyst, then head coach and last season acting as second in command to Shane Keegan, he aspires to bringing the good times back to Ferrycarrig Park.
"If I keep my head down I know that I can turn things around with Wexford. Within the next five years being a full-time manager in the Premier Division is something I would like to aim for. Managing a Wexford team walking out onto the Aviva would be an absolute dream.
"I've worked with Irish international teams and when you're involved in games at Lansdowne Road, the buzz is unbelievable. To get Wexford to an FAI Cup final would be great."
With little to pay and even less to play for this season, Locke and Wexford FC have their sights set on the future. Nailed to the bottom of the First Division, it can't get any worse and now, with a dedication to youth development, the only way is up.
The42 is on Instagram! Tap the button below on your phone to follow us!