TIPPERARY will be pleased with Saturday's outing against Clare, for the most part.
I anticipated that this would be a pretty tight game, and that's how it proved.
At stages it looked as if Tipp could pull away but they never did.
Clare didn't help themselves with aspects of their play, which I'll take a closer look at, but there were definite signs that Tipp's intensity, work-rate and hunger are returning to the required levels.
Inconsistencies remain in their play, however, and when Clare look back on this game, they'll be very disappointed.
I was expecting a significant improvement from their Munster final display against Cork but it never materialised.
They tried to be more direct and get ball to their inside line a bit quicker, and when they did that they caused problems for Tipp but their shooting accuracy let them down again.
Their ratio of chances created to scores hasn't been good enough to beat the big teams.
Tipp's distribution and shooting prowess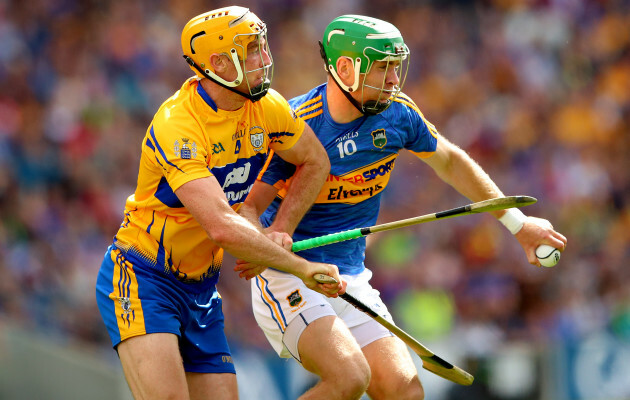 James Crombie / INPHO Noel McGrath, in possession against Cian Dillon, was excellent for Tipperary. James Crombie / INPHO / INPHO
This is where Tipp are strong. The quality of their distribution and shooting is almost unrivalled.
It's tremendous when they do it well and there were some fantastic examples of quality scores from Tipp, in contrast to some poor Clare shooting.
7th minute: Seamus Callanan scores a lovely point from a tight angle, inside the 14m line on the North Stand side of the new Páirc Uí Chaoimh. In this instance, Callanan shows some composure to settle himself on the ball before popping it over. Interestingly, Clare had shot two bad wides just before that, from John Conlon and Conor McGrath.
6:53: Clare's next attack results in another bad Clare wide, from David Fitzgerald.
7:22: Another poor Clare wide, this time from Tony Kelly.
8th minute: Brendan Maher taps a quick line ball to an unmarked Noel McGrath, and he pops the ball over the bar.
10th minute: Excellent Tipp scored worked by Pádraic Maher, Ronan Maher, Donagh Maher, Noel McGrath and finally finished off by John 'Bubbles' O'Dwyer.
With less than 14 minutes on the watch, Tipp are already 0-8 to 0-2 clear, and the trend of the game is following that of the Munster final from a Clare point of view.
If their shooting was better, they'd be only a couple of points down at this juncture but Tipp are far more economical with possession and chances.
Tipp's shooting is winning the match for them and the trend continues.
17:13: Donagh Maher, the best player in Tipp's full-back line, is preparing to execute a brilliant catch over the head of Conor McGrath: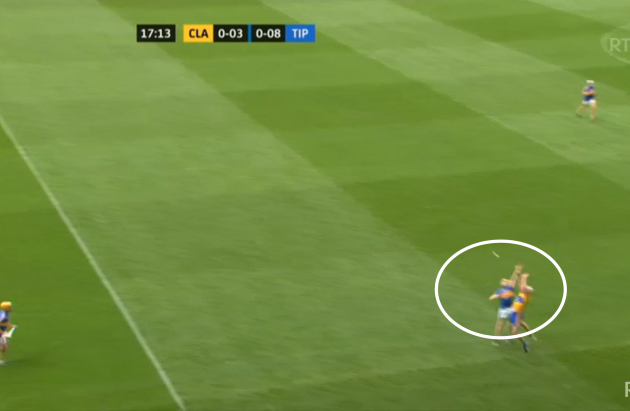 Maher plays a simple ball down the left touchline, where Seamus Callanan collects: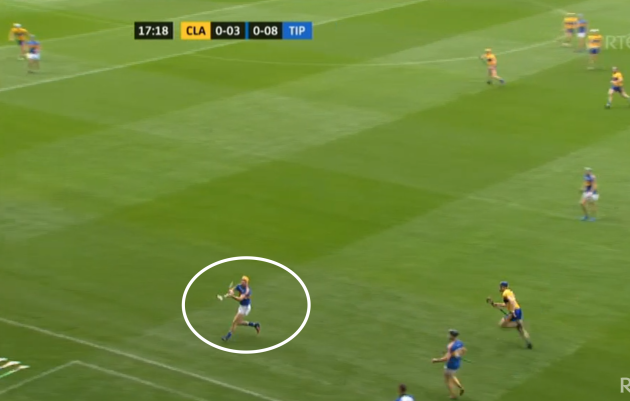 Callanan turns inside, onto his right hand side and prepares to shoot over a fantastic point: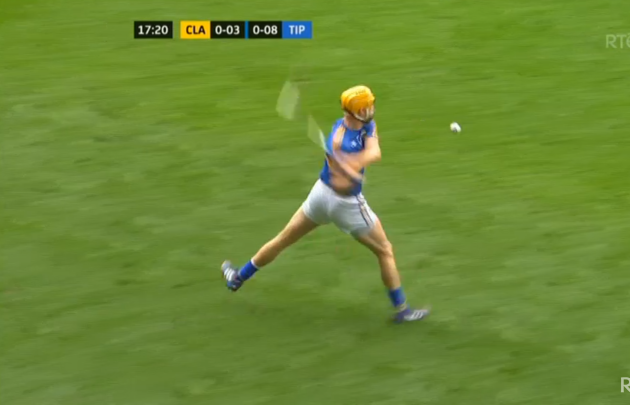 A simple score, that, from Tipp. Catch, pass, catch, score. Really efficient and no fuss. It's hurting Clare every time.
38:49: This is what Clare don't want, Pádraic Maher on the ball and with time to look up. He's taken a loose Cian Dillon clearance in acres of space: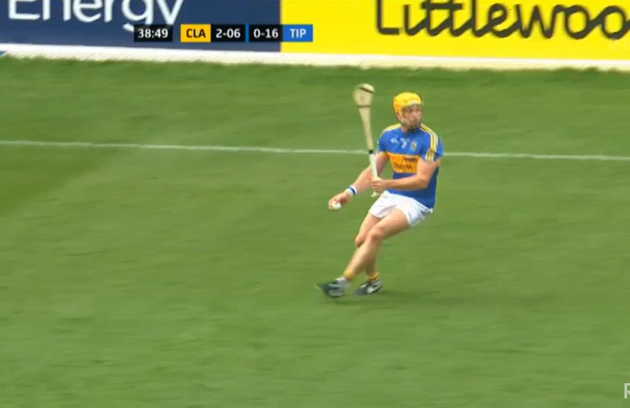 The result is a lovely diagonal ball to 'Bubbles', who's shaping to fire over another point for Tipp, and without a glove being laid on him: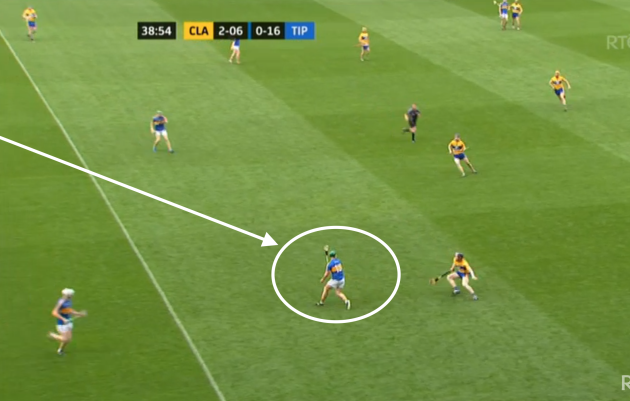 52:55: This score sums up the difference between Tipp and other teams, for me.
It follows a great run from Dan McCormack, who is chased back by Tony Kelly.
The Clare man wins the ball off Dan but he's then dispossessed by John McGrath.
John's going away from goal and can't do anything other than lay it off to his brother, Noel.
When Noel collects the ball, he's essentially standing still on the touchline but still manages to get a shot away and over the bar: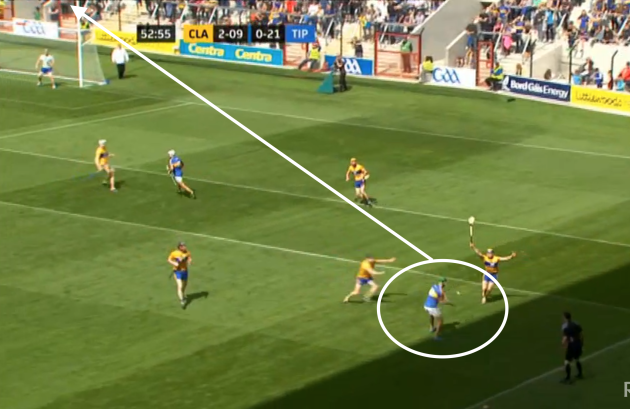 Technically, it's an incredible score from Noel, right out of the top drawer.
On the day, the McGraths were different class, and young kids looking at how they play the game can learn so much, in terms of their distribution, unselfishness and decision-making.
I don't know if they made one poor decision in the entire game, bar Noel giving the ball away maybe once in the first half.
It's amazing how they can make that bit of time for themselves on the ball, analyse the options very quickly and instinctively, and almost every time pick the right option.
Tipp's work-rate and hunger returning
This was an area of real encouragement for Tipp.
39:20: Freeze frame here and you see Podge Collins, having won a breaking ball, being swallowed up by a posse of Tipp players: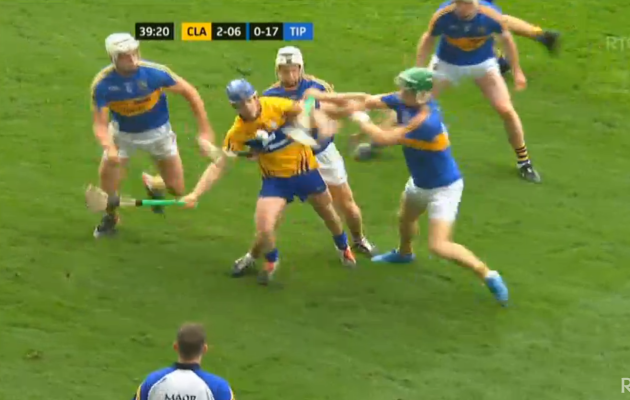 40:17: Tipp have survived a scare when the ball is worked forward. Tony Kelly picks it up but he's swarmed by Tipp players:
The ball breaks loose to Conor McGrath, but Tipp are disciplined in their tackling right through this phase of play, and Donagh Maher brilliantly flicks the ball away from McGrath: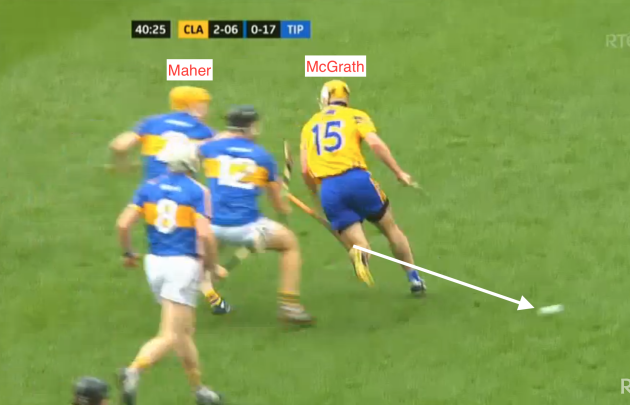 This good defending led to Tipp's goal chance, when Dan McCormack broke forward and fed 'Bubbles', who picked out Callanan with a brilliant pass.
68th minute: Game in the melting pot, and David Reidy is surrounded by three Tipperary players: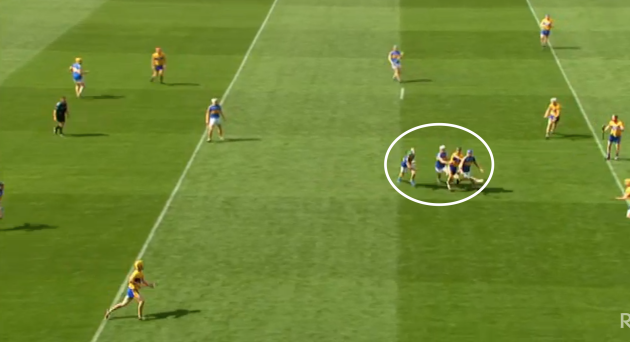 What was encouraging from a Tipp viewpoint was the return of those good qualities we'd associated the team with last year.
Defensive worries remain
Defensive issues were flagged before the game, and manifested themselves in Cork.
They're a huge concern and will be playing on Michael Ryan's mind before the Galway semi-final.
Tipp were in control of the game from early on but Clare rattled in two first half goals by winning one-on-one situations and running at defenders.
Their first goal came from a long ball, won by Conor McGrath and transferred to Aaron Cunningham.
It wasn't good Tipperary defending by any means and highlights a lack of inexperience there. It also illustrated why Clare should be looking to attack teams a bit more.
20th minute: Clare's second goal came from a long Conor Cleary ball and Shane O'Donnell wins it brilliantly over James Barry.
O'Donnell's first instinct is to straight for goal and he's brilliant in these scenarios.
He picks the perfect moment to deliver the pass to goalscorer Cunningham:
Exclusive Six
Nations Analysis
Get Murray Kinsella's exclusive analysis of Ireland's Six Nations campaign this spring
Become a Member
Clare can do this to most full-back lines, if they get enough good ball and quick ball.
But Tipp were exposed and that's something they'll look at.
The Cathal Barrett scenario is bound to come up again now.
You'd imagine that if he's fit, and has some games under his belt, he'll have to come into the reckoning.
This is where the worry is for me, in the next freeze-frame.
You have a two v two scenario here, Tomás Hamill and James Barry are the last two covering defenders but their Clare opponents are out in front of them: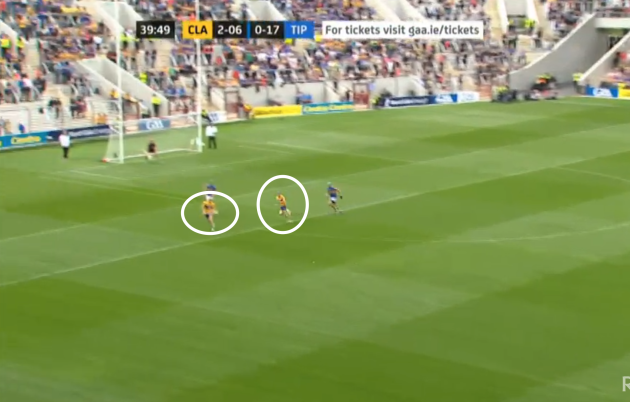 Aaron Cunningham shoots for a point but it rebounded into play off the upright, and Tipp had to scramble the ball clear.
63:30: Here's Aaron Cunningham and Tomás Hamill, in splendid isolation under a high ball from Cathal McInerney: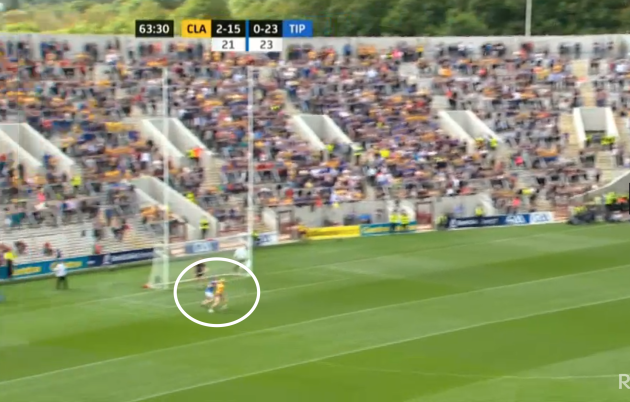 This is the type of situation that Tipperary desperately need to avoid against Galway, and with Clare just two points behind at this juncture, Cunningham pulled on the loose ball and hit the side-netting. It was a lucky escape for Tipp.
Clare's puck-out meltdown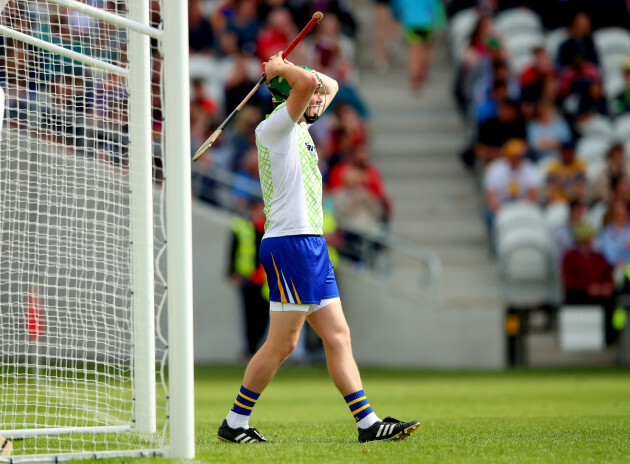 James Crombie / INPHO James Crombie / INPHO / INPHO
Shooting 19 and 18 wides in successive games is unforgivable, and it's a huge reason why Clare are now out of the championship.
They're competing in a lot of other aspects – possession, chances created, and they have some really strong and influential players.
But their shooting let them down badly and they were having difficultly on their own puck-outs from the word go.
It reached frankly ridiculous levels before half-time, however.
33:55 – Andrew Fahy puck-out picked off by Noel McGrath, and Seamus Callanan points.
34:16 – Fahy's next puck-out is straight to John McGrath, inside Tipp's half. He transfers to Seamus Kennedy, who scores a point.
34:57: Point for Bubbles, after another Fahy puck-out is intercepted by Brendan Maher.
35:29 – Pádraic Maher picks up possession from another Fahy puck-out, and is fouled. Ronan Maher's long free goes wide.
Fahy goes short with his next puck-out, to David Fitzgerald, and it's won.
37th minute: Decent puck-out but it's dropped by Tony Kelly, and John McGrath scores a point for Tipp.
That's the Clare rap sheet approaching half-time, and it's a costly three-minute spell that saw Tipp pick off four points.
Clare were also poor in a critical period approaching half-time in the Munster final, and there's a fair bit of learning for them over the winter.
'Brick' a key player as Waterford emerge as deserved winners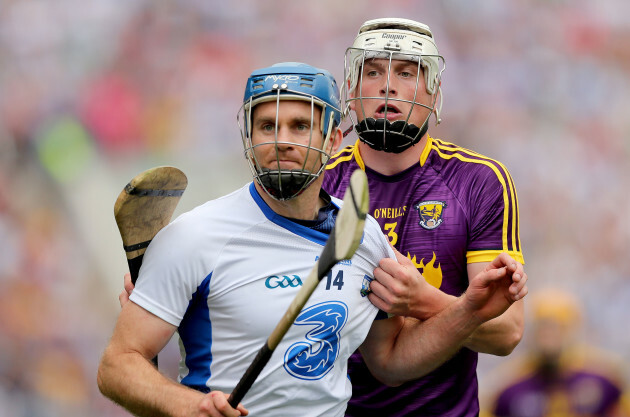 James Crombie / INPHO James Crombie / INPHO / INPHO
Attentions turned back to Páirc Uí Chaoimh yesterday, and Waterford ran out deserved winners over Wexford.
The game panned out as I'd expected, and Wexford had to get ahead of Waterford to have a chance.
They weren't able to do that and one of the main reasons why was Michael 'Brick' Walsh.
His influence on the game was significant, all the way through, but especially in the first 10-15 minutes.
Waterford have more recent experience than Wexford in knock-out championship hurling over the last few years.
They have influential players in Brick, Kevin Moran, Jamie Barron, Austin Gleeson, Maurice Shanahan and Stephen O'Keeffe.
Kevin Moran earned the man-of-the-match award but I can't understand why Brick didn't get a nomination at least.
He was on point in the very first minute, holding the ball intelligently and drawing a foul from Willie Devereux. Pauric Mahony popped over the free and Waterford were off and running.
5:14: Brick in a one-on-one situation with Devereux, outfields him brilliantly from Stephen O'Keeffe's long clearance, shrugs him off and fires over a brilliant point.
5:56: Wexford have possession with Liam Ryan, he carries the ball forward but loses it and Austin Gleeson is tracking back to pick it up. Gleeson elects to play the ball back to Stephen O'Keeffe, who aims for Brick again with a long ball.
The Waterford man beats Devereux in another one-on-one duel, and wins yet another foul.
12:09: Brick wins another hard ball from a Stephen O'Keeffe puck-out, pops a pass to Jake Dillon, and it's another Waterford point.
15:26: Brick is involved again, picking up possession in a ruck situation, and drawing a foul from Lee Chin: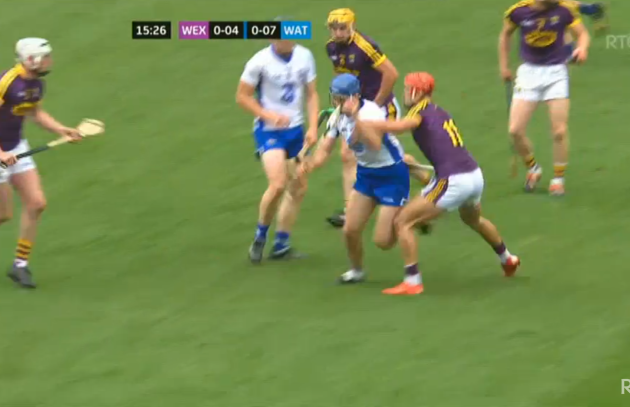 17:21: Brick is fouled by Rory O'Connor, who's booked: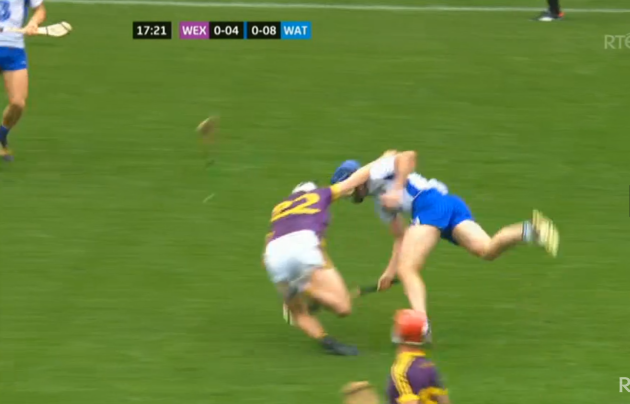 Pauric Mahony misses the resultant free but Brick's work is sucking the life from Wexford.
He was simply colossal.
Wexford not doing themselves any favours
Wexford have enjoyed an encouraging season but there are areas of their game to iron out before an assault on 2018.
3:11: Kevin Moran points from play for Waterford, but Matthew O'Hanlon was in possession for Wexford before being turned over.
10:28: O'Hanlon coughs up possession again and when play develops, Darragh Fives bursts through to set up a goal chance for Jamie Barron.
29:14: Aidan Nolan is in possession of the ball but his hand-pass forward is overcooked and Tadhg de Búrca picks it up for Waterford. De Búrca plays the ball to Philip Mahony, who goes all the way back to O'Keeffe, a favoured Déise tactic. O'Keeffe picks out Darragh Fives, he moves the ball to Conor Gleeson and Waterford score a point. But this passage of play started with Wexford in possession of the ball.
36:08: This is the match-defining moment, and a catalogue of errors from Wexford. Aidan Nolan's line-ball is easy pickings for Darragh Fives, who moves the ball forward for Waterford. James Breen is on hand to pick it up but he's dispossessed by Shane Bennett.
The ball spins loose to Eoin Moore, and I'm not quite sure what he's thinking here, as he prepares to move the ball back towards his own goal: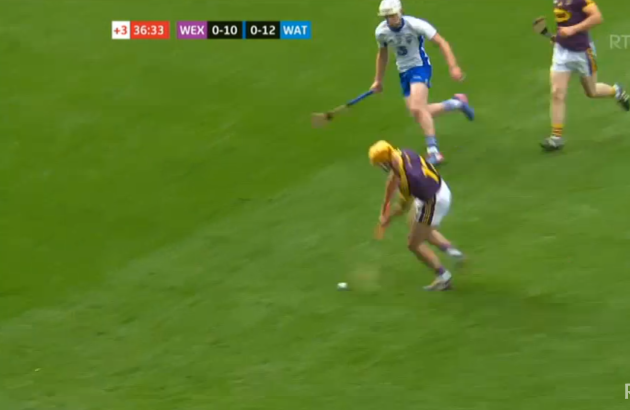 He goes to flick it but it doesn't work out, Bennett picks it up, pops it over the head of the sweeper Shaun Murphy, and Kevin Moran sweeps home a Waterford goal.
It's a disaster for Wexford, five points down now and chasing the game against a team with De Búrca operating deep, and Fives playing as a covering, outside back.
From there, it's an impossible task for Wexford but in that goal situation, they were in control of the ball on a number of occasions, and failed to do anything significant with it.
One of the big talking points to emerge from the game was De Búrca's red card, and if, as seems likely, he's not available for the All-Ireland semi-final with Cork, it's a massive blow for Waterford.
He's an integral part of how they play, he's reliable, makes very few errors and reads the game impeccably. That's why he's playing in that position for Waterford, and he's very hard to replace if not available.
At this stage, however, it does appear that Waterford will have to make contingency plans, and that presents them with a new challenge.
The42 GAA / SoundCloud
The42 is on Instagram! Tap the button below on your phone to follow us!