'WHATEVER BECAME OF Robert Gorman?'
It's a question doing the rounds in Irish boxing circles of late, and with good reason.
In the summer of 2009, the Balbriggan brawler appeared to have the boxing world at his feet. An Irish amateur standout sharpening his tools on the unforgiving Las Vegas gym circuit, he was drafted in to spar the pound-for-pound finest fighter on the planet, Floyd 'Money' Mayweather, who was set to return to the ring two years after knocking out Ricky Hatton and retiring undefeated.
News of their throwdown immediately rendered Gorman a local superstar back home, but the Americans would stand up and take notice soon after; Mayweather's comeback bout versus Juan Manuel Marquez was postponed due to an injury sustained by the former, and Gorman, as the last man to spar the world's best, was suspected of having delivered the body blow – quite literally.
His name adorned every boxing forum on either side of the Atlantic; 'Robert Gorman – the little-known Irish amateur who broke Floyd's ribs'.
But after a solitary amateur fight on his return home to Ireland, Gorman – the iron-pawed, body-breaking paladin – was never heard from again.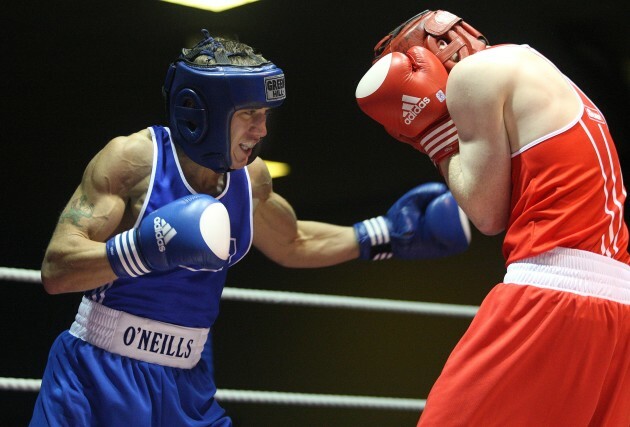 Lorraine O'Sullivan / INPHO Gorman (blue) in action with Mayo's Ray Moylette (red) in 2009 Lorraine O'Sullivan / INPHO / INPHO
Eight years on from his famous spar with an all-time great, 'Rodge', now 33, is finally tracked down in…Balbriggan.
His old boxing club, Bracken BC on the town's Station Street, had said they no longer had a phone number for him, but pointed towards a Facebook pseudonym which ultimately paid dividends.
He commits to a 20-minute chat at 3:10pm on a Thursday, and fields a grand total of three questions – two of which are the result of mishearings on the interviewer's behalf. But he speaks for just shy of an hour and 10 minutes.
His Vegas escapades amount to just half of the story which he proceeds to unfurl, but nonetheless it's in Vegas where it begins, and at Ricky Hatton's 2007 victory over José Luis Castillo to be precise.
An impressionable young Gorman watched 'The Hitman' eviscerate the Mexican icon's liver with a bullet-like left hook, and vowed to return – the next time with gloves and a gumshield in his luggage – and chance his own arm on the Strip. It was an epiphanic moment shared with a close friend sat beside him, and one which transpired to alter the course of his life for both better and worse.
"My own business was coming to an end at the time," Gorman says. "I was running a carpentry business and I just wasn't in a good place with it, basically. It was wrecking my head and I wanted out of it. So when I came home after the Hatton fight, I decided to go training full-time, finished with the carpentry, and went on the dole.
"In 2008, I had no reference or nothing, but I told my boxing coach that I felt America was the place, and I felt Vegas was where it all happens, and I knew it was the place to make me a better boxer.
"I just wanted to do it on me own. I was under everyone's thumb at home, and I wanted to go it alone. I said, 'Right, I'm going to go over to Vegas for the summer, test the waters, and see why the American fighters are so good.'
"I like Irish boxing but it was just too structured, and I simply couldn't handle it anymore. Being told what to do, where to do it – it was affecting me own boxing. I wasn't my own boss. I wasn't allowed to be me own boss."
And so off he went the following summer, without so much as Irish amateur honours to his name, and little more than a pipedream and a pal to keep him on the straight and narrow in Sin City.
"Rumour had it – or at least I heard it – that Wayne McCullough had a boxing gym over there and was training pros, so my plan was to get over there, work my arse off, and climb the ladder," Gorman recalls. "With that, I set off for Vegas with one of me best friends Brian Kavanagh – my strength and conditioning coach.
"I was booked into the Hard Rock Hotel for a week, so my plan was to take a week's holidays over there to get settled in, then get Wayne to train me full-time and really learn the fundamentals of American boxing, and why the pros are so good. This was all in me head – this is what I had set out to do before I got over there. I brought my savings with me – I had saved all of the money I had.
Anyway, we arrive up to Wayne McCullough's house, and he's a lovely, genuine skin, but he says, 'No, I don't train boxers. They come up to spar from time to time, but I'm not a trainer'. So with this I got a cold shiver and thought, 'Ah, everything is shattered – now what the fuck am I going to do?' Because I was expecting I'd pop to Wayne, train five times a week, learn from Wayne – a former world champion – yada, yada, yada.
"But with that he says, 'I can see you're determined, you obviously want something out of this. You wouldn't be over here with all your bags if you didn't.'
"So he rang Bob Arum and recommended me to the Top Rank Gym, because he's well respected over there – that's where he did his own training. So he got my foot in the door there, and he actually even recommended that I be put up in an apartment. It was really starting to build up for me. I was delighted."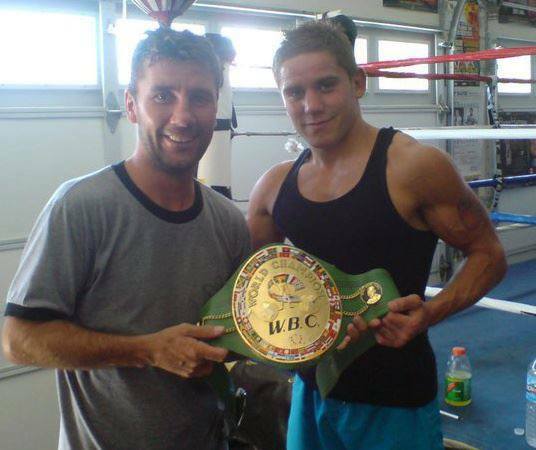 Wayne McCullough (left) and Robert Gorman (right)
But the time had come for friend and coach Brian to go home, and Gorman makes no bones about the fact that his departure came close to derailing their entire masterplan.
"I was over there then the second week on my own," he says, "and I had to get me shopping, bed covers and everything else, and it was just going all wrong. I got a bike and it got a fucking puncture – everything was just working out arseways for me. So I sat down in my room and I just said to myself, 'I have to go home, just pack up.' I left it get the better of me.
"I knew if I rang anyone, and I mean anyone – my mother, my brother – they would have told me to come home; 'Ah, you'll be grand. Just get back into carpentry,' or whatever. I'm still amazed by it but I didn't ring any of them – I rang Brian, and he literally told me what I needed to hear as well as what I wanted to hear, and it was that if I came home, he'd kick the bollocks out me, and that it would be the worst thing I'll ever do in me life.
"As soon as he said it to me I thought, 'This is it. I have to get my shit together. I am making this work, because everybody wants me to fail' – and it doesn't matter who it is: to some degree, people want you to fail.
"It all just went up from there. I was set up in the apartment, I was set up down at the Top Rank Gym, I got introduced to everyone and I was me own boss. I was asking anyone – anyone to spar me. It's all I wanted to do, and it's what I believed would ultimately make me a better boxer."
To begin with, he sparred former WBC World bantamweight champion McCullough every Saturday; they formed a potent partnership, with the Belfast man eventually assuming the role of trainer in spite of his earlier insistence.
As the weeks went by, Gorman began accruing serious mileage in the ring, trading leather with all-comers and improving exponentially in the process. His all-action style turned heads, as did his ravenous appetite for body shots.
"And then the door opened for Yoriorkis Gamboa," he says.
At this time, 'El Ciclon de Guantánamo' was a juggernaut – the hottest property in pro boxing bar none. An Athens Olympic gold medallist, the super-featherweight sensation had won his first 11 bouts, nine by stoppage, and had long been earmarked as a future pound-for-pound kingpin.
"My confidence was now through the roof," Gorman explains, "and someone from the Top Rank got onto Wayne and asked if I'd spar Gamboa. Now, this was after three-and-a-half months in Vegas, so my savings of two grand was starting to run well dry at this stage. So I needed this. I needed to get paid for sparring.
"I got the phonecall for Gamboa and they said they'd pay me 80 dollars a round to spar him – eight rounds at a time, five nights a week. I was fuckin' delighted when I heard that, so I was. Over the moon! So I went up to the gym where Hatton trained for Mayweather, because they wanted to show me Gamboa sparring before I got in with him. And he actually minced the four lads he was sparring. And I mean minced them. He just wiped the floor with every one of them – none of them could carry on.
"I was kind of quaking in me boots, but I wanted to know what I was made of. I looked at the lads he was destroying and thought, 'I'm not these lads. Let's do this.'
The following week, McCullough picked Gorman up at 2pm and dropped him down to the Thai boxing gym in which the feared Cuban was holed up while preparing for his upcoming bout with the 25-0 Marcos Ramirez.
The Balbriggan banger went toe-to-toe with the Caribbean terremoto, and became imbued by both his performance and the subsequent plaudits.
"The first two minutes, I was rigid," he admits. "But after that I was elusive and I was loving it; I just needed to let go, and as soon as I let go, as Wayne said, I was flying – Gamboa's guys loved it.
Now, he can bang, and this was when Gamboa was a serious force to be reckoned with, and that's not blowing me own trumpet. In 2008, he was destined for the highest of highs; he was mincing lads inside four rounds, six rounds. His record alone was phenomenal. At the time, I didn't even have an Irish intermediate title to my name, I had nothing by way of recognition.
"But sparring with him, to myself, I became an Irish champion, a world champion – call you what you want – because even his team said to Wayne, 'If you keep training him, you'll have a world champion'.
"I said to myself, 'This fucker is an Olympic gold medalist and on his way to a world title, and I have one in me – I know it for a fact'. I rattled him in his boots as well a few times, just as he did me of course!"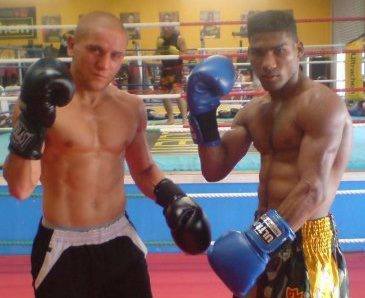 Gorman and 'El Ciclon de Guantánamo', Yuriorkis Gamboa
But with the Irish Intermediate Championships beckoning in December, the time had come for Gorman to check out and head home to acquire the recognition he craved.
He won the Intermediates but didn't enjoy them, explaining how he "didn't bring America back home" with him – instead carrying the pressure of having already made somewhat of a name for himself back across the Atlantic.
"Everyone was hearing about me back home at this stage. I was over in America training with Wayne McCullough so that was a big thing, and I let that get the better of me.
"I didn't win it with style, the way I wanted to win it, the way I'd been sparring in America. I brought fighting instead of the boxing I had learned. It was the old me, but just that tiny bit better, and just enough to win the Intermediates in a pure dinger of a final. I actually got Boxer of the Year from the IABA a few months later and it was mainly down to that final."
And so it was back to Vegas in the summer of 2009 for another jousting J1, but this time as an Irish Intermediate champion, still evincing a confidence earned in some of the world boxing's most perilous bullpens a year prior.
As it so happened, he'd made quite the splash in 2008, and before he jetted back for the second leg of his American odyssey, he received the news that would culminate in his becoming a cult hero within Irish boxing, and a legend on his native streets.
"Now, I knew Mayweather was in preparation for [Juan Manuel] Marquez, and I knew I'd built up a good reputation at the Top Rank Gym. But if it wasn't for Rafael Garcia [son of the legendary cut-man by the same name], who would train me instead of Wayne when I was in the Top Rank, it would never have happened. He said to his Da, who was Mayweather's cut-man for years, 'Tell Floyd we've got this Irish kid who's similar to Marquez.'
Eventually he tells me, 'Right, we've got you on the team for Mayweather to get ready for Marquez', which was just brilliant for me. I was on top of the world, because I was coming on in spades, and I had the World Championships qualifiers coming up in September.
"I went back over, anyway – budget set up, sparring with Wayne set up – everything had been set up since the year before. I was set to get $100 per round for sparring Mayweather, basically; I didn't hear how many minutes, how many rounds, how many days.
"So me and Rafael went down the first day, doing our own pad work, but Mayweather didn't come. Second day, Mayweather didn't come. And that was the thing with his training – he does what he wants. He might come in and just decide not to spar, and hit the bags for half an hour instead like he does in his videos, and then leave.
"But he had Mexicans and Latinos in there, he had all the hard-as-nails lads. Even if they didn't have great boxing records, they'd stay in there with him. But he could bounce off them as well, because they weren't all that good either. He'd play with them, basically, and use them as a punchbag. But they didn't give a fuck. These were all lads on little or nothing. Pennies. They just wanted to feed their families.
"Anyway, as the days went on, Floyd basically hears that there's this tough Irish white boy in the gym, and so he decided to leave me 'til last, which he did."
Rappler / YouTube
Gorman's stint with the returning champ arrived a couple of days into camp, but before a punch was exchanged he was force-fed a taste of Mayweather's infamous attention to detail; even in the gym, as it transpires, the undefeated stylist has a boderline sociopathic predilection for controlling his environment.
Eight years before Conor McGregor endured what have become typical stipulations and sticking points in order to secure his own Red Panty Night, his fellow Dub found himself wrapped in Mayweather's red tape.
"Now, that man might not be as strong as an ox but he's as fit as a horse, no ifs, buts or maybes about it," Gorman says.
"He did four three-minute rounds with a Mexican, and then with a Spanish guy, and then it was my turn. And it was just out of the blue when I got called, because he was just so un-fucking-predictable. And I'm a man of routine, so if I'm sparring at two o'clock, I want to know I'm sparring at two o'clock. He does what he wants, when he wants, but I couldn't let him get to me.
"So I just wanted to get my sparring done, get the feather in me cap, and that was it. And basically… Oh, yeah, it wasn't even me own headguard I was wearing! I wasn't even allowed wear my own gloves. It was so un-fuckin'-comfortable, I'm not going to lie to ya, because it was all his fuckin' rules, his equipment.
"He's an arsehole, actually," the Dubliner continues.
"I wasn't allowed to go up and talk to him, or even talk about gloves: 'should I wear 16oz?' or whatever. It was just, 'Here are these gloves, you're wearing them, and that's that'.
"And the headguard was a piece of shit as well."
Concessions to 'Money's pedantics made in a heartbeat, it was finally Gorman's turn to test himself against the world's best.
"I'm on my way into the ring, and Rafael says, 'Just enjoy it, just get a feel for it'. And it was literally a case of, 'All right, Floyd's ready, get in, get in, get in.' That actually worked to my advantage, because I hadn't got a half an hour to think about the fact that I was about to box the best fighter on the planet. It was just a case of, 'get in, spar Mayweather, get out'; no anticipation, no build-up, just get the fuck in and do what you do.
"So I step in with him and we start sparring. And out of the blue, he just starts talking to me!
"'You white thrash piece of shit, you ain't got shit on me! You're not gonna last!'
And I wasn't used to this – I'd never had a person talking to me in the boxing ring before. I didn't know what was going on! So I just started talking back: 'Yeah, world champion me hole. Is that all you got? Come on you little bitch!'
"And then I started having fun. I was loving it! Because I let go; I entirely let go because I was talking back, chatting away to him: 'You're no champion.'
"So I get back to my corner and Rafael tells me we were after doing a six-minute fuckin' round! Then it turns out we were only getting a 30-second break [as opposed to the standard minute], and we end up doing four six-minute rounds. So you're talking double rounds with Floyd Mayweather. But as I learned, it depends what humour he's in."
It was far from plain sailing, of course.
"Trust me, being in that position for six minutes with Floyd Mayweather was to go through hell. At one stage when I went back to the corner and got a drink, I turned around and he was back in my face, back talking to me. So back I went yapping at him, and it just rolled on and rolled on.
"Now, I say they were six minutes, but I should add that when Floyd wants, he'll just stop. So one round was six minutes, one round was five-and-a-bit minutes, the next was six minutes, then five minutes. Rafael had his clock, so he'd tell me at the end of each round: 'That was five minutes, thirty seconds.'
"But they were the hardest four rounds of my life, and they were very, very long."
Yet, despite his obvious struggles with the greatest ever defensive pugilist not named Pernell Whitaker, Gorman – as was his wont – made quite the impression on Mayweather's team.
His put-up-or-shut-up approach stifled much of Mayweather's work, his own unrelenting output wowing one onlooker in particular: Mayweather's trainer and uncle.
"Finally, when I get out of there, Roger Mayweather says, 'That's the toughest white boy ever to step in the ring with Floyd.' And I believe that, hand on heart, because I did not get out of his face. I was there all the time, and I did not allow him an inch to breathe.
And if McGregor wants to beat him, by the way, he has to understand that the best defence is offence. And even if you cannot hit him, you have to stay there on top of him. He needs room to operate, but I gave him problems because I didn't give him distance.
"But I'm sorry to say that isn't McGregor's style. McGregor's stand-up style is actually suited to Floyd Mayweather's, because he, like Floyd, needs to establish range to do his best work. That's where he's most comfortable. The problem is Mayweather is a great chess player. He sees, he analyses, he counter-punches. And if you allow him the room to see, the rest will follow."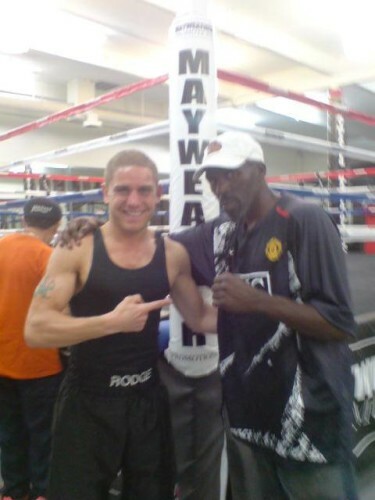 Gorman and Roger Mayweather
"Anyway, just getting back to the sparring for a second," Gorman continues. "The whole 'breaking his ribs' that everybody… Look, I hit him a lot – and I mean a lot – of body shots, because I'm known for my body shots."
However, having understandably refused to deny back in 2009 that he was the man who burned 'Money,' the older and wiser Gorman doesn't mind lifting the lid on one Irish boxing's great fables.
"It was after the end of the fight, not during the fight – I was actually taking off me gear at the time – he kneeled down and it was like he was going to die.
"He had his hand in and around his ribs. Now, hand on heart, I don't think it can have been a punch or anything like that. Unless it was just a trapped nerve, or something. But I'm not saying I did it, because I certainly didn't do it during the fight. He got down on his knee and he was nearly crying like a little girl.
It's possible that I hit him and bust a nerve or something like that, but as I see it I didn't do it there and then – as in, while in the ring with him. But I hit him with a lot of body shots, and if I had half a chance to do it again I would. I have no respect for him.
Gorman then takes a more snarling tone while assessing Mayweather's impact on his sport, admonishing the materialistic culture he's cultivated.
"His attitude stinks. 'Money'. He's no inspiration to young people, there's just no way.
"Money shouldn't inspire people – or boxers anyway. That's horseshit. He got his money, that's fair enough, but he's making young lads want to train and fight just for money. That isn't an objective. Fight for the love of it, but only do it if that's what you love doing. That's my attitude.
"All this 'billion dollar fight', or 'multi-million dollar fight', it's not worth a thing, because when you start off doing something you do it for the love of it, and you're not making a penny."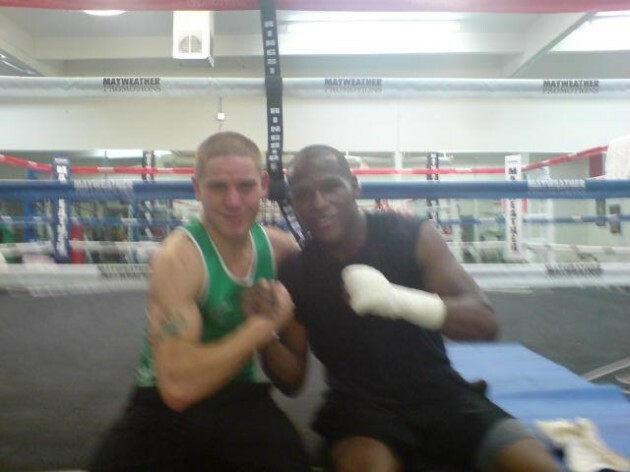 Gorman and Floyd Mayweather Jr
The 18 July fight between Mayweather and Juan Manuel Marquez was postponed soon afterwards, with the official statement citing a 'rib injury' picked up by the former during his training camp.
Gorman, as the last fighter to have sparred Mayweather prior to the announcement, became a celebrated name in boxing's sprawling forums and fan sites, with the World Championships qualifiers looming. He was on top of the world.
"But after that experience is where it all went pear-shaped," he says.
"I came home, confidence through the roof – July it was, with the qualifiers coming up in September. I had been fighting and I was happy at 64[kg], where I won the Intermediates, but like a thick c**t I said to myself, 'I'll do 60kg'. I was shredded, and I think that was the only reason I fucking went for 60, because I looked bloody great, shredded athletically, me abs were showing and everything! But I wasn't strong at the weight.
"I sparred Mayweather at 67, because when I was fighting at 64 we'd always try stay around 67 before cutting down for a tournament. And I was happy at that weight – I'm 67 now eight years later!
"But going into the World Championship qualifiers, my coach asked me what weight I wanted to go for, and I said 60kg like a stupid c**t. And it was me own doing, and the worst fucking decision I've ever made in me life. But basically the best decision, which will make sense in a second when I explain the bigger picture."
The bigger picture, as it would soon be made plain, lay away from the slings and arrows of his craft, but Gorman's cut to 60kg would be a definitive career low not months after a best-to-date moment in Vegas.
"I had a week to lose seven kilos, so I had the sweatsuit and the whole lot," he says. "Sure I was hyper, on cloud nine – I was just after sparring the best boxer in the world and had been classed as the hardest grafter ever to get in with him by his uncle and trainer. There was nothing breaking me.
"Man, I worked me arse off. Worked, worked, worked, worked. I had to make 60kg on the Friday morning. I got on the scales that morning after killing meself like a thick…and I weighed in at 60kg. I felt weak, but I was 'fightable ready'.
I drank two litres of water afterwards and had me breakfast, but all I wanted was fluid, fluid, fluid. So I managed to put on three kilos, replenishing meself, thinking I'd be grand. And then I get a phonecall and what does it say, but, 'You have to weigh in again in the morning.'
It was, most literally, a sickening twist to his plot.
"So I had to lose 3kg – 2.7 to be exact – in the space of a day, and me fighting the next day! I got the sweats, but I didn't want to let anyone down, and I didn't want to let myself down, so I went up to the Northwood Gym and I threw on a sweat suit, a tracksuit – everything you can name, I put it on.
"I went on the cross-trainer, high intensity, for half an hour. Another half an hour on the bike. Half an hour on the treadmill. Then another half hour on the cross-trainer again. So did the two hours, took me gear off, and I was still 61.7kg. All right? So I had to put my dry gear on, jump in a sauna for half an hour with me clothes on, and I was nearly dead.
Jokes aside, one of my best mates who was working up there – and I was working there myself part-time doing personal training – but he says to me, 'You were nearly dead on your feet. I was nearly going to call an ambulance.'
"But I didn't want to weigh myself again, I just wanted to keep sweating. So I left the spare tracksuit on, jumped in me little Fiesta and prayed to God that when I got on the scales I'd be below 60kg. I was 59.7.
"And I still had to fight the next day."
Suffice to say such a gruesome weight cut was too strenuous for Gorman's body, and when he finally stepped in the ring, it didn't waste any time in letting him know.
Brimful of will but entirely void of energy, the fight went catastrophically.
"It was absolute madness," he says. "I was nearly dead, basically.
"I weighed in the following morning – fight day – and got me breakfast. I was actually feeling good. But you may feel good even after losing that weight, yet your body's not accustomed to it – even if it was just 3kg. Either do it properly or don't do it at all. That's what I learned from this experience.
"Everybody was at the fight, there was a bus and everything – all set. But no one – and I mean no one – had seen the week that I had struggled through. I went through hell. And all they're seeing is me in the corner, fresh, ready to go. And sure I got bounced off. Sure I couldn't even throw a punch! My coach said he'd pull me, that he wasn't going to send me back out after the first round, but I said, 'No, I'm going out there.'
The ref stopped it. The World Championships were gone. Sure I couldn't throw me arms. The mind was saying, 'Throw this punch, throw that punch', and the body was saying, 'Go fuck yourself.'
"And as soon as I got out of the ring I felt like I had let everyone down. Everyone. After that it all went downhill. After that experience, I wanted out of boxing, but I couldn't pluck up the courage to tell anyone.
It was coming to the end of 2009, and I was out of my mind: 'How am I going to get out of boxing?' I made a plan. January came, and I was sat down on the beach in Balbriggan. I was suicidal, basically.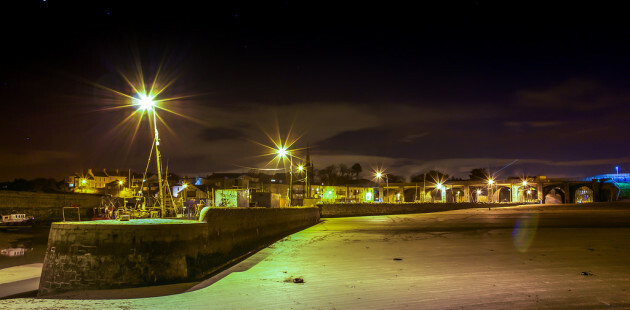 Balbriggan harbour
The low of conspiring against himself in the lead-up to his botched qualifier was accentuated given the highs Gorman had experienced two months prior. He went from the man who injured Money to the man who couldn't throw a punch for love nor money.
For years a boxing obsessive, his passion for the sport had been drained from his system almost instantaneously, his dreams dissipating with every bead of sweat lost in that sauna, finally departing in the arms of the referee who knew better than to perpetuate his beating.
Thus, he stepped through the ropes with a greater opponent than even Floyd Mayweather: his ailing mind.
"I was in the worst shape of my life, my head was all over the shop, and so I sat down on Balbriggan beach and on the 10th of January, pure depressed. Me demons were destroying me. All I had was food. I was 75kg, and people were starting to notice now. I needed to get out quick. I needed to get the fuck out.
I said to meself, 'Don't commit suicide.' But my mind sort of overruled me, and I was going to. I was thinking, 'Just fucking end it all'. It wasn't me – it was just a part of me saying, 'Just get out of it.'
"So with that, I decided to fake breaking me wrists. I thought, 'It will give you time just to get your life back together, and you won't have to box.' And I believe that this is what all people who experience suicidal thoughts need: the time to reset their life. When I planned this, to fake break my wrists, I was free then to do as I pleased. I wouldn't have the boxing coach telling me to be down at the club at this time or that time. I'd be my own man.
"When I came up with the idea, I got the best feeling in the world. I had no more pressure on myself, and I think that's where a lot of suicide stems from: we build all this pressure on ourselves in relation to what we're setting out to achieve. Our mothers, fathers, sisters, everyone wants us to achieve – and it might be something that we don't want ourselves. It's like a volcano that's set to erupt, basically."
He knew well that faking injury would amount to a merely temporary solution, but Gorman contended that this was all he required in order to stave off the devil's advocate inside.
His plot was simple, his end-game slightly more ambiguous. The one thing he knew for certain, however, was that sporting two wonky wrists, he would no longer be expected to lace up the gloves. For he now perceived boxing as a conscientious objector might conscription, and felt the external willingness for him to fight was treacherously constricting.
"On the 10th of January, I had left the beach and I was training in Pro Fitness with my dear friend Adrian Harper who owned the place at the time," he says. "And we were lumberjack pressing. So I crumbled into a heap underneath the bar, basically. And I'm roaring to Adrian, 'AHHHH, ME ARM! AHHH FUCK, ME WRIST!' and all that. The whole faking scenario. Adrian brought me up to Beaumount or wherever it was, and every time the doctor touched me I'd be like, 'AHHHH, ME ARM' – faking again. She put a cast on it and sent me on me way.
"I rang my coach and explained. And I knew my coach at the time was going to hate me and curse me under his breath because he was completely anti-doing weights.
But I just couldn't tell him the truth. And that's the problem with people as well at the time! People swept everything under the rug. I told one or two people I was depressed coming to the end of 2009, and they just said, 'Get the fuck on with it, will ya?' And that was the hardest part – telling people. So I couldn't tell anyone now, because my I got stung when I did say it to one or two people for the first time. 'Just get the fuck on with it. Just get on with it.' And it was worse than that. 'You're fighting, just get on with it.' That's exactly what I didn't want to hear.
"I had my cast on to show my coach I wasn't faking, even though I was, but still. So I was out of the Irish Championships.
"But now where the fuck am I going?"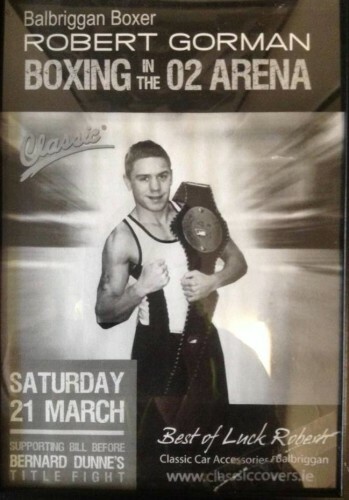 Poster advertising Gorman's fight on the undercard of Bernard Dunne's world title victory over Ricardo Cordoba in 2009
Gorman ballooned to 80kg. As he puts it, "with fake broken wrists, I couldn't train or squat shit."
"I only had my reputation to live on – I was still the Mayweather guy and this and that – but the demons I was fuckin' battling, man. The demons I was battling…
"But when I planned to break both my wrists, I also planned a journey for myself – a plan for training. So after I came out of the casts, I put that plan in action. 'The SOS', as I called it: The Shed or Shred. I became a personal trainer in a little garden shed, basically. I was training clients in me shed.
"But I was still battling demons. By 2011, I had developed an eating disorder. I would have had it for all of 2010 and part of 2011. I'm only alive because of food, and that isn't a good thing or a bad thing. When I had my anxiety, I had my food. If I felt down, I'd get a heap of food.
"Everyone has their own addiction, be it cigarettes, be it alcohol. We all have our own addictions that we use to get over mental illness, or put up with it.
Exclusive Six
Nations Analysis
Get Murray Kinsella's exclusive analysis of Ireland's Six Nations campaign this spring
Become a Member
His attempts to curtail his eating were futile. Every time he made inroads in this internal war, he'd be straight back down the chipper and fall off the wagon once more. Rinse. Repeat.
His consumption of food, though, was merely a byproduct of his depression which, in spite of the occasional breakthrough, continued to gnaw at his soul.
"I was depressed out of me mallet. It was Saturday night, and me brother, David, rang me to go out with me cousin, Dominic, and one of our best mates, Georgie. I didn't want to say no – I was a coward at the time, I'd never say no to anyone, when really I just wanted to stay in bed and let the demons break me even more.
"But I went up and we had a few beers. We're drinking away, having a bit of banter, and our cousin offered to bring us to the nightclub.
"He brought us in, and he went home. Now, I was depressed off me head in the club, so what was on my mind was, 'I just want to get food and go to bed, because I'm depressed out of me fuckin' head, so I am.' So I told the boys I'm leaving because 'I'm shattered,' or whatever – I just used an excuse.
"I went home at about half-eleven, and if they would have said, 'Stay', I would have stayed, and I probably wouldn't be having this conversation with you now."
Indeed, his compulsion to consume unhealthy grub would, in tragic circumstances, contribute to saving Gorman's life.
"At three o'clock in the morning, me ma came screaming into the room.
"'Your mate, Georgie!' she said. My cousin, Dominic, had gone back in to collect the lads. The car was after flipping over on the M1 on the way home.
"Georgie was in the back seat, and me brother was in the passenger seat. Georgie went out the back window.
"I know for a fact I would have gone out the back window with Georgie, because I wouldn't have put me seatbelt on. Dominic and my brother had theirs on, but Georgie didn't.
"So only for the fact that I was so depressed, I would have been in the back of that car, and I wouldn't be having that conversation with you. I believe there's a guardian on my shoulder who has guided me with that.
Now I knew I had a purpose. I didn't know what it was yet, but I knew I was here for a reason. I should have been dead, and the food saved me. The same thing that was destroying my life saved my life.
Gorman's brother, David – an Olympic weightlifter and "strong as an ox" – was hit hardest by the passing of his best friend.
His coping mechanism, though, inspired Gorman, who had initially succumbed to his food addiction as he too grieved his pal.
"Everybody has their own way of dealing with death," he says. "David trained like a horse, I ate like a fucking pig. The morning of the funeral, David was training. I really took a leaf out of his book, because not a lot of people possess that character.
"If something bad happens, David trains. And if you watch the greatest of athletes, the greatest people – they do that. They don't go bingeing or boozing. There was an Olympic weightlifter [Germany's Matthias Steiner] whose wife died and he went on to win the Olympic gold medal. How good is that?
"I had seen my brother train away after this happened to Georgie, and I knew I needed to get me life back together.
"As I said, I had set up a little personal training studio out in the garden shed, and I started training people for free to build up confidence. I was getting very good at it because I was doing it on my own, away from the gym and distractions. This was literally a garden shed – the SOS! And life started to get a bit better.
"I had started the personal training in mid-2011 and I was on cloud nine coming into 2012. I had a job, I was back up and running, I believed I was going to get back boxing some day, I was in phenomenal shape again. I built myself back up and I was on top of the world. But yet, with every low, and with every high, comes disruption."
There was a tragic irony to how, not unlike the low of losing his Worlds qualifier becoming exacerbated tenfold in light of his Vegas highs, Gorman's rapid ascent from perpetual misery saw him fly too close to the sun. His recovery was unsustainable.
He became delirious, delusional and, eventually, a danger to himself once more.
"In February 2012 I was fuckin' high as a kite, man," he says. "Eventually I blew a head gasket.
"Sure I thought I could fly, I thought I could heal people, I thought I could do anything. One day I popped 50 fat-burners because I thought I could die and come back to life!
My ma and my brother knew there was something fucked up going on, and one morning – it was the 23rd of February – I was about to head down to jump off the prom [Balbriggan promenade] because I thought I could fly.
"I thought millions of people were down there to watch me fly, and then walk on water. Let me just say that again: I believed this in my head, that millions of people were down on the beach to watch me do these things.
"Now, maybe if my mother and brother had let me head down to the beach to see that there weren't millions of people down there, I would have realised that everything in my head was an illusion. But their love for me ensured that I wasn't going to jump off the fucking prom, which is a very high building.
I was dragged into the car and brought to the hospital, and pumped with substances to calm me the fuck down, because I was talking more pony than you could ever imagine. I woke up in Joyce's Ward in Fairview and was diagnosed as bipolar.
He wound up remaining in Joyce's for a week, and describes it as "one of the greatest experiences of me life, because I was still very high."
Not high from drugs, however, but a diluted optimism born of a combination of factors: within his new confines, his old friend 'routine' afforded him the opportunity to regain the sense of perspective he had lost in the aftermath of Georgie's passing; a relentless, self-imposed workout schedule allowed him to discipline his wandering mind, which had last been spotted headed in the direction of the stratosphere.
"I was training around the clock and eating healthily. The love of my family saw them bring in all my training clothes, and nutritional food. My sister made me a low-carb lasagna she brought me in fish, she brought me in everything.
I got a reality check. 'Calm yourself down, Rodge, or you're going to be in here for a very, very, very long fucking time!' I completely cleared my mind within the space of a week, I minded my own business, I trained away. But I needed to talk to people; I talked with a man who thought he was George Best, I spoke with everyone. And I think that brought out my true self, because I saw that I am no better than anyone on this planet.
"When I got out of there after that week, it just opened up everything, every door for me, because I believed I could achieve everything I'd ever set out to do."
But even allowing for his newfound mental clarity and self-assurance, there remained one final stumbling block.
"I had another challenge, then. I was spitting out my medication, and me mother used to catch me spitting it out. I got caught countless times, and then I had to swallow it. But I was training clients at the time that still had faith in me, and when I was taking all this Xanax and Lithium, I was zonked out of my head.
"The love of my mother was actually destroying me, basically. I was okay mentally, but to my mother's mind, the breakdown could happen me again at any time. She wanted me zonked to make sure it didn't. The amount of arguments I had with her, man. The amount of World War Threes, where I'd leave the house and everything else. So I figured out a way of spitting it out and not getting caught.
In 2013, I went up to the doctor and she gave me the all-clear. 'You are A-okay.' I went through a year-and-a-half of people believing, 'This could happen to this fucker at any time again,' but in 2013 I was like, 'That's it, the doctor's given me the thumbs up. Take your medication and shove it up your hole!'
"No one can tell me that medication is the answer when I spent my time spitting it out and focused more on healthy food, healthy drinks, training and nutrition, and whatever was going on in my head, I kicked its arse."
It will surely come as a relief to learn there are no more 'buts' to Gorman's tale.
Instead, half a decade removed from his greatest battle, and eight years on from telling Floyd Mayweather he wasn't worth a shite, he's flying, but figuratively.
Mind you, contentment is hardly enough to satisfy a character of his fortitude.
"I'm playing the guitar the last three years," he says. "I'm playing me first gig on Saturday, at me cousin's wedding – just for her and the family.
"I'm really excited about it. I love it. The guitar is my therapy.
"I have me own personal training studio out the back of me house, as well. I built a new studio that isn't a shed! I have an Olympic platform, everything in it that I need.
"I'm doing gymnastics, now, with the last two years – walking on me hands, the whole lot! I'm doing a lot of things, basically, from the beginner stage up. I'm doing Olympic weightlifting; me brother showed me the ropes, and it's very, very, very, very, very hard to do. Sure I'm flat to the mat.
I've been talking to the Celtic Warrior Gym up in Blanchardstown. I went into Paschal Collins and he was so open to me. It felt like I was in America again. He's there, 'Well, you can get lads' numbers and come up and spar whenever you want.'
"I was telling him that I was doing my own training, and that I train clients in the evenings, and he was so positive. 'Right, well you can come up at this time or that time – Tuesdays, Thursdays and Saturdays if that suits you best.'
"Basically now, I train five times a day. I work on my guitar four times a day. And I have 11 clients a day. That's how organised I am."
He could scarcely be considered old at 33, but in athletic terms it might be suggested his best days were spent in Vegas.
Not so, says Gorman, who in his not-so-auld age has developed a wisdom perhaps beyond his years, and realises time is no inhibitor.
It was once suggested by Rustin Cohle of True Detective fame that time is instead more a flat circle, and Gorman is now hellbent on seeing to it that his story comes full circle, culminating in a near poetic return to the squared circle.
"So my plan of attack is… Look, I'm in the best physical and mental shape of my life," he says. "I'm nearly 34, and I've never been in this shape since I was 15, or any age, actually. My goal is now to fine-tune me gymnastics and everything else before I go back boxing in January.
"I'm going to get myself a little motor, and I'm going to take a year then to sharpen my tools and get myself set. 'Cause I'm boxing – I'm still doing boxing training. I do rope skips, I do me punchbags, I do me step pattern. I do five full rounds a day on the bags – proper rounds. I do five rounds every day of everything, basically, to keep myself sharp for boxing.
I haven't lost my boxing skills, and that's a fact. And please mark this down as a quote. Well, it's not a quote, but… People look to youth for inspiration – Mike Tyson, youngest ever heavyweight champion – but we see very, very few late bloomers. And that's in every walk of life. To me, the inspiration is the oldest person who does it. That's what gives life to the person who doesn't have faith in themselves when they're old. 'It's too late to start.' I picked up the guitar at 30, 31, and now I'm fucking great at it. I'm flying at it! It's given me so much confidence because I realised, 'better late than never.'
"And I had to work hard at it – the same with gymnastics and everything I do. I have to work so much harder for it because I'm at a later age. I'm not as young as I used to be, but I feel it. And that's the main thing."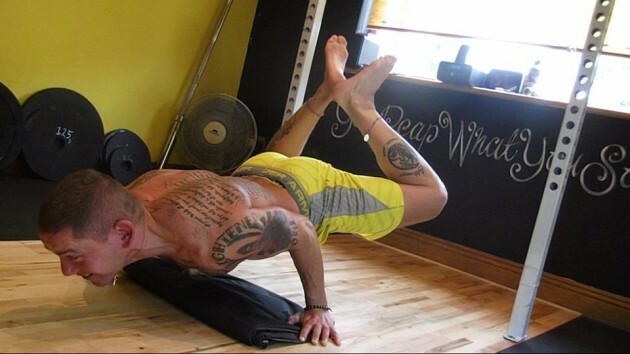 The goal, however, is not merely to step through the ropes for sentimental value, or just to say he did it, but instead to seize the opportunities he deprived himself of in 2009.
In spite of the chaos which surrounded his acrimonious abandonment of the sport then, Gorman now views boxing through a wholly different prism.
He'll lace up for the love of it rather than bowing to an external expectation, each punch righting its own wrong, each step a middle finger to the demons which once plagued him.
"I'm going to go back boxing for a year," he says, "and I would love nothing more than to enter the Senior Championships in 2019 and be the oldest person ever to win them. Because it used to be that the age limit for entry was 33, but now it's 37. And mark my words, I will blow them all out of the water. I'm going to do what I'm destined to do.
"Just for the sake of… That last fight in the Stadium, it wasn't me fighting. It was a 60-kilo, drained person that basically wasn't me. I want to finish strong up in that stadium, and I know how I'm going to do it.
"And then maybe I'll go pro! Because I have all the time in the world, and I can do whatever the fuck I want, because I'm me own boss. Plus, I've a great stable now up in Blanchardstown to back me up. And yeah, it'll be a baby steps course. But I've all the time in the world.
"There's no panic."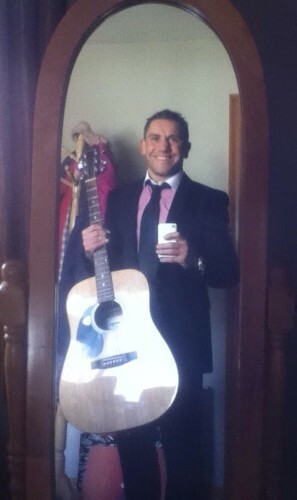 If you need to talk, contact:
Samaritans 116 123 or email jo@samaritans.org
Aware 1800 804848 (depression, anxiety)
Pieta House 1800 247247 or email mary@pieta.ie – (suicide, self-harm)
Teen-Line Ireland 1800 833634 (for ages 13 to 19)
Childline 1800 666666 (for under 18s)
Subscribe to The42 podcasts here: