IF KATIE TAYLOR prevails in her quest to win a professional world boxing title tonight, she will join an elite group of Irish women.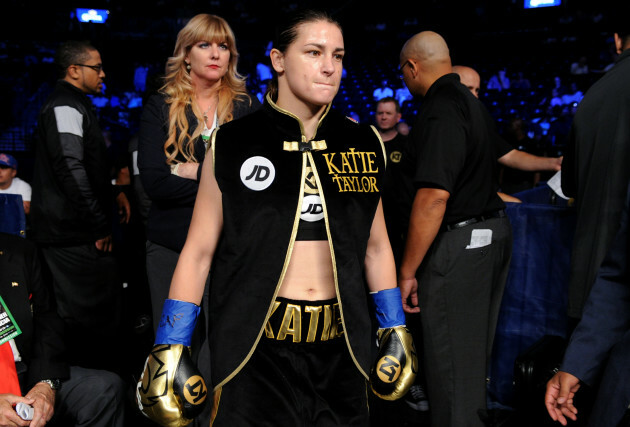 Emily Harney / INPHO Katie Taylor pictured ahead of her fight against Jasmine Clarkson earlier this year. Emily Harney / INPHO / INPHO
The Bray woman's WBA World lightweight title shot in Wales comes exactly two decades after Deirdre Gogarty of Drogheda lifted the Women's International Boxing Federation (WIBF) featherweight title, and became Ireland's first female world boxing champion.
Just two years ago, Monaghan's Christina McMahon also achieved such an honour, when she defeated Catherine Phiri in Zambia to claim the Interim WBC Bantamweight belt.
McMahon was 40 at the time, while her opponent was just 22. And despite getting essentially six weeks notice for that bout, the Carrickmacross native triumphed against Phiri in her home country.
Taylor now has the opportunity to join that distinguished group, as she faces Argentina boxer Anahi Esther Sanchez in Cardiff's Principality Stadium.
The locations may be different, but McMahon can relate to the range of emotions that Taylor will experience before she steps into the ring. That immeasurable blend of nervous anticipation and excitement is a sensation that still resonates for her.
"When we arrived in Africa, I was very excited and very up for it," she told The42.
"Even at the weigh-in, I think I was still a bit excited. And then when it came to the day, I was extremely nervous and I hadn't thought about TVs, I was only thinking about the fight.
"But every so often you think, 'oh sugar, everyone at home is going to watch this as well.'
"I was just nervous. I can't even explain how nervous I was. I shocked myself at how nervous I was. That was in the hotel, but then when I got the stadium, the nerves settled a bit and you went in and kind of felt the buzz of the crowd.
"You were very welcomed and left at ease I suppose and then when you go into the changing rooms, you weigh-in on your own and then it becomes as if you're just in the gym.
"It's like when you go into your job and you might have a new customer. You might be a bit nervous, but when you're in there it just comes like second-hand nature to you and the nerves are gone."
Morinda 1996 / YouTube
McMahon had no comprehension of the impact of her achievement back home. For years, she had been virtually a ghost of her sport in Ireland and few outside the boxing community took much notice of her career.
As far as she could tell, her victory was better well received in the country she was fighting in.
"Sure, I was better known over in Africa on that weekend than I was in Ireland.
"The reason I know that is because one of our teammate's mother was from Zambia, his family still live in Zambia and they could tell us the morning after the fight that they were out selling DVDs of our fight.
They were making money on our DVDs in Zambia. They had filmed the fight that night and had made up DVDs to sell and make money. Yeah, my face was on a DVD being sold all over Africa."
The first indication she got that her victory was triggering a reaction in Ireland was a text message she received from a friend to inform her that she was trending on Twitter.
"The reason that that was trending," she explains," was that (Manny) Pacquiao and (Floyd) Mayweather fought that night in America and were trending number one.
"And underneath everyone was saying, 'can you believe an Irish girl went over to Africa and is after taking the title home? So, I was trending at number five on Twitter world wide that night."
McMahon was still oblivious to her newfound fame, and was stunned by the crowd who turned out for her homecoming in Monaghan. She had no prior knowledge of the homecoming, and was even planning on heading down the town for her usual omeltte and coffee until her husband and boxing mentor Martin 'Frick' McMahon was forced to keep her at home and away from the crowds.
In fact, she was unable to venture down the streets of Carrickmacross for the next month such was the extent of her newfound fame.
I'm from a smallish sized town," says McMahon, "and I couldn't go down or up the town without chatting. I think that's a lovely thing, people are asking you how you are and I wouldn't have it any other way. But my God it was bombarding. I think I did interview after interview and it was lovely and I got invited to a lot of nice functions.
"It was a great year and a lovely year, and I appreciated it. Now, could I take much more? I don't think so. I don't think it's my personality to be in the media all the time."
But McMahon's experience of women's professional boxing has not always delivered such pleasant memories for her.
She was undefeated when she captured her interim title, and according to McMahon, 'I was the best in the world while I was an underdog.'
But after she became a world champion, problems arose in the bouts that followed. A title fight in Mexico against Zulina Muñoz last year produced a controversial victory for Muñoz and plans for a rematch were scuppered. She was also suspended by the World Boxing Council via Facebook message.
Following her world title success, she travelled to New York for a fight where she was forced to jump two weight classes in order to take on Jamaica's Alicia Ashley. Ahead of that bout, McMahon says she was subjected to a PET Scan which involved injecting her with radioactive glucose.
She has never received the results of that examination, which has led her to suspect that the procedure may have had a negative impact on her.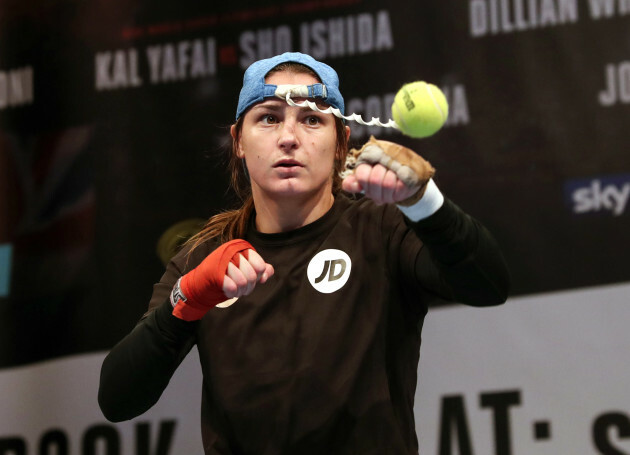 Lawrence Lustig / INPHO Taylor during an open workout ahead of her world title showdown. Lawrence Lustig / INPHO / INPHO
That's just a flavour of the difficulties she has been burdened with in the latter stages of her career, and although Katie Taylor appears to be making a smooth transition to the professional game, McMahon remains unconvinced that women's professional boxing has improved.
"When I became the champion, I wasn't wanted anymore because Ireland isn't running enough WBC shows so it's not in their interest to have an Irish champion.
It's not a Christina McMahon personal problem, it's a money problem. It's a promoter problem and a show problem so in Africa, they're running these shows consistently. In America, they're running these shows every month, that's big money to the WBC."
"I don't know the insides of Katie's team myself or her promoter (Eddie Hearn.)
"They say it's good to know your promoter but the other side of that is that the promoter is talking about all these fights and that she's going to be a world champion and fight in Dublin but it's taken her seven fights to get a world title.
Exclusive Six
Nations Analysis
Get Murray Kinsella's exclusive analysis of Ireland's Six Nations campaign this spring
Become a Member
"I got my world title in seven fights and my husband is my promoter, and not one person knows his name.
What I'm saying is, are they getting anywhere faster? Are they getting anywhere quicker? Maybe when she becomes world champion, she might find problems down the line, we just don't know."
At 42, McMahon is confident she still has one fight left in her before she resigns herself to the comforts of retirement.
Boxing is not the only thing that matters to her and she finds joy in her work as a personal trainer, as well as time she spends with her family. Her sister relocated to North Carolina to live her life there, but McMahon's heart belongs to Carrickmacross.
Her sporting career has brought injustice to her at times, and there were occasions when it seemed like a title shot was not forthcoming at all. Prior to the Phiri fight in Zambia, she had at least three offers that fell through.
But the belief that her time would come sustained her through those periods of misfortune.
And now that she has proven herself on the world stage, she wants to look forward to a future where she can celebrate the achievements of other Irish boxers who are coming through the ranks.
She was in London to witness Taylor win her Olympic gold medal, and believed she was destined for greatness from an early stage.
That future is still possible, and McMahon is determined to fight for the cause.
"If I never fought again, I'm fighting the situation and I'm hoping it will make a small difference.
"I'm not giving up on what happened (to) me in Mexico and I will definitely highlight it bigger and better as time goes on. It (the sport) has to tighten up for females and males as well.
"I'm fighting in the background for the righteousness to fairness and for the people like me that hasn't got the big name behind them. That's what I'm standing up for."
The42.ie / YouTube
Subscribe to The42 podcasts here: