IT WAS AT its most noticeable during Ireland's disappointing Women's Rugby World Cup campaign but it's a trend that has been creeping in for a while now.
No longer are we just having a conversation about how to get or keep women in sport, but pundits and journalists are being just as critical of female athletes as they are their male counterparts.
It's a seachange Sharon Hutchinson, former Irish international hockey goalkeeper and the founder of sportswomen.ie, has certainly been aware of, and it's one she's delighted to see.
"The conversation has changed," she told The42 this week.
"I think women's sport has been taken more seriously rather than just 'ah sure, aren't they great'.
"I do think it's definitely changed and we can now be critical of women's sport too, just as we do with men's sport so, if they're not playing well, we can say they're not playing well and that is a big change."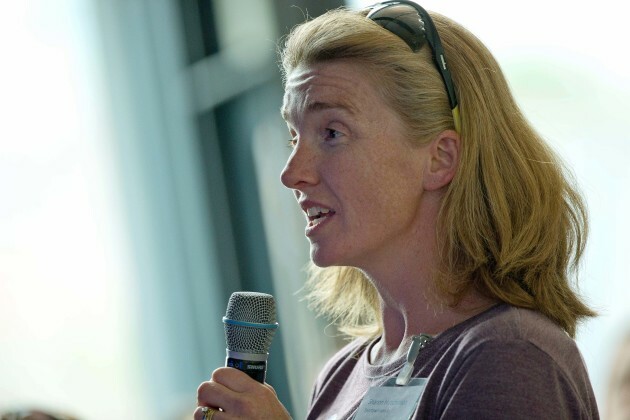 Morgan Treacy / INPHO Hutchinson has been a long-time promoter of gender equality in sport. Morgan Treacy / INPHO / INPHO
Hutchinson will be touching on this and other matters as part of a Gender Equality in Sport panel in Dublin this weekend alongside the likes of Catherina McKiernan, Nora Stapleton and Rachel Ruddy.
And another significant change she has noticed is that the heroes of the young, both boys and girls, are no longer from just one sex.
"For a lot of sports, a lot of young people growing up now have heroes who are women.
"That said, if you ask any of the female soccer players who their hero is, I would still think a lot of them say men because it's still very much a male-dominated.
"Rugby though, maybe because it has such a successful organisation behind it, I think they've done very well considering they still have a relatively small number of participants.
"I think there's only something like 3,000 or 4,000 women playing rugby, something like that, but they've really generated a whole fever about it, which is great."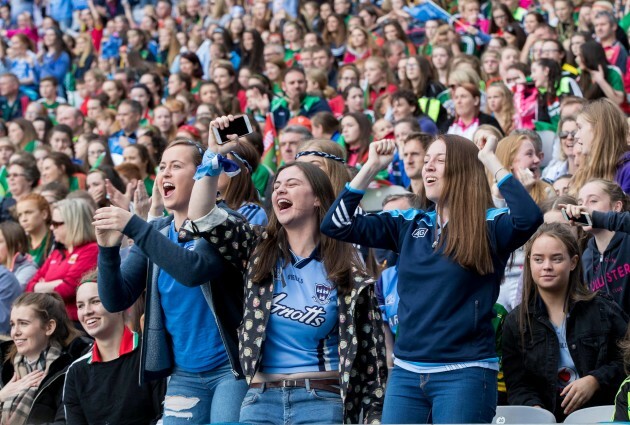 Morgan Treacy / INPHO The huge crowd at the Ladies football final is an indicator of the rapid growth of the sport. Morgan Treacy / INPHO / INPHO
While Hutchinson refuses to credit sportswomen.ie with starting these new trends, she reluctantly accepts that it was an important wheel in the cog.
"With sportswomen.ie, we try to write about all sport. It's not like when you turn on the radio and the main sports are rugby, soccer, a bit of horse racing, GAA and golf. But you hear so little about all the other sports.
"I would like to think that we played a part in the change but I think a few things happened around the same time.
"In December 2014, you'd the Cork Ladies footballers voted the Team of the Year by RTÉ. I set up Sportswomen in January 2015. The WGPA came in around the same time.
"I remember Claire Balding came over for a conference later that summer in Croke Park and you had RTÉ and Sport Ireland there and there was definitely a conversation that happened that sparked a relationship between the people who could make a difference towards promoting women in sport.
"Lidl coming on board as a sponsor of ladies football was huge too. When they came in and started to give serious money towards the game — now it's still not what the men are getting, but it's a start — and it was enough money to make a difference.
Exclusive Six
Nations Analysis
Get Murray Kinsella's exclusive analysis of Ireland's Six Nations campaign this spring
Become a Member
"And I think this year, 45,000 people in Croke Park was phenomenal. To go from 33,000 to 45,000 in a year, that's massive.
And it shows that women's sport has a place. It is entertaining, it is competitive. It's different from men's sport, it's not as fast and it's not as strong but it does have something to offer.
"I do think that's great for teenagers and great for the lads as well as the girls because they should be taking women's sport seriously too."
With regards this week's conference, run by Educate Together, Hutchinson thinks that this kind of event is important but there's another step that can taken to ensure they're effective too.
"What I would like to see, is some sort of governing body or charity that is solely dedicated to women's sport. A lot of it is very piecemeal; you've a conference here, a conference there, a bit of money goes here, another bit over there.
"In general, there's nothing organised about it and I think that there are a lot of people with good will, but I think if we could be more organised and come together in a more constructive way with resources. I think that's the way forward.
"I think there's a great body of research being done, in all of the colleges in Ireland, and I think if you could just bring that together and get something out of it, it could make a big difference."
Educate Together's 'Gender Matters: Educating for Equality' conference will be held this Friday 24 and Saturday 25 November in the Grand Hotel, Malahide and is open to all teachers with an interest in this area. 
The42 has just published its first book, Behind The Lines, a collection of some of the year's best sports stories. Pick up your copy in Eason's, or order it here today (€10):