DONEGAL LADIES HAVE a new face at the helm. And it's one which most from around the county will recognise.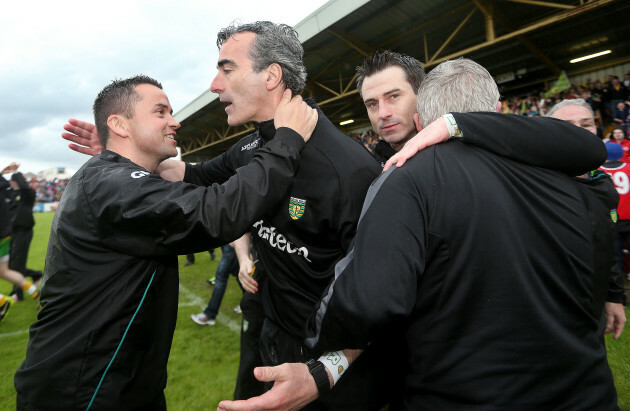 James Crombie / INPHO Maxi Curran and Jimmy McGuinness in 2013. James Crombie / INPHO / INPHO
Maxi Curran is hoping that his past experiences with the men's senior team, where he worked alongside the likes of Jimmy McGuiness and Rory Gallagher, can positively impact the game of ladies football.
It's his second stint in charge, having guided the Donegal ladies to All-Ireland junior glory in 2003.
After his first tenure, he focused on men's teams for some time. The Downings clubman has managed the Donegal U21s and a host of club teams including St Eunan's — who won the Donegal SFC under his guidance in 2014.
He's been a prominent member of the Donegal men's senior football back-room team through the years since 2010, helping see Sam Maguire winter in the Errigal county after their 2012 All-Ireland final win.
"I've had a real good experience there," he said at the launch of the Lidl Ladies National Leagues in Tallaght yesterday.
"I learned a lot of new things, I saw how things should be done and I saw what it takes to win, where teams and players need to from an organisational level and where players need to get to on an individual level.
"It's about trying to implement that as much as I can to the ladies game."
Curran accepts that the landscapes are very different but is pleased with the response he's gathered from his charges ahead of their 2018 opener against reigning All-Ireland senior champions Dublin on Sunday.
On his decision to return to the post he held in 2003 and 2004 with the Errigal county, he expressed his delight to be back.
"It was something that I always said I would do," he continued. "I had such fond memories from my time involved before.
"I definitely feel there's a far greater bond developed between ladies' teams than men's teams. The boys tend to have a far more selfish attitude to it. They give it absolutely everything and the commitment levels are through the roof. To be part of a county squad nowadays it has to be their life.
"I just feel that the girls, there tends to be more of a bond and a spirit, more of a team ethic. Whereas the boys are very driven from an individual perspective."
In terms of changes and differences since that spell in the ladies inter-county game, the shift has been mammoth across the board.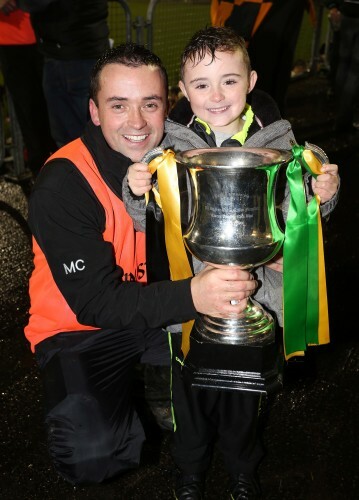 Presseye / Lorcan Doherty/INPHO Curran and his son Kristian celebrate St Eunan's win in 2014. Presseye / Lorcan Doherty/INPHO / Lorcan Doherty/INPHO
As well as huge improvements in conditioning and physicality, the levels of preparation have increased tenfold, he says.
"The levels of organisation have gone through the roof. The girls are looking across the way at the boys in how the boys prepare and they're demanding preparation levels to be the same.
"I think that's translating onto the end product on the pitch. The ladies game is a very attractive game to watch. It's not yet as tactical as the men's. Things like blanket defences and so isn't as prevalent.
"There's a bit more of an attacking ethos in the ladies game which makes for a better spectacle."
He added, on time involved nowadays: "Coming from the men's game, commitment is never an issue.
"It's never even mentioned. It's just a given. That's been new to the girls, some of them may have felt that social lives and travel and touring can be done hand-in-hand with football but in this day and age, it just can't."
Curran was full of praise for the experience and learning he accumulated while working alongside McGuinness, Gallagher and the likes in the Donegal set-up, labelling the aforementioned duo 'a marriage made in heaven from a management perspective'.
"The dynamic between Jimmy McGuinness and Rory Gallagher at the time was absolutely first class," he added.
"Rory Gallagher has one of the sharpest football brains that I've ever come across. The combination of that and the drive and enthusiasm that Jimmy McGuinness had, and the levels of professionalism and the way in which he changed the whole ethos of Donegal and the mentality of that group of players, and then married that with the football with Rory, it was a marriage made in heaven from a management perspective.
"That was a brilliant experience for me, a brilliant learning curve as to what can be done with talented players. If you have the talent, the other stuff can be fixed and added and changed and amended."
That said, he added that things may be going too far with new advancements and technologies.
"Video is something that's quite subjective as in everybody uses it in different ways," he continued.
"I have to say I find it quite amusing at times that people in the GAA are very quick to other sports for new fads and new ideas. The landscape, for me, is very different from the professional sports to what we're doing.
"I do have to wonder at times about the practical realities of implementing all the stuff. Sometimes I think maybe people go too far and try and do stuff that's not relevant or necessary. People are doing it for the sake of doing it.
"Video is one thing that I think everybody needs to do and it's a massive part of it. It has limitations though."
He added: "Other advances like GPS and that, they're all going through the roof, people are investing large sums of money and coming in with backroom teams of 20-25 people to cover all of these jobs.
"I sometimes do ask myself are people losing sight of what's really important and what needs to be done. We're looking at footballers at the end of the day, we're dealing with amateur people who have jobs and careers.
"Football is supposed to be their hobby so to speak. I just wonder where it's all going to end up; the levels of professionalism and time investment that we're asking players to give now is going a bit mad.
"Look, that's the way it is and everyone's doing it. If you're not doing it, you're left behind."
In a recent column for AIB, retired Clare hurler Brendan Bugler voiced his opinion on the amount of time commitment required to be on an inter-count panel, sharing strong opinions on time spent on video analysis in particular.
Curran accepted the fact that it required a lot of extra time, but noted that it has improved with the advancements in technology and social media.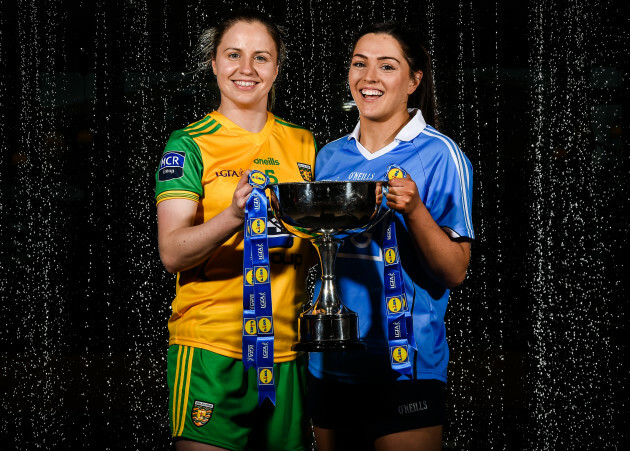 Seb Daly / SPORTSFILE Roisin Friel and Sinead Goldrick at the launch of the Lidl Ladies National Leagues. Seb Daly / SPORTSFILE / SPORTSFILE
In the past, all players would have had to gather at a meeting to watch the video but now those clips can be sent out individually and they can watch in their own time.
"That's one challenge for us all; to try and limit the impact on people's lives. To try not to forget the work-life balance, the football-life balance, the football-work balance. It's all very important, families and one thing and another, it's all part of it.
"Trying to strike a balance is where we need to get to or else we're going to end up with a game where there's only a small number of people able to play."
At the minute though, the entire focus lies on Mick Bohan's visiting All-Ireland champions and the 60 minutes of football that will be played in Letterkenny on Sunday.
"Talk about a baptism of fire," Curran grins. "I read during the week that Mick has a panel of 43. I'm hoping he plays numbers 43 to 23 and leaves all these All-Stars and All-Ireland winners at home."
But at the same time, it's a challenge they are well and truly relishing. After winning Division 2 in 2016 and reaching the final of the top tier just 12 months later last may, they're exactly where they want to be.
"Look, it's a great place to start," he concludes. "The Dublin team have set the bar for everybody else in terms of physical conditioning. They're definitely the team to catch at the minute.
"Division 1 is the only place to be and playing agains the Dublin, Mayos and Corks are the only way you're going to learn.
"It's a very, very tough start for us but we're looking forward to it."
The42 has just published its first book, Behind The Lines, a collection of some of the year's best sports stories. Pick up your copy in Eason's, or order it here today (€10):