THE HARDEST DAY, Damian Browne has no doubts on recollection, was day one.
With 64 days of rowing ahead of him as he set off from the Canary Islands, it wasn't the date 14 December that was left etched in his memory. It was the bloody distance on screen of his GPS.
Already feeling he had misjudged his taper, the technology and tide seemed to be mocking his efforts to row west.
"I saw the same point on the GPS three times, '42.2 kilometers'. I thought I was going to go… I didn't know what was happening. I got completely – emotionally, physically and mentally – all over the place. Without a doubt the hardest day of the lot.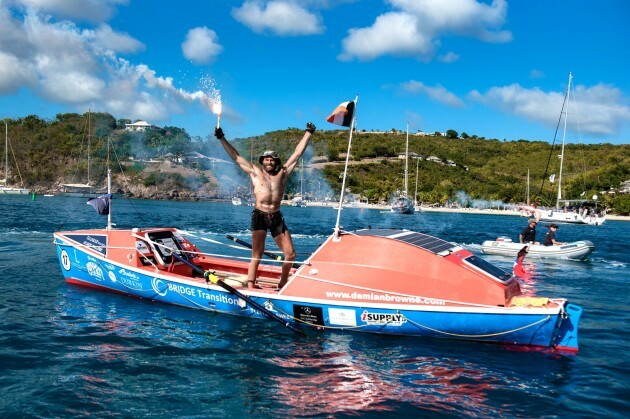 Ted Martin. Ted Martin.
"I was so close to not getting away, so I'm very, very grateful for that bit of determination just to tear into some rowing, not to feel sorry for myself. That would have been the easy thing to do."
There's a quiet to Browne as he speaks to the camera, in footage released after his Talisker Whisky Atlantic Challenge. The 37-year-old admits it takes some adjusting to life on dry land, with an onslaught of sound and distraction now surrounding him after two months on the blank expanse of the ocean. As he approached the fanfare on the shore, he reminded himself to remain 'present'.
The42.ie / YouTube
The isolation he felt as an unsupported solo long-distance rower was put in stark contrast the instant he stepped off Gulliver's Travels  and found an emotional embrace with his father, Joe, mother Mary, and siblings Gillian and Andrew.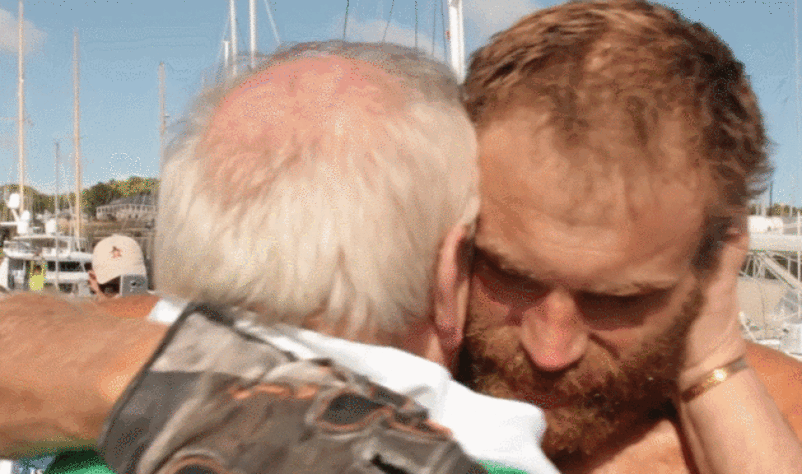 Precious Media. Precious Media.
A family reunited after a long winter of worry. The ocean is no place for the faint-hearted.
"I capsized twice within six hours. First one, I didn't know anything about. I was fast asleep and all I knew was my head got smashed against the side of the cabin.
"There's that split second when you don't really know what's happening. There's books and everything all on top of you.
"That was probably the most memorable experience in the whole journey. Talk about being present, I was never so present in all my life. I was able to focus all of my strength into my grip and just ride the wave, ride the boat around.
"Even when I was under water I was incredibly calm. I had kind of practiced that, I'd visualised that kind of stuff happening. I knew that if I capsized I was going to have to be in control.
Exclusive Six
Nations Analysis
Get Murray Kinsella's exclusive analysis of Ireland's Six Nations campaign this spring
Become a Member
"I can vividly remember that moment where I was able to go: 'Okay, put all your strength into your grip and just hang on until you get around to the other end.'"
That single moment encapsulates the big message Browne takes from the long, arduous journey – a trek the former pro rugby player says he would take on a second time in a heartbeat.
"There's loads of little simple life lessons, y'know. The main one I got all along was just: never give up.
"It doesn't matter what it is in life. Whether it it's an ocean row, in business or sport. Just never, ever, ever give up.
"Just keep going, churning away. You'll get there in the end."