IN JUST SIX minutes and 20 seconds on 14 February this year, 17 students lost their lives at the Marjory Stoneman Douglas High School in Florida, a mass shooting that, despite the death toll, ranks as just the ninth deadliest in US history.
In the immediate aftermath of the Florida attack, some students began a campaign for tighter gun control legislation that captured worldwide attention. Last week, as their campaign escalated, over 1.2 million people took part in the March For Our Lives — making it one of the largest protests in US history.
A group of students from Marjory Stoneman Douglas High School, including some who were shot on the day of the attack, couldn't afford to attend the march and appealed to New England Patriots' owner, Robert Kraft, for the use of his team's private aeroplane to make the trip.
Kraft didn't hesitate.
"When they called and asked, 'Would you send a plane and help take the wounded kids and their families and kids who couldn't go on a normal plane, because it's not right?' We didn't hesitate a minute," Kraft explained Monday afternoon at the NFL's annual meeting.
"Because think, all of you who have kids, think about losing one of your kids. You wake up in the morning and they go to school and don't come home at night."
When they boarded the aeroplane, the victims and their families were all greeted with a letter from Kraft which included a variation of the Margaret Mead quote:
Never doubt that a small group of thoughtful, committed citizens can change the world; indeed, it's the only thing that ever has."
While Kraft's gesture is undoubtedly to be applauded, it's impossible not to spot the irony of an NFL team owner sharing that particular message when Colin Kaepernick is currently suing the league for colluding against him because of his high-profile protests against racism and police brutality toward African-Americans.
As that case proceeds, Kaepernick has tried to stay in shape just in case a call from an NFL team does happen to come. In rare behind-the-scenes footage posted this month his trainer, Josh Hidalgo, posted perhaps the first video since Kaepernick's last game with the 49ers to show him throwing a football.
Now compare Kaepernick's workout with that of Johnny Manziel.
The former first round pick of the Cleveland Browns went back to Texas A&M — the university where he made his name — this week, and worked out in front of no fewer than 13 teams.
That's almost twice as many teams as games 'Johnny Football' started (8) in his two-year career. During his brief spell in the NFL, Manziel completed 57% of his passes for seven touchdowns and seven interceptions.
In that time he was also tagged with a four game suspension for violating the NFL's substance abuse policy and reached an agreement with prosecutors for them to dismiss a domestic violence assault case involving a former girlfriend by undergoing anger management classes.
You'd think he might never play in the NFL again, but what did the famous 'unnamed scouts' say about what they saw at College Station?
""I thought he looked better throwing the ball today than he did four years ago," a veteran NFC scout told NFL Media's Andy Fenelon, "with better velocity, pretty good accuracy."
"Hearing really good reports from my scouts on the ground on how Johnny Manziel's workout went today at Texas A&M's pro day. One said he even looked better than he did in 2014," NFL analyst Gil Brandt reported.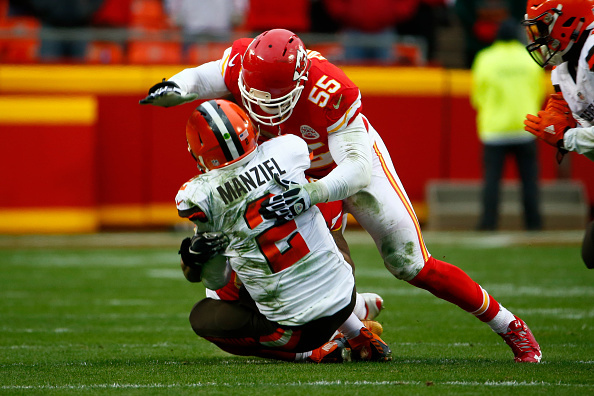 Jamie Squire / Getty Images Manziel did not enjoy his first time around in the NFL. Jamie Squire / Getty Images / Getty Images
It's worth remembering that his 2014 workout was good enough to see Manziel drafted in the first round of the NFL Draft, so this must have been something special.
During his time in the NFL, Kaepernick led his team to a narrow Super Bowl loss and completed nearly 60% of his passes in 58 starts; throwing for 72 touchdowns and 30 interceptions.
Indeed, his 1.8% interception rate remains one of the best in NFL history.
Hall of Fame tight end Shannon Sharpe summed it up best when he said:
"It's just amazing to me that 13 teams — now it's hard for me to believe that 13 teams would show up to see guys that are slated to go in the sixth, seventh round — it's hard for me to believe that they showed up for just those two young men, those receivers.
Johnny Manziel gets afforded privileges that we know one quarterback that sat out of the NFL last year did not get afforded. And that's one Colin Kaepernick."
Exclusive Six
Nations Analysis
Get Murray Kinsella's exclusive analysis of Ireland's Six Nations campaign this spring
Become a Member
But even though the stats back up Kaepernick as the demonstrably better quarterback, even though the likes of Brock Osweiler, Paxton Lynch and Chad Henne inexplicably have jobs despite proving over and over how unqualified they are, the real proof that Kap's exclusion from the league is not football related is the treatment of his former team-mate, Eric Reid.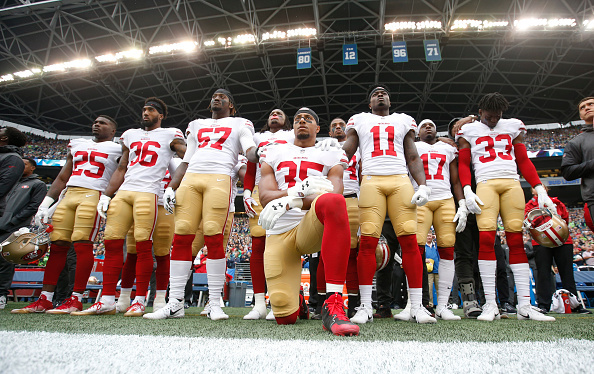 Michael Zagaris / Getty Images Reid (35) continues to kneel this season. Michael Zagaris / Getty Images / Getty Images
Per Pro Football Focus, Reid — a former first round pick — is an above average NFL safety based on his performances last season.
But in a league where a woman claims a team forced her to apologise at a press conference because one of their players punched her unconscious in a hotel elevator — a claim the Ravens dispute — a league where 13 players are arrested every year on drink or drug driving charges, Reid finds himself without a job because he used his position to ask America to listen to those who have no voice.
At 26 — and having shown the ability to play linebacker too last season — he has 70 games on his CV with 10 interceptions, a further 36 passes broken up and averages nearly five tackles per game too.
Clearly though, like his former quarterback, his ability doesn't seem to matter.
That's because, more than two weeks into free agency, one of the best safeties available can't find a team because he took a knee beside Kaepernick as some country star sang about the land of the free.
Some crimes can be forgiven by the NFL. Commit domestic violence or drink and drive and you're welcomed back with open arms, a real redemption story. But take a stand on social justice issues that show America might just have a problem with racism and you will find work much harder to come by.
Maybe future NFL scouting evaluations could just do us all a favour and stop pretending it's about not fitting a scheme.
The42 is on Instagram! Tap the button below on your phone to follow us!