'PASSION,' COMMITMENT,' 'WILL to win.'
These are just some of the qualities that sum up Rena Buckley's legacy in sport, according to Cork ladies manager Ephie Fitzgerald.
Donall Farmer / INPHO Ephie Fitzgerald. Donall Farmer / INPHO / INPHO
Buckley has retired from inter-county football and camogie with an incredible 18 All-Ireland titles, making her the most decorated player in the history of Gaelic Games. She also amassed 10 All-Stars across both codes — five in both codes — throughout her career.
Fitzgerald was hopeful that the dual star would return to the fold after taking a year out in 2017 to concentrate on captaining the Cork camogie team, and had been talking to her 'sporadically' about her plans for this season over the past few months.
He could sense that she was tempted to rejoin the panel and resume the hunt for success, but when she informed him of her decision to finish up six weeks ago, he could understand her desire to pursue other ambitions.
"There's a lot of miles on the clock with Rena and even though she could have continued she has a business now and she's other things going on in her life," he tells The42.
She felt that the time was right and maybe that little bit of hunger you need at this level was kind of missing.
"I had a sense she was definitely tempted to give it another shot just because there's a competitive element to Rena. We've been blessed in Cork to have that group of players for 10 or 12 years. They've won so many tight matches over the years and they've an absolute will to win.
"I think for someone as competitive as Rena who I suppose gave her whole life really to both games, it must be a big thing to cut ties. It's a big part of your life that you're parking up.
"For me anyway, I think what came down to it with Rena was that little bit of extra hunger probably wasn't there for her."
Fitzgerald worked with Buckley for just one season as it turned out following his appointment as Cork manager at the outset of the 2016 season.
And despite having worked with arguably the greatest ever GAA manager in Eamonn Ryan, Fitzgerald says that Buckley and the other experienced members of the squad created a welcoming atmosphere for him.
Coming from a background in men's football, Buckley was also on hand to offer him advice on how to adjust to the ladies game whenever he needed some guidance.
Additionally, the new boss was also able to appreciate the example that Buckley set for the rest of the team both on and off the pitch as she played an integral role in guiding Cork to an 11th All-Ireland crown.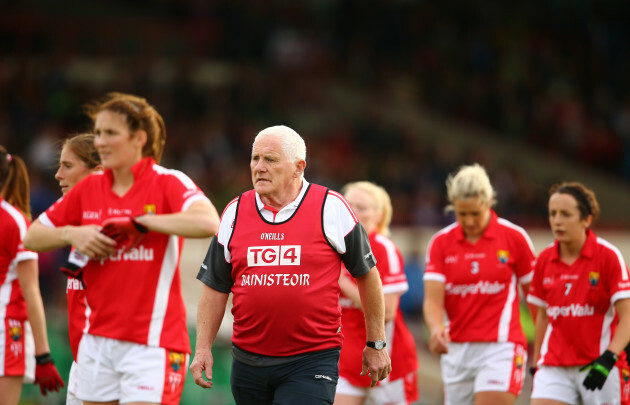 Cathal Noonan / INPHO Éamonn Ryan. Cathal Noonan / INPHO / INPHO
"She played more or less her whole career with Eamonn Ryan and for me to come in, there must have been a little bit of trepidation. But I was made feel unbelievably welcomed.
"If I ever needed advice I'd go to Rena or any of those girls. They always had that little bit of solid advice on different issues that might crop up because the ladies game was a new experience [for me] coming from the men's game.
There's absolutely no airs or graces about her. Humility was the biggest factor for those girls. Victory never spoiled Rena. She was the same girl and it never changed her.
He added:
"She's the kind of girl where you really only see her on the pitch. She's quiet, she's unassuming. She's fiercely driven, a real lady and she leads by example with how she plays the game and how she prepares and how she conducts herself on and off the pitch.
"That's what we'll really miss. We've got some great girls like Ciara O'Sullivan but they're really not that old.
"So, we'll miss that experience she brings and that calmness. Rena was always level-headed and calm no matter what way the game was going. She'd say her few words and just get on with it.
She never got too high or too low. I think she saw the game for what it was, it's what we do for enjoyment. It's serious yeah, but she brought that level-headed presence to it."
Along with Buckley's departure, the Cork ladies must continue their 2018 campaign without fellow stalwarts Briege Corkery and Bríd Stack, who are unavailable for selection.
Fitzgerald understands that he has a relatively young panel representing Cork at the moment, but he stresses that they are a 'phenomenal' group to work with.
They came agonisingly close to booking a spot in last year's All-Ireland final, and their drive for a sixth consecutive Division 1 title was narrowly ended by Mayo at the semi-final stage earlier this year.
"It's small margins," as Fitzgerald puts it.
They must now reset to prepare for the Munster championship, and Fitzgerald is confident they are motoring in the right direction.
Exclusive Six
Nations Analysis
Get Murray Kinsella's exclusive analysis of Ireland's Six Nations campaign this spring
Become a Member
He would love to have Rena involved in his backroom team at some point, although it might not be possible at the moment as she settles into retirement. In any case, he can see her becoming a successful coach further down the line if she decides to explore that avenue.
I would hope that Rena would get involved in the coaching side of it because she has so much to offer.
"Maybe not in the next couple of years perhaps but I would say going forward she certainly has an amount of experience that she could impart to the younger girls.
"That's for the future maybe. We'll give her a break for a while."
Buckley almost slipped away from the inter-county game without much fuss, which is probably the exit she would have wanted considering the modest character that she is renowned for in ladies football and camogie circles.
But her striking list of achievements deserves recognition, and the outpouring of praise from opponents, teammates and admirers on social media is testament to that.
There are understandable demands for statues to be erected in her honour, but Fitzgerald knows the kind of response she would give if such a proposal was mentioned to her.
Oh Jesus no, I don't think she'd want that," he jokes. "I'd say she'll give the statue a skip. She'd get a good chuckle out of that.
"She really isn't the girl for limelight.
"She gets awards and she gets this accolade and that accolade and a lot of stuff is thrown around about legends. It's well deserved but I don't think Rena was comfortable with any of that.
She's just a very nice girl who happens to be very talented about camogie and football. She's a great ambassador for both codes."
– Originally published 07.30, 22 May
The42 is on Instagram! Tap the button below on your phone to follow us!