HE STARRED ON the Down team that contested the 2010 All-Ireland and fitted in 73 AFL games with the Melbourne-based club Collingwood during two spells in Australia.
Now Marty Clarke is enjoying his new part-time role with the AFL mentoring young Gaelic footballers who have earmarked as potential Aussie Rules players.
It was announced in March that Clarke was taking up the position after being involved in events like last December's Irish combine in UCD.
In January he travelled with four young players – Dublin duo Peadar Ó Cofaigh-Byrne (Cuala) and James Madden (Ballyboden St-Enda's), Derry's Anton Tohill (Swatragh) and Cork's Mark Keane (Mitchelstown) – to Florida for the AFL Academy camp.
Speaking today Clarke stressed that he is not involved in the scouting of GAA talent for AFL clubs and is instead helping to 'facilitate and develop' players who could be on the cusp of making the move to Australia.
"You would be shocked about how many clubs have guys on the ground in Ireland looking for talent. Be it Australian guys who married an Irish girl, or who had connections to a club or whatever.
"They are going to U17 games, club games, schools games, U20s, senior games. They're here. AFL have said they want Irish talent.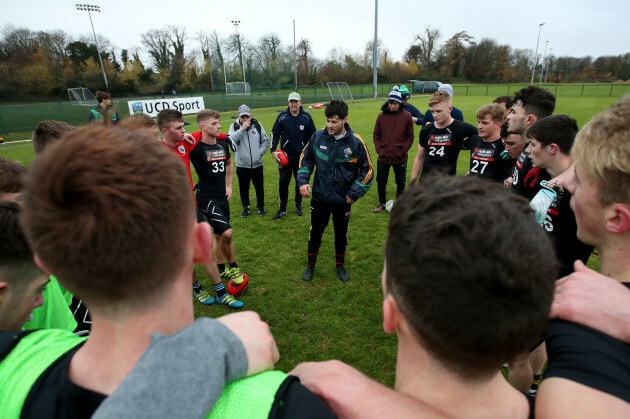 Bryan Keane / INPHO Marty Clarke at last year's AFL Combine in UCD. Bryan Keane / INPHO / INPHO
"My role is certainly not in terms of the scouting side of it. I suppose that is a bit of a dirty term in the GAA. If a guy has been earmarked, and he has been approached, just to facilitate and develop him.
"Watch some games with him. We have had a few sessions with guys who have been earmarked. Just to see how they kicked the ball, hand pass the ball.
"Some might put their hands up and say look this is not for me and we might have to say, 'look he's not going to make it'. It's just a process, instead of ripping a kid out in the middle of his exams or an U20 championship or at club championship.
"It's a slower burner, where you're able to say to club X, Y or Z player, he is really motivated to go, he's got athleticism, we think you can adapt. Then he goes across for a trial, and he can make his decision.
"The two from Dublin, the Derry lad, another lad from Cork. They were the front runners. No club has come in at the moment.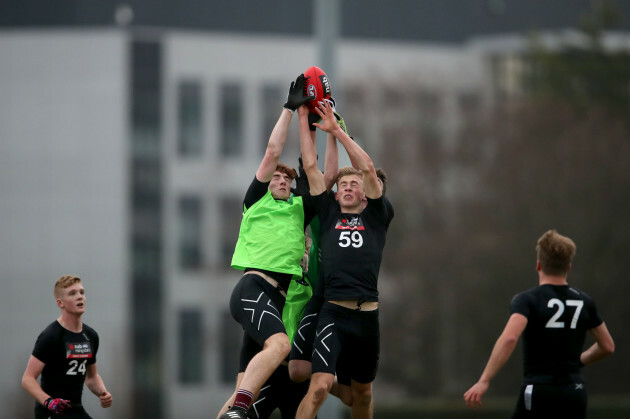 Bryan Keane / INPHO Mark Keane of Cork and Anton Tohill of Derry. Bryan Keane / INPHO / INPHO
"They are all holding their cards close to their chest at this time of the season, and see how their own season is developing over there. But those boys need to continue progressing because it's quite ruthless industry as well.
"No doubt a club like that is following the likes of those lads. Pretty much every game they're playing.
"I am really enjoying it, you meet young kids, have a kick around with them. Most of them that's all it will be. Some of the good ones will be approached and potentially go on over.
"It doesn't take up a lot of time. I don't see it as work really. There'll be a bit more work towards the back end of the year but for now it's just been really enjoyable."
Clarke believes the resistance towards AFL clubs in the GAA has eased due to more education and the trend of players returning to play for their counties.
"Of course the negative is losing the player in GAA, for his club and then his county. But the vast majority of guys who go over come back within two or three years. Statistics are there that they come back within two or three years better players. The likes of Daniel Flynn, Mickey Quinn, Brendan Murphy from Carlow.
Exclusive Six
Nations Analysis
Get Murray Kinsella's exclusive analysis of Ireland's Six Nations campaign this spring
Become a Member
Evan Logan / INPHO Daniel Flynn previously had a spell with Port Adelaide. Evan Logan / INPHO / INPHO
"I think there's never been opposition to an individual player. Any club or community I've been involved with, everyone is so happy to be watching this lad going on his adventure to the other side of the world, with his friends going to visit, family going to visit.
"I think there is a bit more education on the whole thing because there has been more players out there telling their story.
"Of course, it's understandable. Nobody wants to lose any of their top players, even if it is short-term. So I understand and get all of that. The key to it is, it's going to happen anyway.
"The reason why I was keen to get involved was just to meet people. I know both sides of it. I was over, came back, and went back again. I kind of know the whole psychology of the whole thing, how it works.
"Some people are going to be upset no matter what. Out of all the guys playing GAA, the amount of guys that have went over in the last 30 years, it's less than 0.001%.
"Yes it's probably the better players at times, but it's just an opportunity for the boys to go over, and that's just the way I'd look at it."
One of Ireland's most successful exports achieved a major milestone in April when he made his 150th AFL appearance. Clarke lauds the achievements of Portlaoise native Zach Tuohy, who is currently playing for Geelong.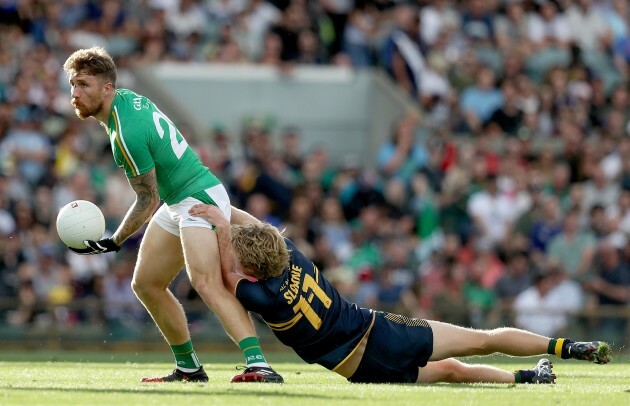 Tommy Dickson / INPHO Zach Tuohy in action for Ireland in Perth last year. Tommy Dickson / INPHO / INPHO
"It's amazing because how brutal the game is. Two or three games out of form and you're in the reserves. So for Zach to be so consistent and how they regard him over there, to reach 150, it's an unbelievable feat. He'll keep going because he's playing really well this year again.
"He's got great skills, but he can knock down the best forwards and opposition. He has a really hard edge to him. He's really popular, he works hard. He ticks a lot of boxes. He's the kind of guy that he wasn't the greatest GAA player ever coming through, but he was picked out by Carlton originally, and that scout just saw, this boy can do this.
"That's the skill that them guys have at picking that talent. But he's had a phenomenal career. I'd love to see him come back and give it a year with Laois."
********************
Former Down footballer, Marty Clarke and current Kerry footballer, David Moran were in Dublin today for the reveal and official launch of the Benetti Menswear GAA Ambassador campaign for 2018.
For further information about Benetti and their new brand ambassador campaign log on to www.benetti.ie.   
The42 is on Instagram! Tap the button below on your phone to follow us!