SERIOUS DOUBT HANGS over Limerick FC's involvement in the 2018 SSE Airtricity League Premier Division campaign after their players were told there is no money to pay them.
The Shannonsiders drew 1-1 against Bohemians last night, but despite a late equaliser from Dan Casey, more drama took place before a ball was kicked at the Markets Field.
Players and coaching staff were called into a meeting just after 6pm where financial difficulties were to be discussed and players were informed that the finances weren't available to pay wages owed for the month of May.
Goalkeeper Brendan Clarke was one of the senior players in the dressing room when the squad were informed of the financial strain.
"We were told to be there for six, which was early for a matchday," Clarke said. "The club apologised for lateness of wages and said they're waiting on sponsors cheques to clear. Club officials then told us that the way things are, we're free to go and 'We won't stand in your way'.
"After the meeting, officials left and then coaching staff left. We had a discussion about whether or not we'd play – do we or do we not? Do we train or do we not?
Everyone's now been landed in the bullshit, stereotypical, League of Ireland situation, which is embarrassing. It's a real eye opener for some of younger lads in the squad.
"But we decided there was no point in making a bad situation worse. We also said to anyone that if they didn't feel they could give 100%, not for the club, for the players next to them in that dressing room, that they didn't have to play at all.
"To be fair, everyone who was fit and available for selection, they said they'd commit to playing and give everything they had for their team-mates. I think to perform the way we did given what we'd been through just before the game can leave no supporter, commentator or analyst questioning the character or integrity of that squad.
"We were assured that we wouldn't be owed a penny by the club, just that they couldn't tell us when the money would be there."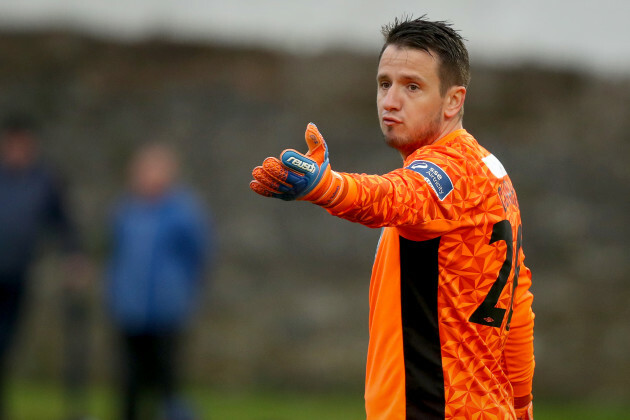 Oisin Keniry / INPHO Limerick goalkeeper Brendan Clarke. Oisin Keniry / INPHO / INPHO
Long-serving Limerick goalkeeping coach Eddie Hickey departed the club early in the off-season despite offering his services for free, citing "I was charged €240 in unpaid standing order fees last year."
Former goalkeeper Barry Ryan, who is a vocal critic of the club on Twitter, tweeted last week and suggested that nobody was paid the week of Limerick defender Shane Tracy's wedding despite club officials being present on the day.
After rumours began to circulate, Tommy Barrett was confronted on these issues last Tuesday by the Limerick Leader's Colm Kinsella in an interview, which he stated: "[The wages] aren't due until [Friday, 1 June]. We try to pay the players early when we can, but it's actually the first Friday of every month.
"The players are well looked after. We haven't had players, since Pat O'Sullivan came in, that are owed money. Everyone has been paid. We can't predict the future but we guarantee the players will be paid this week."
But that now isn't the case and due to contractual terminology, their entire playing squad are free to leave the club and sign elsewhere without compensation due.
Laszlo Geczo / INPHO Manager Tommy Barrett. Laszlo Geczo / INPHO / INPHO
Despite the news prior to kick-off, Limerick players flew out of the blocks. Blues boss Barrett was asked for an update on the situation post-match but didn't offer one – referring back to the statement he gave on Tuesday.
The FAI's scheduling of the Premier Division campaign has contributed to fatigue on the pitch and come under serious question from management around the league after fixtures were front-loaded to accommodate European games later in the summer.
This meant that Limerick had 11 home games in just a 94-day span, which would aid finances considerably given the increased gate receipts in such a short space of time. Yet it seems that a combination of front-loaded income, sponsorship and the sale of Chiedozie Ogbene and Barry Cotter weren't enough to prevent cash flow problems at the club.
PFAI representatives have been in touch with a number of players about relocating and despite likely Limerick reservations, their hands are tied under Fifa rules.
Chairman Pat O'Sullivan took control of the club after an emergency public meeting was called on July 12th, 2009. In that time, Limerick have been promoted twice and relegated.
The Ballylanders native has stressed on many occasions that he couldn't continue to fund the club long-term, with the latest of those announcements coming back in January.
O'Sullivan said: "At this moment in time, I am in discussion with a number of parties with a view to selling an interest in the club. That may mean 100%, but certainly, it will ensure a majority share."
It appears that these discussions didn't culminate in anything concrete and Limerick now face even more uncertainty going forward.
In a meeting designed to attract business interest to the club, O'Sullivan wouldn't comment after his company Galtee Fuels was set to enter voluntary liquidation.
The financial statements of the company showed that Galtee Fuels owed creditors over €3m including €1.4m to the tax-man for Vat, PAYE, PRSI and Carbon Tax, according to the Limerick Leader.
Limerick FC have been contacted for comment on the matter.
The42 is on Instagram! Tap the button below on your phone to follow us!