KENNY EGAN will sit on the RTÉ panel this summer as the Olympic games unfold and enthrall in London.
The Silver Medal winner from Beijing is content that he had his 'time in the sun' and will bring to punditry what he always brought to the ring – honesty, commitment and a mischievous glint in the eye.
The Neilstown boxer missed out on qualifying for London 2012 when he was defeated in the national finals by Joe Ward. He has vowed to continue his boxing career but took time out to relive memories of 2008 with The Score.
What was your history with the games?
I failed to qualify for Athens in 2004 as I bottled it in three Olympic qualifiers. I didn't feel good enough physically or mentally. After I lost that final qualifier I was talking about hanging up the gloves. However, the High Performance Unit was set up in 2003 – there was no structure before – and all of a sudden there was a plan.
Gary Keegan came in and came up a five-year plan (towards Beijing 2008). He drew a line across the floor in the gym and told us how hard we would all have to work; the sacrifices we'd have to make. He said 'if you're interested, step across'. I was the first to step across.
How did you qualify for the Beijing Olympics?
I started boxing in 2001 and always found it hard to get onto the podium. I'd beat all the guys in lesser competitions but, when it came to the big ones, I'd bottle it. Getting into the games in Beijing was make or break but I got through.
The hardest part was qualifying as we were in the European section and facing fighters from Russia, Ukraine and Azerbaijan. In the lead-up to the qualifiers I had sparred in Germany with a guy called (Gottlieb) Wiess. It was 50/50 when we sparred but I didn't know I would be fighting him so soon again.
It was 2-2 after the first round and, as I got off my stool and went out for the second round, I thought to myself, 'Are you going to be remembered as an eight-time senior champ or something more?'  I switched on and ended up beating him by 15 points.
To have those five Olympics rings on my tracksuit and to be an Olympian – that was the dream.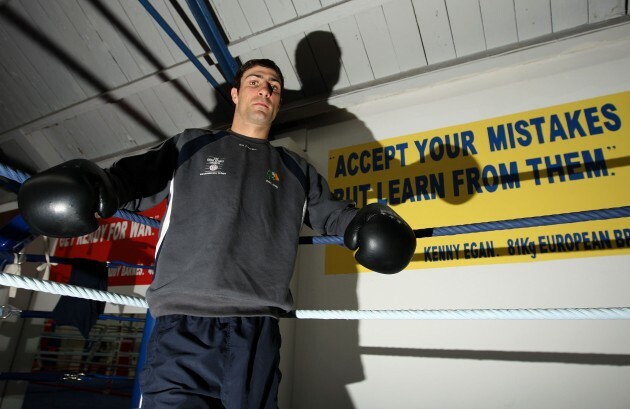 Egan looking determined in the lead-up to the Beijing Olympics. (©INPHO/Lorraine O'Sullivan)
What was the Olympic experience and the village like?
Prior to the games we had a boxing competition in Vladivostok in Russia. We flew out to Beijing first and left all of our gear there. To leave all the trackies and bags behind and know we were coming back for them was a great feeling.
The village itself was out of this world. I

read a story recently about all this romping

that was going on but I didn't see any of that craic. To be honest, I'd have no interest in that. I was the first boxer into the gym and the last one out.
It was something out of a Wonderland. There must have been 10,000 volunteers at least. There wasn't a speck of dirt. Some of them were picking at the grass on their hands and knees. There was no lawnmowers there and so many volunteers that they had to give them something to do.
You were in there with the likes of Rafael Nadal and Ronaldinho but you know they are all there to win too. Our squad, five boxers and two trainers, were very close. We ate together, trained together and we all took one fight at a time.
What do you recall of your opening bouts?
The Ireland squad had taken part in that competition with about 100 Russian boxers, with nothing to lose, in Vladivostok. I had a bout with Arthur Beterbiyev, who was former world number one and recognised as one of the toughest fighters in the game.
Our coach had a dream that we'd meet in the Olympic Final and I would beat him. He ended up getting beaten by the Chinese boxer (Xiaoping Zhang) in the second round though.
I knew I had the beatings of the first boxer, a guy from the Virgin Islands (Julius Jackson), as I had beaten him at the World Championships the year before. I won another bout and beat the Brazilian (Washington Silva) 8-0. I was boxing brilliantly and had the hunger but I wasn't thinking about medals yet.
I faced Tony Jeffries in the semi-finals and knew he didn't have it in his head to beat me. I had made it to the final and didn't care about the other side of the draw. I went to bed that night with a smile on my face.
Exclusive Six
Nations Analysis
Get Murray Kinsella's exclusive analysis of Ireland's Six Nations campaign this spring
Become a Member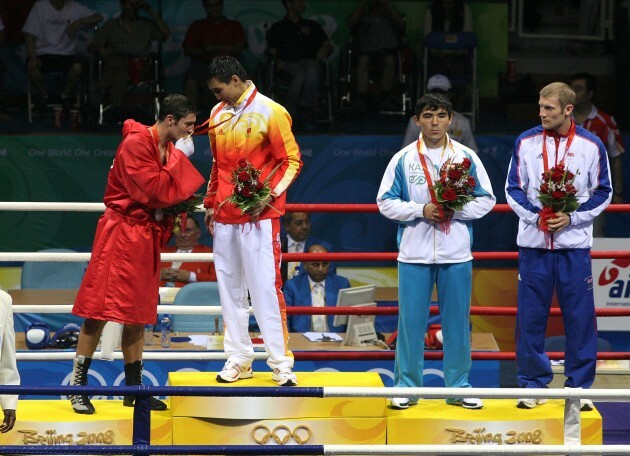 Kenneth Egan kisses the Gold Medal of China's Xiaoping Zhang. (©INPHO/Lorraine O'Sullivan)
Did the prospect of fighting a Chinese fighter in Beijing not worry you?
I wanted the Chinese guy (Zhang) to win his semi-final because the Kazakh fighter had done well at the World Championship before. It never dawned on me that (the final) was in China and the politics of the whole thing.
I genuinely thought that I won that fight by two or three points. If it had've been anywhere in the world I would've won.
I haven't seen him since. There were rumours that he went up to heavyweight but he has not been at any big events recently.
Four years on, do you look back at the games fondly?
Absolutely. I was speaking to my mum every couple of days when I was over there but there was no media coverage in the village. I knew there was a big interest in what the boxers were doing but I never knew how big until I came home.
It was great for Clondalkin – to have something positive come out of the area.
Arriving back at the airport was amazing. I've walked out at Dublin Airport for plenty of years with medals but the only ones there were my family. The reception we got was something that will stay with me forever.