BILLED AS THE game of the weekend, this came nowhere near meeting the expectations.
James Crombie / INPHO Michéal Burns is blocked out by the Galway defence. James Crombie / INPHO / INPHO
Instead of the Galway-Kerry classics we have been used to with traditional attacking football, we got a slow-paced defensive encounter.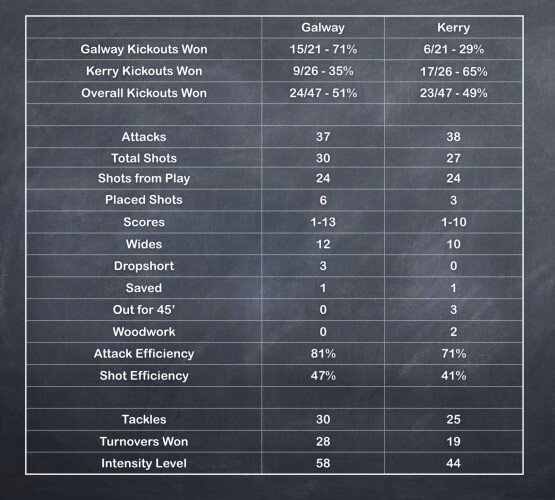 Kickouts
Going into this game, one of the strong aspects that this Kerry team had going for them was how comfortably they were winning the restart battles.
Against Clare and Cork, they retained 80% and 82% of their own kickouts. Yesterday, Kerry only managed to retain 65%.
Also in the Munster championship games, they won 42% of Clare kickouts and 47% of Cork kickouts. This was also down yesterday with Kerry getting hands on 29% of Galway's kickouts. There were a few reasons for the drop in both these numbers.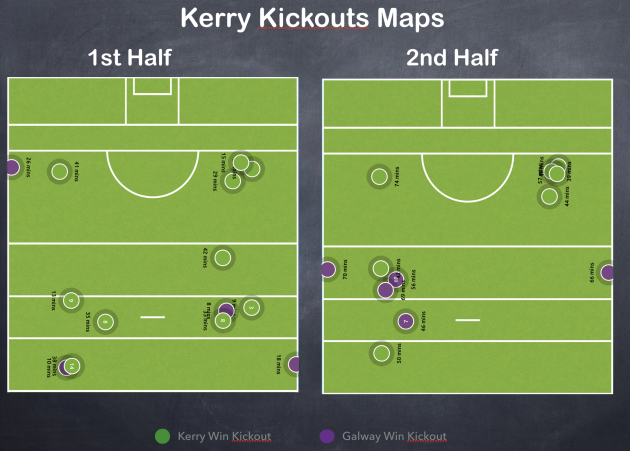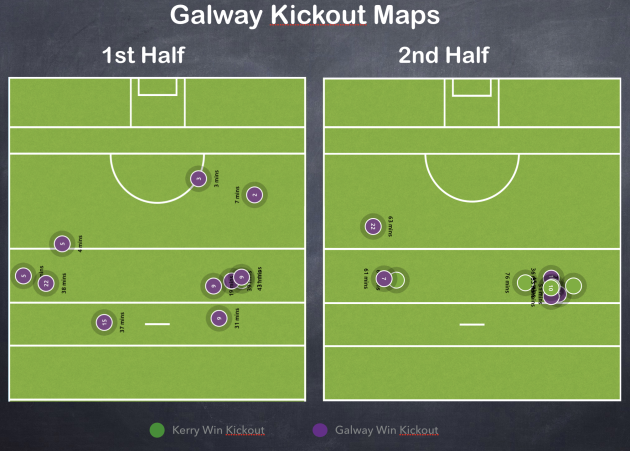 Against both Clare and Cork – Kerry adopted an ultra press on both teams by flooding the defensive area and chasing on everything they could, forcing both teams to go long. This was also the strategy they used against Galway in last year's quarter-final and which paid dividends.
However they were unable to do this yesterday by playing a sweeper just in front of the 'D' area – they played Peter Crowley early on and then alternated him and Killian Young. They found it extremely difficult to get back up and get to man on man.
This meant that Galway keeper Ruairi Lavelle continued to have a plus one in defence for kickouts and was able to place ball to his favoured left-hand side continuously.
Part of Galway's kickout strategy is to get into clusters in a certain area across the middle with the half-back line and half-forward line sweeping in below to be around the breaks.
Ruairi Lavelle favours to kick the ball to his left hand side and usually hits just at the '65 metre line with incoming runners there for the breaks if the midfield don't win it clean.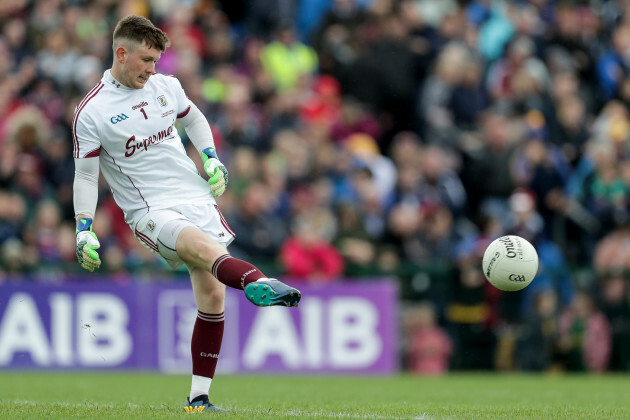 Laszlo Geczo / INPHO Galway goalkeeper Ruairi Lavelle. Laszlo Geczo / INPHO / INPHO
Credit must go to the Galway midfield players – Tom Flynn, Paul Conroy before exiting through injury and Peter Cooke. When Galway pressed on the Kerry kickout, and they did try do this as much as possible, they dominated the proceedings over David Moran, Jack Barry and Anthony Maher when introduced. This contributed significantly to Galway's winning of 35% of Kerry kickouts.
Galway number one Ruairi Lavelle, who is having a brilliant year, continued to keep his composure throughout the game and held his nerve. His opposite number Shane Murphy had a tough day sending two balls out over the sideline.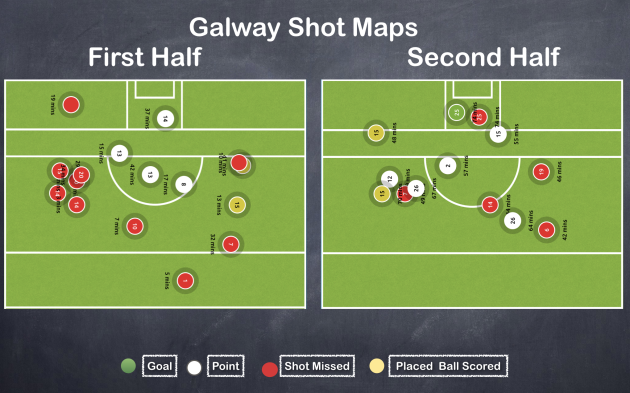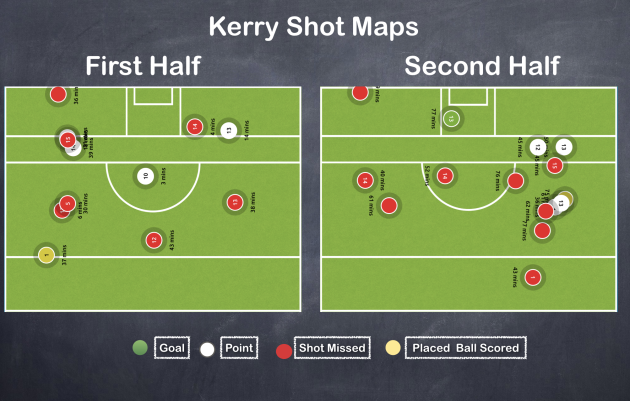 Attacking woes
A frustration for both Kevin Walsh and Eamon Fitzmaurice following this game will have been the shooting efficiencies of both their sides. Galway finished on 47% shooting efficiency and Kerry on 41%. Galway will be very disappointed with some of the shots that were missed – with Eamon Brannigan, Shane Walsh, Michael Daly and Damien Comer all missing two shots each that they will have felt should have been converted.
While Galway will feel that they missed chances they should have put away, what will frustrate Kerry manager Eamon Fitzmaurice is the shot selection that was applied by his charges. Time and time again, Kerry came on the counter-attack into the Galway defence and were frustrated by Galway's arc-style defensive set up.
Kerry continued to get frustrated by this and took on shots from outside their scoring zone. Apart from David Clifford who scored 1-4 from play, the other Kerry forwards struggled to make an impact in the game.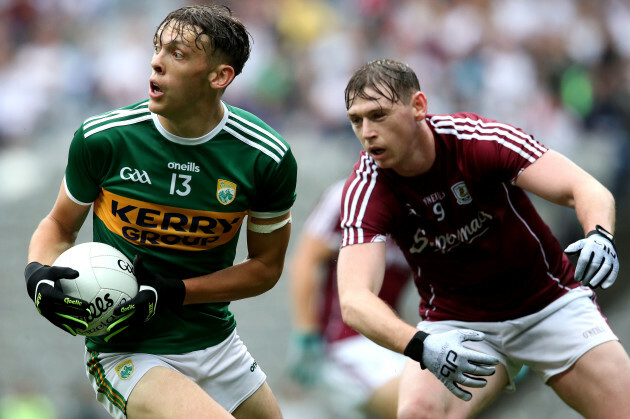 Bryan Keane / INPHO David Clifford hit 1-5 yesterday in Croke Park. Bryan Keane / INPHO / INPHO
What will please the Galway management was the way Ian Burke played throughout the game. It is without question that he is one of the smartest forwards playing the game at present.
He continued to show for and win ball despite Kerry having an extra man back in Peter Crowley or Killian Young. He scored two points from play and won three kickable frees for the Tribesmen.
Shane Walsh and Sean Kelly repeatedly broke the line, with those three Galway players and David Clifford bringing moments of life to a lacklustre game.
Intensity levels
This game lacked in terms of tackling intensity with Galway recording 30 tackles to Kerry's 25. Both teams adapted a defensive nature and did not commit to going all out for many balls, instead deciding to step off and hold their zonal position trying to push the opposition out.
Where Galway did gain over Kerry however, was in the turnover battle with Galway winning it 28 to 19. The majority of these turnovers lost by Kerry came from them losing it rather than Galway getting contact on and forcing them to turn it over.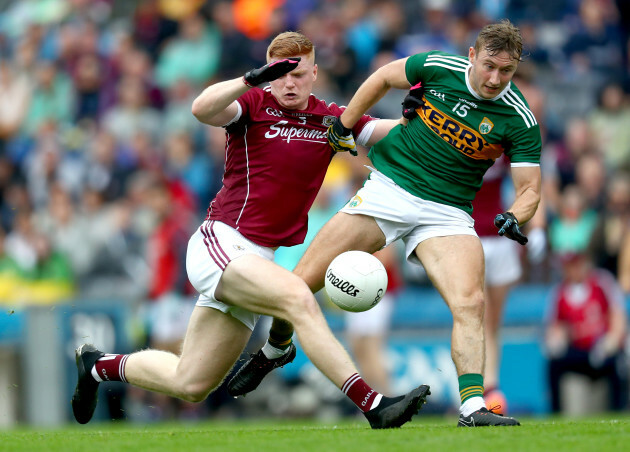 James Crombie / INPHO Galway's Sean Andy O'Ceallaigh and James O'Donoghue of Kerry. James Crombie / INPHO / INPHO
Kerry's young guns showed naivety on their part with balls being kicked into a crowded defence or a poor handpass. This played right into Galway's hands as their game plan is based on an arc-style defensive system ensuring that they don't concede any goals and breaking in numbers when the opposition turn the ball over.
The Galway backs performed well throughout the game and held their own at all times with great displays from Eoghan Kerin and Gareth Bradshaw. One very positive feature for Galway was the concession of only one free inside their own 45' compared to four from the Kingdom.
Subs on point once again
The strength of the Galway panel has really been shown in the championship games versus Mayo and Roscommon and now Kerry. Galway's subs in all these game,s which have been dogfights, have continued to make a massive contribution when they have been introduced.
Adrian Varley has started to become Galway's super sub – against Mayo he gave a defining kickpass to set Johnny Heaney up for a match-winning goal, against Roscommon he scored a vital point and yesterday he kicked two massive points for Galway at a crucial time that virtually sealed the win for Galway.
Galway's Adrian Varley with a lovely strike! pic.twitter.com/9SxuLPqZ50

— The GAA (@officialgaa) July 15, 2018
Peter Cooke showed no fear when replacing Paul Conroy and continued to help Galway have dominance in the middle. Another substitute Patrick Sweeney put the icing on the cake for Galway fans, finishing Kerry off with a goal that was created through a surging run from Shane Walsh who cut through the Kerry defence.
Mighty goal for @Galway_GAA's Patrick Sweeney, beautifully set up by Shane Walsh! pic.twitter.com/UGOj2ZImCQ

— The GAA (@officialgaa) July 15, 2018
Killian Young's red card
With Galway two points up and ten minutes of normal time remaining, the last thing that Kerry needed was Killian Young receiving a red card. The way Galway dealt with this was a sign that this team is continuing to learn the more experience they get. They had a very similar situation against Dublin in the league final with the Dubs reduced to 14 men and Galway continued to play their same system. Yesterday they went after they Kerry kickout straight away and pressed Kerry.
Conclusion
Kevin Walsh often talks about their end of year accounts and this is definitely a win that will stand out. The key for Galway is to press on from this victory. The objective now has to be to top the group. They play Kildare in Newbridge on Sunday.
Kildare will pose different threats to what Kerry did with a more physical forward line than they would have met so far. Kildare will be eager to get back on track following yesterday's defeat to Monaghan and they will have felt they left that game after them.
Kildare will feel they are very well prepared for the Galway system having played against similar systems in Carlow, Fermanagh and Monaghan. Interestingly they came out second best on two of those occasions.
A concern for Galway going forward I do feel is the loss of another midfielder in Paul Conroy who joins Ciaran Duggan in the injury ranks. All of that said I think Galway will come out on top in Newbridge, I think their forwards will be too good for the Kildare backs and they will not have as poor a day in their shooting again.
For Kerry, they now face the tough trip to Clones in a must win game. What will stand to Eamon Fitzmaurice's side, like Kildare with Galway, is that Monaghan also play a counter-attacking style and Kerry have now tasted what it is like to play against. I think they have to get back to what they have been good at in playing a high intensity pressing game.
They will also need to work a lot harder than yesterday contributing more to the tackle count. If they can get these things right, then they should have enough to get out of Clones with a win.
The42 is on Instagram! Tap the button below on your phone to follow us!