WITH CHELSEA HAVING already been crowned Premier League champions and Brendan Rodgers' Liverpool out of the hunt for a Champions League place, the pair's meeting on a cool and sunny May afternoon in 2015 had little riding on it. A dead rubber of sorts.
Jose Mourinho's men wanted to finish out the season in the style of champions, sure. But they had already mathematically clinched the title for the fifth time in the club's history and so nothing dramatic was at stake as the Merseysiders flew into London and took to the field at Stamford Bridge.
The game would, however, be incredibly significant for one 19-year-old who took his place in the dugout, perched nervously on the edge of his seat on the substitutes bench in front of 41,000 spectators.
Goalkeeper Mitchell Beeney was named on Chelsea's bench for the very first time in a Premier League game against Liverpool that sunny May afternoon, and would for the very first time experience the full roar and throttle of what it was like to be a welcomed and essential member of a Premier League champions' squad on matchday at the Bridge.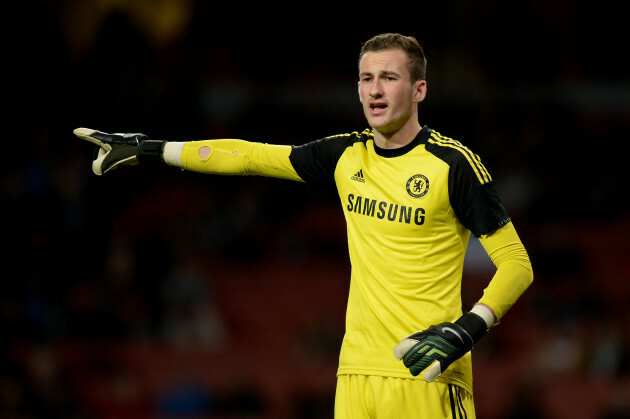 Andrew Matthews Beeney pictured playing for Chelsea during an FA Youth Cup semi-final against Arsenal in 2014. Andrew Matthews
He was a bundle of nerves, he admits three and a half years on from the game. But also incredibly excited and proud of how far his journey had come at the club he joined at the age of 12-years-old from Gillingham. Beeney grew from boy to man at Chelsea's academy and during the course of the 2014/15 season was integrated into the club's matchday squad on repeated occasions.
He travelled with the team as third-choice goalkeeper for their Champions League group-stage encounter away to Schalke 04 in November 2014 (a 5-0 away win in Gelsenkirchen) and was reliably called upon throughout the campaign to fill in behind Thibaut Courtois and Petr Cech when needed.
The Liverpool game sticks out in his mind, though, as it was the closest he came to making a senior appearance for the club — very close, as it transpired. Now first-choice goalkeeper at SSE Airtricity League side Sligo Rovers based in the west coast of Ireland, the 23-year-old reflects fondly on his time spent at Chelsea.
He was let go after more than a decade on the club's books this past summer having initially signed for Sligo on a loan deal, but still warmly laughs and proudly recalls happy memories spent in the midst of an elite-level Premier League side, gaining invaluable insights under a manager like Mourinho and sharing a dressing room with stars like Eden Hazard, Cesc Fabregas and Didier Drogba.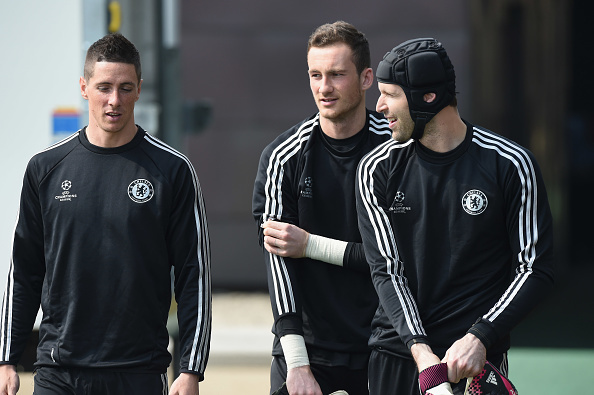 Chelsea FC Fernando Torres, Mitchell Beeney and Petr Cech during a training session in April 2014. Chelsea FC
"It was a bit of excitement and nervousness. A bit of both, yeah, if I'm honest," he says casting his mind back to the encounter against Liverpool three years ago. "Especially because during the game someone actually slid into Thibaut Courtois and he was hobbling around for about 15 minutes or so.
So Courtois was injured and there was a chance of coming on. At that point I was, in other words, crapping myself," Beeney laughs. "Because I was very, very nervous thinking 'oh no, I might actually have to come on here'. At the time they were an incredible side, Liverpool. Obviously they still are now under Klopp, but they were still very good that year. I think I was only 18 or 19 at the time."
Beeney established himself under Adi Viveash at Chelsea's U18s and was streamlined into the club's U21s after a short period, where he shared goalkeeping duties with Jamal Blackman. When an injury ruled Cech out, Beeney was called into the squad and named on the bench against Brendan Rodgers' Reds. A rapid rise and elevation for the player, he reflects.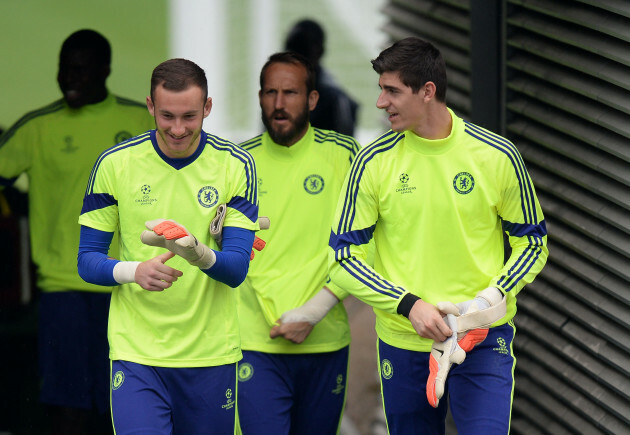 PA Archive / PA Images The goalkeeper learned a lot from players like Thibaut Courtois at Chelsea. PA Archive / PA Images / PA Images
A John Terry header low into the bottom corner gave Chelsea a first-half lead at Stamford Bridge, before another header from his opposing captain Steven Gerrard snatched a point for the visitors. The aforementioned injury to Courtois almost saw Beeney called into action in the first half of the 1-1 draw.
The Belgian had returned from his three-year loan spell with Atletico Madrid the previous summer and was in tremendous form as Chelsea clinched the Premier League title ahead of Manchester City and Arsenal in 2015. Despite his initial injury setback against Liverpool that day, he managed to shrug it off after a while, giving Beeney a slight sense of relief.
A day to feel your age at the Bridge. Mitchell Beeney, son of Mark, on Chelsea bench. Jerome Sinclair, born September 1996, on Liverpool's.

— Tom Williams (@tomwfootball) May 10, 2015
"I think at the time Thibaut got hit we were 1-0 up," he says. "You're sitting there on the bench watching him hobbling, thinking: 'oh no, please don't come off'. My legs were twitching, you've sweaty palms and the more experienced players on the bench are nudging you and joking 'go on, go on, get ready, you're coming on, go warm up'. Stuff like that just gets the heart-rate up and the nerves going."
His time spent around the first-team squad gifted him incredible experience, he says. Seeing players who have brought home a Premier League title train every single day, picking up what makes them tick and what motivates them to push on further was an eye-opening experience, which he used to make himself a better goalkeeper.
Guys like Cech and Courtois can teach you a lot," he says. "You've got to be open to listening to what advice they can give you. But what works for them might not necessarily work for you. It's about finding that happy medium, using things that you can take to develop your own game."
The goalkeeper was born and raised in West Yorkshire and is the son of former Brighton and Leeds United shot-stopper Mark Beeney. His father would spend six years at Elland Road, setting high standards as an established Premier League goalkeeper in the 1990s, with the pair later working together at Chelsea as Mark would take on the position of reserves and youth team coach, which he still works in today.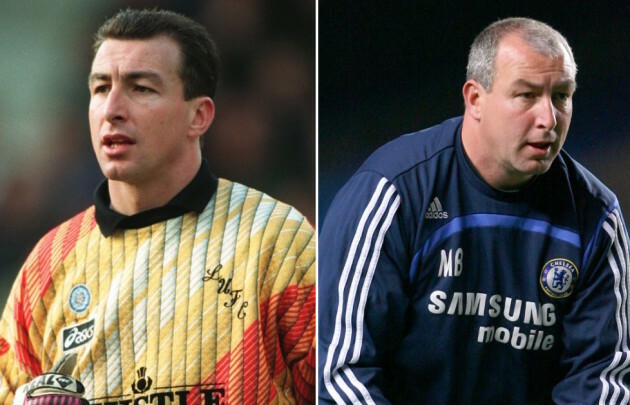 Mark Beeney was a goalkeeper for Leeds in the 1990s and later became a coach at Chelsea.
"He never really pushed me to play in goals as a youngster," Mitchell says of his dad. "It was by chance that I ended up going in goals because, as it turned out, when I was playing at U10s level the goalie didn't turn up, I just put my hand up and said 'oh yeah, I'll go in goals'. That's sort of how I came to become a goalkeeper.
I just enjoyed it and stayed there ever since. He's driven me as much as he can. But there were times that we had to find a middle-ground where we leave football on the pitch and on the training ground and home life is home life. We don't go on about it when we're chatting at home. Overall it's been really good to have him as a figure to help me progress."
The young goalkeeper moved from Gillingham to Chelsea at the age of 12 alongside his younger brother Jordan, most recently a goalkeeper with Charlton Athletic. The dream move it was, but he admits that at such a young age the drama and hype of signing for a club like Chelsea does not dwell. Kids just want to enjoy the game at that age, he says, whereas the unrelenting, ruthless nature of the industry only kicks in in later years when players are valued as an asset, just like everybody else.
"At the time when I signed for Chelsea it was a case of just wanting to play football," he says. "You just want to run around, have a laugh and play with your friends. It's only when you get a little bit older that you realise how lucky you are and also just how serious football can be. When you're there on a Saturday training as a kid, you would look across at the U18 boys. You're a youngster thinking you want to be playing where they are one day.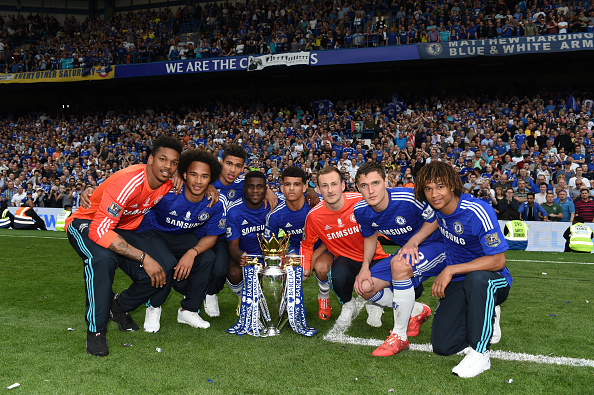 Chelsea FC Jamal Blackman, Isaiah Brown, Dominic Solanke, Jeremie Boga, Ruben Loftus-Cheek, Mitchell Beeney, Andreas Christensen and Nathan Ake with the Premier League trophy. Chelsea FC
"But even at that age you know there is a long road ahead. I was fortunate enough where my dad was a Premier League footballer, so he had that experience himself. He had to keep me grounded in terms of realising that it is a lot of hard work, a lot of sacrifice and you've just got to give it your all and see where your path takes you."
Beeney rose through the ranks at Chelsea, winning both the FA Youth Cup and the U21 Premier League by the end of the 2013/14 season with an impressive squad featuring team-mates like Nathan Aké, Lewis Baker, Andreas Christensen, Josh McEachran, Dominic Solanke, Marco van Ginkel and Ruben Loftus-Cheek.
The player was loaned out three times during his stay at the London club, firstly to Newport County and then to Crawley Town, before Sligo at the start of 2018 — a move he made permanent back in June.
He is keen to stress the difference between academy football and real, first-team game-time at lower league level, where there is risk involved — points to be gained and lost, livelihoods on the line and players playing week-by-week to pay their bills. All of this a world away from the structure of youth team football, where that same risk of failure does not carry the same consequences and the games themselves are less physical and demanding.
"At the end of the day you're playing for your career, for your livelihood at that level being loaned out. People have mortgages to pay and if you don't perform then you're not in the team and you can struggle," he says.
Adam Davy Beeney was sent on loan to Crawley Town in 2016. Adam Davy
Before his loan spells, however, Beeney says that he threw himself into the new responsibility placed on his shoulders as a regular member of Chelsea's first team squad. Integrated alongside fellow academy players like Loftus-Cheek and Nathaniel Chalobah, he was welcomed into Jose Mourinho's team and was treated as such.
Beeney says that, naturally, there were a few moments of being star-struck doing training drills with players like John Terry, Diego Costa and Nemanja Matić. But that after a while it becomes routine, a job like everything else in life.
He assesses that — especially at that level in football — there is no scope to dwell on where you are, because that is exactly the point at which complacency can kick in, and you can easily be replaced either by another promising youth prospect, or by a multi-million pound goalkeeper which the club can buy at the drop of a hat.
"I think the first few times you're a bit like 'wow, I'm training with Hazard and Fabregas and Drogba', some of the best players in the world," he says.
But then when you get to know them personally and get to know what they're like in terms of their character, it becomes more routine. It becomes normality after a while, becomes just like meeting your mates in the park for a kick-about. I think that's the best way I can describe it. You get comfortable in and around that environment.
"After a while you realise that they are just normal guys that have been pushed into the spotlight from a young age because they are elite footballers. It's what happens, and when you achieve success at that level it brings all the luxuries of being a Premier League footballer. Being able to have the fast cars and going on holidays and travelling all around the world, stuff like that. But on a one-to-one level they are just normal guys.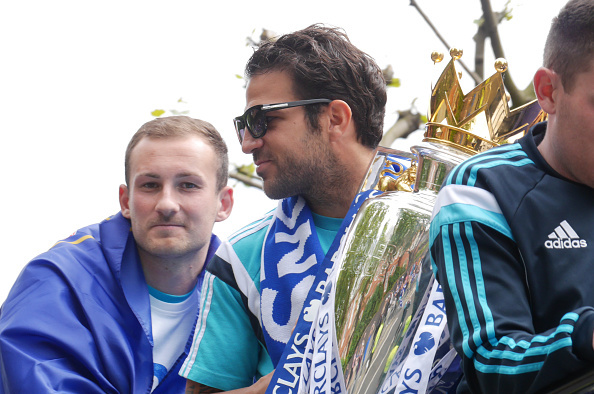 PA Beeney and Cesc Fabregas celebrate with the Premier League trophy during Chelsea's homecoming in May 2015. PA
"There are always a few players that take a bit longer to get to know. But then once you do get to know them, it's really easy going. I was fortunate that there were guys like Nathan Aké at the time, who was a youngster like me. Nathaniel Chalobah and Ruben Loftus-Cheek too. I played with guys like that all the way up through to the U23s. So it wasn't just a case of me being thrown into the senior team on my own. There were a few of us all at once, so we were very much welcomed."
[Cech and Courtois] welcomed me into their goalkeeper union too," he smiles. "I had trained with them a few times before it became more of a regular thing, but only every now and then. Obviously after a while you get to know them a little bit, but it's not the same as being with them every day constantly. I found that, as long as you put the effort and the work in, they'll happily have you in and around them."
Led by the second coming of Mourinho at the club, Chelsea roared to the Premier League title in 2014/15, finishing eight points clear of Manuel Pellegrini's Manchester City with a brand of ruthless, fierce football brought on by players like Eden Hazard and Diego Costa up top.
Beeney was on the pitch the day John Terry lifted the Premier League trophy at Stamford Bridge, following a 3-1 win against Sunderland thanks to goals from Costa and a double from Loic Rémy. He was also present during the team's homecoming celebrations throughout the city the following week on an open-top bus.
"For me personally that was a very good year," he says of the 2014/15 campaign where he split his time between the U21s and acting as third-choice goalkeeper for Jose Mourinho's first-team.
Courtois-Blackman-Lollichon-Cech-Beeney
kiper utama-kiper ketiga-pelatih kiper-kiper kedua-kiper junior
(y) pic.twitter.com/4KtcNSGuWs

— CFC48 (@ChelseaFC_JKT48) March 2, 2015
"It was a very good insight into what it takes to get to the top level. I was fortunate that Mark Schwarzer was still there at the time too. He became a sort of mentor to me, in terms of bouncing ideas off of him and asking what he had done throughout his career.
"At that stage Mark was 42-years-old and was still playing in the Premier League, which is some going. I'd just ask his perspective on little things. You pick bits off of each other — what works for me might not work for someone else and vice versa. So it was about finding a medium. It was really good. Winning the Premier League… as much as I didn't play or anything like that, to actually just be in that environment was a dream come true."
And getting to parade the trophy around London?
That was pretty special," Beeney says. "The fact that you're going from Stamford Bridge to one of the local parks and there's more than 100,000 people lining the streets was amazing. All you can look at is this sea of blue shirts.
"It's hard to explain about being in that bubble. But being recognised as a part of that group was amazing. You have young fans coming up wanting to take pictures and you're like 'wait, with me?' At that stage you're still only a young kid at the time yourself. It all felt a bit surreal."
Beeney joined Ger Lyttle's Sligo side at the beginning of 2018, the goalkeeper recommended by former Northern Ireland international Warren Feeney. After an initial loan spell, the 23-year-old was informed that he would be released by Chelsea and that he could sign for the League of Ireland club on a full-time basis in June.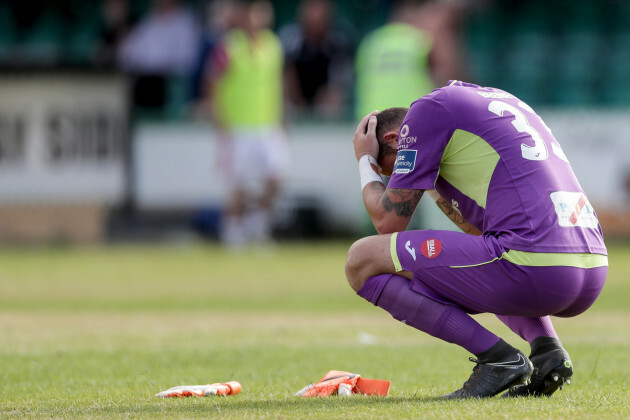 Laszlo Geczo / INPHO The 23-year-old helped Sligo Rovers in their battle against relegation this season. Laszlo Geczo / INPHO / INPHO
Being let go was tough to take, he admits. But settling into a more quiet life on the west coast, allowing him the time and head-space to focus on his football was the perfect tonic. He says that the news of being let go was probably on the cards for a while beforehand, thus making it easier to process and accept the decision to leave the club after more than a decade on Chelsea's books.
"It sounds silly, but it wasn't as hard as I thought it was going to be. Obviously it's disappointing to be told you're not going to be kept on. You're gutted at the time, but you realise that there's more out there and that there's more to life than just one club," he says.
Being at Chelsea helps you to take a step down to another club. You're likely to be picked up quite quickly because they'll take a look at your CV and say 'oh, he's been at Chelsea for 10 years'.
"So they think you're going to have the quality of other people, but for me I think the writing was on the wall for probably a year. Cech had gone, Courtois had signed a new long-term contract. Thibaut is only two years older than me, so it was a case of 'right, I've got to push myself now to try and get the best possible move when my time at Chelsea does eventually run out'".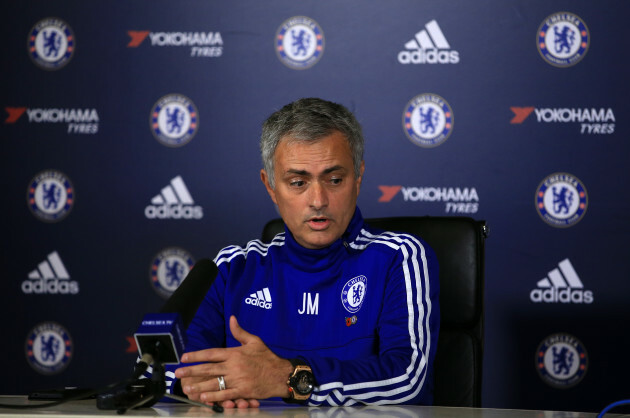 John Walton Chelsea manager Jose Mourinho welcomed the English goalkeeper into his squad. John Walton
The player accepts that the industry is always going to be ruthless and unforgiving at that level. He explains that the pressure mounted on your shoulders to make the most of your opportunities is a brilliant motivator, but that at the back of your mind you know the chance to progress to the first-team is very small. The idea of being replaced is fuel to drive you on, but also a sad inevitability at a team who's goals are to win the Premier League every other season.
Exclusive Six
Nations Analysis
Get Murray Kinsella's exclusive analysis of Ireland's Six Nations campaign this spring
Become a Member
"I think it's a case of Chelsea having so many goalkeepers, so many top-drawer footballers, the very best of the best. Even last summer they bought the boy Kepa from Athletic Bilbao for a world record fee for any goalkeeper ever (€80 million).
He's only a year older than me, and he's doing extremely well. Sometimes I imagine what it's like to be there today — it would be even harder than before, because ahead in the pecking order is a guy who's only a year older than you and he's the most expensive goalkeeper in the world, one of the best in the business.
"So in those circumstances it would be hard to keep yourself motivated, knowing a goalkeeper of Kepa's quality is there and you know he's going to play every week. It would be hard for a young goalkeeper to see a pathway up to the first team. It would be a case of 'right, I'll go on another loan, another loan deal, year after year'. And look, as much as you're playing games at underage level and on loan and with the reserves and you're developing as a footballer, you're not actually playing for Chelsea."
Laszlo Geczo / INPHO Beeney has impressed between the sticks for the League of Ireland club since arriving in February. Laszlo Geczo / INPHO / INPHO
"I wouldn't say I found it hard to push myself or to motivate myself though," he continues. "At the end of the day the best way to look at it is that you're fighting with every other goalkeeper in the entire world to make it at a club like Chelsea.
"A club at that level have got the resources to go out and buy anyone they want with a click of their fingers. From my point of view, it was a case of trying to be the best I could every single day. You couldn't afford to do any less than that, because otherwise I knew I could be replaced very easily. That was my way of looking at it, because it is that hard to get to the top, especially at a team like Chelsea.
In one sense that pressure does take a toll on your mental health, but it also gives you motivation," he adds. "You're always thinking to yourself 'oh is there someone that's going to be brought in to replace me' — and that thought process gives you the motivation and the drive and the determination to have confidence in your own ability.
"You need to say to yourself 'there isn't anyone better than me, I'm going to be the best, you are not going to find someone to replace me.' I do think there is a lot of pressure on young footballers to succeed at elite clubs. But I also think that you just have to accept that as part of the deal. It's the nature of our profession.
"Even now at Sligo, you go out every week and play your match on a Saturday and there's pressure there. You know you have to always do well, otherwise you could end up costing your team. In a way you have to put that mental strain on yourself.
The goalkeeper reflects positively on his time on the books at Stamford Bridge between 2007 and 2018.
"The important part of the whole equation is allowing yourself to switch off away from the pitch, to be able to your relax the mind. It is so important to be able to take your mind off football, even if it's something small like going to play a round of golf with the other boys or a few of your mates. It's that ability to be able to switch off and just chill out."
Beeney says that moving to Sligo has been a fresh start for him after being let go by Chelsea. With a new contract signed until the end of 2019 at the Showgrounds, a baby on the way and his family planning to move to Ireland next year, he feels a sense of peace and contentment with his life.
He admits that he did not know what to expect moving to the League of Ireland, but firmly states that the level of football is much higher than he anticipated when he arrived in February. Sligo mathematically secured their top-flight status in front of a packed home crowd last weekend, beating Bray Wanderers 2-0 as the club celebrated its 90th anniversary. It was a difficult, strange season for the club, but avoiding the threat of relegation sees them now looking forward to building again for next season.
"I would say moving out here, it's a lot quieter. I'm living in a little village out in Riverstown just outside Sligo. It is very quiet, but it's ideal for football because you have that space to concentrate," he reflects. "You haven't got those outside distractions of 'oh let's go out, let's go meet up in town'. It really is just nice and quiet, you can concentrate fully on your football.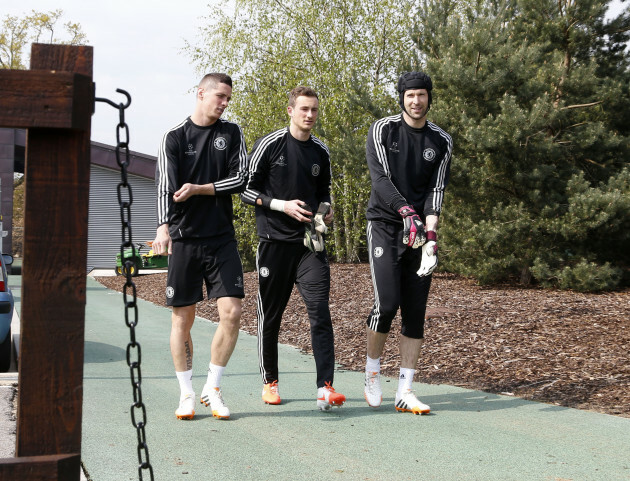 Jed Leicester Beeney alongside Fernando Torres and Petr Cech during a Chelsea training session. Jed Leicester
"I've settled in now, my family are coming over next year once my partner has had our baby. Then we'll just see where the year takes us. I know it sounds silly because we're still in the middle of the season, but I'm really looking forward to pre-season next year.
"If I'm honest, this is a fresh start for me. It is a chance to prove to everyone that I've got the ability to play and to prove those few question marks over my attitude people had when I was a youngster.
Obviously coming from Chelsea you've given it your all from such a young age. But coming to Sligo is a chance for me to prove to everyone that I am a good goalkeeper. From my point of view, coming to Ireland was a great chance for me to use it as a stepping stone to start rebuilding my career.
"You are at your happiest when you're playing first-team football. At the end of the day, no-one becomes a footballer to sit in a stand and watch games pass you by every week. You don't dream of being a footballer just to sit on the bench and not get a look-in. You just want to play games. It doesn't matter if you're at the start of your career, or at the end of your career — all you want to do is play matches and enjoy yourself on the pitch.
"I'm keeping my options open, if I'm honest. At the moment my only goal is to try and help Sligo get further up the table next season and to finish this season off strongly. After that, whatever will happen will happen. I'm not looking beyond the end of next season or anything like that.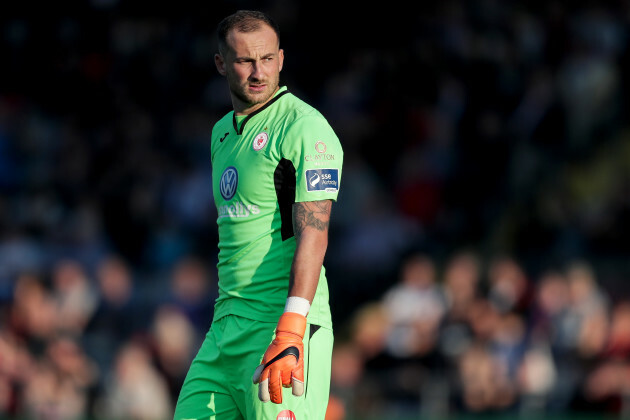 Laszlo Geczo / INPHO Sligo have secured their top-flight status again for 2019 with Beeney in goal since arriving in February. Laszlo Geczo / INPHO / INPHO
"If Sligo came to me half-way through next year and said they wanted to keep me for another year, I'd consider it. But for me at the moment it's just a case of finishing this season off strongly and hitting the ground running again next season."
Beeney says that he is proud of all that he has achieved so far in football. But having only celebrated his 23rd birthday last week, you do get the sense that there is much more to come further down the line for the young footballer.
His time spent in the company of Cech and Courtois, Hazard and Drogba were fantastic experiences. Getting his hands on the Premier League trophy and earning the respect of a manager like Jose Mourinho are all things to tell the grandkids about in future decades.
But one club does not define him — he says — and his destiny and the success of his career is still very much in his own hands. Just like the fate of any good goalkeeper.
The42 is on Instagram! Tap the button below on your phone to follow us!