'IF THEY CAN'T see it, they can't be it'.
So reads the slogan for Federation of Irish Sport's new '20×20′ initiative, released on Monday, which aims to achieve a 20% increase in participation, attendance and media coverage of female sports by the year 2020.
It's a stirring supposition which begs a question: how did Katie Taylor ever come to be 'it' at all?
There's a scene in her upcoming documentary, Katie – scheduled for cinematic release on Friday, 26 October — during which Taylor's brother, Peter, recalls how the family used to enter Taylor in boxing competitions under the name 'K. Taylor', and squeeze her hair into a net beneath her headguard so she could fight against boys.
That was the mid-1990s, and the concept of women's amateur boxing hadn't yet even graduated to 'taboo subject' status in Ireland — it remained alien to the point that it wasn't a subject at all.
And so without peers or predecessors to speak of, Taylor found inspiration lay beyond a craft which had long been bridled to a whisper by the pig-ignorant.
If she can't see it, she can't be it. @rtesport is supporting #20x20, a new initiative for women in sport. pic.twitter.com/IWgAXfCuIA

— RTÉ (@rte) October 15, 2018
"When I first dreamt of becoming an Olympic champion I didn't even know women's boxing wasn't an Olympic sport," Taylor laughs in her Connecticut base, where she's gearing up for a defence of her WBA and IBF World lightweight titles in Boston this Saturday.
"I guess for me, Deirdre Gogarty would be the example of a role model — she was very, very encouraging to me growing up. She was always very generous with her time with me, and that made a huge impact on me, I think, as a young child.
But I looked at every fighter as just another fighter, really — I didn't just watch female fighters. There was Sugar Ray Leonard, Marvin Hagler — any big fighter, really. They didn't need to be a female fighter for me to look up to them.
"I did have huge family support around me, as well, though," Taylor points out.
Any time I had a bad day or any day I felt kind of discouraged about boxing as a girl, my family were the ones who pulled me up and said, 'No, it is going to happen for you. You are going to be an Olympic champion.' It's important to have that support.
"I think coverage of women's sport definitely seems to be heading in the right direction. Even in women's boxing, people's perceptions have definitely changed over the last few years — not just in Ireland but worldwide, which is fantastic.
But I don't look at the papers — I don't really see how much attention women's sport actually gets. That's not even something I ever really worried about, to be honest. I just went about my work quietly and came back through the airport with gold medals.
"And that was all that I needed. I think once you're successful, once you're consistently successful, people are going to notice. And the media is going to latch onto that success eventually, I think.
"Once you're focused and you continually come back with the results that you want, you're going to get the attention that you deserve."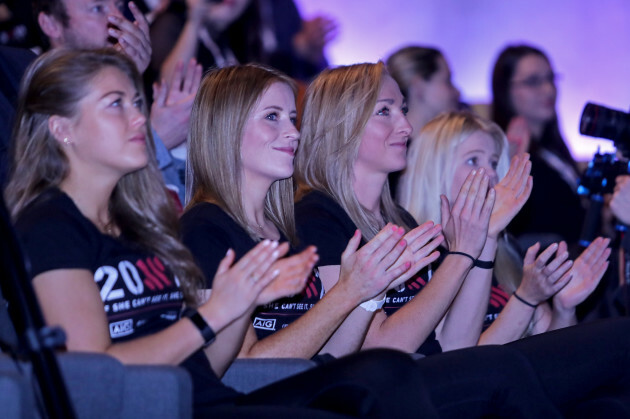 Laszlo Geczo / INPHO Mayo footballer Sarah Rowe, Dublin camogie player Laura Twomey and Arsenal/Ireland soccer player Louise Quinn at the launch of 20x20 Laszlo Geczo / INPHO / INPHO
Taylor, who went on to fight Alanna Nihell (née Audley) in Ireland's first ever sanctioned women's bout in 2001, became the catalyst for her sport's eventual acceptance into the Olympics eight years later.
She has made a similar dent in the pro game since turning over after the Rio Games: she's already seen plenty of airtime on either side of the Atlantic; her December 2017 world title defence versus Jessica McCaskill was the first ever female bout to headline on Sky Sports; she is, by a significant margin, the biggest financial draw on the women's side of the sport, and her 10-fight career to date — while recently christened underwhelming by some Irish sports media edgelords — has demanded that women's boxing and men's boxing have begun to converge into something called 'boxing'.
Taylor faces WBO featherweight world champion Cindy Serrano [27-5-3, 10KOs] at TD Garden, home of the Boston Celtics and Bruins, this Saturday night, where she hopes the trail she has been blazing isn't curtailed by the teak-tough Puerto Rican-Brooklynite.
She'll still be surrounded largely by lads, mind you — albeit three of them are compatriots: James Tennyson, Niall Kennedy and Sean McComb all join the Bray woman in career-biggest fights on what, from an Irish perspective, is a tantalising triple-world-title bill in Beantown.
In an interview with The42 on Monday, Tennyson — who fights American Tevin Farmer in one of those title bouts — described it as "a dream come true" to join Taylor and friends in stepping through the ropes at the iconic 20,000-seater, live on Sky Sports in these parts and DAZN in the States.
"I'm actually really, really excited as well about James, by the way," Taylor says. "He's fighting for a world title and it's going to be fantastic. Hopefully he can pull that off against a really tricky southpaw.
"And I obviously fought with Niall for years in the Irish amateur team as well, and with Sean McComb boxing on the night I just think it's going to be a special night for us all. From what I hear, there's going to be a massive Irish contingent there as well."
Emily Harney / INPHO Taylor with Demetrius Andrade (L) and Mark DeLuca (R) at Boston's Fenway Park Emily Harney / INPHO / INPHO
"It's a night I'm really excited about," Taylor continues.
Even the fight between me and Cindy — I think there are a lot of people involved within the sport that are really intrigued by it — it's a fight people have been talking about for the last two or three months, and it's exactly what the sport needs.
"These are the types of fights that I do relish: Cindy is a very experienced fighter; she comes in with something like 35 fights, so she's going to bring something different to the table — I think the majority of it I won't have seen before. And I actually can't wait for that.
"She has a great work rate: she throws a lot of punches over the 10 rounds. I saw two rounds of her sparring and she looked definitely well-conditioned and well prepared for Saturday night.
"I can't wait for it, really, you know? It's going to be a great, great night."
Emily Harney / INPHO Cindy Serrano shakes hands with Katie Taylor at August's Boston press conference Emily Harney / INPHO / INPHO
"Cindy comes from a great fighting family, of course", adds Taylor's manager, Brian Peters, "with her sister Amanda, as well. She's been a pro for 15 years — she's going to try a few dirty tricks, so it's interesting. It's something a bit different to what we've seen so far."
It's the topic of Amanda Serrano, however, and not her sister's prospective propagation of the dark arts, which is the point of contention with Taylor and her manager.
The younger and more naturally talented of the pair, Amanda [35-1-1, 26KOs] — nicknamed 'The Real Deal' — has a CV which at first glance is matched only by Oscar De La Hoya and Manny Pacquiao: she has held a world title in six separate weight divisions.
The 30-year-old has previously claimed she packs enough wallop to knock Taylor out and has all but vowed to use it, but following her sixth world-title victory last month she abdicated her throne, announcing a permanent move to the sport of MMA in which she improved her record to 1-0-1 over the weekend with a second-round submission win.
I'm still on cloud 9 after my victory Saturday. Thanks to the amazing commentary by the beautiful MMA Star Julianna Peña @VenezuelanVixen & partner They did an amazing job 🙏@Nicdali @traviscalanoc @afromike76 pic.twitter.com/VqBRO9XlTZ

— Amanda Serrano (@Serranosisters) October 15, 2018
Serrano has indicated publicly that boxing failed to pay her her dues over the course of her nine-year stint, figuratively and literally. She recently informed this writer that she refuses to wait for a Taylor fight, has 'done enough' in boxing, and that the exposure and potential earnings in the cage far outweigh what she deems obtainable in the squared circle.
It's a plot twist made all the more curious by the fact that she would most likely pocket a six-figure sum to face Taylor in a potentially seminal fight for female boxing, the sport on behalf of which she has for years vocally and physically battled for credibility; a flagship women's bout which one could see forcing its way into at least a co-main event slot on a big Stateside bill — particularly with Taylor's promoter, Eddie Hearn, at the wheel.
True to form, Taylor points out that she must get past Cindy Serrano this Saturday before she gives Amanda any significant consideration. But she's as incredulous as anyone as to why the latter has decided to jump overboard in a rising tide.
"It's just a huge fight for the sport, myself and Amanda. It's probably the biggest fight in women's boxing at the moment," she says.
"It's a very strange time for Amanda to change sports when there are so many good fights out there for her in boxing, and there's a lot of big money to be made now as well.
It's a stupid time, really, for her to go into MMA and claim there's no money involved in women's boxing when there's plenty of big fights actually there for her: there's myself, there's the likes of Mikaela Mayer, there's Jessica McCaskill who just won a world title, and so many more.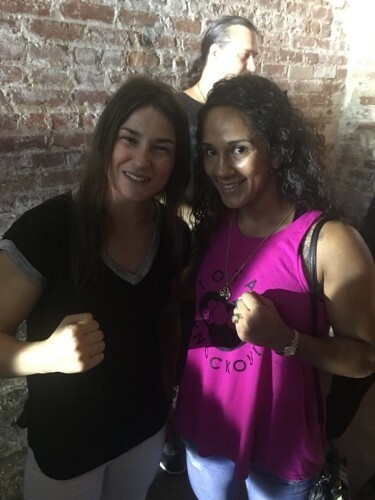 Amanda Serrano / @serranosisters Katie Taylor and Amanda Serrano Amanda Serrano / @serranosisters / @serranosisters
Adds Peters of Serrano: "She can't be serious, to do some of the trash talk she was doing and then to walk away? I think it's impossible for her to not fight Katie Taylor, to be honest. She'll be a laughing stock.
"I think she's only messing. I think she's only looking to get a few more dollars for herself.
"Look, it's fine winning six world titles… Five of them were vacant — I mean, she's kind of the undisputed vacant world champion more than anything. But I don't think there's any way she can avoid fighting Katie.
"And listen, she's a hell of a fighter –"
"She is a hell of a fighter!" interjects an animated Taylor.
"She's good enough that she shouldn't need to fight for all those vacant titles. She's good enough to go after some of those big names, and I don't know why she hasn't done that.
I think she's mentally fragile at times — that's what her biggest problem is, really. I don't think she wants the big fights. Maybe she's afraid to lose.
"That's just my thoughts on it," Taylor adds. "I don't know if that's the way it is. But a fight between us is one people have been talking about for the last year or so, and the fight has to happen.
"I'm definitely open to it, and she has claimed that she's open to it. Whether she actually wants the fight or not, I'm not too sure."
Exclusive Six
Nations Analysis
Get Murray Kinsella's exclusive analysis of Ireland's Six Nations campaign this spring
Become a Member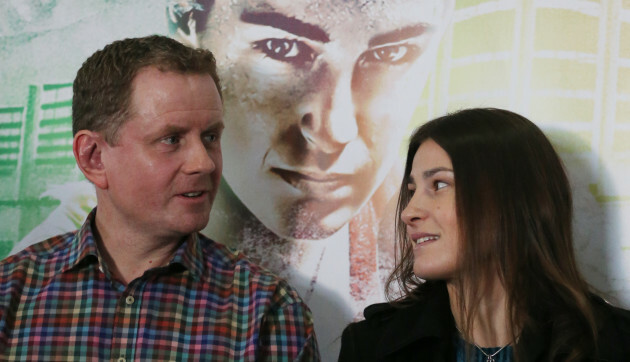 Niall Carson Taylor and manager Brian Peters Niall Carson
Amanda Serrano isn't the only rival to have veered away from a fight with Taylor, however, and at least she attempted to provide reasons for her pivot to mixed martial arts.
Taylor's fellow world champions at lightweight — long-ruling WBC beltholder Delfine Persoon [41-1-0, 16KOs] and WBO titlist Rose Volante [14-0, 8KOs] — have become more artful dodgers, each of their teams practically going underground to prolong their fighters' reigns, presumably with a view to maximising their earning potential before resurfacing for the Taylor challenge.
"That's probably the most frustrating part about professional boxing, really," Taylor says.
If you claim to be a world champion, you can't be avoiding any of the other world champions, I don't think. You have a responsibility as a pro fighter to actually get in there and take the best fights possible.
"But I think those fights will happen eventually. Volante, I think, has expressed her interest in the fight recently. I think they'll happen at some stage next year, maybe."
Another prospective foe, Mikaela Mayer — who was previously trained by Billy Walsh in America's resuscitated High Performance setup — has had her eye on Taylor since joining her in the paid ranks last summer.
The 28-year-old impressed in her first eight-rounder last weekend, and while a scrap between her and Taylor must marinate for a while yet, it's at least unlikely that Brian Peters or Eddie Hearn will have trouble reaching the rangey Californian when the time comes to set it up.
We told ya'll about that @MikaelaMayer1 right hand! #CrawfordBenavidez pic.twitter.com/TuwPqsXu2J

— Top Rank Boxing (@trboxing) October 14, 2018
"I only saw the knockdown from her fight, actually — that's the only clip I've seen," Taylor says of the American standout. "But yeah, it was a cracking right hand, for sure. She has a great right hand.
"She's coming along nicely — that's another big one for down the line, as well. We never fought as amateurs, which was strange. We were in the same weight category for years, but we never ended up facing each other…
"But I'm so lucky to have these girls in and around my weight division, too. There are so many big names, so many big fights to be made."
But then, much of the discourse which played out in the Irish media following her facile victory over limited veteran Kimberly Connor last time out suggested the complete opposite — that there are no worthy adversaries in a sport innately bereft of talent, and that Taylor's professional crusade is, through no fault of her own, kind of pointless.
"That's just uneducated stuff," scoffs Taylor, who proposes such claims emanate only from people who don't actually follow boxing. "It's silly talk, really.
"I mean, I boxed [Anahi] Sanchez for a world title. She moved up a weight and won another world title. The same with Jessica McCaskill, as well.
Kimberly Connor was my mandatory challenger — I had to fight her. But there are so many big names out there, as I said. I'm not the type of fighter who avoids anyone — that's why I fought the likes of Sanchez and McCaskill, who've won world titles up at light-welterweight since then. I don't know what more I can do at the moment, really.
James Crombie / INPHO Man's world no longer: Taylor believes major fights are on the horizon James Crombie / INPHO / INPHO
Peters proceeds to reel off 15-odd names that he hopes will raise their hands to square off with his charge eventually, including pound-for-pound number one Cecilia Braekhus who, if she drops to 140 pounds, could meet Taylor in a battle of boxing's First Ladies — a notion approved by the Norwegian's potential usurper by way of an excited chuckle.
"It's about to be a golden era for women's boxing, and the lightweight division — or in and around it — in particular," Taylor says. "It's the first time in women's boxing where the top amateurs are actually turning over into the pro game.
"That's why all of these fights can start being made. That's why it's such an exciting time to be involved in the sport."
One suspects she'll change a few tunes between now and 2020.
Subscribe to our new podcast, Heineken Rugby Weekly on The42, here: