THIS IS A nice time of year for inter-county footballers, Olwen Carey agrees.
The star Dublin midfielder has just about got the chance to draw breath after another frenetic year in the Sky Blue jersey, one which ended with sweet, sweet redemption as they beat old foes Cork to lift the All-Ireland title for a second consecutive year.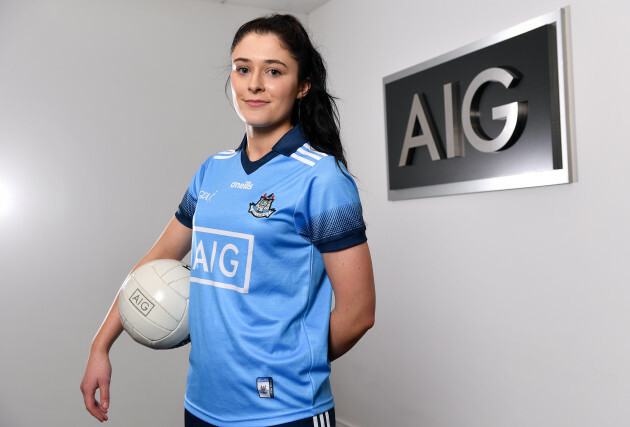 Sam Barnes / SPORTSFILE Dublin star Olwen Carey. Sam Barnes / SPORTSFILE / SPORTSFILE
There was a first-ever Division 1 league title in there too, one must not forget, and plenty of other highs to outweigh the lows, hurt and heartbreak of the past.
Carey's glittering performances around the middle have also earned her an All-Star nomination, alongside 14 of her other Dublin teammates. Life is pretty good, so.
It's about more than that though, reflecting on what's been.
"Especially looking back over the last two years," she smiles. "The years before that were a different side of it, but the last two years have been good.
"This time of the year is nice, we're getting asked to go back to your schools and clubs which is always nice because at the end of the day, you hope by us winning, you might inspire people to stay on and continue to play.
"Looking back on it now it is great. The first week afterwards you're celebrating, and it's only the next few weeks after that you sit back and start to appreciate it fully."
Well, these Dublin girls know exactly how to appreciate their silverware in full. We'll get to that in a moment but first, it's interesting to hear her thoughts on being seen as a role model, both her as an individual and Mick Bohan's side as a collective.
There's been plenty of conversation on the topic over the last few weeks with the launch of the 20×20 campaign. If you haven't heard about it by now, in short it's an exciting initiative with three main aims: to increase media coverage, boost attendances and ultimately, grow involvement in female sport by 20% by the end of 2020.
And Carey knows — even more so after the knock-on effect of Dublin's Blues Sisters documentary — just how important role models and inspirations are to the younger generation.
"For us, we want to try and — if we can — be role models for young girls playing," she continues, adding that she looked up to her Thomas Davis clubmates Denise Masterson and Siobhan McGrath when she was younger.
"Hopefully we can create role models. Any of the team or if it's the team in general, for young girls to look up to. It does help if you have someone to (aspire to), as in, 'That's the kind of player I want to be or I want to play like them.' It does help inspire people.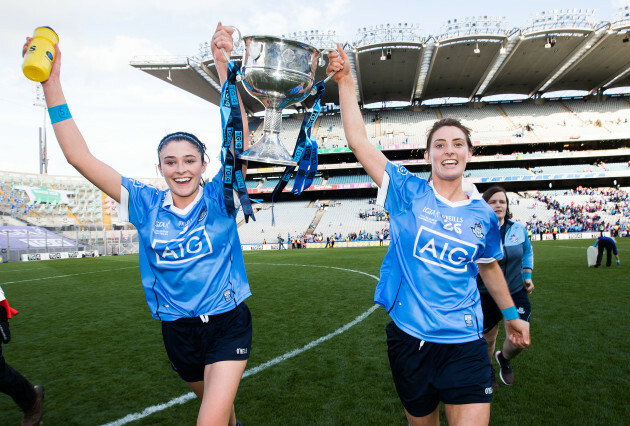 Tommy Dickson / INPHO Carey celebrates with Oonagh Whyte after the 2018 All-Ireland final. Tommy Dickson / INPHO / INPHO
"If they can see that people enjoy it and see how much you can get out of football, outside of it as well — it does give you great skills outside of it as well — hopefully it can encourage more girls to play. Girls have a tendency to stop playing around 13-14 and that's where we need to encourage girls to keep playing.
"Hopefully if we win another few more," she smirks, "We might keep them!"
Looking back through the years, it wasn't always football. She was a bit of a late bloomer there, only joining her club at the age of 11 or 12. 
Dancing was the first love. She started that aged just three, a mixture of all types really. And then it became a balancing act.
"There were days when I'd go to dance class after football and I'd be scraping the muck off my legs," as she told Marie Crowe in a recent interview for the Irish Independent.
Decision time came along in secondary school, around the age of 15 or 16, she says. Of course, we know which won in the end but she feels that the dancing was a good base and benefits her on the field nowadays.
"It was good for me," she notes. "That's what I knew for a good while and then the football came in. Dancing keeps you fit as well obviously, and it was good bringing it into the football." 
Twenty-three now, she casts her mind to her first season with the Dublin seniors. One to forget, perhaps: 2014 and that mighty, mighty All-Ireland final comeback from the Rebels as the Dubs let a 10-point lead slip with 15 minutes left on the clock.
"I was on the bench that day," Carey recalls. "That was not an easy loss to take. It was probably one of the worst ones.
"That was the start then. The next two finals were against Cork as well. After the third year we came back and — well myself anyway — came back and it was like, 'We have to do it this year… especially if we do play Cork.'
"We had set our minds that whatever it took, we'd get over the line last year."
🎥: There was a great turnout to support Olwen Carey & Siobhan McGrath @tomasdaibhis. They received the biggest cheer as @dublinladiesg prepare for Cork in the @SportTG4 @TG4TV All-Ireland Senior Football Final this Sunday @CrokePark!
pic.twitter.com/RtXcrae73D

— Ladies Football (@LadiesFootball) September 14, 2018
And that they did, but it was against Mayo in the showpiece. They didn't meet the Rebels in championship action so those three years of hurt remained. The rivalry from underage was also a factor, but Dublin knew they had to exact revenge to put the past to bed.
Exclusive Six
Nations Analysis
Get Murray Kinsella's exclusive analysis of Ireland's Six Nations campaign this spring
Become a Member
The rivalry was played down time and time again in the build-up to the September showdown from inside the camp, but everyone knew just how much victory would mean.
Finally.
"Playing it down," she grins in agreement. "I suppose from our management perspective, the whole way up to the game, we did our analysis on Cork and the week before it was just focusing in on ourselves. That's what we put up.
"We didn't want to, outside of the group, be talking about, 'This is Cork, these are your rivals, these are who you've lost to.' We tried not to focus on it too much.
Afterwards you do kind of go… we did lose three against them so it was nice to get that one back. We know they've such a good team as well. They'll be there next year again."
The game itself was a rip-roaring contest, a Titanic battle between two great teams but to trainee accountant Carey, it was surely a bit of a blur. She was pleased to be told the sheer intensity made for a thrilling battle, but she says it flew by in a whirlwind. 
The record-breaking attendance of 50,141 was another element which really pleased Carey. It's all about increasing the number of supporters year on year, and in 2019, we go again.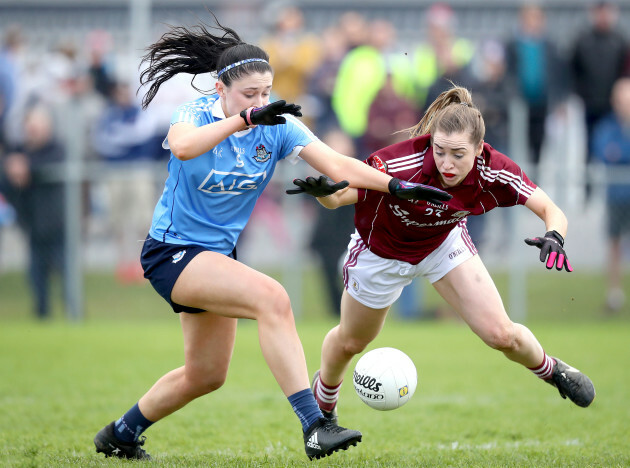 Oisin Keniry / INPHO Facing Galway's Caitriona Cormican in this year's league semi-final. Oisin Keniry / INPHO / INPHO
There's been no confirmation that Bohan is definitely staying on at the helm for a third year, but the general consensus is that it'll be business as usual for the Clontarf native after Christmas.
Carey won't give too much away, but hopes that the whole group can stick together to tackle another year at the top.
"We're just enjoying the break at the moment," the IT Tallaght graduate says. "I think we're meeting up in the next few weeks just to discuss the year and to discuss next year as a group.
"Hopefully he is (staying on), as far as we know. We know he's definitely brought us on the last two years, the amount we've learned from him — me personally as well. He's been invaluable to us. 
"There's a good core group (of players) there from different ages coming through. We have a panel of 35 or whatever girls that have been there the last few years. Hopefully everyone does stay on. We do get along off the pitch as well.
"I suppose it is an amateur sport at the end of the day and life takes different turns when it comes to it. You have to assess it each year but hopefully everyone can stay on."
They've done two in-a-row, secured back-to-back titles for the first time in the county's history to add to their 2010 crown. 
And even in the post-final press conference, the talk turned straight to 2019 and the question of whether the Girls in Blue can do it again.
"Three in-a-row," Carey laughs. She knew exactly what was coming.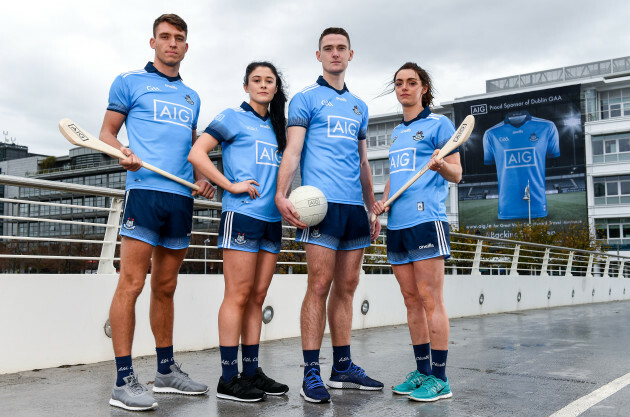 Sam Barnes / SPORTSFILE Crummey, Carey, Fenton and O'Brien at the Dublin jersey launch. Sam Barnes / SPORTSFILE / SPORTSFILE
"We've been around to a few places and people are saying, 'Ah, three in-a-row'. But you know, we lost three in-a-row so we're just taking the last two.
"Everyone wants to win as many as possible but for the moment, we're not looking to that just yet. We'll concentrate on coming back next year… hopefully yeah.
"I'd like to do three in-a-row but…"
She pulls herself back.
"I'm not gonna say…
"We'll just come back…."
And that they will.
Dublin stars Brian Fenton, Chris Crummey, Olwen Carey and Eve O'Brien were on hand to help Dublin GAA and sponsors AIG Insurance to officially launch the new Dublin jersey at AIG's head office.
Subscribe to our new podcast, Heineken Rugby Weekly on The42, here: