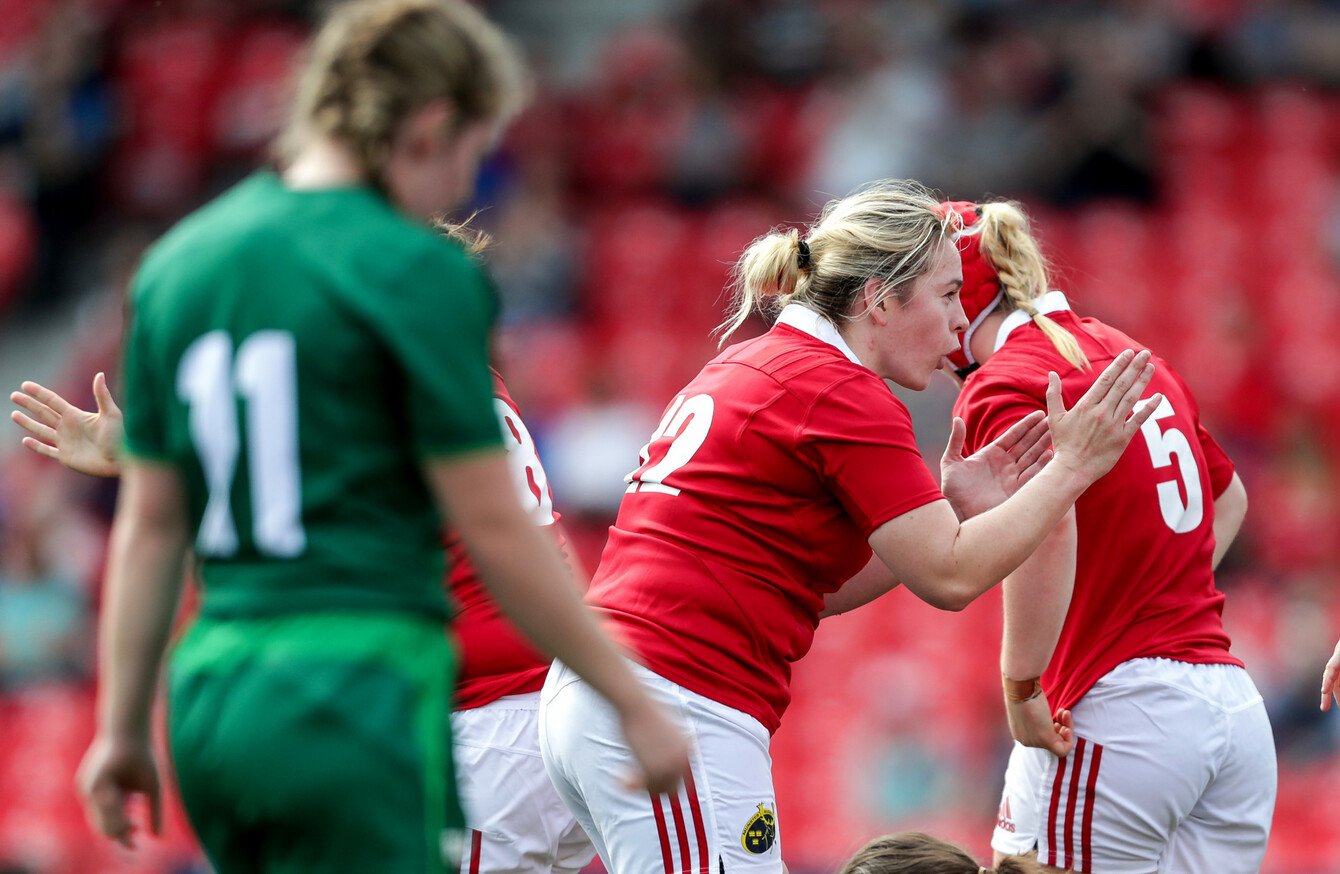 Munster's Niamh Briggs celebrates Chloe Pearse's try.
Image: Laszlo Geczo/INPHO
Munster's Niamh Briggs celebrates Chloe Pearse's try.
Image: Laszlo Geczo/INPHO
Munster Women 24
Connacht Women 7
MUNSTER OPENED THE defence of their IRFU Women's Interprovincial Championship title with a 24-7 win over Connacht at Irish Independent Park.
The result means the two teams defeated in Round One will have home advantage next Saturday and Munster will top the table heading to Portadown.
"Objective achieved," said Munster head coach Laura Guest. "We have four points leaving here today and Connacht have none. We knew it was a physical battle, it always is with Connacht. We've loads to fix and loads to work on, but it's a great start."
Munster controlled possession right from kick off and needed just five minutes to open the scoring. Niamh Briggs and Niamh Kavanagh combined to bring the home side into the 22 and after some patient build-up with Nicole Cronin sniping around the fringes, it was Chloe Pearse who touched down from a close-in drive.
Munster's pace out wide combined with their breakdown intensity secured the next try — Fiona Hayes with the close-range finish this time.
Rachel Healy jinked Connacht into the opposition half for the first time and Nicole Fowley's kicking was on the money, but Munster were still hunting for a score as half-time neared.
With a penalty in front of the posts on 39 minutes, Captain Fiona Hayes nodded to Briggs to kick for three. That left Munster leading 17-0 at half-time and their Head Coach satisfied with the on-field decision making.
"That was the call," said Guest. "You just need to build points. You can never have enough of a lead with Connacht. You know they'll come back."
Guest was proved correct from the restart as Connacht began the second half with real intent. Shannon Touhy got their try out wide after Connacht's tempo drew red jerseys into the contact area on their first visit to the 22.
Connacht's set piece gave them a strong platform in opposition territory, but telling hits from Briggs and Ciara Griffin made Munster hard to breach. The pair were both forced off in what proved to be an attritional second half.
Munster eventually got back on top and sealed the win with a late try — Enya Breen punched a hole in midfield, before popping the ball off to substitute Eimear Considine.
Munster scorers:
Tries: Chloe Pearse, Fiona Hayes, Eimear Considine  
Conversions: Niamh Briggs (2) Enya Breen
Penalty: Niamh Briggs.
Connacht scorers:
Try: Shannon Touhy
Conversion: Nicole Fowley
MUNSTER: Enya Breen (Bantry Bay RFC), Laura O'Mahony (UL Bohemian RFC), Niamh Kavanagh (UL Bohemian RFC), Niamh Briggs (UL Bohemian RFC), Laura Sheehan (UL Bohemian RFC), Rachel Allen-Connolly (UL Bohemian RFC) Nicole Cronin (UL Bohemian RFC), Fiona Hayes (UL Bohemian RFC), Kate Sheehan (UL Bohemian RFC), Fiona Reidy (UL Bohemian RFC), Roisin Ormond (Ballincollig RFC), Siobhan McCarthy (Railway Union RFC), Edel Murphy (UL Bohemian RFC), Ciara Griffin (UL Bohemian RFC) Chloe Pearse (UL Bohemian RFC)
Replacements: Orla Curtin (Shannon RFC) for Kate Sheehan, Clodagh O'Halloran (UL Bohemian RFC) for Edel Murphy, Sarah Quin (Richmond RFC) for Ciara Griffin, Christine Coffey (Thurles RFC) for Nicole Cronin, Ciara Scanlan (St. Marys College RFC) for Niamh Kavanagh, Eimear Considine (UL Bohemian RFC) for Niamh Briggs. Replacements Not Used: Andrea Stock (Bantry Bay RFC), Clodagh Cronin (Durham University RFC).
CONNACHT: Jill Draper (Tullamore), Rachel Healy (Railway Union), Catherine Martin (Suttonians), Shannon Touhy (Galwegians), Orla Dixon (NUIG), Nicole Fowley (Galwegians), Mary Healy (Galwegians), Laura Feely, (Galwegians), Ciara O'Connor (Galwegians), Annmarie O'Hora (Castlebar / Galwegians), Nicola Caldbeck (Tullow), Amelie Roux (Galwegians), Edel McMahon (Galwegians), Grainne Egan (captain) (Railway Union), Nichola Fryday (Galwegians).
Replacements: Moya Griffin (Tullamore) for Ciara O'Connor, Elizabeth McNicholas (Tuam) for Laura Feely, Julia Bauer (Suttonians) for Annmarie O'Hora, Denise Redmond (Galwegians) for Nicola Caldbeck, Tara Buggie (NUIG) for Amelie Roux, Shannen Lane (Galwegians) for Mary Healy, Hilary Griffin (Tullow) for Shannon Touhy, Mairead Coyne (Galwegians) for Rachel Healy.

Leinster Women 17
Ulster Women 0
Leinster and Ulster kicked off the 2018 IRFU Women's Interprovincial Championship in fine style in Stradbrook, but it was the home side celebrating at the final whistle with a 17-0 win.
Three tries secured Ben Armstrong's side the points, with a brace from Juliet Short and a third from Lauren Farrell.
"We're pretty happy with how we went," said Head Coach Armstrong. "Firstly to get the win, but secondly to get some rustiness out of our system so we've a few things to work on. We're asking the girls to challenge their own skill set and see what's in front of them. If it's on up front, it's on up front. If it's on out the back, we'll take it."
Leinster were motoring early in the game and it took some impressive scramble defence from Ulster to keep them out. The breakthrough came on 15 minutes as a neat pass from Aoife McDermott gave Juliet Short the chance to barge over.
Ulster eventually settled and had their best spell of the game in the second quarter, with plenty of bite and tempo in their attack. Ilse van Staden made some big carries and managed to cross the line after 39 minutes, only for the ball to be held up.
Leinster won the resulting scrum to relieve the pressure and led 5-0 at the break.
Ulster's Derek Suffern said: "We did have seven or eight possessions close to their line. If we'd scored one of those, it would have given us a lot of confidence. In the second half, we just failed to get out of our exit and they just put us under pressure, but we're making strides. A lot of players performed very well right to the end. We've got to be proud of their effort and to take the positives."
The home side were back on top from the restart. They shoved Ulster off their own five-metre scrum on 48 minutes and Short dived on the loose ball to double Leinster's advantage.
The final try of the evening came off a searing break from Michelle Claffey. Her counter-attack took Leinster right into the scoring zone for Lauren Farrell to scamper home untouched. Nikki Caughey made the conversion on 63 minutes, with Ulster holding out as Leinster's bench maintained their momentum.
Ben Armstrong is already looking forward to "a rejuvenated Connacht that came so close on our patch last year and they've got that Sportsground that'll be spurring them on".
Leinster scorers:
Tries: Juliet Short (2), Lauren Farrell
Conversion: Nikki Caughey 
LEINSTER: Lauren Farrell McCabe (Suttonians RFC), Gemma Matthews (Old Belvedere RFC), Michelle Claffey (Blackrock College RFC), Sene Naoupu (capt) (Old Belvedere RFC) Elise O' Byrne White (Old Belvedere RFC), Nikki Caughey (Railway Union RFC), Ellen Murphy (Old Belvedere RFC), Lindsay Peat (Railway Union RFC), Emma Hooban (St Mary's College RFC), Katie O'Dwyer (Railway Union RFC), Aoife McDermott (Railway Union RFC), Meg Kendall (Railway Union RFC), Jeamie Deacon (Blackrock College RFC), Juliet Short (Railway Union RFC), Hannah O'Connor (Blackrock College RFC).
Replacements: Ann Marie Rooney (Blackrock College RFC) for Emma Hooban, Christy Haney (St Mary's College RFC) for Lindsay Peat, Linda Djougang (Old Belvedere RFC) for Katie O'Dwyer, Mairead Holohan (Blackrock College RFC) for Jeamie Deacon, Nicole Purdom (Suttonians RFC) for Hannah O'Connor, Niamh Griffin (Blackrock College RFC) for Ellen Murphy, Nicole Carroll (Suttonians RFC) for Lauren Farrell, Ray Lawless for Elise O'Byrne (Blackrock College RFC).
ULSTER: Ella Durkan (Malone), Eliza Downey (Cooke), Maeve Liston (Ballyshannon), Vicky Irwin (Cooke), Emma Jordan (Cooke), Jemma Jackson (Cooke), Larissa Muldoon (Railway Union) (capt), Ilse van Staden (Cooke), Neve Jones (Malone), Sorcha Mac Laimhin (Cooke), Rebecca Lawlor (Malone), Lauren Magennis (Cooke), Bethany McDowell (Malone), Claire McLaughlin (Cooke), Beth Cregan (Cooke).
Replacements: Shannon Heapes (Cooke) for Sorcha Mac Laimhin, Keelin Brady (Virginia) for Bethany McDowell, Kathryn Hannah (Ballynahinch) for Rebecca Lawlor, Peita McAlister (Cooke) for Vicky Irwin, Diane Ramsey (Queens University) for Emma Jordan, Fiona Tuite (Dublin University) for Eliza Downey. Replacements Not Used: Michelle Gormley-McLaughlin (City of Derry), Aishling O'Connell (Cavan).
Round 2 fixtures:
Sunday, 9 September:
Ulster v Munster, Portadown RFC, KO 1pm
Connacht v Leinster, Sportsground, KO 3pm
Round 3 fixtures:
Saturday, 15 September:
Connacht v Ulster, Sportsground, KO 2.30pm
Leinster v Munster, Energia Park, KO 7.30pm 
The42 is on Instagram! Tap the button below on your phone to follow us!