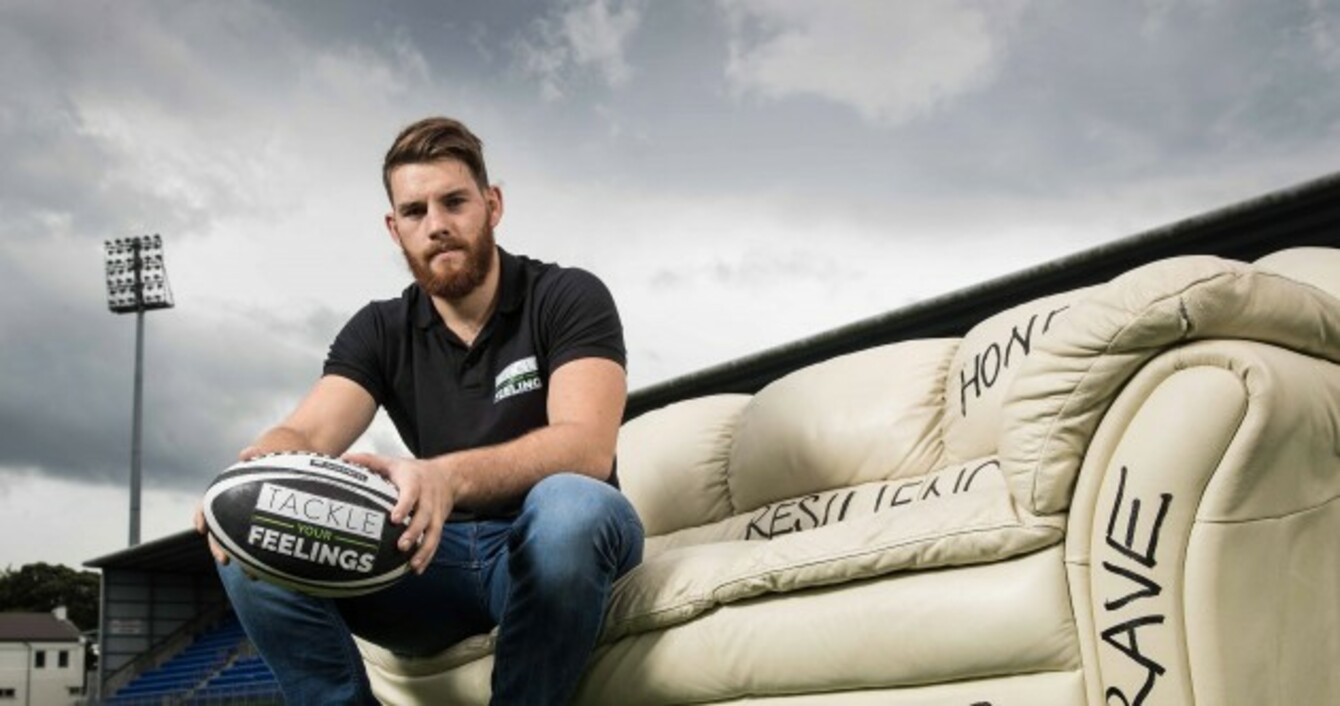 Image: Billy Stickland/INPHO
Image: Billy Stickland/INPHO
JAKE HEENAN HAS just described sleeping in his car as a young teenager in Whangarei, the most northerly city in New Zealand.
But he's quite nonchalant about it, like it was no big deal.
"Rather than trying to find a place to sleep, you'd park up outside the gym. You'd wake up and head to the gym and then off to school", he says.
Teenage angst normally revolves around spots or some unrequited love for the girl who sits in front of you at school.
Heenan had it a little different.
The homelessness had its roots in a complex family situation. Growing up in a farm with a beach close by, Heenan describes his younger years as being a 'typical Kiwi thing'. For a long time it was him, his older brother and his father. But by the time Heenan approached his early teens, his brother had moved on and his dad had remarried. With two young children added to the mix, Heenan struggled.
"When I was 14/15, you'd start drinking and going to parties and trying to sneak into nightclubs and you'd end up fighting. Maybe that had a lot to do where I grew up – it had that rough part to it. I skipped school a good bit. I was just without direction, I guess.
At home, a small enough area by the beach, we wrecked letter boxes. And these were our neighbours, you know? We were drinking piss and thought it was hilarious. I smashed windows at our community centre and ripped my hand open doing it. I remember my Nana saying to me: 'You must've been really angry to punch a window'. But I didn't remember being angry. Dad caught us and we were down painting and we went to every house and apologised and paid for the windows. Luckily no police were involved but it was dealt with properly – we had to face the people we had hurt.
"I was getting into trouble at home. There was a lot of friction with my step-mother and that was tough. But my Dad always maintained that it was home and that I'm welcome there. By no means was I kicked out – it just wasn't working.
"So I moved to town and in with my grandmother and that helped with my rugby, I guess. And that was good until she was fed up with me one day and said that she didn't want me living there."
His behaviour had forced his father's hand and now his grandmother's. Heenan was hurt but stubborn and simply stormed out, determined to just get on with things.
There were distractions like rugby and school and his girlfriend but in the evenings, there wasn't a bed to go back to.
Occasionally, Heenan would stay with a friend or a coach from the Northland Rugby Academy where he was based. Sometimes he'd jump the fence at his girlfriend's house, stay over and scarper before her parents would wake up.
But usually, he'd sleep in the car.
"One of the scary things was that I was so used to sleeping in the front seat, whenever I'd drive at night I'd just nod off really quickly", he says.
"I'd say it was a bit of arrogance on my behalf. My Nana is a great woman and I wouldn't be here today if she hadn't done some of the things she did for me. But we'd clash a bit. And she said 'Look, I don't even really want you living here' and I guess I took that pretty hard. Again with a bit of arrogance, I threw my stuff in the car and just thought 'Right, I'll find somewhere else to stay'. I remember speaking to the academy manager about potential people I could live with and we had trainers who did put me up for a bit. I was looking for something to help facilitate my rugby and, at the same time, somewhere I felt comfortable and where I felt wanted at the time. But my Nana was family and even then when she didn't want me, she always had me. And it was the same with my Dad's house.
"It was a bit scary in terms of direction but I was really lucky to have my rugby. I knew that's what I wanted to do. I still had something positive in my life. It wasn't 'I'm homeless, let's go drinking'. I was never into drugs, fortunately, and wasn't around that crowd. So I wasn't really going off the rails. I was just unsure about how I was going to go the way I wanted to go. I don't look back on it as being a really hard time. I had friends around me who looked after me. There were always good people around me. I always did have family who loved me. I always had that. It was just that things weren't working."
Instilled with independence from an early age, no one would raise much of an eyebrow when Heenan would go off the grid. He admits that family members probably didn't realise how bad things actually got.
"I'm not sure my Dad was fully aware of the situation. My Grandmother may not have been either. I was happy to get up and go. Head down to my Mum's in Auckland, look at schools there – I was all over the shop. Maybe people didn't know what I was doing or where I was at.
I had a great childhood – my older brother and my Dad. I was really lucky in that sense. We lived a while out of town. But it came to get very tough on Dad. He had a young family and that took up a lot of his time. He had started a new business too. Around that time I did feel I was on the outside of the family. I didn't have anyone watching my rugby when I was 14/15. But I was getting into trouble and wasn't exactly helping myself. My Dad would get a phone-call about me and I'd need to be picked up. But he was always supportive and always had a home for me.
"Maybe it was the wrong crowd. Maybe it was feeling a bit out of the family. I was still at home at the time but I wasn't enjoying it. My step-mother wasn't enjoying me living there. I don't think it was a case of my Dad giving up. He's always given us the space to learn things. His theory was to give us a long rope and learn from our mistakes."
Heenan made quite a few. Three arrests sounds bad. So does community service. But there was never anything malicious. It was silly stuff. He maintains there was never any intent to hurt anyone.
"The first arrest was for climbing over roofs trying to get into a nightclub and we got caught. We were brought to the cop shop – 'Ah, you're only 15 we can't do anything'. Another time was in Auckland and same kind of thing – I was a bit older and we were trying to sneak in somewhere we shouldn't have been and got thrown in a cell for a night. I got community service for going streaking at a girls' high school. There was a period in school when we were thrown in the staff room during lunchtime because it was all kicking off everyday. Some bad, older kids would come down and try and fight us and it got quite ugly for a bit."
Rugby, inevitably, gave him some purpose.
It was always the driving force in his life, from a very early age. Maybe the one constant. The one thing he could rely on and easily define. And it separated him from his friends. It gave him something to follow and believe in and that meant the darker stuff never really swallowed him up.
"They (his friends) didn't have the same goals. They didn't want to achieve the same things I wanted to", he says.
"I remember at 14/15, all of my friends got brought into the academy but I didn't. They didn't take me. And I was thinking 'Why not?' I was told 'You're not strong enough – you need to get bigger and go to the gym'. I never had a job – I don't think I've had a job since – but I'd go and stack fruit and veg at the grocery store. I'd do it on a Sunday and a Tuesday night. The money that would come in would go straight out. I'd head to the gym and did that for six months or whatever and finally got into the academy.
But not long after that I got told ' 'Look, we don't think you're going to be a professional rugby player. We see you as a good club player – you should focus on your studies'. That was a tough time. Because I was finally getting there and others just went 'Nah, we don't really see it'. I was meant to train that afternoon and went home crying. I was fucking so disappointed. And Dad said 'Did they drop you?' And I said 'Nah, I'm still in the academy'. And he said 'Well, they obviously still rate you highly enough – go back'. And I did and it ended up working out alright. I guess there was always something there for me to hold onto. There was always something positive I could put my energy towards, regardless of the negative things I was doing. And I grew up as well. I learned from my previous mistakes."
Heenan hasn't looked back since. The family issues were repaired and his rugby career began to sky-rocket. Told he'd only ever be a solid club player, he was quickly brought into the Auckland Blues' academy and met Pat Lam for the first time. He played for the U18s and the U20s. Then it was the New Zealand U20s, whom he captained at the 2012 Junior World Championship.
And then, the following year, a familiar voice was on the other end of his phone. Lam had landed the Connacht job and was hell-bent on persuading Heenan to swap Auckland for Galway.
"I didn't want to leave New Zealand. I wanted to be an All Black", Heenan says.
"But coming here was the best decision I've ever made. I first met Pat in 2010 – I was playing with his son and was around the family a bit and he'd talk to me about my game. There were a couple of things that came up with English clubs and Pat caught wind of it. He gave me a call and made it very personal. It wasn't just 'Here's a job'. It was 'the place is great, the family are enjoying it'.
"In rugby, there is that sense of family – particularly for me when I was younger. You always had this group of guys who you'd go to war with at the weekend. You were really good friends because of it. Moving here, I moved in with a couple of lads and we're in a very sociable bubble. We work together, we hang out together, we live together, we eat together. They're great guys."
Heenan signed a new contract with the province earlier this year and became eligible to play for Ireland in June.
So, how does he fell about pulling on a green shirt?
"I learned early that you needed a dream. My dream was the be the best seven in the world. That's never changed. When I re-signed, it was in the hope of staying in Ireland and getting to play international rugby. I'd love to get a call. I can't think of anything I'd enjoy more than getting to play on an international stage with and against the best players in the world.
"When I came here, I'd only ever been semi-pro. It was a chance of being fully professional, to really work on my craft, to play with and against great players, to work with great coaches, I'd be 24 years old and be eligible for three different countries. And I came here and fell in love with Galway.
It would make me incredibly proud to represent Ireland. This is home for me and it would be a huge honour."
Jake Heenan was speaking at the launch the second phase of Tackle Your Feelings, a mental wellbeing campaign that will see national and international rugby stars come forward to tell their own personal story of the issues they have faced off the pitch. 
Their stories are detailed in videos that are hosted on the website www.tackleyourfeelings.com.
The42 is on Snapchat! Tap the button below on your phone to add!