SUNDAY TIMES JOURNALIST and long-time critic of Lance Armstrong, David Walsh, has written an open letter to Oprah Winfrey, which includes ten questions for the disgraced cyclist.
Earlier today on Twitter, Walsh indicated Oprah's producer had spoken to him about the show, in which Armstrong will be interviewed by Oprah.
And the journalist has since been moved to write the talkshow host a letter, containing questions directed at the American cyclist, which include: "Did you sue The Sunday Times to shut us up?" and "Do you regret how you treated Betsy Andreu, your former masseuse Emma O'Reilly and Greg LeMond?".
The news comes after reports suggested that Armstrong was set to admit to doping during the upcoming interview.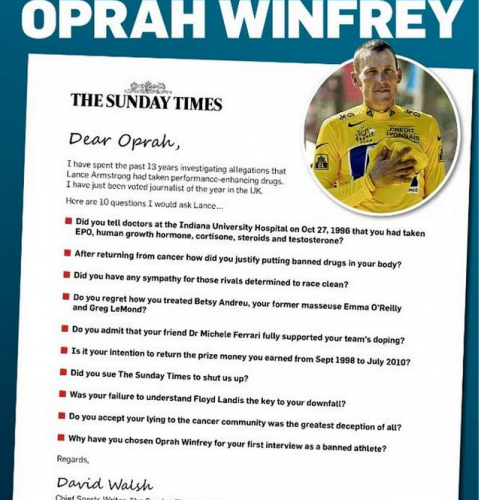 (h/t @lioneljbirnie)