Updated at 14.02
IT REALLY starts, as many footballing success stories often do, with a major setback.
Ruaidhrí Higgins was just 14 years old when he left Limavady to join Coventry City.
The year was 1998 and the Sky Blues were a Premier League team at the time.
The following year, soon-to-be-Ireland-legend Robbie Keane would sign for £6 million, in the process breaking the British transfer record for a teenager.
However, while Keane's career was patently on an upward trajectory at the time, the same could not be said for the future Derry manager.
Shortly before Higgins' 20th birthday, he found himself back home in Ireland, facing an uncertain future.
Expecting a teenager to move country and excel in a profession where only a select few enjoy a sustained career at the top level is a big ask, but Higgins is quite unforgiving when assessing his teenage self.
"It's easy to turn around and say you were unlucky. I do feel I could have done more," he tells The42.
"I was obviously in an extremely difficult place when I came back from there. I went over there without a doubt as one of their bright hopes.
"I got a really good long-term contract so they had placed a lot of faith in me and ultimately, I was a good player, but athleticism was really coming into the game at that point, and I wasn't as athletic as you need to be to play the game at that level.
"And ultimately, that's why it never happened for me there."
So his dream of making it as a Premier League footballer did not materialise and as devastating as that must have been to accept at the time, Higgins showed considerable fortitude in dealing with the disappointment ultimately.
"You have to take good out of bad experiences as well and good out of setbacks and resilience nowadays is a massive part of life, let alone football," he says.
"I don't think you can go out and achieve without dealing with setbacks. It's a massive part of how you end up as a human being. Can you recover from them or do you roll over?
"I think it's a huge part and I always speak to people nowadays about it. I think you understand the mentality of a person from how they come back from a setback."
At present, Higgins spends a large portion of his time guiding young players, some of whom have had similar disappointments across the water.
He cites two of his most impressive performers from last season, Will Patching and Sadou Diallo, as examples. Both spent their younger years at Manchester City's academy and were talented enough to be selected for England at underage level.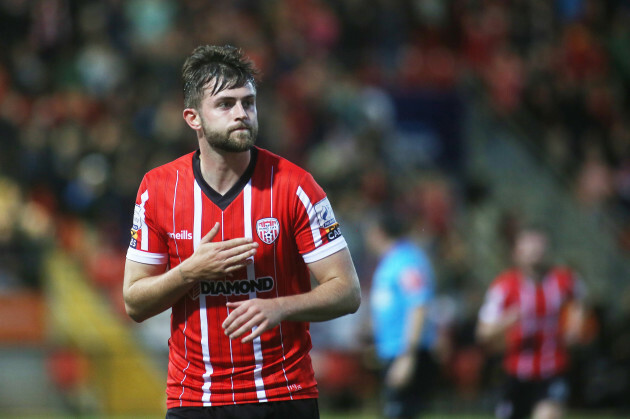 Lorcan Doherty / INPHO Will Patching has been among the players to thrive since joining Derry City. Lorcan Doherty / INPHO / INPHO
It's fair to say neither would have expected to be playing for Derry City at this stage in their career, but the pair have looked rejuvenated under Higgins.
"I think this league and this club, in particular, is really good at giving players a springboard to go on to fulfill their potential," he says.
"There are so many different facets to becoming a successful professional footballer. If you can handle rejection. If you can handle criticism. Ability is not a small fraction, but other things are just as important and I think mindset and sacrifice are two things that separate the really good ones from the good ones."
The League of Ireland reinvigorated Higgins' career too.
In an alternative universe, had he made it as a Premier League footballer, it seems unlikely that now, aged 38, he would have enjoyed such a swift elevation to becoming one of the most respected coaches in Ireland.
He may never even have met Stephen Kenny, who Higgins praises effusively when the Ireland manager is brought up.
"Without a shadow of a doubt, he's the most influential person in my career, on and off the pitch. I owe him so much. I admire the man a lot.
"I've taken an awful lot from Stephen. He's got a special way with people, how he manages people, an eye for talent, the balance he finds within a team, how he deals with people in different ways.
"He's an outstanding man and an outstanding manager."
It was Kenny who placed faith in Higgins back in 2004, after his release from Coventry, as the young player signed with hometown club Derry City.
And the Tallaght native has been a recurring figure in Higgins' career in the 19 years that have elapsed since then.
Kenny in 2004 was akin to Higgins now, as he was perceived by Irish football watchers as a highly promising young manager with something to prove.
Journalist Simon Collins has been covering the Candystripes regularly for the Derry Journal since 2006 and consequently remembers Higgins well as a player.
"Stephen Kenny was in charge and Ruaidhrí was a big part of his team, not just on the pitch but in the dressing room.
"They had a very close relationship in terms of watching underage matches together. I think that just happened because Stephen would go off his own bat and be at matches, and Ruaidhrí would be there as well. He just had such a big interest in football. It's very much his life.
"From a very young age, even as a player, he was always interested in youth football and it was no surprise then that he was following in Stephen's footsteps.
"He was very studious and always asking questions. If you ask Stephen Kenny about him, he's very knowledgeable.
"You saw that on the pitch too. He was very methodical in the way he went about playing football. He was very much driving on midfield but technically good also."
Lorraine O'Sullivan / INPHO Higgins pictured during his playing days at Derry City. Lorraine O'Sullivan / INPHO / INPHO
Even before Derry, it was evident to others that Higgins had the type of analytical mind suited to the sidelines.
"One or two people over at Coventry when I was younger would have dropped in that I'd maybe go into coaching because I was such a deep thinker of the game and was animated a lot and I looked at everything," Higgins recalls.
It may sound strange but not every footballer is this way. Some individuals love to dissect a game they have just played, while others would rather talk about anything else.
"I find it strange the number of players that don't watch matches on TV and stuff," adds Higgins. "I suppose we're all wired differently. But I sometimes struggle to get my head around that because I'd watch any game of football.
"And I think every game good or bad you can get something out of if you're watching."
Higgins spent just 13 years playing football in Ireland, nine of which were at Derry City, in addition to short stints at Bohemians, Dundalk, and Coleraine.
Out of all those seasons, more than half were working under Kenny at Derry and Dundalk — he was part of the manager's first title-winning side with the Lilywhites in 2014.
Yet Higgins retired relatively young — at just 32, his departure from Coleraine was announced after a frustrating spell with injuries.
But by then, his passion for coaching was beginning to take over anyway.
"Look at the career Ruaidhrí has had and the games he's been involved in with Derry, through 2006, going for league titles year on year," says Conor Loughrey, who currently works under Higgins as Derry's first-team coach.
"Whenever you lose that, you're probably looking to see where can I get that buzz again if I'm Ruaidhri.
"For him, it was obviously in coaching and managing. So I think at that time of his career ending, [he thought] 'let's take my first steps into coaching and managing to get that buzz back and give me a real purpose in football again,' because he's had that for his entire career.
"After 17 years, or whatever it's been, he's probably going: 'I don't want to have any lulls. Football must really be purposeful for me.'"
Higgins adds: "I was at a really good club in Coleraine but I had lost my real appetite to play and my attention [was on] trying to switch to the other side. And I wanted to get into that as quickly as possible.
"I was coaching the [Coleraine] U15s at the time, who were an extremely good side. That gave me the bug for it, so I stopped playing a year or two earlier than I thought I was going to."
As important a figure as Kenny was for Higgins as a player, he was arguably an even bigger influence from a coaching perspective.
Not long after retiring, Higgins took up a coaching role at Kenny's Dundalk side. He then followed the Dubliner to the Irish setup, working as an opposition analyst.
However, as has been the case with an unfortunately high number of Kenny's coaching staff, Higgins' time in international football was relatively short-lived.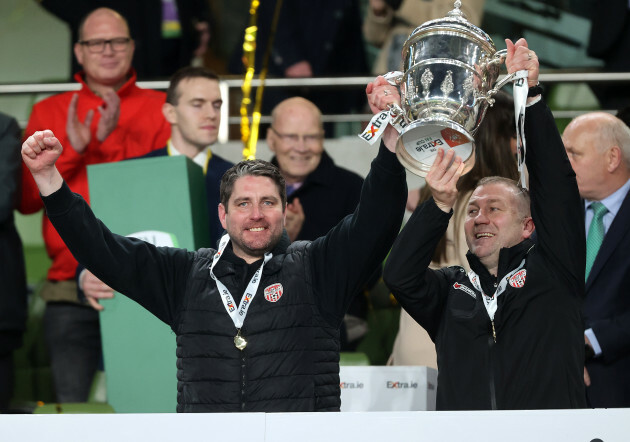 Bryan Keane / INPHO Derry City manager Ruaidhrí Higgins and assistant Alan Reynolds celebrate with the FAI Cup. Bryan Keane / INPHO / INPHO
In April 2021, the chance to become Derry City manager proved impossible to turn down.
Yet the role was a challenging one. Higgins inherited a team that were bottom of the table and had taken just two points from their first six matches.
"Even then, Ruaidhrí had a brilliant ability to take a look and have a good idea about what's needed," says Loughrey. "I remember on the first day of the session asking what he wanted to do, what ideas did he want to get across, patterns, or whatever else he wanted to do in terms of the session. At that time, it was very simple. He wanted to play small-sided games, create good energy, and a good atmosphere around training with the boys, to pick them up. Going into that first game, I don't know if we did anything at all.
"I remember the only thing we were told at that time was 'we play with two 6s,' two holding midfielders. And he spoke to them in the session about their distances. It's the only thing he did on that first day. I remember we went out the next night, Will Patching scored and we beat Sligo down in the Showgrounds. That got us up and running from there."
After such an unpromising start to the campaign, Higgins' impact was sizeable. Derry finished that 2021 season in fourth place, securing a coveted European spot in the process.
"He's tactically excellent and got a really good ability to know what's needed and add to it and adapt and it's not always the same thing," explains Loughrey. "Even if you look how we set up and our teams, the number of different formations and setups we've had, he's great for knowing when to change or what's needed if it's a psychological, technical or tactical problem, a change in personnel.
"He's not a constant barker, it's just a feeling. He gets a good feel for what's needed at that time and he also really knows his players well. He knows what type of characters they are, and what he needs to do to get the right response."
It has been far from a one-man show, however. With the exception of Kenny, there has been perhaps no greater influence on Higgins the coach than Alan Reynolds.
Higgins first met the Waterford native in 2008, when the latter was appointed Derry's assistant boss. Reynolds has had several coaching roles since then, including a three-and-a-half-year stint managing Waterford, and he is now back at Derry as Higgins' number two.
"He needed somebody who could maybe not mentor him, but who he could lean on and who has been in his shoes and understands the role and especially being at your own club," says Loughrey. "Rennie has been the manager at Waterford and Ruaidhrí being at Derry, it was his first job, such a big club, and especially when we started to do really well, the expectation was rising and being able to lean on Rennie to help manage through these things [was important]." 
And if Higgins was once seen as Kenny's protégé, Loughrey is perhaps in the equivalent role for the current Derry boss.
On many match nights last season, the first-team coach was absent from the Ryan McBride Brandywell and instead instructed to scout upcoming opponents — the exact same role Higgins filled for Kenny at Dundalk.
"I would come back and present on basically who we had, who they had, what they've done, what we might face, and how we might look to set up against that," he explains.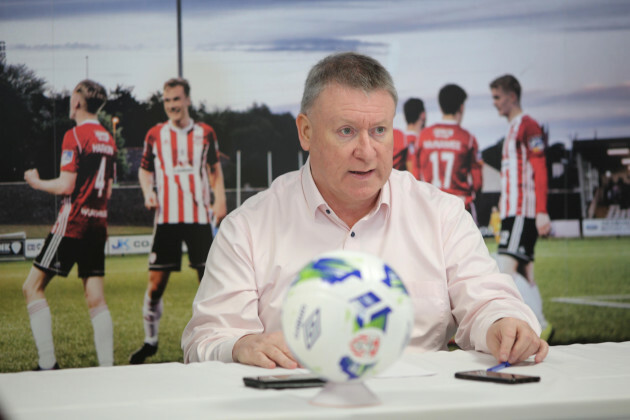 Lorcan Doherty / INPHO Chairman Philip O'Doherty has been a key part of the Derry City success story. Lorcan Doherty / INPHO / INPHO
It was only last season that Derry truly established themselves as viable title contenders in a Premier Division that has been dominated by Shamrock Rovers in recent years.
Substantial backing from billionaire chairman Philip O'Doherty has undoubtedly been a significant factor in their dramatic improvement of late, but astute recruitment has complemented their very healthy financial position.
The signings of proven winners such as Patrick McEleney and Michael Duffy were certainly beneficial, but they also have invested in several talented youngsters including Diallo, Patching, Brian Maher, and Brandon Kavanagh — all of whom have enhanced the squad.
The outlook appears similarly promising for the notable transfers this year, such as Colm Whelan and Adam O'Reilly, who have previously impressed at UCD and St Pat's respectively.
Like Kenny at Dundalk, Higgins is building a team full of hungry young players with something to prove mixed with a couple of experienced pros who have an excellent track record in the game.
It is not where the parallels with the current Ireland manager end, according to Collins.
"Stephen was always about playing possession football, attacking football. All his teams were entertaining and hard-working, and Ruaidhrí is the exact same.
"The baseline is just hard work but you can see by the way he plays he's very much an attacking and forward-thinking manager.
"He was taking risks and that's what I was so impressed with him very early on in his Derry managerial career — the fact that he was going to Dalymount and playing three at the back.
"You're just going for them and he wasn't afraid to lose. Managers in the recent past have gone down to places like Tallaght and even Dalymount and been ultra-cautious because of the pressure involved in the match, the points available, and the precarious position Derry had been in for the last few seasons before Ruaidhrí took charge.
"It was refreshing to see him throwing on attacking subs when the game is in the balance and he hasn't changed that style and philosophy. It's really good to watch and obviously, the players have soaked that up as well, it's what they expect.
"He's definitely taken a lot of things from Stephen Kenny, he spent a lot of time with Stephen, he knows Stephen's philosophy about football and they share very similar views on the game. I think that's why they get on so well."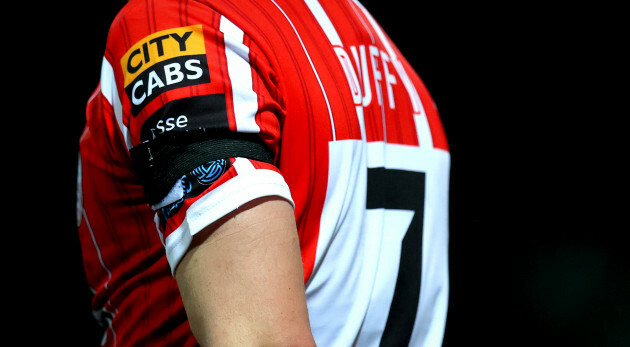 Ryan Byrne / INPHO A black armband, worn in memory of the late Kevin Higgins, brother of Derry City manager Ruaidhrí Higgins, during Friday's President's Cup match. Ryan Byrne / INPHO / INPHO
The approach has been highly effective thus far. The Candystripes built on an impressive 2021, making Rovers' players sweat in last year's title race while also sealing a first FAI Cup win since 2012 amid an emphatic 4-0 victory over Shelbourne in the season's showpiece event.
The significance of the Aviva triumph should not be underestimated. A 2019 FAI Cup victory proved the catalyst for Stephen Bradley's Shamrock Rovers to subsequently claim three successive league titles, and Higgins will be hoping his men can follow suit.
They finished 13 points behind the Hoops last season and it would have been closer were it not for a disastrous seven-game winless run in May/June last year — the only real hiccup so far of the Higgins era.
"I think he doesn't see it as a long-term project, he wants success more or less instantly," says Collins. "He already had it with the cup and just speaking to Michael Duffy there recently, he tells me that there's a mentality shift too within that squad having won the cup. And this is their first real preseason together as a squad. It's their first [full] season with Diallo, Ryan Graydon, and Mark Connolly. So it bodes well.
"I know the league will be the priority but he'll want to go a round or two in Europe. Whether the squad is big enough and good enough to battle on two or three fronts remains to be seen but definitely, they will be up there challenging and I can't see any other team giving Rovers as big a challenge as Derry."
So Higgins' drive and obsession with football may well inspire the Candytripes to heady heights and it's far from inconceivable that he ultimately follows in the footsteps of Kenny in trying his luck beyond the League of Ireland.
Moreover, it's a success story that also owes a lot to a solid support system — an often underrated factor that enables individuals to thrive against the odds in such a cutthroat business.
"He's very caring and has very good human qualities," says Loughrey. "I think that's probably driven by his upbringing. A lot of his family are social workers, and they're real carers and care about people.
"With Ruaidhrí, unless it's family or football, there are very few other conversation topics."
All the interviews for this piece were conducted before the news emerged last week of Ruaidhrí's brother Kevin's sudden passing at the age of 48, but the manager's concluding words carry an extra level of poignancy in light of that tragic event.
"At times, I have to remind myself I'm in a really fortunate position, managing one of the biggest clubs in Ireland and a club that I have a rich history with.
"It's a privilege and it's important that I try to remind myself of that because you can get caught up in it. Enjoying it is a huge part of it and I probably need to get better at that.
"My family means everything to me. I'm a family man. I have two daughters, a wife, a mother, a father, brothers, cousins, and a really close network of friends. And that's the two loves I have in life, football and that network of people. I don't need anything else to be honest with you."