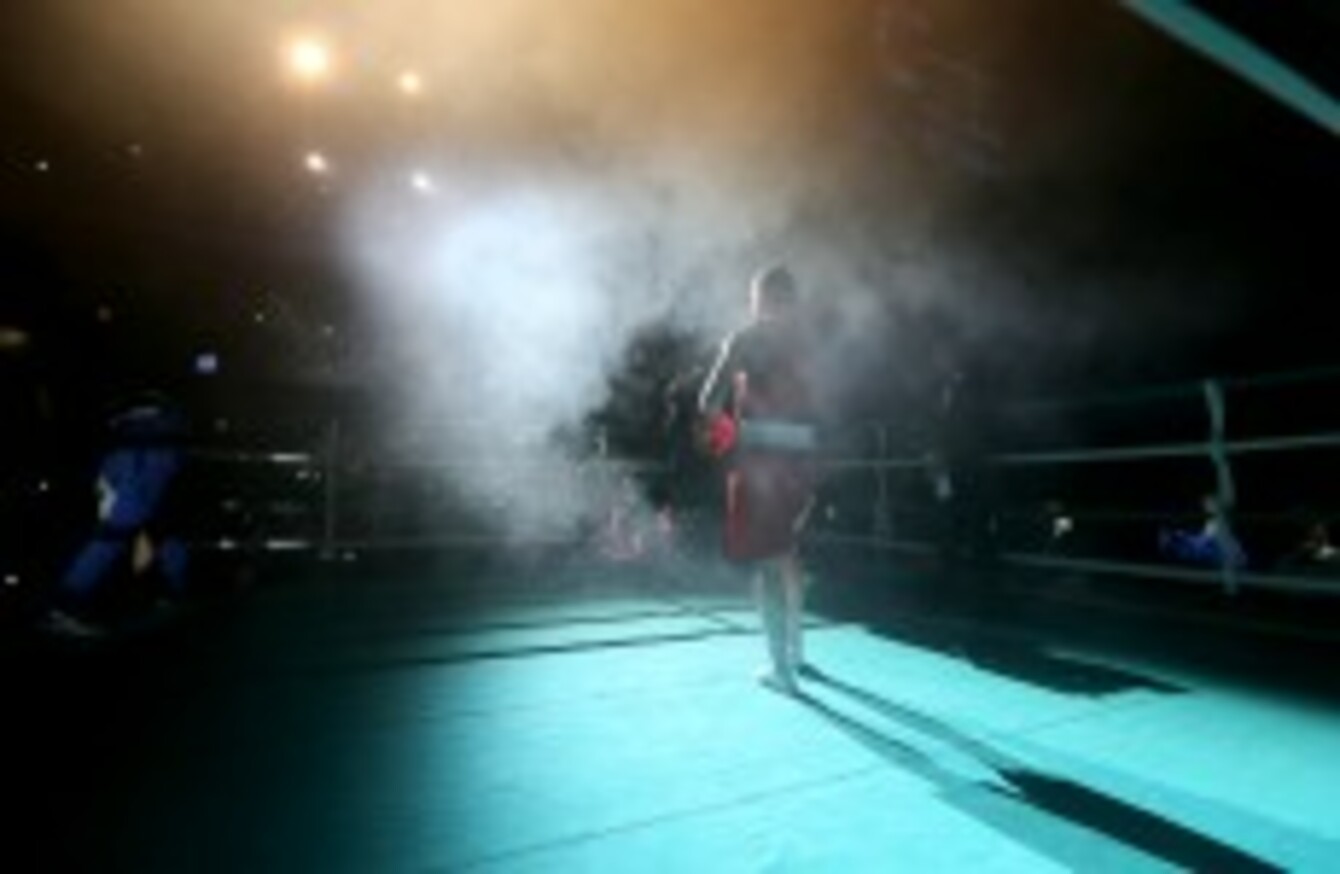 Image: ©INPHO/Ryan Byrne
Image: ©INPHO/Ryan Byrne
IT TAKES SOMETHING special to sell out a boxing bill on a school night, not least when a large chunk of the audience are of an age where they should really be finishing off their homework.
Make no mistake about it: Katie Taylor is something special.
After taking a six-month break to soak up her success and plot her next move, Ireland's Olympic gold medallist returned to the ring this weekend with a double date of fights. If Friday's appearance on the National Elite Finals bill marked the official resumption of business, last night's sold-out "Road to Rio" promotion in Dublin's Bord Gáis Energy Theatre was a chance to entertain even more of her adoring public.
Renewing an old acquaintance with Germany's Maike Klueners, Taylor headlined a 10-bout card which included London team-mates Adam Nolan, fresh from his defence of his national welterweight title, and double Olympic medallist Paddy Barnes. Still, there was no question who the people had paid to see.
On an evening which was part showcase and part celebration, the action in the ring was interspersed with behind-the-scenes shorts filmed with Taylor. There was black and white footage of her at home in Bray Boxing Club, a glimpse at the hours of unseen toil that goes in to making a champion of her stature; there was audio from one of her very first interviews when, as youngster, she promised she was "gonna go all the way to the top." Those who knew her, her inner belief and her dedication, would never have doubted that prophecy.
(©INPHO/Ryan Byrne)
Given the stratospheric levels of her fame since last summer, it may seem strange that Taylor still needs introduction. Yet this is an athlete who 12 months ago — with three World titles, five European titles and four EU titles on her CV — was fighting three-night stands in her home town in front of crowds a fraction of this size. An athlete who, until very recently, was the undisputed world number one while training in a club that did not even have proper changing facilities.
She may be a national icon now but there were plenty in the audience who are only getting to know Taylor; for some, as they readily admitted, it was their first time ever at a boxing match. That is the universal nature of her appeal — to young and not so young, old fans and new fans alike — and an X-Factor which promoter Brian Peters will continue to mine when she returns to the same venue next month with the talk of more dates around the country to follow.
Parades and homecomings are well and good but Taylor has always been at her most comfortable when she steps between those ropes and onto the canvas. Last night, for the first time in her stellar career, the people of Ireland had come in their droves to see her do what she does best.
Be part
of the team
Access exclusive podcasts, interviews and analysis with a monthly or annual membership.
Become a Member
For a woman who is used to racking up medals, a four-round non-title fight may seem relatively small fry but there was no hiding Taylor's happiness. It is a privilege, as she has said time and again, to fight in front of her home support.
It was a privilege too for those who were there to watch her at work. A cloud was cast over the national sporting mood by events at Murrayfield earlier in the day but when the arena lights went out ahead of Taylor's arrival, it vanished. Illuminated only by the camera flashes, she stepped into the ring with the same sense of purpose that has brought her this far. Earlier in the evening her father and coach Pete spoke of how it is a "clean slate" every time she fights; once more she left her mark.
(©INPHO/James Crombie)
Though she may not have the profile of a Sofya Ochigava or a Queen Underwood, Maike Klueners is no bum. A two-weight national champion in her native Germany, Klueners promised to put on a show and proved true to her word. The problem was that every time she got within range, the red glove of Taylor had beaten her to the punch.
Once the champion found her rhythm, there was no stopping her. The frequency and intensity of her combos increased as she pummeled Klueners, every clean connection drawing a roar from the crowd. A particularly sweet left forced the referee to step in for a standing count in the second round but it merely served as an exclamation point on what was a resounding win.
The final bell must have sounded like sweet relief for Klueners but, to her credit, she was gracious in defeat, taking the applause of the home crowd before they saluted their golden girl.
As the gloves came off and the house lights came up, Taylor walked to the front of the ring and looked out with a single finger raised: number one. If she can make good on her promise to be even better by the time Rio 2016 rolls around, that's where she will remain.