So after an amazing hurling summer, who will prevail in the hurling final replay?
It's Cork against Clare in the battle to claim the Liam McCarthy Cup.
As always, we'd love to hear your comments. Send them to fintan@thescore.ie, tweet them @TheScoreGAA, find us on Facebook, or leave a comment below.
Hello and welcome to Croke Park for this afternoon's All-Ireland senior hurling final replay between Clare and Cork.
Both teams currently out on the pitch warming up on a beautiful evening for hurling.
The big news is that there is one late change on the Clare team with Darach Honan dropping to the bench as Shane O'Donnell gets set to start at full-forward.
Here's the Cork team that is named to start today:
Cork: Anthony Nash; Stephen McDonnell, Shane O'Neill, Conor O'Sullivan; Brian Murphy, Christopher Joyce, William Egan; Lorcan McLoughlin, Daniel Kearney; Seamus Harnedy, Cian McCarthy, Patrick Cronin; Luke O'Farrell, Patrick Horgan, Conor Lehane.
Here's the Clare team that is named to start:
Clare: Patrick Kelly; Domhnall O'Donovan, David McInerney, Cian Dillon; Brendan Bugler, Pat Donnellan (c), Patrick O'Connor; Conor Ryan, Colm Galvin; John Conlon, Tony Kelly, Colin Ryan; Podge Collins, Shane O'Donnell, Conor McGrath.
Great atmosphere starting to develop at Croke Park. Hill 16 looks nearly full at the moment from our vantage point in the Upper Hogan Stand with both Cork and Clare fans while the main three stands are starting to fill up.
Here's the Clare substitutes list:
Donal Tuohy, Conor Cooney, Seadna Morey, Liam Markham, Nicky O'Connell, Fergal Lynch, Shane O'Donnell, Cathal McInerney, Peter Duggan, Jonathan Clancy, Paul Flanagan.
Clare's Nicky O'Connell could be one of the men introduced today.
Here's the Cork substitutes list:
Darren McCarthy, Killian Murphy, Mark Ellis, Tom Kenny, Stephen White, Rob O'Shea, Jamie Coughlan, Cathal Naughton, Stephen Moylan, Michael O'Sullivan, Michael Cussen.
Tom Kenny is one of the players on the bench for Cork today.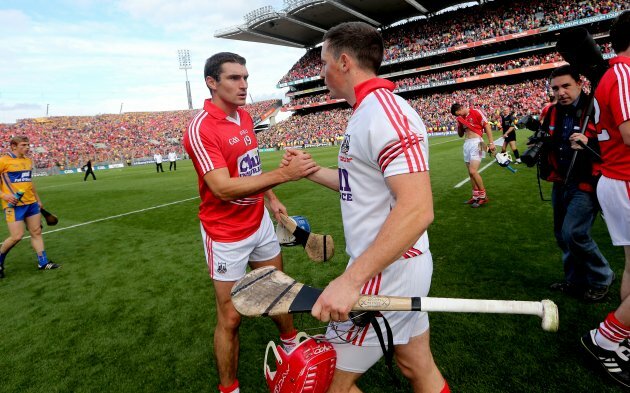 Seamus Harnedy will start for Cork despite being an injury worry during the week.
Great cheers from the Clare supporters as their players names are read out over the public address.
The referee today is Westmeath's James McGrath with Brian Gavin the standby referee and the other linesman being Johnny Ryan. The sideline official is Alan Kelly.
Just to let you know that if we are level again at the end of 70 minutes today, there will be extra-time played.
The floodlights are on in Croke Park but there's no real need for them at the moment on what is a bright evening for hurling.
The players are lining up on the red carpet below us now and getting ready to meet President Michael D Higgins.
The pre-match parade is currently underway in Croke Park.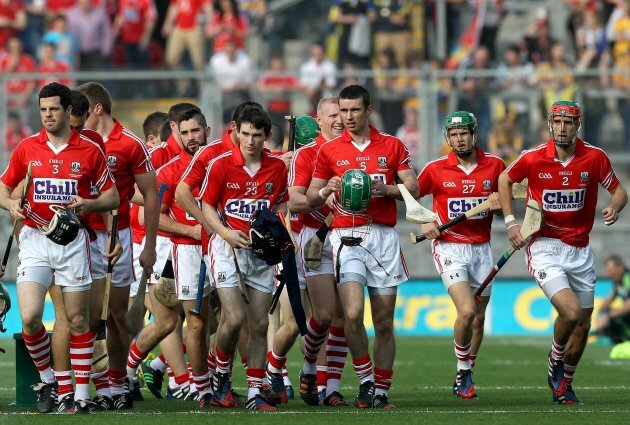 So is this going to be the final chapter in an amazing 2013 hurling campaign? And who's going to win folks? Let us know.
We're set for the throw-in here at Croke Park.
Early scoring chance for Clare's Conor McGrath but his effort drifts wide from the Cusack Stand.
Clare 0-1 Cork 0-0: 1 mins – John Conlon points for Clare.
Fine individual score by Conlon after being set up by Pat Donnellan.
Clare 0-2 Cork 0-0: 2 mins – Clare extend their lead through Shane O'Donnell. That point should soothe his nerves.
Clare 0-2 Cork 0-1: 3 mins – Cork hit back through Seamus Harnedy as he grabs a loose ball and points.
Clare 0-2 Cork 0-2: 4 mins – The teams are level through a Lorcan McLoughlin point after Luke O'Farrell popped the pass out to him.
Clare 0-3 Cork 0-2: 5 mins – Clare back ahead courtesy of a fine point from Conor McGrath who has started brightly.
Frantic pace to this game already.
Clare goal from Shane O'Donnell!
Clare 1-3 Cork 0-2: 5 mins – First big score of the game and it arrives courtesy of a low shot by O'Donnell arrowed across Anthony Nash. The credit goes to Donnellan for the great run to set up that goal from deep.
Clare 1-4 Cork 0-2: 7 mins – First free of the day for Clare's Colin Ryan and he converts after Tony Kelly was fouled.
Clare 1-4 Cork 0-3: 9 mins – And Patrick Horgan strikes over his first free of the day for Cork.
Bad wide from Cian McCarthy as he shoots wide from a tough angle.
Clare 1-4 Cork 0-4: 11 mins – Lovely point for Cork by Conor Lehane from the Cusack Stand side.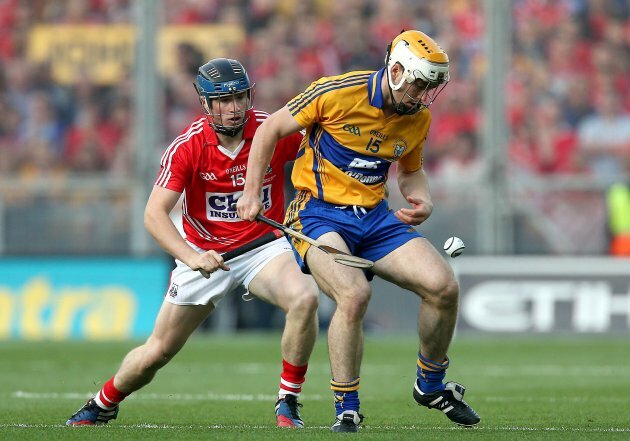 Clare 1-5 Cork 0-4: 12 mins - Colin Ryan points a Clare free after Podge Collins was fouled.
Goal for Clare from Shane O'Donnell!
Davy Fitz celebrates Clare's opening goal (INPHO / James Crombie)
Clare 2-5 Cork 0-4: 13 mins – It's that man O'Donnell again who finds the net with a brilliant finish after being played in by Conor McGrath.
Clare 2-5 Cork 0-5: 14 mins – Superb skill by Conor Lehane to point for Cork but Clare definitely have the upper hand so far.
Free in for Cork and Anthony Nash is coming upfield to take it.
13 players on the Clare goal line!
Clare 2-5 Cork 1-5: 16 mins – Incredibly Nash hits the net with a rocket past 13 Clare players!
Clare 2-6 Cork 1-5: 17 mins – Clare fight back with Colin Ryan hitting over a free.
Clare 2-6 Cork 1-6: 18 mins – Patrick Horgan cancels that out by pointing a free for Cork after Patrick Cronin was again fouled by Cian Dillon.
Hat-trick of goals for Shane O'Donnell!
Clare 3-6 Cork 1-6: 19 mins – Great positioning by O'Donnell again to claim the ball and he batted to the net past Nash.
Amazing contribution from O'Donnell so far. He's causing havoc for the Cork defence.
Clare 3-6 Cork 1-7: 21 mins – Patrick Horgan responds with a point for play for Cork.
Clare 3-7 Cork 1-7: 22 mins – Then Tony Kelly hits his first point of the game for Clare.
Sub – Stephen White in to the Cork team for William Egan.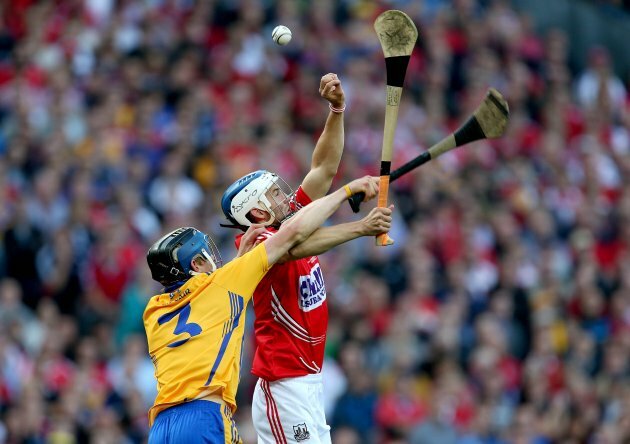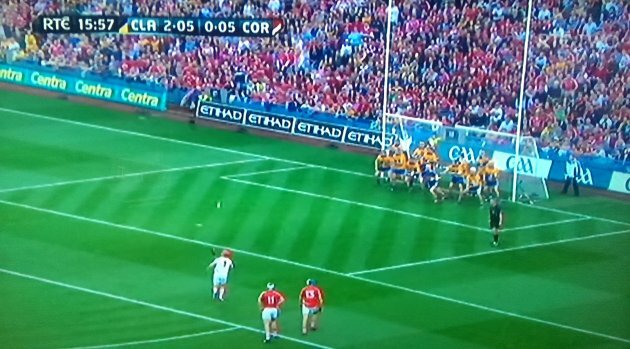 The scene on the line for Cork's first goal as Anthony Nash drills a 21-yard free past 13 Clare defenders (Image: RTÉ)
Clare 3-8 Cork 1-7: 23 mins – Well struck free from distance by Clare's Colin Ryan yields a point.
Goal chance for Cork after a mistake in the Clare defence but Patrick Horgan is crowded out of it and the ball rolls wide.
Clare 3-9 Cork 1-7: 26 mins – More problems in the Cork defence caused by O'Donnell and he releases John Conlon who is fouled with Colin Ryan slotting over another free.
Wides on both sides by Clare's Colin Ryan and Cork's Cian McCarthy.
Poor shot by Lorcan McLoughlin for Cork when a point was there for the taking.
Clare 3-9 Cork 1-8: 30 mins – Seamus Harnedy pops over a point for Cork.
Hawkeye called in to judge a Patrick Cronin shot for Cork.
Clare 3-9 Cork 1-9: 31 mins – Cheers by the Cork fans as the point is given.
Cronin starting to cause problems for Clare as he is fouled by Cian Dillon again.
Clare 3-9 Cork 1-10: 32 mins – Horgan shoots over the free for Cork's third successive point.
Cracking encounter this game so far with great score taking on both sides.
Clare 3-9 Cork 1-11: 34 mins – Horgan intercepts a pass from Brendan Bugler and points from play
One minute of injury time.
Half-Time: Clare 3-9 Cork 1-11: That's how it stands at the break.
The half ended in a welter of excitement with Clare nearly getting in for a fourth goal through O'Donnell. But Shane O'Neill did brilliantly to get back and crowd him out.
Here's some talking points from the first-half.
The rocket to the net by Anthony Nash from that 20-yard free.
Shane O'Donnell firing a hat-trick in an All-Ireland senior final in just his first year out of the minor ranks.
Clare's bright start which enabled them to have an eight-point lead at one juncture.
And Cork's fightback to be only four points adrift at the break.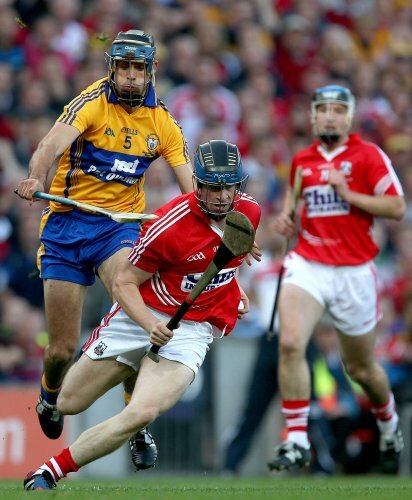 82,276 is the attendance here in Croke Park today.
Cork are back out on the pitch.
Sub – Cork substitute sees Stephen Moylan into their attack for Luke O'Farrell.
And we're back under way for the second-half.
Clare 3-10 Cork 1-11: 37 mins – Tony Kelly does marvelously to make space to point for Clare from distance.
Clare 3-10 Cork 1-12: 38 mins – Great play by Patrick Horgan to win a free and he rifles over the point.
Sub – Tom Kenny is on for Cork instead of Daniel Kearney.
Clare 3-10 Cork 1-13: 40 mins – Neat point by Cork substitute Stephen Moylan.
Free in for Cork and it's brought closer after dissent by Patrick Donnellan. Seamus Harnedy was fouled initially.
Clare 3-10 Cork 1-14: 41 mins – Horgan points for Cork from the placed ball.
Clare wide from Colm Galvin
Free in for Cork for over carrying by Conor McGrath.
Clare 3-10 Cork 1-15: 44 mins – And Patrick Horgan hits the point.
Clare free in for over carrying by Cork defender Conor O'Sullivan.
Colin Ryan's free for Clare hits the post.
Patrick Horgan shoots wide from play at the other end.
Fergal Lynch on temporarily for Clare for Shane O'Donnell.
Shane O'Donnell now back on for Clare as Lynch makes way.
Free in for Cork as Cian Dillon pushes Patrick Cronin in the back.
Sub – Cathal McInerney on for Clare for Colm Galvin.
Clare 3-10 Cork 1-16: 52 mins – Now Cork are level as Patrick Horgan converts the free.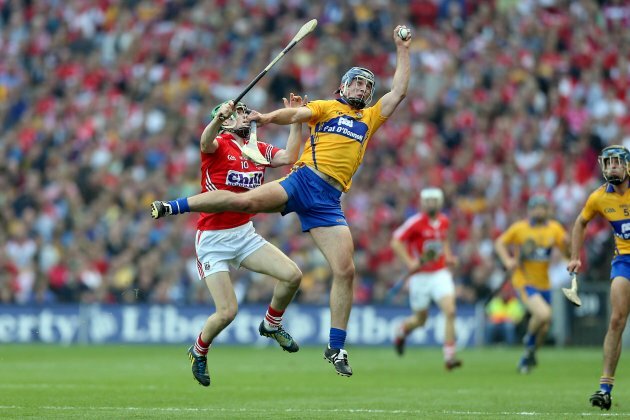 Clare 3-11 Cork 1-16: 54 mins – Vital point for Clare from Shane O'Donnell. That's 3-2 now for him today.
Cork have chance to level but bad wide by Conor Lehane from close range.
Sub – Cathal Naughton on for Cork for Cian McCarthy.
Clare 3-12 Cork 1-16: 55 mins – Clare stretch their lead through a John Conlon point.
Cork point effort by Tom Kenny hits the post and the ball is cleared by goalkeeper Patrick Kelly.
Foul on Conlon, free in for Clare.
But Colin Ryan's shot from the sideline drifts wide.
Yellow card for Cork's Stephen White after he fouls Conor McGrath.
Clare 3-13 Cork 1-16: 59 mins – Colin Ryan points the free.
Have Clare weathered the storm here?
Sub – Nicky O'Connell is on for Clare for Podge Collins.
Goal for Cork from Seamus Harnedy!
Clare 3-13 Cork 2-16: 60 mins - Conor Lehane's shot was brilliantly blocked by the Clare rearguard but Harnedy whipped the rebound to the net.
Amazing drama here in Croke Park. They're level again.
Colin Ryan shoots wide for Clare when a point chance arose.
Goal for Clare from Conor McGrath!
Clare 4-13 Cork 2-16: 61 mins – McGrath breaks free of the Cork defence and fires a bullet to the top corner of the net.
Clare 4-14 Cork 2-16: 62 mins – Tony Kelly points for Clare.
Clare 4-15 Cork 2-16: 65 mins – Shane O'Donnell flights over a point for Clare. They're now five clear.
Sub – Darach Honan is on for Shane O'Donnell for Clare. He's getting a huge ovation.
Free in for Cork for a foul on Seamus Harnedy after he raced through the Banner defence.
Sub – Killian Murphy replaces Stephen McDonnell in the Cork team.
Nash's free is stopped on the line and Harnedy's rebound goes wide.
It's looking like Clare's day with two minutes of normal time left.
Clare 4-16 Cork 2-16: 69 mins – Colin Ryan fires over a '65 for Clare.
Cork goal from Stephen Moylan!
Clare 4-16 Cork 3-16: 70 mins – Late drama as Moylan fires to the net after a pass from Patrick Cronin.
Sub – Seadna Morey on for Clare for Tony Kelly.
Clare goal from Darach Honan!
Clare 5-16 Cork 3-16: 72 mins – Honan goals at the other end after cutting in from the left wing.
Full-Time: Clare 5-16 Cork 3-16
Absolutely incredible stuff.
After a thrilling 70 minutes of hurling which featured eight goals, it is Clare who triumph!
The Banner are celebrating their first All-Ireland senior final win since 1997. Their players and supporters are delirious in Croke Park as 'The Rose of Clare' blares over the public address.
It's tough on Cork. Their players are devastated after contributing so much to this classic summer of hurling and this amazing All-Ireland final saga.
That's all from us, thanks for joining us this evening.