We went minute-by-minute for this morning's first World Cup quarter-final between Ireland and Wales in Wellington.
Send us your thoughts and comments on the morning's action.
E-mail niall@thescore.ie, tweet us @thescore_ie or find us on Facebook.
If you feel like it, you can get in touch via carrier pigeon as well but it's probably easier to leave a comment below. We read them, don't worry.
FT: Ireland 10-22 Wales
Ladies and gentlemen, boys and girls… it's showtime.
(It's also 5.35am on a Saturday morning, but let's not dwell on that too much).
In just 25 minutes, Ireland and Wales will take to the Wellington pitch to duke it out for a place in the World Cup semi-finals. Who's getting nervous?
We'll have all the pre-match build-up you need, so whether you're just getting up or whether you're struggling to stay awake (not mutually exclusive), stay right here.
First things first, let's get the teams out of the way.
Ireland: Kearney; Bowe, O'Driscoll, D'Arcy, Earls; O'Gara, Murray; Healy, Best, Ross; O'Callaghan, O'Connell; Ferris, O'Brien, Heaslip.
Wales: Halfpenny; North, Davies, Roberts, Williams; Priestland, Phillips; Jenkins, Bennett, Adam Jones; Charteris, Alun Wyn Jones; Lydiate, Warburton, Faletau.

One of the major debates ahead of this morning's early start was (to paraphrase Shakespeare) "To go to bed, or not to go to bed?"
Here's a flavour of some of your early morning responses, via the Twitter.

Hold everything — George Hook has just conceded that Ireland "might" win. Hardly a ringing endorsement, but coming from the mouth of Hookey, this is massive.
They will have to win the battle of the back row to have any chance though, he says.
My favourite contribution from TheScore.ie's Facebook page so far? "Awake all night. It's like waiting for Christmas."
Couldn't agree more.
The teams are just coming out onto the pitch, so it's time for a quick weather update. It was raining but has stopped. It is very, very windy though which could make life that little bit more difficult for Messrs O'Gara and Priestland.
"Come the day and come the hour, come the power and the glory"
I have a confession to make. I was fairly confident all week without being in anyway cocky or complacent, but the more I started to think over the last 24 hours, the more nervous I got. I'm practically a jabbering wreck at this stage.
Believe.
Alright, here we go. Craig Joubert is the man in the middle. Cross everything you've got for the next 80 minutes… yes, even that. Just do it.
TRY! (Williams, 3′) What a start by Wales, but Ireland didn't help themselves there. Rob Kearney came to claim a huge up-and-under but was beaten to it by Jamie Roberts. That gives Wales an excellent platform and they grind out the yards and come very close to the Irish line before working out wide for Williams to go over right in the corner.
Stunning conversion by Priestland from the sideline. Ireland 0-7 Wales
I can verify that there is absolutely nothing wrong with Rory Best. He's already put in two huge tackles and blocked down an attempted Welsh clearance. More of that please.
Statement of intent? Stephen Ferris bullies a penalty out of George North five metres short of the Welsh line and Ireland kick for the corner. Possession secured from the line-out…
… and Healy knocks it on. Mercifully, Wales are penalised because Dan Lydiate was coming in from the side. ROG is going to go back to the corner again — this is as much to do with the wind as with ambition, it must be said.
Wonderful defence by the Welsh line here who hold Cian Healy and assorted Irishmen up just short. The attack breaks down as Gordon D'Arcy throws back inside to nobody in particular and Wales get the turnover. Another psychological victory for the Welsh.
I'll try to say this without using expletives — Jamie Roberts has had some start to this game. He's everywhere.
Cracking rugby by Ireland who turn the ball over down their own end and break to within yards of the Welsh line. D'Arcy, Healy, O'Brien, Kearney, Bowe, Ferris — it would be quicker to name those who weren't involved than those who were. Brilliant.
Wales are lying all over the ball, so it's penalty Ireland. Back to the corner.
Ooooh, so close. Sean O'Brien comes off the back of the maul and is over the line, but Priestland is underneath him and Shane Williams holds him up. We're going back for a five-metre scrum. Ireland really, really need some points here.
Again, Ireland's composure deserts them at the vital moment. This time it's ROG who takes his eye off the ball — I'm convinced it's that simple — and knocks it on.
Ireland keep on knocking and keep on knocking. This time it's Kearney with a cracking line-break, but the support was a tiny bit too slow in catching up with him and Jamie Roberts (who else?) is on hand to snatch the attempted offload.
Wales are penalised again. There must be a yellow card coming soon, no?
Chance for ROG to put points on the board…
It's about 10 metres out and straight in front of goal. Even with the wind, it's one that ROG would make 999 times out of 1000. And he does. Ireland 3-7 Wales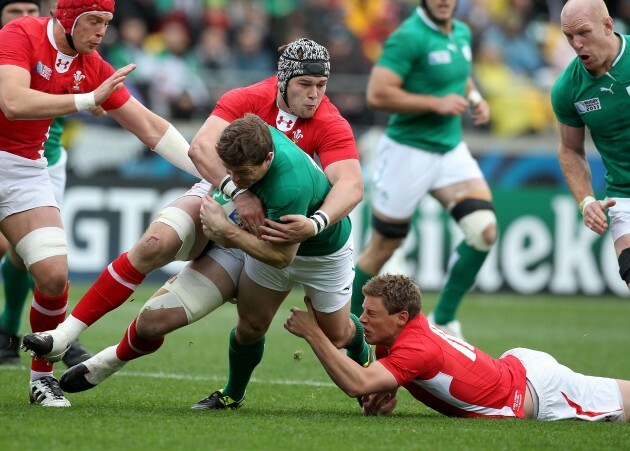 Brian O'Driscoll tackled by Dan Lydiate and Rhys Priestland of Wales (©INPHO/Dan Sheridan)
PENALTY! (Halfpenny, 29′) Excellent defence by Wales who are swarming all over the Irish every single time. This time, they force Healy to hold on to the ball on the ground and Halfpenny has a chance to kick at goal from near enough to the half-way line.
Wind? What wind? He nails it again. Superb kicking by the full-back. Ireland 3-10 Wales
Again, Ireland respond with some great quick ball. ROG plays a little grubber in behind the advancing Welsh defence and it'll be a red lineout five yards from their line. It's a bit sloppy, but they eventually manage to hack it away only for Ireland to run it straight back down their throats.
Plenty of effort and intent from those in green but in the face of outstanding Welsh defence, they just seem to be a pass or two short each time. Five minutes to play in this first half.
One of the more positive ways of looking at things.

HALF TIME: Ireland 3-10 Wales
Here's Simon's anaylsis of the first half. If you've got something that you want to get off your chest, or if you're simply avoiding Hookey's half-time musings, send them in. Details on how to get in touch are at the top of the page.

From NGVIreland in the comments section:
Experience will out in the second half, I can feel it.
I hope you're right. I hope you're right.
Ok, here's what I think (in no particular order).
There is precious little in this game, despite the fact that Wales have outperformed Ireland so far. If anything, Ireland have probably been on the front foot more often but some uber-resilient Welsh defence and a lack of composure has cost them at key moments.
ROG isn't really controlling the game in the way we might have expected him to, but he's been playing into a very strong wind. No need to make a change just yet, but he needs to dominate in the opening 10 minutes of the second half.
Ditto with the penalties. Priestland and Warburton have shown that they are kickable with the wind at your back, so we need to start taking our points.
What do Ireland need? Patience. Patience. Patience. Patience.
Warburton and Roberts in particular have been immense for Wales.
This is an absolutely cracking game of rugby.
We're off and running for the second half. Believe lads, believe.
Wonderful attacking start by Ireland in this second half. Grinding out the yards deep, deep in Welsh territory before Conor Murray wildly flings the ball over his head out wide. It's ok though because Keith Earls somehow gets on the end of it and powers towards the line. TRY! Yes or no? I don't know. I think so. We're going upstairs.
TRY! (Earls, 44′) YES! Yes, yes, yes. Keith Earls, I take it all back. On behalf of everyone that ever slighted you, I take it all back. What a tremendous finish by Earls — head down, power in the legs, an early dive and somehow he managed to get the ball over the line before his foot went into touch. It's a game of inches and, on this occasion, the inches are in Ireland's favour.
ROG nails the conversion brilliantly. All square. Ireland 10-10 Wales
Deep breaths everyone. Composure is key here as Wales look for an immediate response. Ireland doing Trojan work in and around the breakdown in these last few minutes and eventually they force a penalty turnover and clear their lines.
Back up to the TMO. It looks like Mike Phillips has scored for Wales.
TRY! (Phillips, 51′) If you're Welsh, that is exactly the kind of response you want to see. If you're Irish, that's a woefully cheap try to concede, particularly after striking first in this second half. The Irish defence switches off around the breakdown and Mike Phillips picks off the back, darts a couple of yards down the blindside and soars through the air before grounding right in the corner. Clinical finishing.
No conversion for Priestland. Five-point game. Ireland 10-15 Wales
Deccie's making wholesale changes in the half-back line. Reddan and Sexton on for Murray and ROG. 25 minutes for the Leinster duo to change the game. You don't need me to tell you how big a call that is by the Irish coach.
Fine, I'll say what we're all thinking. I hope Jonny brought his kicking boots with him.
MISSED PENALTY! (Priestland, 58′) A let-off for Ireland as Priestland tries to stretch Wales' lead to eight. His penalty looks good but it comes off the outside of the right stick and falls into the in-goal area where Jonny Sexton drops on it.
Twenty minutes to play. Twenty minutes to save a dream.
There is one major difference between the sides. Wales are using the ball very, very cleverly, pinning Ireland deep in their own territory — Priestland is playing the way we might have expected ROG to. Ireland, on the other hand, are being a little bit wasteful in possession, often kicking straight back to Wales.
TRY! (Davies, 62′) A gift. An absolute gift, and Ireland are in trouble now. Jonathan Davies just waltzed through the Irish defence, in between Healy and Earls, with Reddan and Kearney also in positions where they should have been able to make tackles. That's four — FOUR — Irish defenders versus one Welsh attacker, and Davies still manages to score.
To add insult to injury, Priestland adds on two more. Ireland need two converted tries for the win. At the risk of sounding silly, it's not lost yet. Ireland 10-22 Wales
Ireland down to within six or seven yards of the Welsh line. Twelve minutes to play; points are a must here.
No. Brilliant off-load by Reddan to O'Brien who is stopped a yard and a half short. O'Driscoll is the first man in — he's the man you'd want to be there — but he knocks it on and the momentum is lost. Scrum Wales, can the front row step up?
No, again. Healy crumples under pressure from Adam Jones, Ireland are penalised and Wales clear. Ten minutes left.
Trimble on for Earls. A couple of iffy decisions aside, not even his most vociferous critic could find too much fault with his performance today.
Penalty Wales as O'Driscoll (I think) is penalised for going in off his feet. This could make it a three-score game and that would be curtains…
MISSED PENALTY! (Priestland, 74′) Off the post again. Another let-off for Ireland, but will it make any difference?
Leamy and Ryan on for Ferris and Heaslip. Just over five minutes left.
Ireland inside the 22. Great break by O'Driscoll but his offload back inside to D'Arcy is scrambled over the line by Huw Bennett. Line-out Ireland. They need a try, they need it fast.
Four minutes. Ireland still press.
Welsh penalty as Ireland fail to release the ball on the ground. With three minutes on the clock, that's the game.
As the clock ticks towards Irish defeat, there is no better time to pay tribute to a wonderful, wonderful Welsh performance. They have been excellent today, the same kind of excellent that Ireland were in beating Australia. Tireless at the breakdown, clinical in attack. Hats off.
FULL TIME: Ireland 10-22 Wales
There's almost stunned silence as the full-time whistle goes in Wellington.
And now the Welsh fans (who must be in a minority) crack out Tom Jones's "Delilah".
Irish captain Brian O'Driscoll: "We got outplayed in the second half.
We're very disappointed to be going home. We needed another performance like Australia or even against Italy last week. We didn't do that today, we knocked on too much ball.
"A huge thank you to all the fans. They've been absolutely incredible. The hotel this morning was very special. It's just a shame that we couldn't give them another few weeks to cheer us on."
Man of the Match for me? Jamie Roberts. Absolutely immense throughout. Sam Warburton wasn't a million miles off.
Back in the RTÉ studio, there is a definite consensus that Warren Gatland got his tactics spot on, targeting O'Gara, Ferris and O'Brien and preventing them from playing their game.
Want to know what George Hook thinks? "This team didn't deliver on the most important day in Irish history."
Eh, mute.
I'm torn. Obviously, the lads had a wonderful pool stage and can be justifiably proud of the way they bounced back from a disappointing warm-up series.
When all's said and done though, they don't need me to tell them that they left it out there today. That game was there for the taking and Ireland simply didn't perform as they could have. That's the hardest part to take in all of this.
Irish coach Declan Kidney: "It was always going to be one of those 50-50 games, but credit to Wales, they came out and scored three tries. You won't hear any complaints from us.
We'll live another day. Our support has been great and we thank them very much for that. We're just so disappointed for Ireland that we let them down.
Welsh coach Warren Gatland: "We've worked so hard for the last three or four months, Wales should be so proud of these guys.
We said we weren't ready to go home on Monday, and now we've got another two weeks here.
Right, that's it. I'm off to find out who Wales will face in next Saturday's semi-final. The rest of you, I suspect, are probably heading back to bed.
Thanks for… well, thanks.