Send us your thoughts and comments on this afternoon's game. E-mail adrian@thescore.ie, tweet us @thescore_ie, find us on Facebook, or leave a comment below.
It's showtime. Conor Niland is about to get his 15 minutes – and maybe more – of sporting fame.
The Limerickman takes on world number one Novak Djokovic in the Arthur Ashe Stadium, New York City in a few moments' time.
In 59 games this year, the Serb has lost just the two. Want to have a flutter? Djokovic is at 1-500 this evening.
Opposite, the world's best this year will be a journeyman Irish player. But this isn't his first grand slam this year; you might well remember his epic first round defeat at Wimbledon earlier this summer.
He'll hope to do even better tonight – and we'll go shot-by-shot.
We're waiting for the two boys to emerge into the New York night. In the meantime, the Eurosport commentator posed this one: who was the last German lady to be ranked in the top 10?
I got it, baby.
Okay, the answer was Anke Huber, fact fans.
In other news, Niland is out on court now – though the Europsort guys are pronouncing it Nee-land. Let's call the whole thing off.
How are we feeling out there in computer land? I reckon a Niland set win at 5-1 is do-able, no?
First set: Djokovic 2 Niland 0
As they say in New York: Boom! We're up and running. Niland has started pretty nervously – and sure, why wouldn't he?
He lost the first game to Djokovic's serve and lost his first serve to love. As Bollo said in the Mighty Boosh: I've got a bad feeling about this.
Djokvoic 3 Niland 0
Well, we know this much: Novak's shoulder is okay. He's off to a flier, though Niland seems a little more relaxed now – he won a nice rally and then had a successful line challenge before the Serb took the game with an ace.
Djokovic 4 Niland 0
Jaysus. It's another break of Niland's serve and he's four games up in 14 minutes. He isn't trying a leg here and is just blowing the Irishman away.
Already the patronising 'he's done well to get here' stuff has started.
Djokovic 5 Niland 0
And another.
Djokovic 6 Niland 0
That was a lot better from Niland despite eventually ultimately going down to the Serb. He won a strong exchange from the baseline before forcing an error from his opponent. He then went a little long at 30-30 and the Serb only needed one set point to make it count.
'Niland's worst nightmare' the Eurosport commentator laments.
More bad news for Niland. The doctor and trainer have been called out to have a look at what seems like a shoulder injury.
The umpire is then told the trainer can't do much at the moment but will be out at the next change of ends.
This was supposed to be the best day of his life.
As Stephen writes in the comments below: "dodgy sushi for Niland it seems" – and there has been mention of vomiting beforehand, though I didn't see it occur. It would explain a weak start, I suppose.
Second set: Djokovic 1 Niland 0
There was at least a few encouraging rallies in that first game of the second set. New balls, and Niland – to state the obvious – really needs to hold serve here.
Here's the American TV stats from the first set – make of them what you will: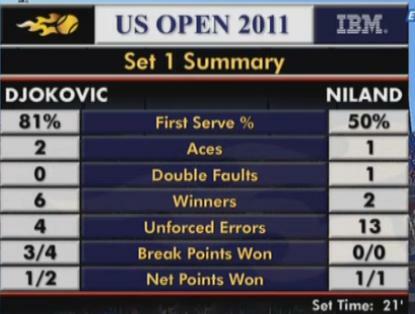 As one of our followers on Twitter says: "I think this match shows the vast difference between players in the top 10 and everyone else".
Djokovic 1 Niland 1
Get in! Niland looks so relieved to get on the board. He hit a corker to earn his first game point and Djokovic then bounced one off the top of the net and out.
The New York crowd are generous in their applause while the Limerick man gestures to his coach in the stands as if to say: I don't feel well.
Djokovic 2 Niland 1, Djokovic one set up
Huge forehand to wrap up a game to love for the world number one.
Djokovic 3 Niland 1
Niland has necked a few tablets in an effort to settle his stomach. If he can now turn this around, there's a million-dollar ad campaign in the offing with Gaviscon or someone.
In the meantime, he's lost his serve for the first time in the second set. Novak looks like he means business.
Djokovic 4 Niland 1
What does the world's best player do when you get on the scoreboard? Win the next 12 points. That's three love-games on the trot now.
Djokovic 5 Niland 1 – NILAND RETIRES
This is heart-breaking. Niland calls it a day after he loses another game to love.
He walks towards the chair and gestures at the umpire. It looks like a classic food poisoning but we'll know soon enough as he'll now explain what happened to the Flushing Meadow press room.
More importantly, all his hard work – three games of qualification in New York for a start – come to naught.
Okay – as Anne Doyle says: there we leave it. Conor Niland is out after around an hour at the centre of the tennis world due to – it seems – some bad sushi. Sad stuff.
But for those amongst us (me) who said his efforts at getting to the Big Apple came to nothing, let's leave the last word with one of our Twitter followers:
"Disagree that it came to naught, he tried to battle on valiantly, but alas, it was meant to be. Getting this far is a massive +"
Join us tomorrow for a day-long Transfer Deadline Day liveblog and build up to Louk Sorenson's tie at Flushing Meadows as well as everything else.