ONLY WHEN YOU live in England do you get a real sense for the number of people playing rugby in the country and the sophisticated tiered leagues and academy structures involved en route to the professional level of the game.
I'm based in London and this region has 28 senior leagues, with eight to 14 teams in each league. The rest of the country follows a similar structure but with fewer numbers.
Andrew Fosker / INPHO Eddie Jones is the latest man tasked with turning England into world beaters. Andrew Fosker / INPHO / INPHO
England has over 131,000 senior males playing rugby, according to the figures, whereas Ireland has around 25,000. The numbers can be inflated by including tag and touch rugby players, but the point is that England has relatively huge numbers.
The difference with Ireland's club and provincial structure, when weighed against the English, is that it is managed centrally by the IRFU and directed towards the national team.
England's structure differs in that the clubs function independently of the union and their goals don't align directly towards the national team.
England's elite player pathway begins in clubs and schools, predominantly private ones but also including public institutions. Players are identified and contracted to academies, where talent is developed in order to feed the professional clubs.
This foundational conflict between the professional clubs and the national team has been well documented and has been likened to 'running a business with 13 departments working against each other.'
This naturally limits any national progress and offers us an insight into the huge barriers the England national team's head coaches commonly face. This is why the richest rugby union in the world repeatedly fails to dominate.
So where does that leave England's head coach now? What influence can they actually have?
Stuart Lancaster is somewhat derided for his tenure as England head coach, but like Martin Johnson, he should never have been in the position of leading the hosts into a World Cup.
Lancaster was intended to be a stop-gap solution post-Johnson, which follows no plan, so I believe the blame lies firmly with the men who appointed him longer-term.
Lancaster will be remembered for a World Cup disaster and the Sam Burgess embarrassment, which is a prime example of a club v union conflict.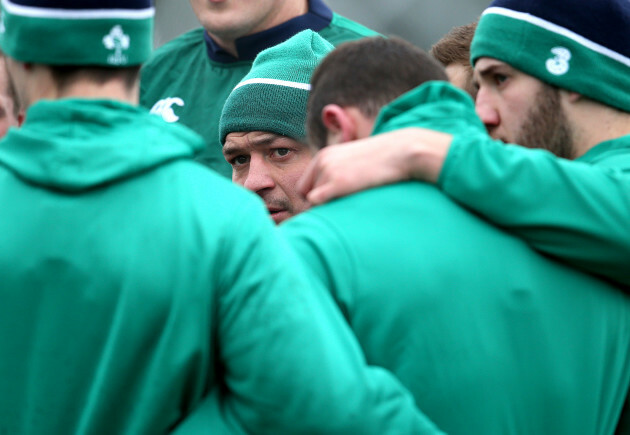 Dan Sheridan / INPHO Rory Best leads Ireland in Twickenham again this weekend. Dan Sheridan / INPHO / INPHO
Bath limited Burgess' game time at centre, much to the national team's detriment, because playing him there was of no use to the club. Bath played Burgess as a back row and then England played him in midfield at the World Cup. That could never happen in Ireland.
Despite the negatives, Lancaster has left Eddie Jones with one strong building block – namely a strong culture among a group of players who have started to take pride in representing their country.
This is not how England's rugby structure breeds them to be.
England have always had superb athletes and rounded rugby players, but my impression is that they have not always played the most intelligent game – perhaps aside from Clive Woodward's World Cup-winning team.
The early sense is that Jones is changing that. He is a really smart and experienced tactician and understands how to motivate players, and also that there are different ways of bringing about a positive mental reaction.
Let's look first at the defensive base we've seen from England in Jones' two games so far and his defence coach appointment.
It must be said that basing any great judgment on wins against Scotland and Italy – the two weakest teams in the competition – is perhaps dangerous, but this is all Joe Schmidt and Ireland have to go on.
Paul Gustard has come in as defence coach and he has brought about an immediate shift in mindset. In Ireland, we often talk about hunting in groups of three players, but Gustard's approach is that England hunt as a 'wolf pack'.
Even when you're 30 meters away from the ball, you can have an effect because you're all hunting together. England have looked continually engaged when defending in their two opening games.
It might seem easy, but maintaining focus, enthusiasm and energy when defending in Test rugby is demanding. Line breaks so often lead from just one player switching off for a split second.
Gustard has demanded that England's players see defence as an opportunity, and that's a hugely exciting thought for them. They defend not only to stop the attack, but also to turn the ball over, to reset play and counter attack against a disorganised defence.
Dan Sheridan / INPHO Ireland are going up against a formidable English defence. Dan Sheridan / INPHO / INPHO
This will be a threat against Ireland this weekend, with Anthony Watson, Jonathan Joseph, Mike Brown and Jack Nowell waiting to strike.
The English have not conceded a try yet in this championship. Again, we note the relative weakness of the opposition, but 18 points conceded in total over two games is a healthy stat.
Their defensive success has been demonstrated by the tries that have come from turnovers, which was a theme against the Italians.
In the 24th minute, George Kruis and Mike Brown did some brilliant work at the breakdown to steal the ball and George Ford scored in the left corner on the first attacking phase.
Joseph's second try of three came from defensive pressure forcing an Italian knock-on, while his first was an intercept. That's try scoring defence, the absolute aim Gustard and Jones have for this team.
Ireland's rucking on Saturday will need to be at a genuine peak, after it patently wasn't in the defeat to France.
We spoke last week about the need for Ireland's players to be better on-pitch decision-makers and that certainly extends into the ruck area, with the need to avoid slow ball and English turnovers.
Too often, ball carriers were isolated against the French, when support players hesitated or allowed French defenders to take the initiative.
Tactically, England have been choosing to under commit to defensive rucks at times. This needs to be identified at the time and Ireland's attack directed to exploit the space around the ruck and avoid going wide where defence is strong.
Jones appears to be bringing a level of intelligence to the England attack too. Understandably under a new coach with limited preparation time, the game plan against Scotland was very simple, though we did see glimpses of what was to come.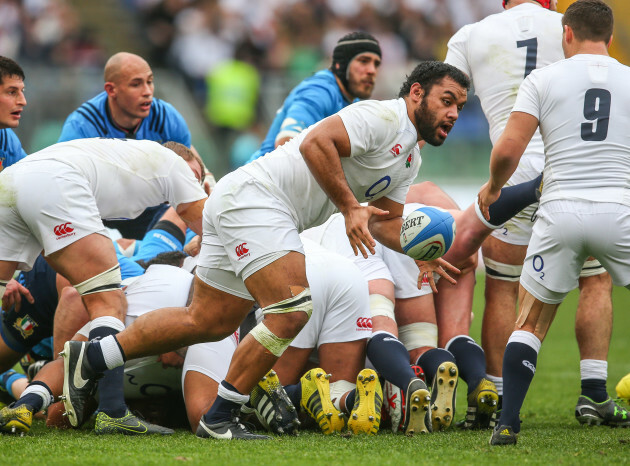 Inpho / Billy Stickland Vunipola carries hard, but Jones will encourage him to pass at times too. Inpho / Billy Stickland / Billy Stickland
Physicality and confrontation has always been a core part of England's approach in attack and that definitely remains. Players like Billy Vunipola, George Kruis and James Haskell will aways be very direct, but the evidence of these two games is that Jones appreciates that some of these players are good ball handlers too.
Take the example of Jack Nowell's try against Scotland, where Mako Vunipola was the key man in dropping a pass behind to the lurking Owen Farrell, who in turn freed Nowell to finish with his pace.
Or go back to that Ford try against England. Billy Vunipola made a similar pass to Farrell before he fed his out-half. Arguably the pass itself from Vunipola was not exactly the perfect decision, nor  was it executed with total accuracy, but it indicates that England can be more than the dull physical beast that they have become known as.
If Jones can develop this blend over the coming games and years, England have the chance to be genuine world beaters.
For Ireland to win this weekend, they need to re-discover the clinical, ruthless mindset that made them Six Nations champions in 2014 and 2015. Ireland must be strategic and focused on controlling the game, playing clever territory, playing in England's 22 and capitalising on English penalties, which their indiscipline allows.
This is a growth phase for Ireland, and I'm encouraged that Schmidt is nudging towards that. But growth this weekend is not just about blooding new players and trying new tactics. It's also about strategic growth and learning to manage getting points against difficult opposition in these pressure games.
England have their tails up and momentum is going their way. Their foundation is always rocky, however, and they will revert back to their predictable default if Ireland take control of the game from the start.