GET THE WIN secured first then hunt for the extras – that was the plan for Munster today at Murrayfield.
As always, we'd love to hear your thoughts on the games. E-mail patrick@thescore.ie, tweet @thescore_ie, post a message to our Facebook wall, or leave a comment below.
You may need to refresh the page for YouTube videos and other elements to display correctly.
Edinburgh 17-26 Munster
The pool win looks out of the question after Saracens' excellent win in France yesterday so Munster must go down the runners-up route and finish with two wins to give the,selves a quarter-final chance.
Here are your teams for today's action:
Edinburgh: G Tonks; D Fife, B Cairns, M Scott, T Visser; G Laidlaw (c), R Rees; A Jacobsen, S Lawrie, WP Nel; G Gilchrist, S Cox, S McInally, D Basilaia, D Denton.

Replacements: A Titterrell, R Hislop, G Cross, N Talei, R Grant, P Francis, B Atiga, S Visser.
Munster have put out a strong side with Keith Earls facing yet another day of destiny at outside centre:
Munster: F Jones; D Howlett (c), K Earls, J Downey, S Zebo; R O'Gara, C Murray; D Kilcoyne, D Varley, BJ Botha; D O'Callaghan, D Ryan; P O'Mahony, T O'Donnell, J Coughlan.

Replacements: M Sherry, W du Preez, S Archer, B Holland, P Butler, D Williams, I Keatley, C Laulala.
In response to Gearoid Murphy, who has been commenting like a legend today, there was some nasty sleet earlier in the day but it has calmed down a touch. Cold and the going is soft underfoot. We have about 3,000 Munster fans in attendance, give or take a hundred.
Pretty sparse at Murrayfield. £5 tickets proving a bit too steep?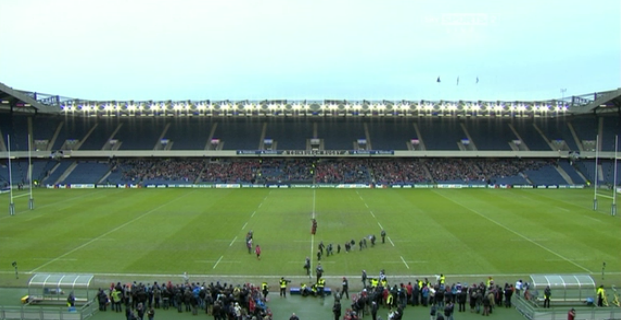 Oh yes, Romain Poite is out and referee Greg Garner is in charge. Edinburgh kick-off – Zebo claims and leathers it back where it came from. 60 yard gain – some boot on him. First Edinburgh lineout is claimed but Munster steal, maul and pile forward, gaining and early penalty. Good chase and tackle by Earls.
Interesting call – O'Gara going for the posts.
PEN: O'Gara in front of the posts but 35 metres out. No bother to him. Edinburgh 0-3 Munster after three minutes and Howlett drags Tonks out of play after a great kick to the corner by O'Gara. Lineout from 7m out is lost though as Basilia steals at the back.
@B Collins – I think it is on Newstalk. My old buddy Simon Hick and the guys are over there for it. Listen to them but stick with me… please!
Zebo claims a monstrous up-and-under from Laidlaw but he spills the ball forward as he goes into contact. Cairns tests the Munster defence up the left but Munster earn a defensive lineout. Not straight and spilled in the process by Ryan. Scrum 5m for Edinburgh. Let us see how this unfolds…
Re-set twice and a free-kick eventually given to the home side. Nel, then Rees plunder forward and Munster need to front-up on their line. Garner can't see the ball so the Scots get another scrum. Munster engaging too soon at scrum-time twice so far. This one is right by the Munster posts.
Good shunt in the scrum by the Reds and Nel pops up. Munster pounce on the ball but another scrum is called and Murray, after a give and go with the pack, kicks clear. Great chase from Murray then and he earns his side a penalty. Important phase of play there.
O'Gara went for length rather than placement with his kick – a tad foolish.
Matt Scott goes offside as Downey tries to present clean ball at the breakdown. O'Gara wants to build the lead so he goes for the posts but he misses a chance that was not too hard [too the left of the posts].
Kilcoyne down for treatment before continuing. Varley finding his radar and hits O'Callaghan in the lineout. O'Mahony and Kilcoyne then truck the ball into the Scottish 22 before solid Edinburgh counter-rucking wins them a scrum.

Rachel does not rate Edinburgh.
PEN: Kilcoyne and Botha in charge at that scrum and another penalty is give. O'Gara, calm as you like, to go for the posts. 15 metres out and it sails over – Edinburgh 0-6 Munster
Tonks spills a bouncing dolly of a Munster kick. The strong Munster numbers cheer in unison. Hold the phone on supporting numbers – that man Frankie Sheahan says 5,000 Munster fans have travelled over. An attacking scrum deep in the Edinburgh 22 and a try any time now would be perfect for the Irish side.
28 minutes go and the Edinburgh scrum caves in again. Yellow cards soon, surely? O'Gara says 'posts' again.
Over she goes from slightly to the right of the posts and 30 metres out – Edinburgh 0-9 Munster with half an hour gone.
PEN: Laidlaw gets Edinburgh on the board with a penalty kick just outside the Munster 22. The tackler, Varley, I believe, did not release. Edinburgh 3-9 Munster. Time ticks on. Super choke tackling by Ryan and O'Callaghan and Munster get another scrum in a good position.
PEN: Another scrum gains a Munster penalty. Edinburgh's props are getting battered but no cards given yet. Good heave by the Munster eight. Kick for the line now, surely? No. O'Gara to kick again. Edinburgh 3-12 Munster
Edinburgh had scored 12 points before this match but have yet to score a try. Worst ever return after six matches in the H-Cup was L'Aquila, with 40, in 2000/01.
O'Gara with a 40m crossfield kicks is excellently claimed by Zebo in the air. He feeds back and O'Mahony fends off two men on the charge. A penalty is won on 38 minutes and, for the first time, Munster kick for the corner.
O'Callaghan claims, Murray breaks and finds the charging O'Donnell. He gets to within 5m then Kilcoyne takes it up to the posts and close to the line. Edinburgh give away the penalty. Added on time. Quick tap rather than the scrum and the ball, flung out left and wide is knocked-on by Earls. Too sloppy, too late.
HALF-TIME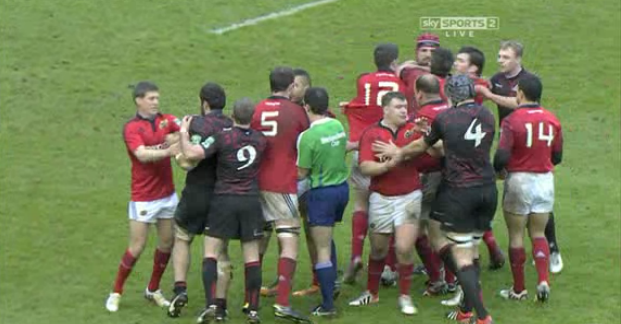 Tensions spill over at half-time. (Sky Sports screengrab)
Earlier in the week, Donncha O'Callaghan told us this, "It's our season. It's everything, 80 minutes of rugby to have the chance to have 80 minutes more. Otherwise it's over."
40 minutes now remain and Munster are no closer to the four tries that could put them in the quarter-final box-seat.
What do you think — have Munster blown their chance at getting the try bonus point?

Ronan O'Gara gets us back underway and Munster earn an early penalty.
Penalties are off the agenda now but Munster can't make the home side pay. Cairns then thunders up the middle on a 30-metre breakaway before he is hauled down near the 22. More scrums and re-sets. The Reds win out again. 45 minutes gone. Where are the bloody yellow cards?
How Munster could do with CJ Stander or Sean Dougall on the bench. A lot of two-yard gains from Coughlan and O'Mahony but the forwards are in need of some linebreaks, especially as another attack breaks down after 23 grinding phases.
YELLOW CARD: It goes against Munster as Kilcoyne stops Laidlaw from taking a quick-tap.
Denton is done for a forward pass in his own 22 as Coughlan trots off the field so du Preez can scrummage. Munster have Duncan Williams, Ian Keatley and Casey Laulala as their back replacements – does not fill you with confidence. The fuel to the anti-O'Gara fire will be piled on if the four tries do not materialise. Always a tough ask though. 52 on the clock.
TMO: Earls is close but it may not be awarded.
The video ref was actually there to tell if Laidlaw had palmed the ball out of play before Earls got there, after a chip over the top from Murray. He did and Laidlaw is shown the yellow card
TRY MUNSTER! The scrum is dominatring for Munster and Nel pops up [by my count, for the fifth time]. Penalty try awarded. O'Gara adds the extras. 25 minutes to go.
Munster back to 15 men and Jones just needed to connect with Howlett and we would have had try number two! Great break and reverse flick from Murray but Jones did not locate the charging Kiwi in support. Edinburgh regain possession after another Munster pass goes astray.
I would have no problem with Keatley starting for Munster but O'Gara was worth one last punt. 19 minutes to play.
TRY! He has been the best player on show today and Murray gets a vital try. He snipes out the back of the ruck and dives over. 18 minutes to go. O'Gara gets the conversion and it is Edinburgh 3-26 Munster
I do not believe it! George Hook's prediction comes true as Munster break and spread the ball left and wide. Zebo, rampaging forward, takes the ball on but will not pass to the man outside him. That man is second-row Donncha O'Callaghan. 13 mins left.
O'Gara is benched shortly after getting body-checked by Sean Cox. The out-half then lashed out with his boot at Cox, who was less than pleased.
It is all starting to fade for Munster as Varley is penalised for a high tackle. 10 minutes to go as Laidlaw, back on the pitch, kicks for the line.
TRY! But it goes Edinburgh's way – their first in European Cup action this year. Dougie Fife ends the long wait by diving over after the Scots had extra numbers out wide. Laidlaw adds the extras to make it Edinburgh 10-26 Munster with six minutes left
Frankie Sheahan awards Peter O'Mahony with the man-of-the-match prize. 6 carries so far for the blindside flanker. Kilcoyne and Murray would have pushed him close.
Another penalty for Edinburgh and a kick for the corner. There will be no miracle for Munster here. Barring a miracle, of course.
TRY: It goes to the Scots, and Fife, again. He goes through three Munster tacklers, including Paddy Butler and carries Earls over the line and under the posts. Laidlaw makes it Edinburgh 17-26 Munster. One minute left and Munster go for a third try.
The final attack goes wrong as Edinburgh turn the ball over. Laidlaw boots clear. FULL-TIME
Some tough questions to answer for Rob Penney but the conditions were not conducive to free-flowing rugby. Leinster drop out of the 1/4 finalists – as it stands – top eight but they will be pleased with that result.
Stay with us over the afternoon for post-match reactions, comments and calculations.