27. "MAYBE LOUIS does have a golden willy."
Arjen Robben on what makes Louis van Gaal a special coach.
26. "I just want to wear my heart on my sleeve."
Tim Sherwood on why he tore off his gilet during Spurs' defeat to Arsenal.
25.  "I want to congratulate again Mike Dean. I think his performance was unbelievable and I think when referees have unbelievable performances, I think it's fair that as managers we give them praise. So fantastic performance."
Jose Mourinho shows more than a hint of sarcasm in describing the performance of referee Mike Dean following Chelsea's Premier League loss to Aston Villa.
24. "A very good side playing at the sort of level we are aspiring to."
Then-United manager David Moyes after his side were beaten by Man City.
23. "This letter is written from my heart and, first of all, I would like to say that I will never forget all the affection given to me by the Chelsea fans."
Juan Mata didn't seem too keen on leaving Chelsea.
22. "Mario Balotelli is on parole… and Brendan Rodgers is his parole officer"
Eamon Dunphy on Mario Balotelli.
21. "The title race is between two horses and a little horse that needs milk and needs to learn how to jump."
Jose Mourinho on his side's title prospects last season.
20.  "I wear sunglasses because of the glare of spotlights. I wear gloves because it is very cold."
Vincent Tan does his best impression of a Bond villain.
19. "If I had played this way I would have been destroyed by the Belgian press. We were not impressed by the Argentines, absolutely not, it's just an ordinary team."
Beglian boss Marc Wilmots, not at all acting like a sore loser, after his side were beaten by Argentina at the World Cup. 
18. "You get the odd one — there is one kid gone to Hull [Brian Lenihan] — you get the odd one, now and again, but yesterday, for what was on display, I was disappointed and I felt a bit embarrassed, to be honest with you."
Roddy Collins on the League of Ireland's standard after watching the FAI Cup final.
17. "I'd play League Two with my eyes closed."
St Pat's midfielder Keith Fahey hits back at Collins' comments.
16. "This is the worst day of my life."
Luiz Felpe Scolari, after Brazil had lost 7-1 to Germany.
15. "The club concluded negotiations after the game and we always joked with Sheasy he had actually sealed the deal by playing like a f****** clown."
Roy Keane on John O'Shea's unwitting role in Man United's acquisition of Cristiano Ronaldo.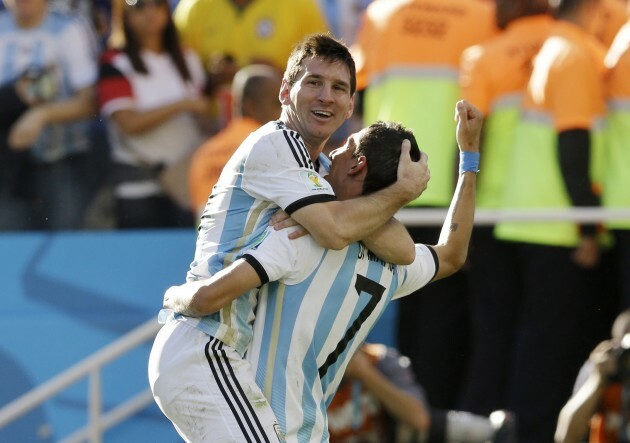 Kirsty Wigglesworth Kirsty Wigglesworth
(Lionel Messi had a 2014 World Cup to remember)
14. "Messi could be the best player in the world — if he was human."
Iran coach Carlos Queiroz pays tribute to the Barcelona superstar.
13. "Did you see it today or did you see what happened in other years? You couldn't have seen it today because nothing happened."
Diego Lugano defends Luis Suarez's 'bite'.
12. "It was an evil tackle."
Ronaldo on the challenge that ended Neymar's World Cup.
11.  "They can die as soon as they want."
Hull City owner Assem Allam on the fans who were unhappy with the club's name change.
10. "I lost my balance, making my body unstable and falling on top of my opponent. At that moment I hit my face against the player leaving a small bruise on my cheek and a strong pain in my teeth."
Luis Suarez explains his alleged bite of Giorgio Chiellini.
9. "He is a specialist in failure."
Jose Mourinho on Arsene Wenger.
8.  "You can't win anything with Fred."
Alan Hansen on the much-maligned Brazil striker.
7. "Brendan's chihuahua doesn't do that. During the week it sleeps, eats and trains a little bit. So I have to say his chihuahua is a privileged one"
Jose Mourinho uses a bizarre analogy to describe Liverpool's advantage in not having midweek football last season.
6. "Despite the fact that there are two World Cup winners [here], actually when it comes to the Champions League, which used to be the European Cup, I've won two of them. I'd just like to know, how many have you lads won?"
Martin O'Neill questions the credentials of fellow ITV pundits Fabio Cannavaro and Patrick Vieira.
5.  "I taught Romero how to stop penalties (at Alkmaar), so that hurts."
Louis van Gaal, after Argentina and their impressive goalkeeper knocked Holland out of the 2014 World Cup.
4. "If we beat Costa Rica I want a kiss, obviously on the cheek, from the UK Queen."
Mario Balotelli, ahead of Italy's game with Costa Rica, which had a big impact on England's World Cup hopes.
3.  "This does not ****ing slip now"
Liverpool captain Steven Gerrard, after his side consolidated their place at the top of the table by beating Man City.
2. "They were going to play a match men v men, 'f****** Dancing Queen'"
Roy Keane recalling Sunderland players listening to ABBA before a game.
1. "I'll be your sugar-daddy, baby."
Eamon Dunphy to John Giles.
What were your favourite soccer quotes of the year?
Originally published at 18.00