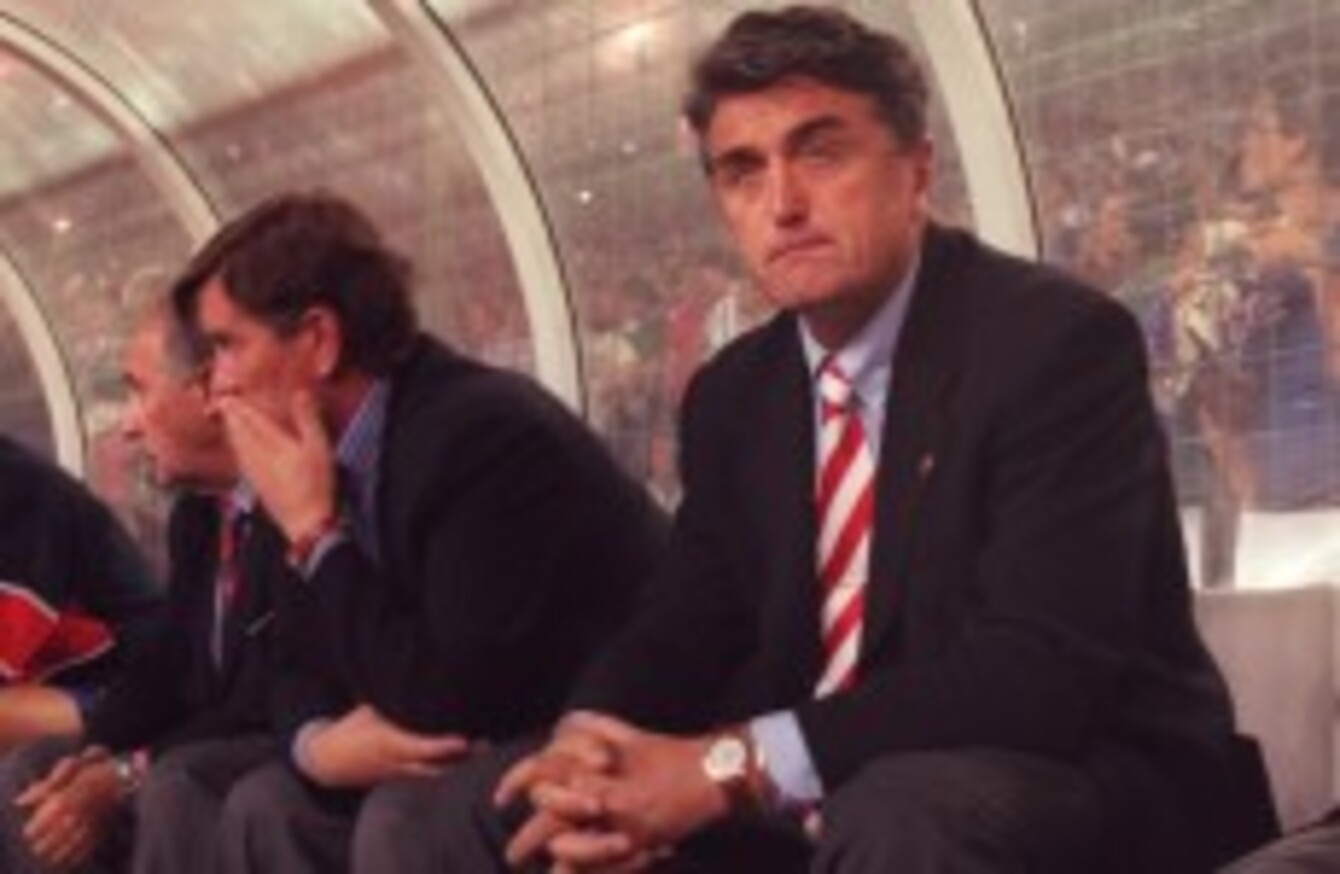 Radomir Antic, Atletico Madrid manager in 1997.
Image: EMPICS Sport
Radomir Antic, Atletico Madrid manager in 1997.
Image: EMPICS Sport
DIEGO SIMEONE HAD been here before: just six games remained of a potentially historic 1995-96 season.
The Argentine, a tenacious midfielder, was part of an Atlético Madrid side that sat just three points clear of Barcelona ahead of an effective title decider in Catalonia.
Atlético were without a win in three games, while Barcelona had not lost a league game at the Nou Camp for 10 months. Yet, fatefully, the free-flowing Atlético prevailed that night with a momentous 1-3 win.
18 chaotic years later, Simeone channelled the class of 1996 in becoming the club's greatest ever manager after a well-earned 1-1 draw at the same venue.
That title was last held by Radomir Antić, the affable Serbian who led Atlético to an unprecedented double in 1996 and their first La Liga title in 19 years. Antić's Atlético surrendered top spot just twice in 1996; remarkably, before the Serbian's arrival the previous summer, Atlético were relegation candidates.
Such was Antić's affinity with Los Colchoneros, the 65-year-old would go on to manage the club in two further spells, in 1999 and 2000.
Yet, ironically, Antić was a former manager of bitter rivals Real Madrid and the Serbian is the last coach – and only the third ever – to sit in the dugout of both Madrid clubs. Far from coincidentally, owed much to Antić's placidness, the Serbian is also only the second ever manager to have led both Barcelona and Real Madrid.
Had Madrid not foolishly decided to dispense with Antić's services in 1991, instead giving the reigns to Leo Beenhakker ahead of a four-year title drought, history could have been very different.
"For me, it was a great time at the Bernabéu," Antić told TheScore.ie.
"We had a very successful team, with a very good temperament. It was two points for a win back then and we were seven points clear of Barcelona when I left mid-season. I was very pleased with what I did there because I helped do things that I'm very proud of.
"Emilio Butragueño finished as top scorer and won the Pichichi for the first time, Fernando Hierro was doing very well in midfield with lots of goals…I was very happy with the job I did.
"I wasn't nervous about going to Atlético four years later and I'm very proud to be part of the histories of both Real Madrid and Atlético Madrid. Every Clásico is special, because you realise it's what so many supporters live for but to coach in El Derbi madrilèno is an absolute privilege. When you are a coach, these derbies are the types of games you dream of being a part of. They give you great satisfaction. It was an absolute privilege to coach both teams and not many people get the chance to do it."
 Crucial to Antić's landmark success at the Vicente Calderón was inspired transfer activity  - which has been echoed by Simeone nearly two decades later. For Thibaut Courtois, David Villa and Diego Costa (loan recall), read José Francisco Molina, Milinko Pantić, and Luboslav Penev.
"It was a great time, because football is so, so different today. It's 18 years since the double win in 1996 and it's amazing to think it remained the greatest moment in the club's history for so long. That's why it was such a historic achievement to see Atlético win La Liga again. For ten years, Barcelona or Real Madrid have won the title. It's taken 18 years for Atlético to be even in the position of having a real chance of winning it.
"But, Diego is a winner. He was very competitive as a player and never wanted to lose a game, whether it was in training or a match. I was in no way surprised that he became a coach. His character is special and of great benefit for his team. Under him, the relationship between the fans and the team is very close and very, very good. He made a team whose fighting philosophy is that of the Atlético Madrid fans. It's a very competitive, strong team and I think the reason why people like those characteristics is down to the root of it: Diego Simeone."
Just as Antić recorded an unthinkable double in 1996, Simeone may be about to follow suit on Saturday – with Atlético's first ever European Cup win.