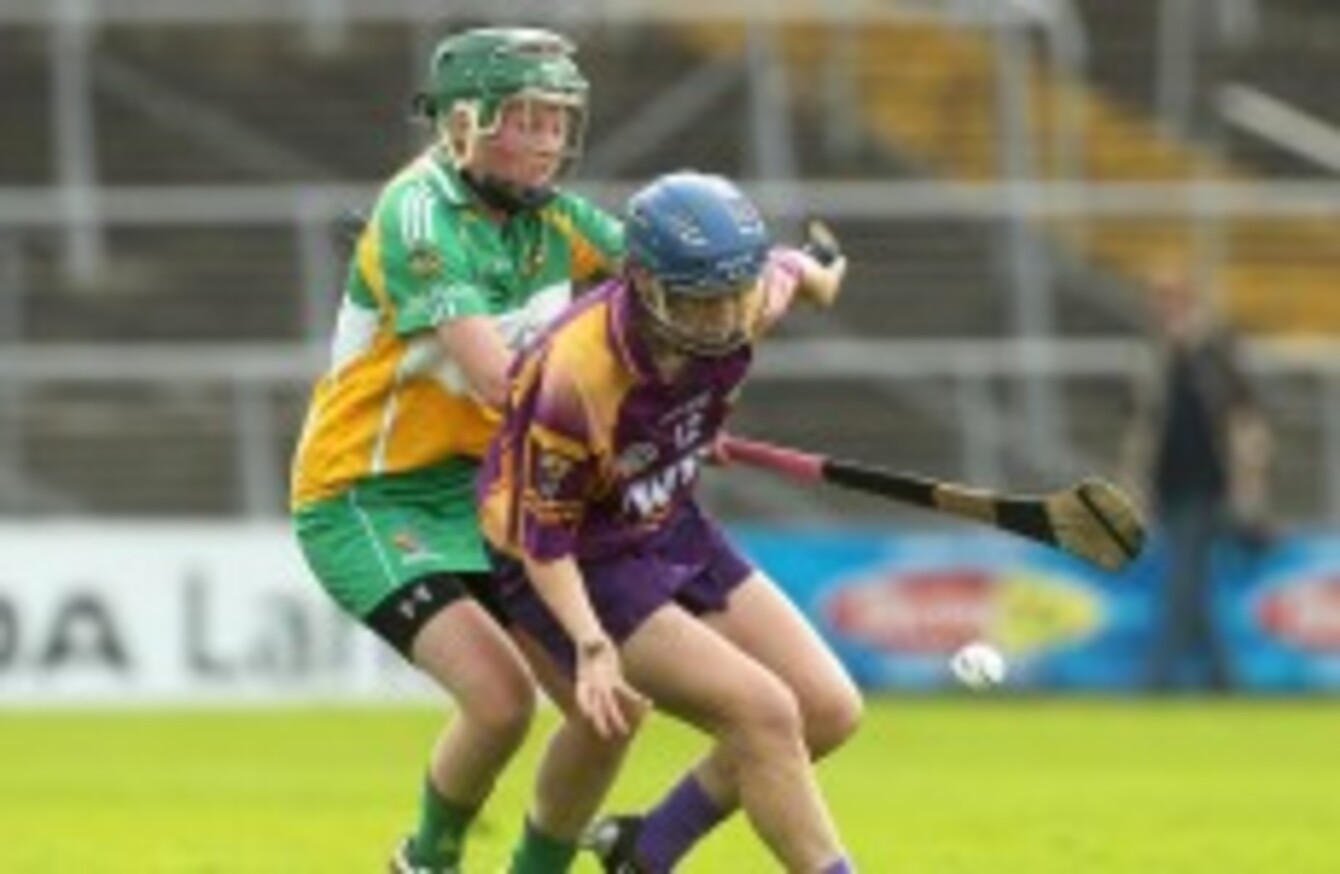 Wexford's Josie Dwyer holds off Triona McDonald of Offaly.
Image: ©INPHO/Ryan Byrne
Wexford's Josie Dwyer holds off Triona McDonald of Offaly.
Image: ©INPHO/Ryan Byrne
Wexford 3-14 Offaly 0-5
WHILE THE SECOND All Ireland semi-final never took flight as a contest, Wexford hurled impressively at times and will take beating in the decider.
Offaly have come a long way in a short time but this occasion, at the moment, was a step too far. Wexford made all, in greyhound terms, leading from the off when Ursula Jacob pointed after 20 seconds.
It was 0-6 to 0-1 on 12 minutes, when Jacob rose her second white flag. A neat effort by Arlene Watkins was Offaly's only riposte to opposition dominance. Two superb points by Kate Kelly, arrowed over from midfield, were highlights of the push.
An injury to centre-forward Úna Leacy in the second quarter seemed to stall the leaders' momentum for a spell. All the same, Jacob goaled in the 29th minute, following a trademark delivery from Kelly, ensuring that Model ascendancy was reflected on the scoreboard at 1-7 to 0-1.
The challengers could muster no more in reply than an Elaine Dermody free. Eight down at the break, their situation swung between difficult and dire.
To their credit, the Faithful contingent stayed at their task, dotting the second half with three points. But Wexford cruised home, with Katrina Parrock striking for a brace of goals in the 41st and 47th minutes. Kate Kelly could even afford to point a penalty in added time.
Offaly, previously the Cinderella county of camogie, may yet have their day at the ball. Meanwhile Wexford's try for three in a row remains firmly on track.
OFFALY: Eleanor Clendennen, Karen Brady, Tríona McDonald, Sheila Sullivan, Linda Sullivan, Lorraine Keena, Marion Crean, Siobhán Flannery 0-1, Fíona Stephens, Tina Hannon, Michaela Morkan 0-1, Jane Brady, Aoífe Kelly, Elaine Dermody (captain) 0-2 (f), Arlene Watkins 0-1.
Subs: Órlagh Kirwan for Aoífe Kelly (42m), Leanne Scully for Fíona Stephens (42m), Éimear Mooney for Jane Brady (58m).
WEXFORD: Mags D'Arcy, Claire O'Connor, Catherine O'Loughlin, Karen Atkinson (captain), Noeleen Lambert, Mary Leacy, Deirdre Codd, Michelle O'Leary, Kate Kelly 0-3 (1 pen), Louise Codd, Úna Leacy 0-1, Josie Dwyer, Lenny Holohan, Katrina Parrock 2-2, Ursula Jacob 1-4.
Subs: Fíona Kavanagh 0-1 for Úna Leacy (18m, inj), Fíona Rochford 0-3 for Ursula Jacob (50m), Shelley Kehoe for Michelle O'Leary (53m), Evelyn Quigley for Lenny Holohan (57m).
Referee: Owen Elliott (Antrim).