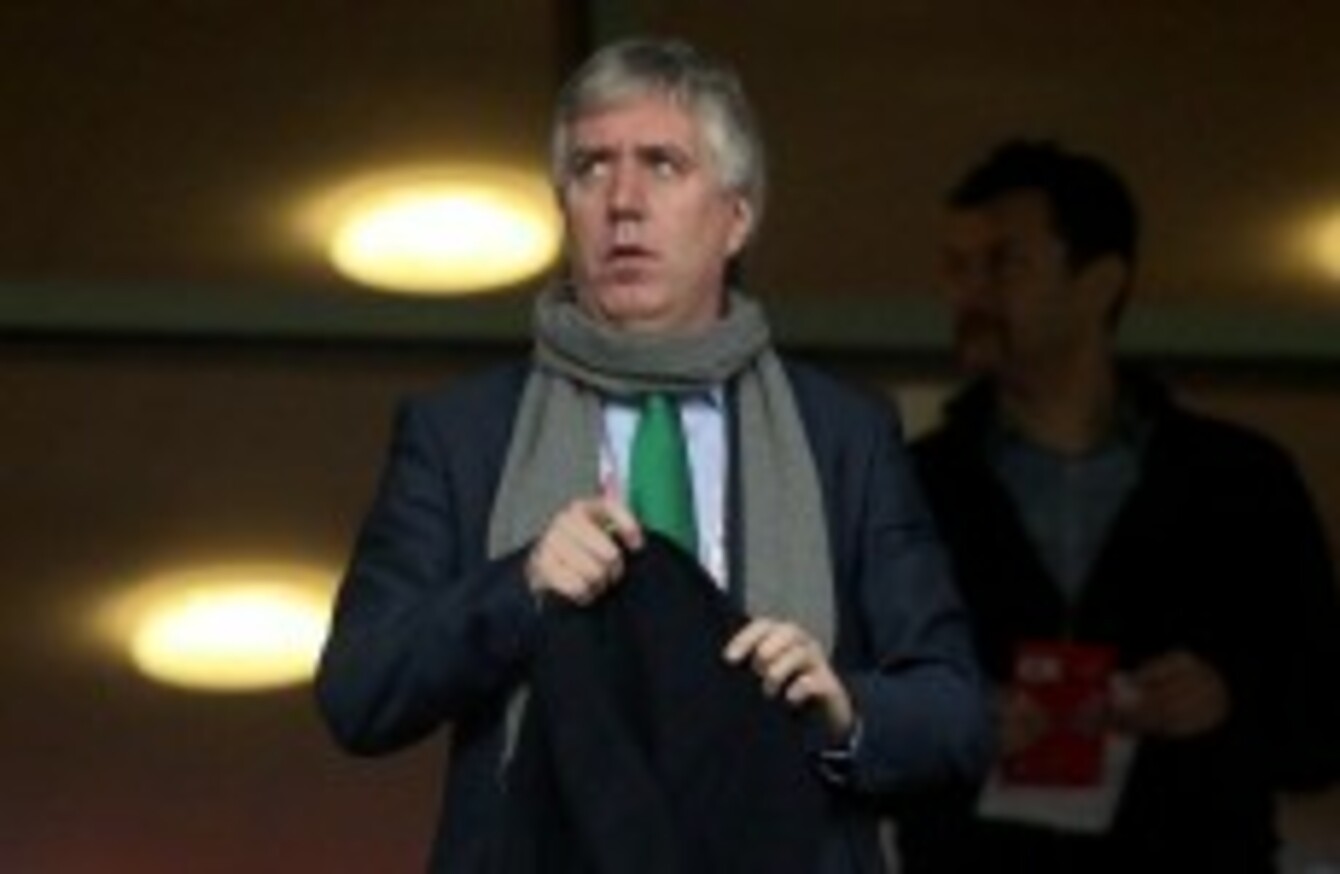 Image: Donall Farmer/INPHO
Image: Donall Farmer/INPHO
AN IRISH SUPPORTERS group has accused John Delaney of stoking tension with his "deeply unhelpful" comments ahead of the Euro 2016 qualifier against Scotland.
The FAI chief executive used a morning radio appearance to take another shot at his SFA counterparts for their part in the Celtic Park ticket row.
Ireland received the minimum 5% allocation for Friday's game, leaving thousands of desperate Irish fans ticketless and willing to snap up seats among the home support.
Speaking on Radio Kerry, Delaney raised fears of crowd trouble and said: "This is a derby game, it's a Friday night in Glasgow, and there'll be tension in the air.
To have pockets of Irish fans stuck in Scottish areas is not the correct thing to do.
The You Boys in Green fan group hit back in a statement this afternoon and again criticised the FAI's distribution of their official allocation.
"YBIG believes that comments such as these are deeply unhelpful and do little more that stoke tension.
"Both sets of fans have impeccable records for behaviour and have received awards from federations and other bodies for the support of their national sides.
We expect both sets of spectators to contribute to a superb atmosphere on Friday night.
Of the 3,200 tickets received by the FAI, 1,700 were given to supporters' clubs, season ticket holders, members of the Club Ireland scheme and what the Association describes as "known away supporters."
A further 700 were given to clubs and leagues, approximately 600 to sponsors and contracted travel partners, while the remaining 200 were divided between players, team management and FAI staff.
The FAI also purchased a small number of corporate tickets which they then passed on to fans at a significant loss in a bid to ease the situation.
YBIG have called for reform of the system after reporting "fundamental issues" with the fan allocation.
The group outlined its concerns in an open letter to Delaney, and while they received a response from an FAI staff member, criticised the chief executive for not replying directly.
"YBIG have clearly proved that the FAI system to allocate tickets spectacularly failed, irrespective of the size of the allocation.
"Many of the hardcore supporters that the chief executive mentions will be sitting with the Scottish supporters are a result of the fact that the FAI have no clear and transparent system in place to allocate tickets."