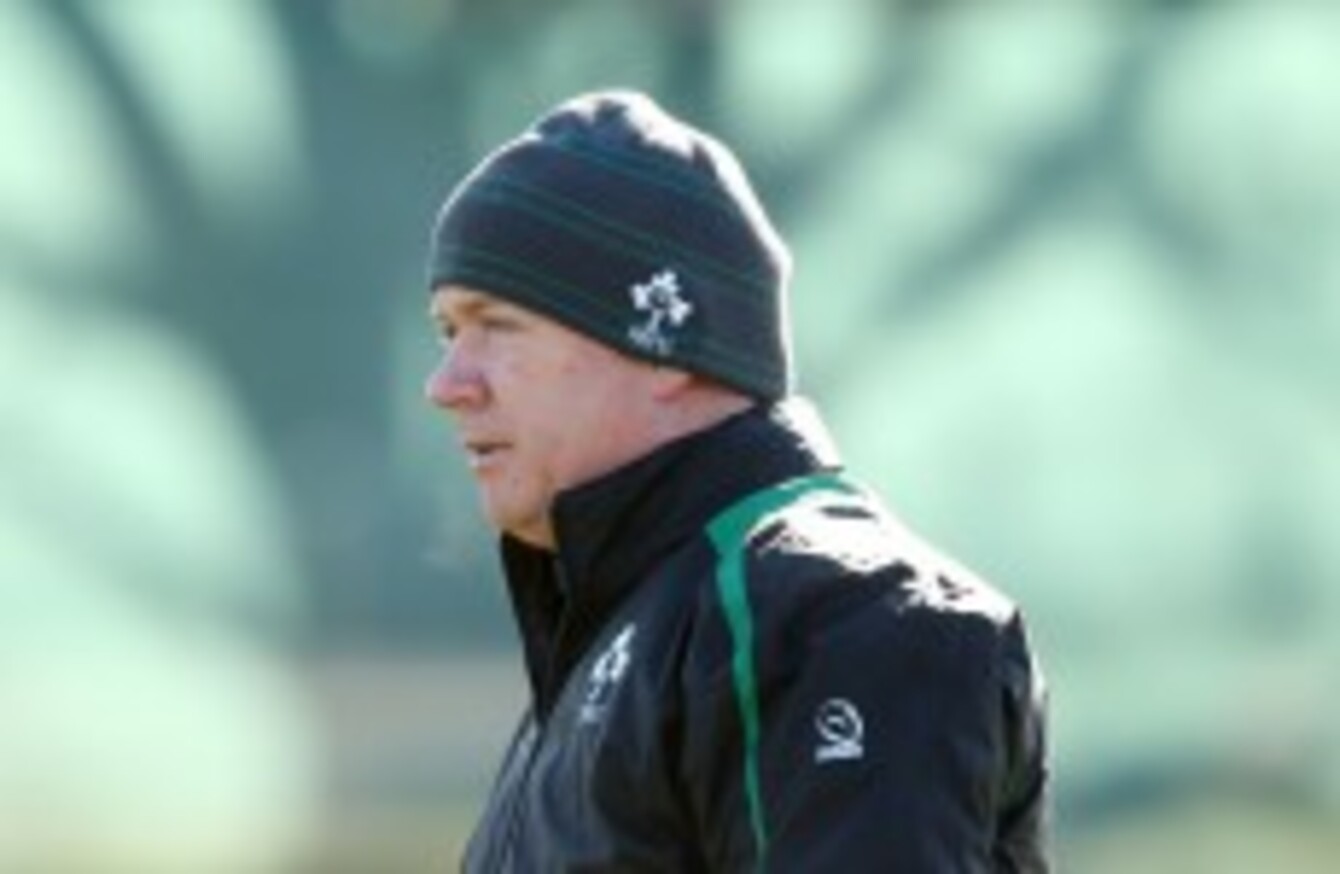 Declan Kidney is hoping for solace in Rome.
Image: ©INPHO/Billy Stickland
Declan Kidney is hoping for solace in Rome.
Image: ©INPHO/Billy Stickland
THE CONTRACT IS up in the summer but Ireland coach Declan Kidney is not giving up on his country yet. If anything, he has designs on sticking around for two more years.
A couple of hours before he boarded a flight to Rome, Kidney set forward his blueprint for the coming years, before the World Cup of 2015.
He told TheScore.ie, "It is a time to be rolling our sleeves up. We've lost two matches by a total of 10 points, a couple of small things and you could be in the winner's enclosure. To do well next year, and the year after, we have to win matches. If we do that, we'll know that we have a very strong squad at the end of it."
Asked if he wanted to be the one to oversee that evolution, he commented, "I'm really enjoying it. It's a huge honour to be involved with Ireland."
We can debate the merits of retaining Kidney's services if his team defeat Italy. A loss to the Italians, which would be their first in 17 games against today's opponents, would render any such suggestions laughable.
Former Ireland captain Keith Wood pointed out, midweek, that the scrum was not engaging at a proper height. Kidney dismissed the suggestion, saying the players feel comfortable and balanced.
He also rejected the notion, with the injury list growing on a weekly basis, that the players might go easy on their pre-match preparation. Kidney said:
"They haven't been holding back in training all week and know they can't do it [today]. They know that if they hold back, the Italians will be going full gas and will get the better of them."
Paddy Jackson gets his third start following the late withdrawal of Jonathan Sexton, while Craig Gilroy returns on the right wing.
"I though Fergus did really well last week and it certainly would have presented a [selection] difficulty," Kidney said. "We have good competition on the wings. We have players of Andrew Trimble's ability, then we have Tommy Bowe and Simon Zebo."
It is not lip-service, Kidney declared, to say it is a huge honour every time you represent your country.
"It's the type of job you live, not work at," he added. "There's a substantial difference, in all sorts of areas, between finishing third and finishing at the bottom of the pile."
TheScore.ie microphone (r) continues to shadow the Ireland coach (c). (©INPHO/Morgan Treacy)
O'Driscoll's decision
One player that Kidney can rely on to give 100% commitment to the Irish cause is his former captain, Brian O'Driscoll. The coach said, "Brian trained full on Tuesday and again [on Thursday]. At the mere mention of [his fitness] to him, he says he's grand. We have to look after him as well too so all the return to play protocols have been followed."
Kidney reiterated that his decision to award the captaincy to Jamie Heaslip had benefited the backline talisman.
"He's playing really well — that was the whole aim of giving him the time and space to do that," said Kidney. He's had a very strong Six Nations championship and as long as he is enjoying it, please God, he will keep going. That'd be for Brian [to decide] and I think he has earned the respect to have the time and place to make those decisions with his family."