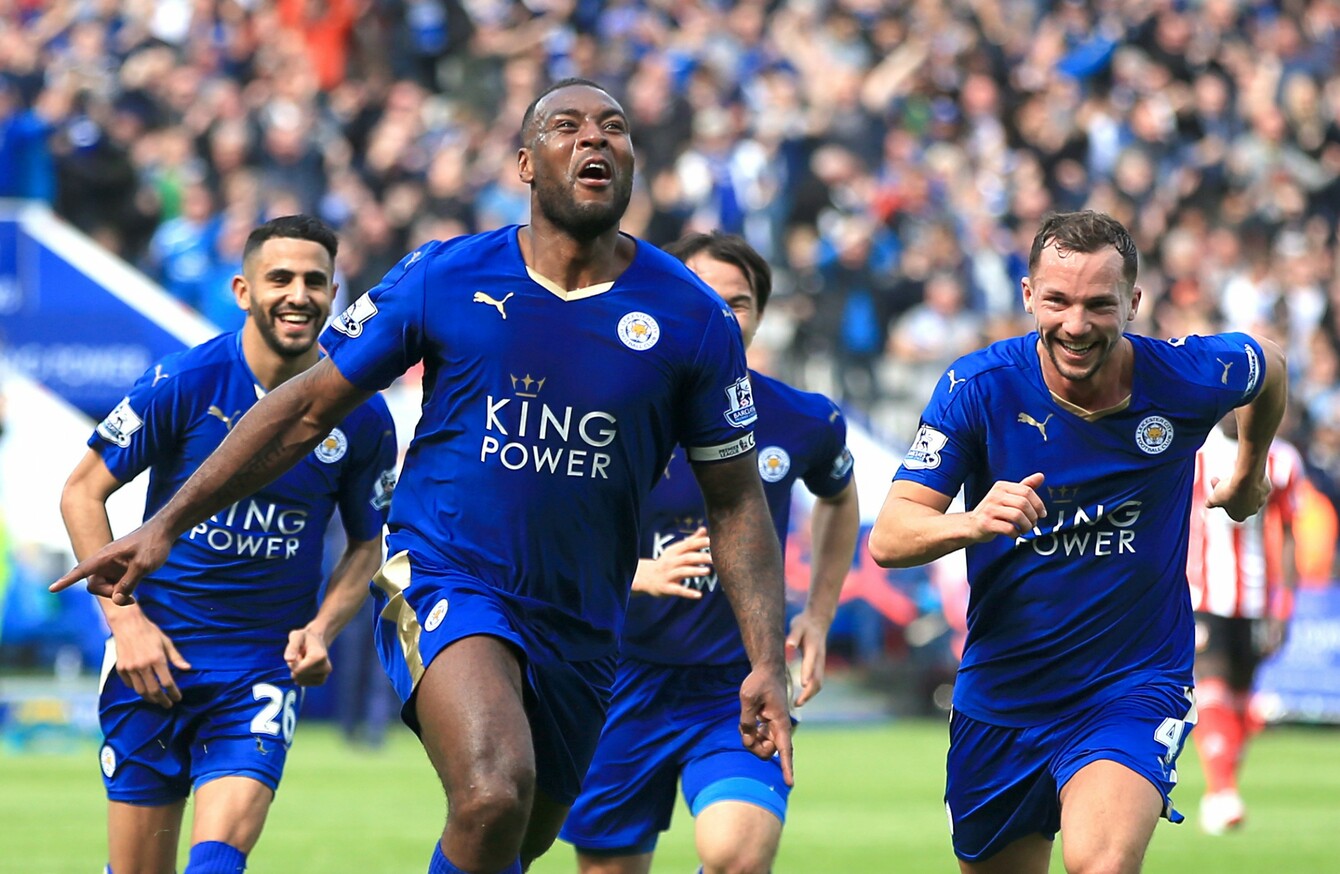 Leicester City's Wes Morgan (centre) celebrates scoring the winner against Southampton on Sunday.
Image: Nick Potts
Leicester City's Wes Morgan (centre) celebrates scoring the winner against Southampton on Sunday.
Image: Nick Potts
Updated at 19.35
HAVING HAD THEIR title hopes dismissed by critics for much of the season, Leicester are now seven points clear at the top of the table with six games to play.
Consequently, the Foxes — many people's pre-season tips to be relegated — are on the verge of lifting a first-ever Premier League title.
With that in mind, we've looked at some of the reasons why Leicester have defied expectations to find themselves in this unlikely position…
1. Past experience of dealing with pressure
Until recently, some critics were suggesting Leicester's inexperience with title races would ultimately scupper their hopes this season.
Yet while Leicester have never been in genuine contention for the Premier League trophy before, they have already had to deal with the pressure of an intense run-in
Last year, the bones of the current team were required to pull off a miraculous end-of-season escape after finding themselves in a relegation battle, as a superb run of form saw them win seven and lose just one of their last nine matches to beat the drop. A similarly spectacular finish this season would see them crowned champions.
And, as Wes Morgan recently pointed out, the experience of competing for the Championship title two seasons ago can't have done them any harm either.
"It was just momentum," the defender recently told reporters. "We kept winning games, in fantastic form, full of confidence.
"We went into games knowing we could win and we were doing so by big margins.
"It is hard to compare that to the Premier League, the games are much tougher, and they are not as frequent. There is a lot of preparation going into games.
"We approach games in the way to maybe stop the opposition first then try to win games in different ways.
"The experience of going up from the Championship will help us this time round. The lads are full of confidence to keep it going."
2. Career-best performances
Source: Vanemas/YouTube
There is one simple explanation as to why Leicester are doing so well currently — a number of their players have just so happened to hit career-best form over the past few months.
A picture from May 2013 that recently re-emerged of Jamie Vardy and Danny Drinkwater sitting on Leicester's bench — alongside Harry Kane — during a Championship play-off game encapsulates how far the future England players have come in a relatively short space of time.
Take Vardy, for instance. Last season, he scored five goals in 34 Premier League appearances. By contrast, this season, he has managed 19 goals in 32 appearances. Compare that to the 2012-13 campaign, where the striker scored only four goals in 26 Championship appearances.
In total, over the course of his career, Vardy has bettered this season's Premier League tally just twice — in 2011-12, he scored 31 goals in 36 appearances in the Conference Premier, and in 2010-11, he hit 24 goals in 33 appearances in the NPL Premier Division.
Similarly, 32-year-old centre-back Wes Morgan has spent much of his career in the lower leagues. In January 2012, Morgan joined Leicester for a reported fee of £1million, having made over 300 appearances for Nottingham Forest.
Last year was Morgan's first-ever season playing top-flight football, and having been part of a defence that conceded 55 goals in the 2014-15 campaign, they have let in just 31 goals this season, signalling his gradual development owing to the experience of playing regular Premier League football. In addition, Morgan has been part of a backline that has secured a clean sheet in five of the Foxes' last six league games.
These improvements, coupled with a few astute purchases — N'Golo Kante (£5.6million), Marc Albrighton (free transfer), Riyad Mahrez (£350,000) and Christian Fuchs (free transfer) — have combined to make it a season of unprecented success for the East Midlands-based club.
3. Intelligent tactics and reliable personnel
Source: NassimHD/YouTube
Despite some critics considering the 4-4-2 formation outdated, Leicester have proven that it can work well when correctly implemented.
The players have shown a good understanding of what's required — Leicester appear increasingly well-organised in defence (as their improving clean-sheet record illustrates), while having a number of players with the pace, intelligence and work-rate needed to adopt a formidable counter-attacking style.
The stats also illustrate how Leicester have one of lowest average possession ratios in the league, demonstrating that domination of the ball is not essential for Premier League success. Instead, Leicester adopt a risk-free approach, usually settling on what is essentially a long-ball game with plenty of high-pressing and intensity to boot.
While the Foxes are rarely in total control of matches even against the weakest of opposition, they are always hard to beat and difficult to break down, with largely the same XI picked on a consistent basis in the league.
Invariably, they have been able to rely on moments of individual brilliance from Riyad Mahrez and Jamie Vardy rather than sustained spells of pressure on their opponents' goalmouth, coupled with an ever-improving defence, to get them over the line.
Vardy and Mahrez in particular have been crucial in this regard. The latter has 16 goals and 11 assists, while the England international has 19 goals and six assists. In tandem, therefore, they have been directly involved (either scoring or assisting) in a substantial proportion of Leicester's 55 goals this season.
4. Ranieri's calmness
Of course, previous boss Nigel Pearson deserves some credit for building the crux of the team, but Ranieri's role in Leicester's meteoric rise cannot be underestimated either.
Despite the 64-year-old coach never having won a top-flight league title up until this point, he has handled the Foxes' virtual overnight success superbly.
The Italian has been a decidedly calm figure and steadying influence throughout, even as the hype machine surrounding Leicester has gone into overdrive of late.
Unlike with Ranieri's predecessor, there have been no controversial media outbursts, while he clearly has the respect of his players judging by how the season has panned out.
Yet the key to the veteran manager's success has been simplicity and the King Power Stadium has seen evolution rather than revolution since the Pearson era ended.
Speaking last February, the coach gave an insight into his managerial style, admitting that he revised his initial plans to adopt a classically Italian approach.
"When I spoke with the players I realised that they were afraid of the Italian tactics," Ranieri told Corriere della Sera .
To an Italian coach, football means trying to control the game by following the ideas and systems of the coach. You talk so much about football. They did not look convinced and neither was I.
"I told the players I trusted them and I would talk very little about tactics. For me the important thing was that they all ran hard as I had seen them do towards the end of last season."
Another seemingly important aspect of Ranieri's style is his willingness to reward players for good performances. In addition to giving them pizza for every clean sheet they keep, along with the occasional holiday, he also explained:
"I make sure the players have at least two days off from football each week. This is the pact I made with the players on the first day."
Moreover, Ranieri has evolved as a coach. Having previously garnered the nickname the 'Tinkerman' during his time at Chelsea owing to his constant need to rearrange his starting XI for each game, these days, the Leicester boss is far more inclined to field an unchanged side.
And on a related note, luck has played a part in this success story too, with Leicester's key players avoiding long-term injuries throughout the season — an outcome helped by their relatively early exit from both domestic cup competitions, which enabled them to focus purely on the league thereafter.
In comparison, all their main rivals have had to deal with long-term absences to at least one key player, such as Vincent Kompany (Man City), Santi Cazorla (Arsenal), Jan Vertonghen (Tottenham) and Wayne Rooney (Man United).
5. A sub-par season from rivals
Source: SportVideosMM/YouTube
There is no doubt that Leicester have capitalised on the lapses in form of a number of high-profile teams.
It's very rare for Chelsea, Man United and Man City to all have such underwhelming campaigns in the same year.
Arsenal have flattered to deceive as they generally do, while fellow underdogs Tottenham haven't coped with the pressure of increased expectations as well as the Foxes.
As a result, Leicester need just four wins or 12 points out of a possible 18 with six games remaining.
Having won five of their last six matches, the Foxes are in excellent form and are expected to get over the line, with games coming up against Sunderland (away), West Ham (home), Swansea (home), Man United (away), Everton (home) and Chelsea (away).
They could afford to drop further points provided their title rivals do too and could yet set a record for winning with the lowest points tally in Premier League history. The 1996-97 Man United team currently hold the record of 75, and Leicester need at least two more wins and a draw to better that, as they're currently on 69 points.
The42 is on Snapchat! Tap the button below on your phone to add!