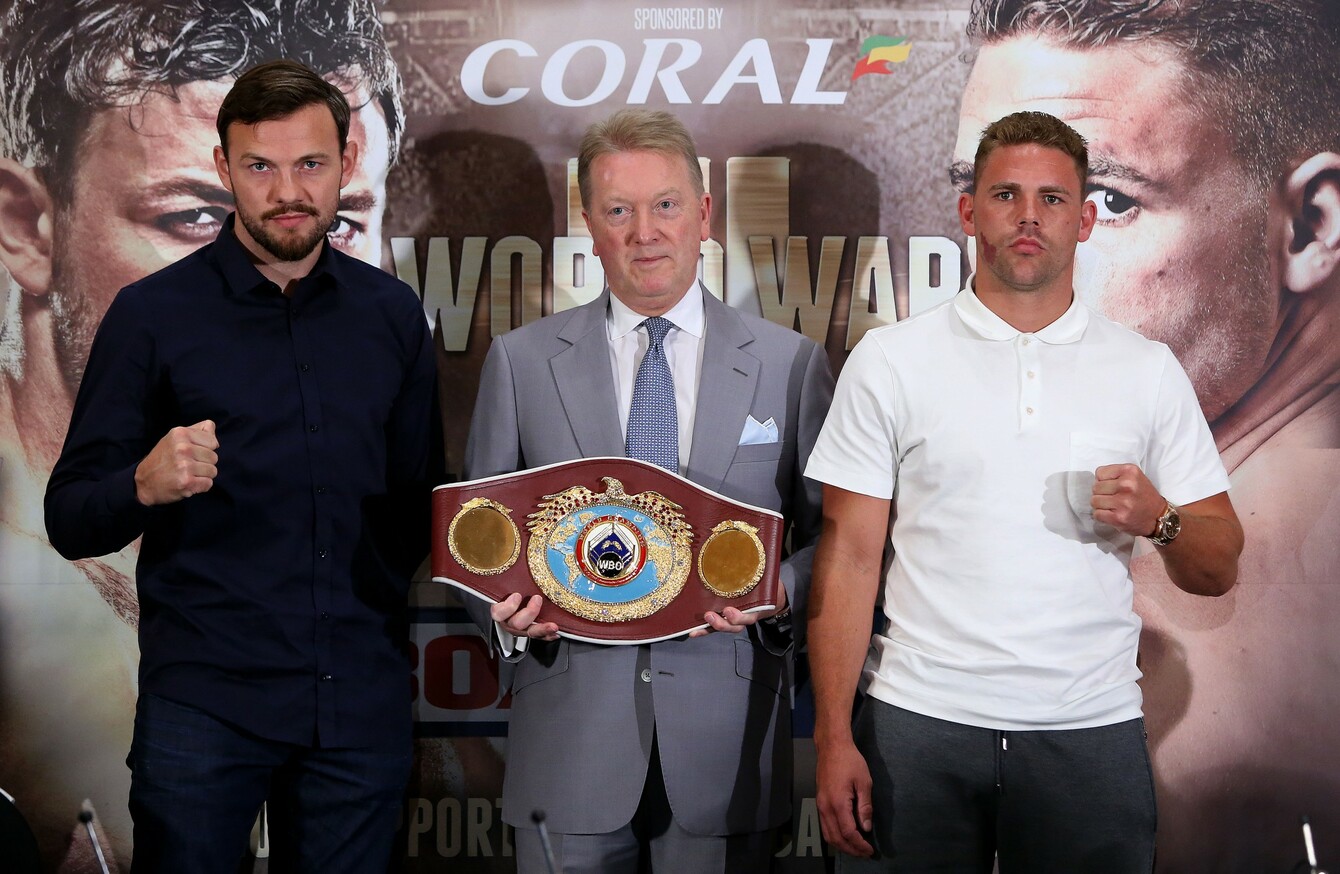 Lee with promoter Frank Warren (centre) and Saunders (right).
Image: Peter Byrne
Lee with promoter Frank Warren (centre) and Saunders (right).
Image: Peter Byrne
Ciarán Gallagher reports from Manchester.
IT'S HARD to know what's more of a rarity — a seemingly genuine 50-50 high-profile fight or the fact that the build-up to a 21st-century world-title showdown has not been littered with trash talk and false promises.
Andy Lee and Billy Joe Saunders have, for the most part, conducted themselves with dignity throughout the extensive promotional period for Saturday night's WBO world middleweight title bout in Manchester – a period that has been extended over six months following two postponements.
Other than some ill-advised and ignorant comments from Saunders about women's boxing and the role of the fairer sex in society, the whole build-up has been a fine example of the gentlemanly conduct expected of throwback fighters obeying the Queensberry rules.
The fighters' mutual respect is partly down to their Travelling backgrounds and each man's desire to prove himself the best 'fighting man', although the connections of both to the Travelling Community appear to have gained much more attention in Saunders' England than in Lee's Ireland.
More so, the high esteem Lee and Saunders hold each other in is down to their respective ring achievements.
Both men are former Olympians, decorated amateurs and talented pugilists in the classic sense of boxing style. Much has been made of Lee's knockout power being pitted against Saunders' movement and finesse, but the former is just as stylish a mover and tactician having come through educated coaching hands such as Ireland coach Zaur Antia, late trainer Emmanuel Steward and current trainer/manager Adam Booth.
Arguably the most notable difference on the pair's CVs is not that Lee holds the world title — something Saunders has not yet achieved – but more so that the champion has fought a higher calibre of opponent throughout his 37-fight career.
Saunders (22-0) is inexperienced in comparison and when recently asked who he believes is the best opponent he has faced so far, the Hatfield native pointed to Aussie Jarrod Fletcher, another former Olympian.
While Fletcher's only other defeats came to world title holders Daniel Jacobs and Daniel Geale, it is difficult to assess whether he matches up to some of the names Lee has shared a ring with, including the likes of Julio Cesar Chavez Jr, Matt Korobov and Peter Quillin.
Source: Edward Almoaz/YouTube
On the other side of the coin, Lee may have the more experience but his renowned knockout power has managed to disguise the fact that Limerick native has not managed to win over many judges since a tight points victory over unheralded French fighter Frank Haroche Horta.
Since then Lee has stopped world-rated John Jackson and former amateur world champion Matt Korobov (the latter to claim the vacant title), but he trailed in both bouts on the scorecards, while some considered him lucky to scrape a draw against Quillin in a courageous comeback performance.
Of course, Lee made the cards immaterial in two of those bouts by taking the fight out of the judges' hands and swayed two other officials when putting Quillin on the canvas, but his reliance on a knockout does appear to have seeped into his tactical approach.
"I have a punch that can end a fight, lights out in any given second," said Lee this week before adding: ""I won't rely on the punch, I will look to dominate from the start with educated pressure."
The latter statement may appear to be something of a caveat, but Lee returned to the knockout theme by saying: "I've never lost a fight on points and I never will (lose) on points, if I'm down on the cards I will go out swinging in the last round."
Source: Jeff Jackson/YouTube
The Castleconnell native has previously admitted that his title win, and the manner it came in, boosted his confidence to new levels and he has certainly carried himself with the self-belief of a champion, but he faces a real challenge in the fresh form of Saunders, who at 26 years old is five years his junior.
For all the experience Lee holds, he also carries the mileage that his nine-plus-year pro career entails. Lee has boxed 182 completed rounds as a pro to Saunders' 115, while the champion has also endured the invaluable but taxing years and countless rounds of sparring in Steward's famous Kronk and gyms around the world.
Saunders picked Fletcher as his best opponent, possibly due to his reluctance to credit British rival Chris Eubank with such praise.
In the second half of their bout, Saunders appeared to tire and Eubank nearly worked his way into a winning position before losing out on a split decision. But the challenger has since relocated his training camps to Macklin's Gym Marbella (MGM) – the Spanish base of Lee's domestic rival Matthew Macklin – and reports from the gym suggest that Saunders has revamped his training approach and diet to aid his stamina and weight loss.
Source: boxnationofficial/YouTube
The younger man is a talented hit-and-move boxer and has at times produced performances that have seen opponents struggle to lay a glove on him.
If the fight comes down to a shootout, Lee is easily the only winner, but if the champion goes in with the sole intention of knocking out a fresh and energetic Saunders, he runs the risk of finally seeing the scorecards catch up with him. Both men claim that pride is on the line and a puncher's pride can be a dangerous thing in more ways than one.
Still, Lee's boxing ability  - something many appear to be overlooking - should not be underestimated and as long as he is not absent-minded in chase of a knockout, the champion, who holds significant height and reach advantages, should have enough.
Verdict: Lee.
TV: Live on BoxNation (Sky, subscription), 10.15 approx.