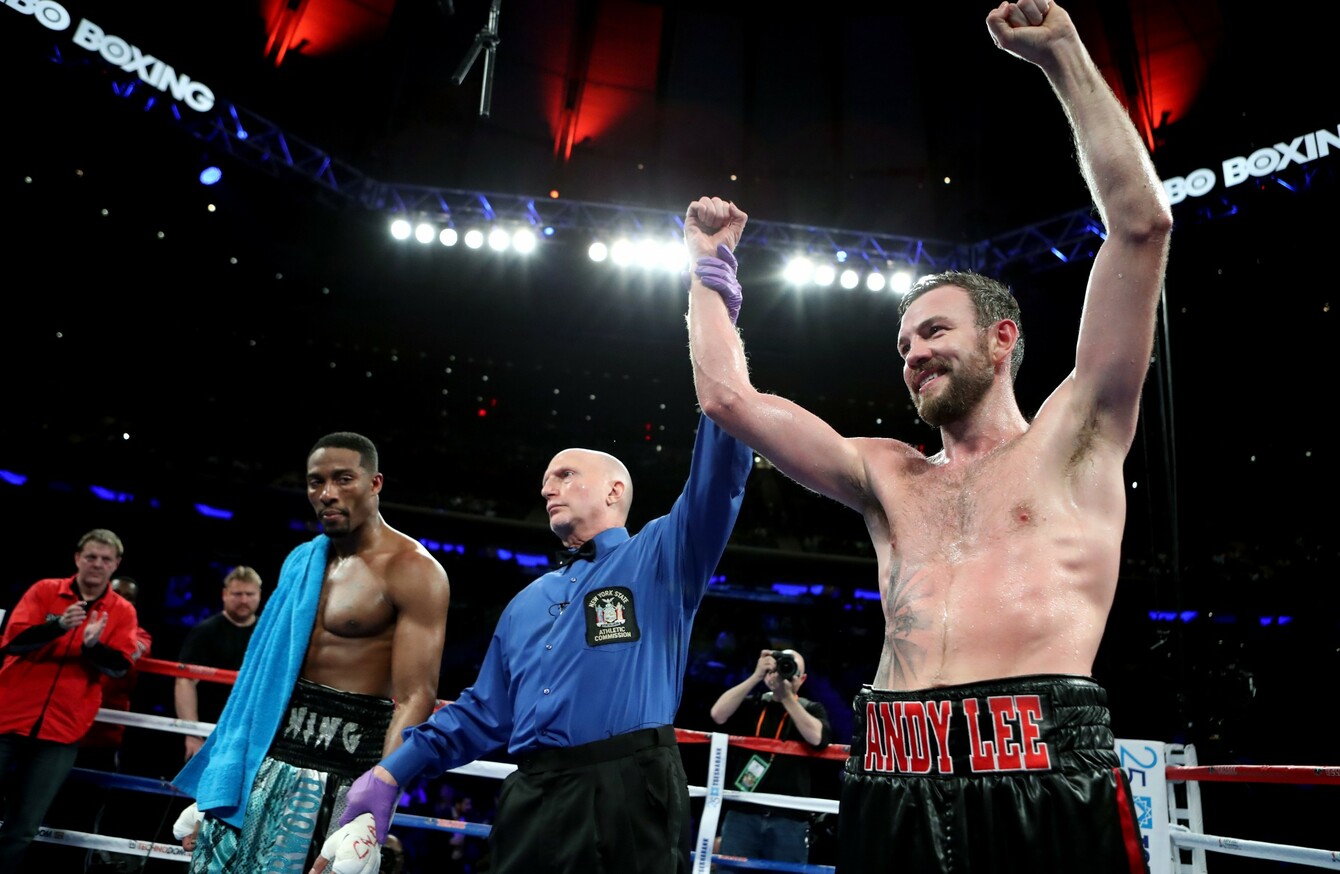 Lee is announced the winner.
Image: Tom Hogan/INPHO
Lee is announced the winner.
Image: Tom Hogan/INPHO
Ciarán Gallagher reports from Madison Square Garden, New York
ANDY LEE HOPES to fight again sometime around September, but the Limerick native is set to take another break from the ring as the father-to-be looks forward to the birth of his first child this summer.
Middleweight Lee claimed an eight-round unanimous points victory over Alabama's KeAndrae Leatherwood at Madison Square Garden's main arena less than 24 hours after Belfast's Michael Conlan made a victorious debut at the New York venue's Theater.
The bout was Lee's first ring outing since he lost his WBO world title to England's Billy Joe Saunders back in December 2015.
With his wife expecting the couple's first child in summer, Lee is now planning a short break but he intends to get back in action later this year.
"I'll just relax," said Lee on his immediate plans. "I'm going home and the first baby is on the way — in June.
"I'll just look forward to that, enjoy it and I'll be back in the gym in September and I hope to fight (around then), maybe in Ireland," added Lee, whose opponent, Leatherwood, proved to be a fairly tricky customer although the American fighter did not offer much in terms of aggression throughout the eight-round bout.
Competing on the undercard of Gennady Golovkin's world middleweight title defence against Daniel Jacobs, Lee took around four rounds to find his rhythm against the cautious Leatherwood — a 28-year-old who carried a 19-3-1 record into the bout.
The 32-year-old Irishman, boxing for the 39th time as a pro improved his own record to 35-3-1 after winning the cagey bout.
"It's always good to come back to New York and it's always a pleasure to fight here," said Lee following his fourth victory at the Garden. "It took me a while to get going but he was a tough and awkward opponent.
"He stayed in his shell and he wouldn't really open up and I could see he was very wary of my right hook," he continued.
He was protecting that side all the time, but it took me a while to get into it. Around rounds four, five and six (I was) good… and then towards the end I knew he kind of just wanted to coast and try to go the distance."
"Yeah, I think there was a bit of ring rust, but I was just getting back into it," added Lee, who took over year out following a points loss to Saunders – now a stablemate under trainer Adam Booth.
"It's been a long time. I've been completely out of boxing for a year, I was at home (in Ireland) and I wasn't in the gym, but it's good to be back and I think the rounds will stand to me more than if I had finished him in a round.
Lee says he plans on fighting for at least another year in the hope of booking a title shot with Golovkin's name mentioned by the Limerick man ahead of the Kazakh's main event meeting with Jacobs.
Golovkin, who has also been linked to a bout against Saunders, claimed a unanimous-decision win in the headliner.