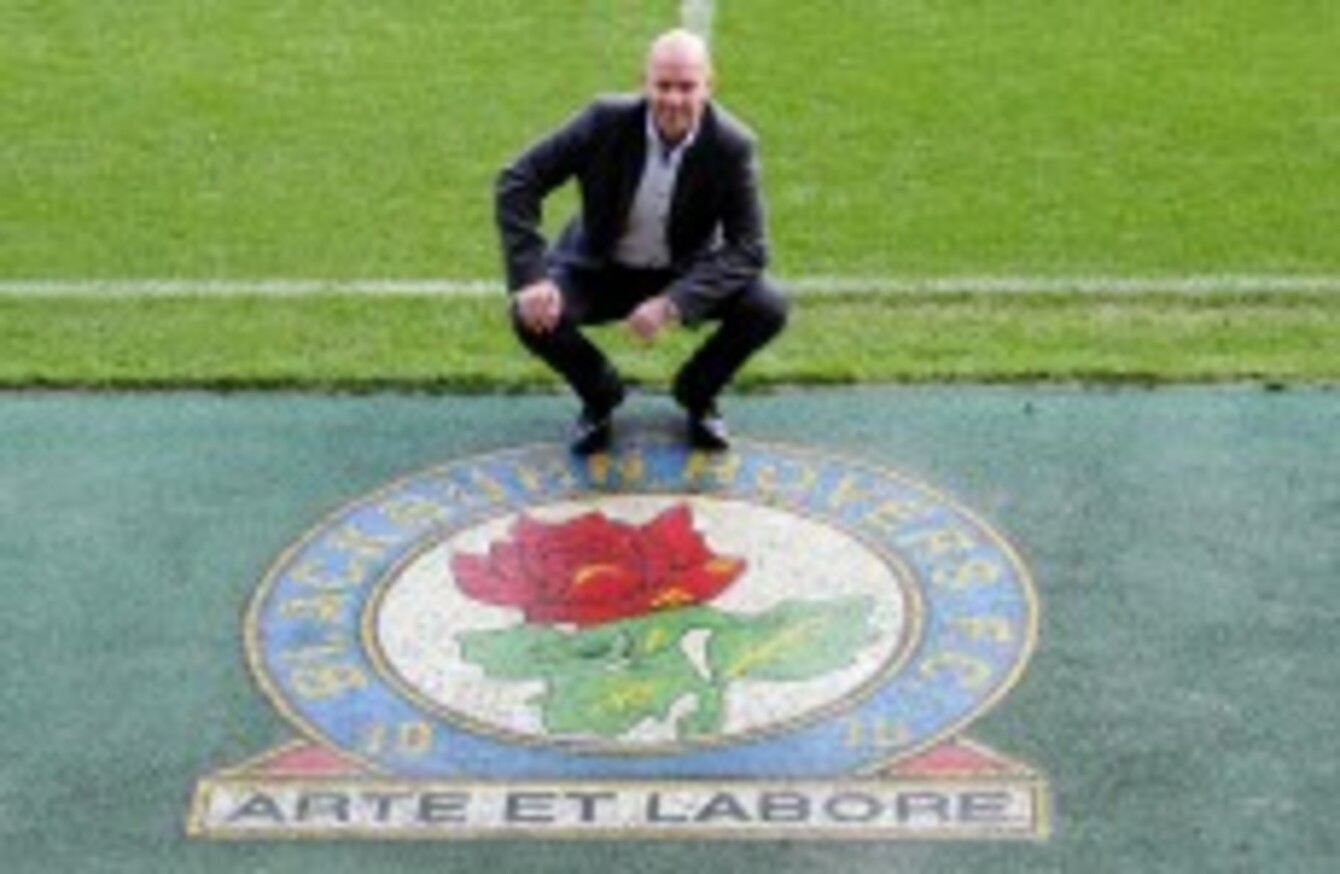 Berg at Ewood Park today.
Image: JON SUPER/AP/Press Association Images
Berg at Ewood Park today.
Image: JON SUPER/AP/Press Association Images
HENING BERG TRIED to play down his once critical remarks of Blackburn Rovers' India-based owners following his appointment as the English second-tier club's manager.
Former Norway defender Berg, who won the Premier League and League Cup during two spells as a Rovers player, gave his first press conferences as Blackburn boss today, having been announced as Steve Kean's replacement yesterday.
While working as a pundit for Norwegian television, Berg slammed Venky's, the Indian poultry firm that owns Blackburn, when, following the club's relegation from the Premier League last season, he was quoted as saying: "There are no real managers with credibility who would accept a job like that."
However, the 43-year-old former Lyn Oslo and Lillestrom manager distanced himself from those remarks today and said he was happy to work with the club's controversial global advisor Shebby Singh.
"That was me looking at it from the outside without knowing really what was going on on the inside," Berg told an Ewood Park news conference.
"It is always easy to criticise when you're on the outside. Now I've spoken to the owners, I know what the club has done in the summer which is after what has been said earlier. They've been making many important steps to take this club forward again.
"I think this club at the moment is going in the right direction and I think there are a lot of people doing a good job making sure that we can get back into the Premier League."
Kean, a hate figure to many Rovers' fans, resigned as head coach last month after 21 months in charge, with Eric Black taking over on a caretaker basis. But for all Kean's unpopularity and the uncertainty surrounding the identity of their next full-time boss, Blackburn are currently fifth in the table heading into Saturday's match at Crystal Palace.
And that means Berg, who also played for Manchester United, has arrived at Ewood Park with a Blackburn return to the Premier League at the first attempt still on the cards.
Blackburn's new manager Henning Berg, right, answers questions as he sits alongside the club's global advisor Shebby Singh. (AP Photo/Jon Super)
Meanwhile Singh made no secret that promotion was the goal.
"Henning fully understands the responsibility that he's taking on," he said. "He was a very, very successful player at this club and he fully understands the ambition.
"He realises the size of the task that he's taken and is willing to take – promotion."
Berg himself had no problem with that ambition, saying: "That's the way it should be. A club of our size and our history and our qualities should always be aiming to get back into the Premier League, play there regularly and do well there.
"That is our aim, that is our goal to get back in and we will do everything we can to do that."
As for Berg's once critical comments, Singh added: "We never gave that any consideration. Yes, in a previous job things can be said but I think he understands my bosses and my bosses understand now where he's coming from.
"He's our man now, he's with us and together we want to achieve for this club."