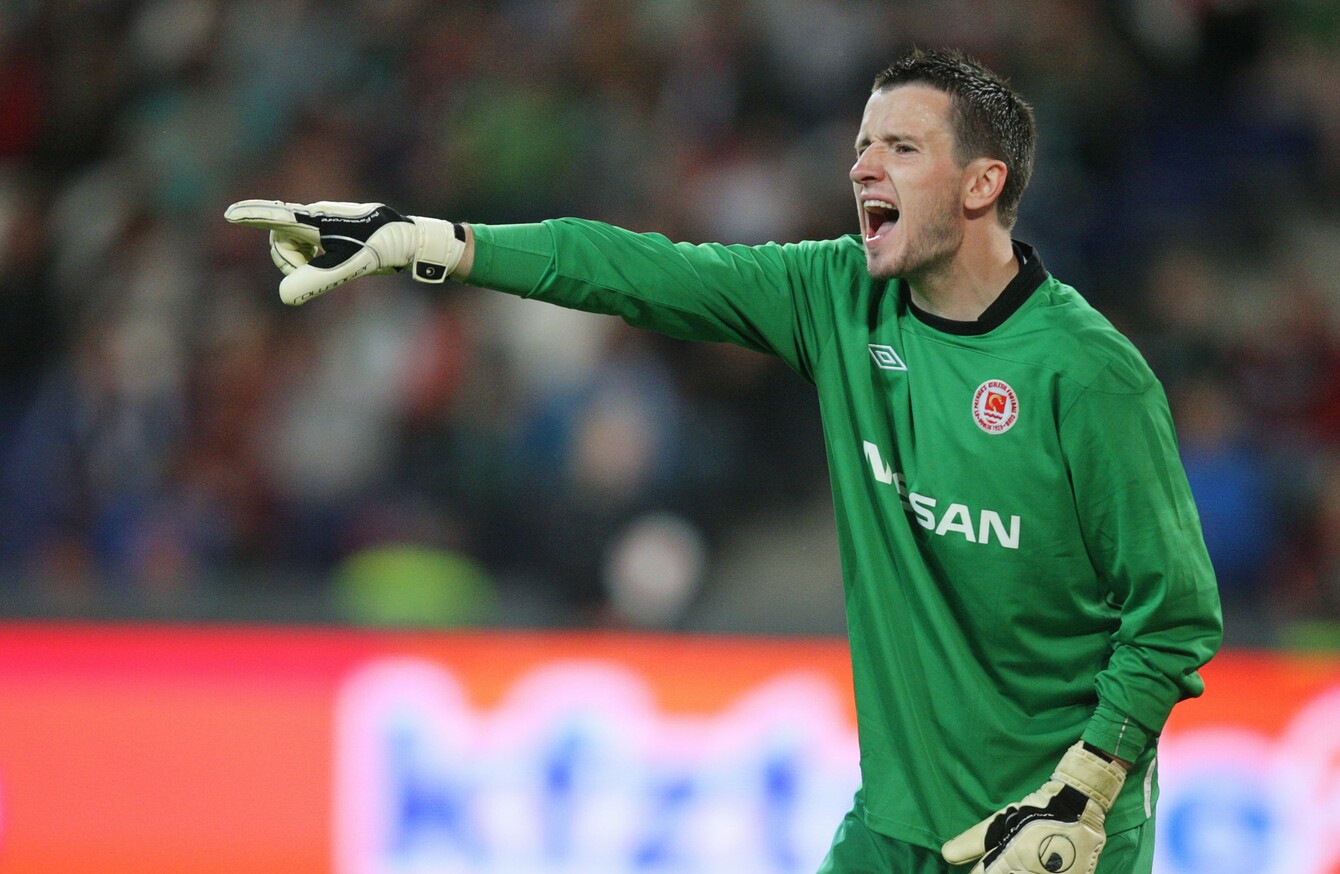 Image: Torsten Helmke
Image: Torsten Helmke
"MY PHONE WAS hopping!", explains Brendan Clarke wildly.
It is 5 July 2014 and the goalkeeper is sitting on his couch relaxing with a boxset. "I wasn't even watching the match", he says. "I was watching a series with my wife and my phone starts melting, vibrating like crazy and Twitter is going mental."
Unbeknownst to Clarke, in the Arena Fonte Nova in Salvador, Brazil, the quarter finals of the World Cup are ongoing, extra time coming to a close with nothing between Holland and Costa Rica.
With the scores tied at 0-0, penalties is a guaranteed certainty as the clock runs down.
Using all the philosophical genius of a madman, manager Louis van Gaal summons Tim Krul from his position on the bench and substitutes him on in the 121st minute for goalkeeper Casper Cillessen.
Krul makes two decisive penalty saves as Holland win 4-3 on spot kicks to secure their passage into the semi-finals, with Van Gaal deemed a genius for his tactical switch.
It was remarkable – bringing on your substitute goalkeeper in the dying seconds of extra time in the quarter finals of the World Cup for the sole purpose of a penalty shoot-out. Surely nothing like it had ever been witnessed in football before?
Only it had. But unlike the heroics of Krul, Brendan Clarke was the Jasper Cillessen in this scenario — three years previous. It is the 2011 FAI Cup final and penalties is on the cards as nothing can separate Sligo Rovers and Shelbourne in the Aviva Stadium.
In the 119th minute with the scores level at 1-1 Clarke is brought off with 31-year-old Ciaran Kelly taking his place. Kelly saves brilliantly from Kevin Dawson and Colm James in the shootout before Raffaele Cretaro slots home the winning spot-kick as Sligo win back-to-back FAI Cups and the champagne begins to flow.
Manager Paul Cook's plan had worked, but Clarke was none the wiser before the game kicked off.
Paul Cook had his fishing rod out, caught a big one and pulled him off – that's what happened!", he laughs. "I'm sure he had a plan in his head but he didn't tell me. He made the decision on the day and it worked for him."
Twitter was quick to spot the similarities between Van Gaal and Cook.
"I was getting all these notifications saying, 'Poor Bren Clarke will be watching this!' So I switched over and saw he had taken Jasper Cillessen off for Tim Krul. It's just one of those things, it goes down in history as a stroke of genius from Paul Cook's point of view."
Clarke has seen it all in the League of Ireland. The 31-year-old is settling into life in Limerick having left St. Pat's at the end of last season. He is enjoying life out west but admits it can be difficult not seeing his wife and five-year-old son Zac on a day-to-day basis.
It's tough", he sighs. "You do miss things and you are relying on video calls with the little man checking in on how they are. It's a job at the end of the day and my family understand that."
His family travel down to the Markets Field for home games and Clarke admits they make a weekend out of it. "I don't think Zac has missed a home game all season", he says. "He just turned five at the end of April so he's really got the football bug. He loves his trips down."
Clarke made his League of Ireland debut at just 17 for St. Pat's. Indeed when he was not much older than his own son he was travelling the length and breadth of the country to support his boyhood club as a proud Inchicore local alongside his father.
"You were always dreaming of playing out there on the pitch, especially back in the day when you had thousands at the games. You'd stand in the Camac End and then move down to the Shed End when Pat's were attacking. You'd love to be out there playing, and I'm one of the lucky ones that managed to do it.
"I wasn't really mad on English football at the time. You'd still watch Match of the Day but that's just because you were a kid and you liked to watch footballers scoring goals. I was always a preacher of the League of Ireland.
It's a small community and you end up getting laughed at a lot. People would be asking 'who do you support?, you'd say Pat's and they'd say, 'no, but who do you really support?'"
It was nothing less than a dream realised to turn out for his boyhood club, signing his first contract while still a teenager under Eamon Collins and Pat Dolan in 2002 having previously played as Cherry Orchard.
He remembers all the names of the golden days. Campbell, Osam, Croly, Molloy and a special mention for Trevor Wood in goal. He was down in Kilkenny at 12-years-old when Liam Buckley led Pat's to the title on the final day of the 1998 season in dramatic fashion, Eddie Gormley's winner prompting a pitch invasion, he recalls.
But even though it was the dream come true, local lad come good for his boyhood club, Clarke admits some degree of regret at passing up other opportunities at a young age.
In hindsight it was probably the wrong decision for me to sign because I turned down a couple of scholarships to America", he explains. "I turned down another scholarship to UCD because as soon as Pat's came calling it was pretty much a decision made.
"It was probably one of the biggest regrets I have now looking back. I think sometimes that I should have went to the States or to UCD to get that third level education."
Signing in 2002 Clarke was starting matches as a teenager and made 42 appearances as St Pat's finished no higher than runners-up — twice — before being loaned out to Sporting Fingal for the second half of the 2008 season.
But a return to St Pat's shortly after brought with it the worst period of his professional career. With Johnny McDonnell dismissed as manager Jeff Kenna took his place in charge having kept Galway up on the final day of the 2008 season, proving to be a fan favourite at Eamonn Deacy Park.
"Johnny ended up leaving the club and Jeff Kenna came in with Gary Rodgers who signed from Galway. You just get managers that just don't take to you and I don't think Jeff took to me from day one.
"We had a lot of big names in the dressing room and Jeff had come from a Galway side that were young and hungry and only survived relegation on the last day. Jeff came in to a club where there were lads on thousands of euro a week and I just don't think he could handle the big names and the big characters.
We had a poor season, I think I should have played a lot more that year. I had many arguments with the manager and tried to force a move out of the club in July. It's funny because I signed for the club as a fan but pretty sharpish that goes away and you're there and that's your job – that entire mentality takes over."
Kenna proved immensely unpopular amongst players and supporters at the club, with Clarke riding the bench as animosity grew with a relegation battle encapsulating the club. Not even a run to the fourth round of the Europa League qualifying rounds could mask the cracks that were spreading at Richmond Park.
"I hated it that year" says Clarke. "I really didn't enjoy it at all to be honest. At that point you're nearly thinking of jacking the whole thing in and getting a job somewhere else. You have to be happy in work no matter where it is.
"I didn't like him as a man, I didn't like him as a manager, I didn't like how he spoke to me, how he treated me. I'd end up playing outfield in training and Jody Byrne the goalkeeping coach would be in goal.
And you're looking at Jeff thinking, 'How am I meant to impress you here and get in the team if you're playing me right wing in training? Are you going to play me right wing at the weekend?' I knew at the end of 2009 that it was time to move on."
Now 25, Clarke knew his future lay elsewhere beyond Richmond Park and linked up with Liam Buckley at Sporting Fingal following a positive experience while on loan the season before. A manager he would follow on more than one occasion, Clarke reserves nothing but praise for the current St. Pat's boss.
"He is a manager that gives you the freedom to go out onto the football pitch and express yourself.
He understands that mistakes happen in football and if you did make a mistake he'd pull you in, throw his arm around you and reassure you. He'd said, 'Listen don't worry about it, things happen' and then he would tell you how many chances he missed as a forward back in his playing days."
Fingal had gained promotion from the First Division in 2009 and had also secured a remarkable FAI Cup triumph over Sligo Rovers the same season.
However financial difficulties where the club failed to pay players' wages at the beginning of 2011 subsequently prevented Fingal from applying for their Premier Division license. Clarke, like the rest of the Fingal squad were stranded without a club with weeks until the 2011 season began.
"I think everyone did feel stranded at that point because we had already started pre-season. It's February and you're stuck without a club and you're thinking, 'How I am going to pay the mortgage?'"
Fate came calling for Clarke while en route to the Aviva Stadium in early 2011. He was to take part in a half-time penalty competition during a Carling Nations Cup game at Lansdowne Road when an incoming call from Sligo manager Paul Cook flashed on his mobile.
It was mad. The day Fingal folded I had told someone I would help them out with a penalty shootout at half time in one of the Carling Nations Cup games. I was on the way to the Aviva and I get a phone call from Paul Cook who wants me to come down and train in Sligo.
"It was crazy. You're there saving penalties at the Aviva Stadium thinking, 'I'm out of work here'.
It was kind of a snap decision because my wife was pregnant at the time. I'm lucky that she understands how football works, so it was just a case of get yourself down there and get yourself a contact."
Sligo finished runners-up to Michael O'Neill's Shamrock Rovers but found consolation in the FAI Cup, their second in a row, with Clarke playing all 119 minutes before being taken off for the all-decisive penalty shoot-out.
It was at Sligo that Clarke came across a sprightly winger called Daryl Horgan. A Galway native, the teenaged Horgan impressed while on trial and signed his first League of Ireland contract under Cook having previously played at Salthill Devon.
"The club had rented a house which I lived in with Alan Kirby and Daryl Horgan who was 17 or 18 at the time. He was full time with us until he went on loan to Cork in the window", says Clarke.
Now knocking on Martin O'Neill's door for a starting position in the national team ahead of next summer's World Cup in Russia, what was Horgan like as a roommate six years ago?
"Messy", says Clarke. "Very messy. I think he is a dad now so I assume that has all changed. But I have to say what a player he was. Such a professional.
"We were staying in a local place in Sligo called Riverstown where there is a pitch where the goals are always up with nets. One day out of nowhere Daryl walks up with a bag of five or six footballs he was after buying.
"He turned to us and said, 'See ya lads, I'm just heading down to the pitch for an hour', and he would go off out and you wouldn't see him. He would come back about three and a half hours later.
He would just be training on his own. I would go down the odd time with him and he would be getting balls out of his feet, crossing into the box, going around cones and getting shots off. It's no coincidence that he's kicked on in his career and done so fantastic.
"There are too many kids these days who have the ability to do well but they don't have the attitude and the application to come in and work hard. A lot of kids nowadays want everything handed to them and they aren't willing to put the hours in to make it happen for themselves.
Daryl was one of those players who really took his career by the scruff of the net and is reaping the rewards of it now."
Clarke returned to St Pat's the following season, but for the goalkeeper 2012 brings with it a haunting memory. A costly mistake but a life lesson learned, he explains, in a defining moment not just in own footballing career, but his life as a man and as a father to a young child.
With St Pat's 1-0 ahead in the FAI Cup final Clarke misplaced a pass inside his own box and then hauled down Derry City's Stephen McLaughlin before Rory Patterson slotted home the resulting penalty.
While Christy Fagan equalised late on for St Pat's, Derry would win it in extra time, with Clarke taking his mistake personally as a supporter who had grown up watching his club come up short in FAI Cup finals for decades.
"It made me a better goalkeeper," admits Clarke on the foul.
It made me a better person too in terms of dealing with disappointments. When you've got kids it's different. I had my son at the time and he was at the game in 2012. It's something that happens and it's about how you get over it. It proves what kind of a person you are.
"On the day it was in my head that the club had lost its last six cup finals since they last won it. I would say that I was a professional at that point but at the same time you grew up with all of this as a Pat's fan.
"You understood it more from the supporters' point of view – I was at Lansdowne Road for the 1996 Cup final when Pat's were beaten by Shels in the replay in Dalymount Park.
But when you have children you come home after a game on a Friday night and when you look your kid in the face, you can't be in a bad mood. You can't let it affect your family life. Having the little man was the best thing to ever happen to me for my footballing career in terms of dealing with disappointments."
But if that was the lowest of lows for Clarke and St Pat's it only served as motivational fuel for what was to follow. St Pat's would go on to lift the 2013 Premier Division title with the most goals scored and least conceded — the club's first title in since 1999.
"Just to be a part of the best team in the league and qualify for the Champions League was an amazing feeling. If I only win the league once in my career I'll die a happy man", he says.
Two years on from his devastating mistake in 2012, Clarke would also finally have his hands on the FAI Cup. His grandad Dessie Byrne played in the 1954 FAI Cup final when Pat's were beaten 1-0 by Drumcondra and had scored an own goal to decide it. His uncle Sean, too, was also beaten in 1974.
Clarke, like Pat's themselves who had not won the Cup in 53 years, felt personally cursed, only to have the sweetest of euphorias when Christy Fagan bagged a brace to defeat Derry and bring the Cup back to Inchicore following a half-century of unparalleled pain.
It's funny. The year we won the league if you had asked any Pat's fan, 'Listen next year do you want to win two leagues in a row or do you want to win the Cup?' Every one of them would have told you the Cup because of the heartbreak everyone at the club had been through."
Clarke stayed two more years at St Pat's, winning back-to-back EA Sports Cups before a painful phone call had to be endured. Liam Buckley was on the receiving end and Clarke had to tell the manager he had signed for all the way back in 2012 that he would not be signing a new deal.
"It was the hardest phone call I have ever had to make. Liam had offered me a contract and I had to ring him and say, 'Liam I'm going to go and sign for another club.'
He was really disappointed at the time but I've seen him a few times since and we still have a great relationship.
"People ask me had Liam not offered me a contract, but it wasn't about money – I've enough to pay my mortgage. It's a short career and from my point of view, I want to be enjoying my football."
Still just 31-years-old, with a league title, two FAI Cups, a SWAI Goalkeeper of the Year award, two EA Sports Cups, a League of Ireland clean sheets record and more in his back pocket, Clarke felt the need to move on. A player who had given his all for his boyhood club — twice — it was time for a new adventure and Limerick, he says, is fitting that bill.
"Given the amount of time I had spent at St Pat's, I didn't want the decision for me not being there to be taken by somebody else. I didn't want to go stale at the club, I didn't want people thinking I was just there to take a wage.
The facilities are second to none here in Limerick. The club was sold to me that they are really pushing to get into Europe and be challenging at the top end of the table. They aren't about just avoiding relegation anymore. I didn't come down here just to scrape to stay up."
Even now, away from Dublin and his wife and young son for much of the working week, Clarke's focus will always be on his family.
"Football is great", he says. "But for me it's always been family first and football second."
He admits he is a better footballer for it.
Predictions
Every week, we're giving readers the chance to take us on in predicting the Premier Division results. After Week 17, here are the standings:
The Readers: 48
The42: 46
Next up is Dan O'Donovan from Cork:
Bray Wanderers v Derry City – Derry win
Drogheda United v Dundalk – Dundalk win
St. Patrick's Athletic v Bohemians – St Pat's win
Cork City v Limerick – Cork win
Finn Harps v Shamrock Rovers – Shamrock Rovers win
Sligo Rovers v Galway United – Sligo Rovers win
The42 (Aaron Gallagher)
Bray Wanderers v Derry City – Draw
Drogheda United v Dundalk – Dundalk win
St. Patrick's Athletic v Bohemians – Draw
Cork City v Limerick – Cork win
Finn Harps v Shamrock Rovers – Shamrock Rovers win
Sligo Rovers v Galway United – Galway United win
The42 is on Instagram! Tap the button below on your phone to follow us!