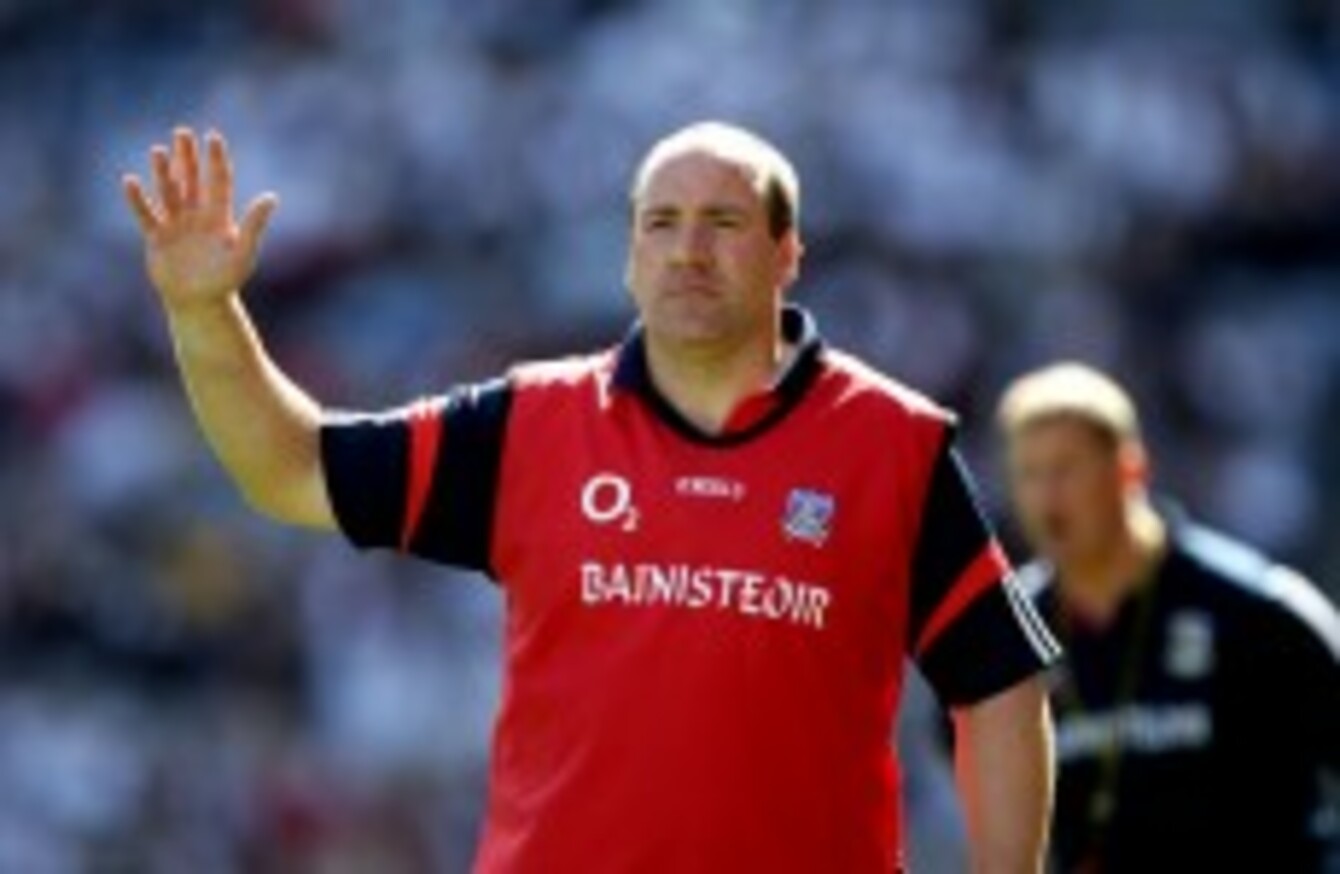 Cork boss Brian Cuthbert.
Image: INPHO/Cathal Noonan
Cork boss Brian Cuthbert.
Image: INPHO/Cathal Noonan
NEW CORK FOOTBALL boss Brian Cuthbert hopes to finalize his back room team as soon as possible.
Cuthbert was ratified for a two-year term to succeed Conor Counihan at a Cork county board meeting last night.
He is hoping to assemble his management team quickly and has also revealed to TheScore.ie today that the issue of dual players in the county is a 'bridge we will cross if it comes'.
"I'd be hoping to get the back room team sorted as soon as I can. I know people that I want to ask. There'll be no delay but I can't put a time frame on it.
"As regards dual players, there was a lot of speculation about some guys were training with the hurlers before the final recently. That was completely untrue and I sometimes think the rumor mill can run off out of control.
"In reality I've no control over who's on the hurling panel. If a guy wants to do that, I'd wish him all the best. If he wants to play both, that's a bridge we will cross if it comes. The question of accommodating players comes down to the two setups."
Cuthbert revealed he is not aware of any of Cork's long-serving players being set to call time on their inter-county careers.
"To be fair I haven't been speaking to any player at all and I'm not aware of them having any plans that way. It's a personal choice.
"Some players might have decided they've soldiered long and hard for Cork, and it's not for them any more. I'll sit down with all the players and we'll see then."
Brian Cuthbert at the 2012 GAA Games Development Conference
Pic: INPHO/Lorraine O'Sullivan
Delighted
38 year-old Cuthbert admitted he may not be a 'household name' but he feels he is equipped to take on a job that he regards as a privilege.
"I'm absolutely thrilled. This is the pinnacle in terms of coaching. To land it now is a privilege while I have a complete understanding that there's a big job ahead.
"I'm 38 years of age and I know I'm not coming from the pedigree of being a household name or a former Cork great. But I'd like to think I'm ready for the position.
"I learned a lot this year as a selector. It was a huge learning experience in how hard you have to prepare and how scientific it is. All those kind of things interest me hugely in trying to to create the right environment."
And Cuthbert believes Cork still have the capacity to challenge at the top in 2014.
"I think there's probably four or five teams equal enough. Dublin are the champions and when we played them, we didn't play that great but we still created a few goal chances that could have changed the game.
"On a given day, I think Cork are as good as anyone. I'd like to think there is young talent coming through. We gave maybe seven fellas their starting championship debut this year. There's a lot of good players in our county and I will give everyone a fair crack of the whip."