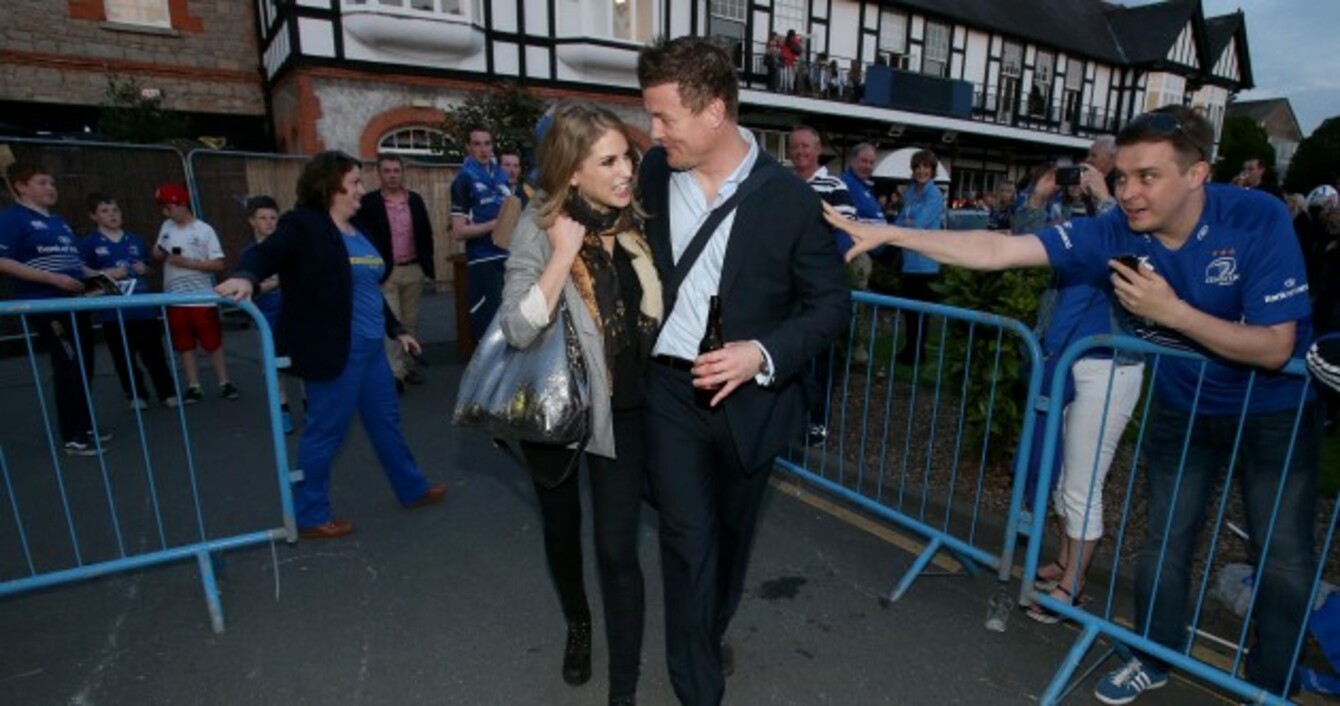 Brian O'Driscoll and his wife, Amy Huberman, leave the RDS.
Image: Dan Sheridan/INPHO
Brian O'Driscoll and his wife, Amy Huberman, leave the RDS.
Image: Dan Sheridan/INPHO
WE SAID GOODBYE to Brian O'Driscoll at the RDS this evening and it was short, and bittersweet. Here is the legendary centre's final playing season in quotes.
8 July: On giving his all in training with the Lions before the Third Test, despite the fact that he would not play in the series decider:
"It was a disappointment but it's the guys that don't make the 23 that make or break the tour. You can't mouth words and then not live them when it's your turn."
3 September: O'Driscoll was on Newstalk, speaking about the unknown variables of playing rugby when the collisions are getting bigger and studies into their impact is only beginning:
"It's something to be very mindful of. It can't stop us from living our lives the way we are. Someone has to be the guinea pigs and I guess we are."
5 September: A chat with former Leinster and Ireland teammate Shane Horgan revealed there was residual hurt there following his axing from the Lions team.
"Do I resent [Warren Gatland]. Yeah, there's resentment of course. Is he on the Christmas card list? Unlikely."
27 September: The centre returned to tear Cardiff Blues asunder in a Pro12 win at the RDS. Coach Matt O'Connor declared:
"He was brilliant. Some of his touches were sublime. He has certainly [proved] all of those people that thought he might not have been as valuable as he has previously been wrong."
19 October: He set a lofty target list on his Late Late Show appearance, during which he remarked that he did not want a long goodbye.
"I get one more crack at the All Blacks and, please God, [Ireland coach] Joe Schmidt will think of me in terms of selection… No Irish team, no national team, has ever beaten them."
14 November: Paul O'Connell made this wry observation after his Ireland teammate, upon receiving a DCU doctorate, was now Dr Brian O'Driscoll.
"No-one contradicts Brian. What he says, goes."
15 November: Showing his comedic side in an O2 advert.
"Totes amazeballs… I'm not saying that."
20 November: The All Blacks game was drawing near and O'Driscoll sensed a shock was on the cards [It wasn't, Ireland lost 24-22].
"Like all sides, you can catch them on and off day and you can have a great day yourself. It is possible and it happens in sport the whole time. Granted, it hasn't happened for us against the All Blacks, but it happens."
7 December: O'Driscoll got over the hurt of that heart-breaking Test loss to inspire Leinster to a Heineken Cup win over Northampton. Sky Sports named him man-of-the-match. It would be the first of many personal accolades that left him bemused.
"Listen, I had fun today. I have yet to finish 80 minutes this season. They're looking after the old guy, but I'm enjoying it and it's only my second game in blue this year. I love playing for this team."
28 January: The centre reported for Six Nations duty at Carton House and remarked that he was 'ready to empty the tank' for Ireland. As for another Six Nations winners' medal…

"You'd think that, most years, a Grand Slam winner is unlikely. It's a bloody hard thing to do. Because of the calibre [of teams] and how the games are all so close now."
11 February: Jamie Heaslip was at his mischievous best as he suggested O'Driscoll might stick around for one more year.
"There might be a chance of one more year again at the end of the season. You never know."
3 March: He spoke about his midfield partnership with Gordon D'Arcy ahead of the Italy game.
"Whereas with us – not that there's an element of telepathy – there's an understanding that I don't have with other people. I can see, having been in the situation lots of times with him, what he's thinking."
4 March: He was in reflective mood ahead of his final game at Lansdowne Road, against the Italians.
"[I would like to be remembered] as a team player, someone that was about winning as a collective. That's why I think we play a team sport, because we enjoy that camaraderie of winning and sharing the disappointment of defeat."
9 March: O'Driscoll set up three Ireland tries as they swept Italy aside to set up a Six Nations decider in Paris. Jack McGrath, who scored a try, was happy to have played a role in the first of many farewells.
"It's a pleasure to have been part of it. I don't think there has been anyone like that in Irish sport."
10 March: Thoughts immediately turned to an away win over France that would give 'Drico' a trophy-winning send-0ff. Chris Henry, though, reflected on the huge reception his teammate got as he left the pitch in the Italy game.
"It is crazy to think how many young kids he has inspired. I remember watching him when I was young and I feel very privileged to be able to play with him. It's a sad day, of course, but it is also a happy day. The noise level when he came off on 60 minutes, I have never heard noise like it. It was pretty awesome."
15 March: Things reached fever pitch ahead of the France game as US President Barack Obama doffed his cap to 13 at The White House.
"I'm especially grateful that they're here at a time when the rest of Ireland is focused on the final round of the Six Nations rugby tournament and the last match of the legendary Brian O'Driscoll."
15 March: Victory was stunningly, nerve-wrackingly achieved at Stade de France and Ireland were Six Nations champions. O'Driscoll tweeted this after the match:
16 March: Revelling in his second Six Nations title, O'Driscoll basked in the moment as he recalled a memorable ride.
"I've had so much fun over the last 15 years, and I feel very grateful to finish in this fantastic way."
6 May: Success did not follow in the Heineken Cup as Leinster fell to Toulon at the quarter final stage. Teammate Gordon D'Arcy wanted to win the Blues final three games to give O'Driscoll a league-winning consolation.
"Our natural skill-sets dovetail quite well and that trust that we've built up happened quite quickly and has lasted a long time. I've said this before but once you have that trust you can do quite well, you can cover and you can create a lot of stuff."
8 May: O'Driscoll spoke about his 'long goodbye' as he sat down for his final press conference before the Edinburgh league game.
"It doesn't bother me too much, I'd say everyone else is fed up of it… [Retirement] will be hard. That's why during the summer I plan on taking a few months completely off, just getting used to not being a rugby  player and seeing what it feels like to be totally out of a team environment."
31 May: He limped off after only eight minutes of his final game but his Leinster teammates went on to clinch him another league medal for his collection. They beat Glasgow Warriors 34-12 to win the Pro12 title. O'Driscoll said:
"I always said you can't plan anything in this game; what happens, happens and you've got to roll with the punches. It wasn't a good day for me in the end, only getting eight minutes, but this [the celebrations] is what it is all about."
As for the offloads, here is O'Driscoll at his best against the Italians to set up Jonny Sexton:
Source: RBS 6 Nations/YouTube