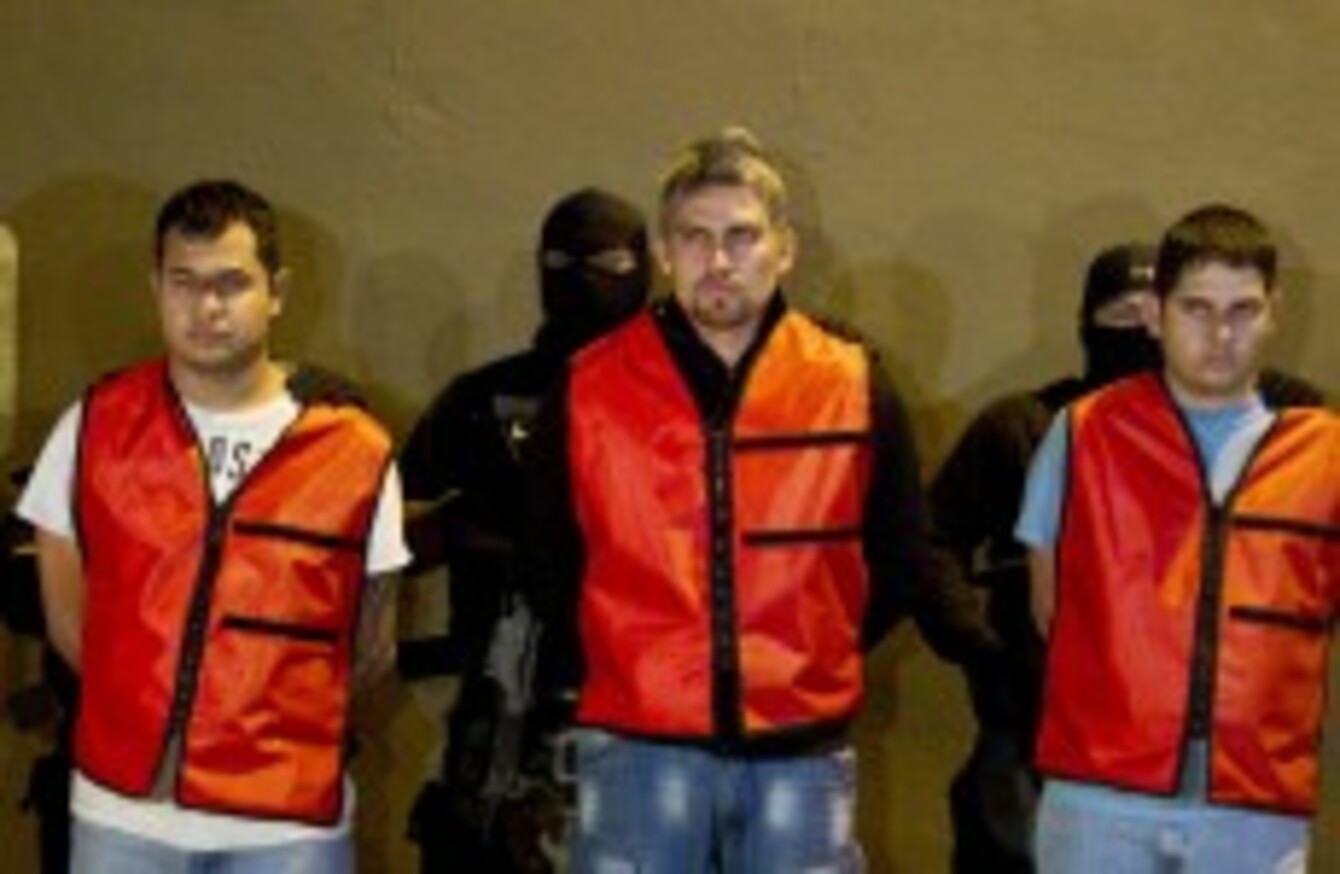 Ortiz (c) flanked by a couple of fellow suspects.
Image: ASSOCIATED PRESSAP
Ortiz (c) flanked by a couple of fellow suspects.
Image: ASSOCIATED PRESSAP
MEXICAN FIRST-DIVISION goalkeeper Omar "El Gato" Ortiz has been arrested for alleged participation in a kidnapping ring, police announced Saturday.
Ortiz, whose nickname means "The Cat," has been suspended from the league since testing positive for steroids in April 2010, when he was playing with the Rayados of Monterrey.
Jorge Domene, the security spokesman for Nuevo Leon state, where Monterrey is located, said Ortiz worked with a gang responsible for at least 20 kidnappings.
Domene said Ortiz's job was to select wealthy victims because he moved in the same social circles.
The gang's victims allegedly included the husband of pop singer Gloria Trevi. Trevi has avoided commenting on the abduction, which reportedly occurred in October, but comments by Domene and state Attorney General Adrian de la Garza appeared to confirm that kidnapping. Her husband was apparently quickly freed.
The officials said Ortiz and three alleged accomplices were arrested earlier this week. They appeared to have no lawyer of record.
Ortiz is alleged to have become active in kidnappings that occurred in the second half of 2011. The gang allegedly demanded around 1 million pesos ($72,000) for the release of each victim.
Some local media in Monterrey had speculated that Ortiz himself had been abducted after he disappeared from view Wednesday. But prosecutors said he had been arrested at his home in a Monterrey suburb that day after two kidnapping suspects were detained Monday and implicated him in the crimes.
Prosecutors said that the suspects confessed to the abductions and that four criminal complaints had been filed against the gang. If convicted, Ortiz and the others could face prison sentences of up to 50 years.
– AP