Liveblog
Here's how the teams will line out:
Monaghan
1. Rory Beggan (Scotstown)
2. Fintan Kelly (Clones)
3. Drew Wylie (Ballybay Pearse Brothers)
4. Ryan Wylie (Ballybay Pearse Brothers)
5. Dessie Mone (Clontibret)
6. Colin Walshe (Doohamlet O'Neills)
7. Karl O'Connell (Tyholland)
8. Kieran Hughes (Scotstown)
9. Neil McAdam (Monaghan Harps)
10. Gavin Doogan (Magheracloone)
11. Dermot Malone (Castleblayney Faughs)
12. Shane Carey (Scotstown)
13. Owen Duffy (Latton)
14. Jack McCarron (Currin)
15. Conor McManus (Clontibret O'Neills)
Carlow
One late change for Monaghan, Darren Hughes is in for Dessie Mone.
Cormac Reilly from Meath is the referee of today's game. Monaghan won the toss and will play with a strong breeze at their backs.
Carlow 0-1 Monaghan 0-0
3 mins – Paul Broderick's free gives Carlow the perfect start.
Carlow have set-up very defensively and they're putting 14 men behind the ball in an attempt to stifle Monaghan.
Ciaran Moran receives a yellow for Carlow.
Carlow 0-1 Monaghan 0-1
7 mins – Conor McManus, starting his 43rd championship game, ties us up after seven minutes with a free.
Monaghan are pushing right up on the Carlow kickouts and forcing them to go long.
Carlow 0-1 Monaghan 0-2
9 mins – Kieran Hughes lands a lovely effort from outside the left.
Jack McCarron and Owen Duffy hit successive wides for the Farney. Monaghan are yet to find the rythym up front, but Carlow don't look particularly dangerous at the far end.
Brendan Murphy hits Carlow's first wide. At the far end McCarron kicks his second wide.
Carlow 0-2 Monaghan 0-3
19 mins – Broderick converts his second free. Monaghan immediately retake the lead through McManus.
Carlow 0-3 Monaghan 0-3
25 mins – A Monaghan move is turned over and Carlow work the ball upfield before Brendan Murphy curls over.
Carlow 0-3 Monaghan 0-4
27 mins – McManus strokes over another free as the Farney edge back in front.
Sean Murphy goes down after a massive hit by Drew Wylie. That was an old-school hit by Wylie as Murphy led a dangerous Carlow breakaway.
Murphy returns to the action as McManus puts the free wide. Monaghan have hit eight wides so far.
MISS! Sean Gannon fires a golden goal chance wide after a wonderful Carlow breakaway. That was a big opportunity.
Carlow 0-3 Monaghan 0-5
34 mins – Kieran Hughes gives the Farney some breathing space, that's his second.
Some snaps from the opening half: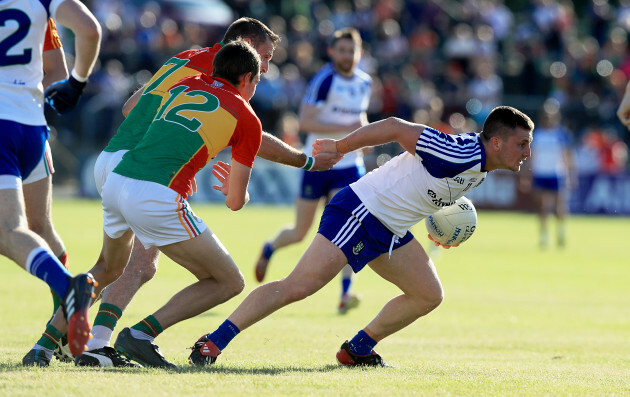 Source: Donall Farmer/INPHO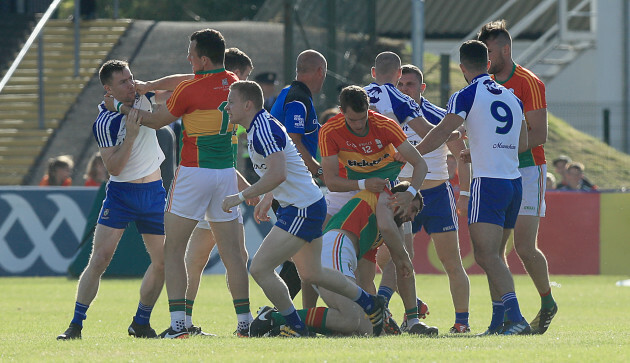 Source: Donall Farmer/INPHO
Flag
BLACK CARD! Monaghan's Darren Hughes is black carded!
We'll have three minutes of stoppage time.
Hughes was apparently black carded for abusing the linesman.
Flag
Carlow 0-3 Monaghan 0-5 – HT
Carlow's defensive approach is working so far. They're really frustrated Monaghan, who kicked eight wides in a wind-assisted first-half. With the wind at their backs for the second period, Carlow should be able to pick off scores from further out. On the other hand, playing against the wind may well suit Monaghan's running game.
The problem for Carlow is getting enough scores to really trouble Monaghan. They've scored just once from play – Brendan Murphy's point – but Sean Gannon missed a glorious goal chance before the break.
The half-time stats: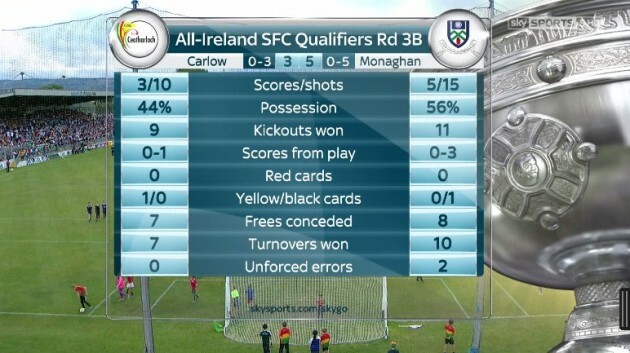 The attendance in Netwatch Cullen Park this evening is 6,124. The second-half is back underway.
Colin Walshe is yellow-carded.
Carlow 0-4 Monaghan 0-5 
37 mins – Paul Broderick nails a sublime free from well outside the 45.
Carlow 0-5 Monaghan 0-5
40 mins – Brendan Murphy bombs down the middle and levels up the game.
WIDE! Dessie Mone sends a terrible effort well wide.
Conor McCarthy comes in for Jack McCarron.
Darragh Foley went close from a long-range effort.
Carlow 0-5 Monaghan 0-6
47 mins – Shane Carey digs out a really important effort for Monaghan. That's their first of the second-half.
Flag
GOAL! Gary Kelly hits the net for Carlow! They lead by two!
Carlow 1-5 Monaghan 0-6
49 mins – Foley's free dropped short and the ball landed in front of Kelly, who smashed the ball into the net.
Carlow 1-5 Monaghan 0-7
50 mins – McCarthy opens his account with a free to bring Monaghan to within one.
Ryan McAnespie comes in for Owen Duffy on the Monaghan side.
Carlow 1-6 Monaghan 0-7
54 mins – Brendan Murphy uses his brain and brawn to win a free up front on his own. Broderick applies the finish from the free.
Carlow 1-6 Monaghan 0-8
55 mins – McCarthy scores his second point since coming off the bench. Four touches, two shots, two points. Not a bad return.
Carlow 1-6 Monaghan 0-8
57 mins – McCarthy hits Monaghan's 12th wide from a free in the corner. That was a tough angle.
Vinny Corey is in for Neil McAdam.
Carlow 1-6 Monaghan 0-9
59 mins – Kieran Hughes wins a free and Rory Beggan sends over the free from just inside the 45. Very important kick by the goalkeeper. We're all level for the fifth time.
Have Carlow the fitness to stick with Monaghan down the stretch?
Carlow 1-6 Monaghan 0-9
62 mins – McCarthy draws a free but Beggan kicks the free wide.
Carlow 1-6 Monaghan 0-10
65 mins – McAnespie eases Monaghan back in front with five minutes to go. Great run forward by Drew Wylie there.
Flag
GOAL! Fintan Kelly hits a crucial late goal for Monaghan!
Carlow 1-6 Monaghan 1-10
68 mins – Monaghan's lead is four as McManus hits a free wide. He hasn't been firing today.
Carlow 1-7 Monaghan 1-10
70 mins – Broderick's fifth score leaves a goal between the sides.
Carlow 1-7 Monaghan 1-11
72 mins – Kieran Hughes lands a fine effort. That's surely job done now.
Carlow 1-7 Monaghan 1-12
74 mins – Dermot Malone puts some gloss on the score.
Carlow 1-7 Monaghan 1-12 – HT
Carlow's fairytale season comes to an end. Monaghan are into the last 12 of the All-Ireland series.
Contribute to this story: