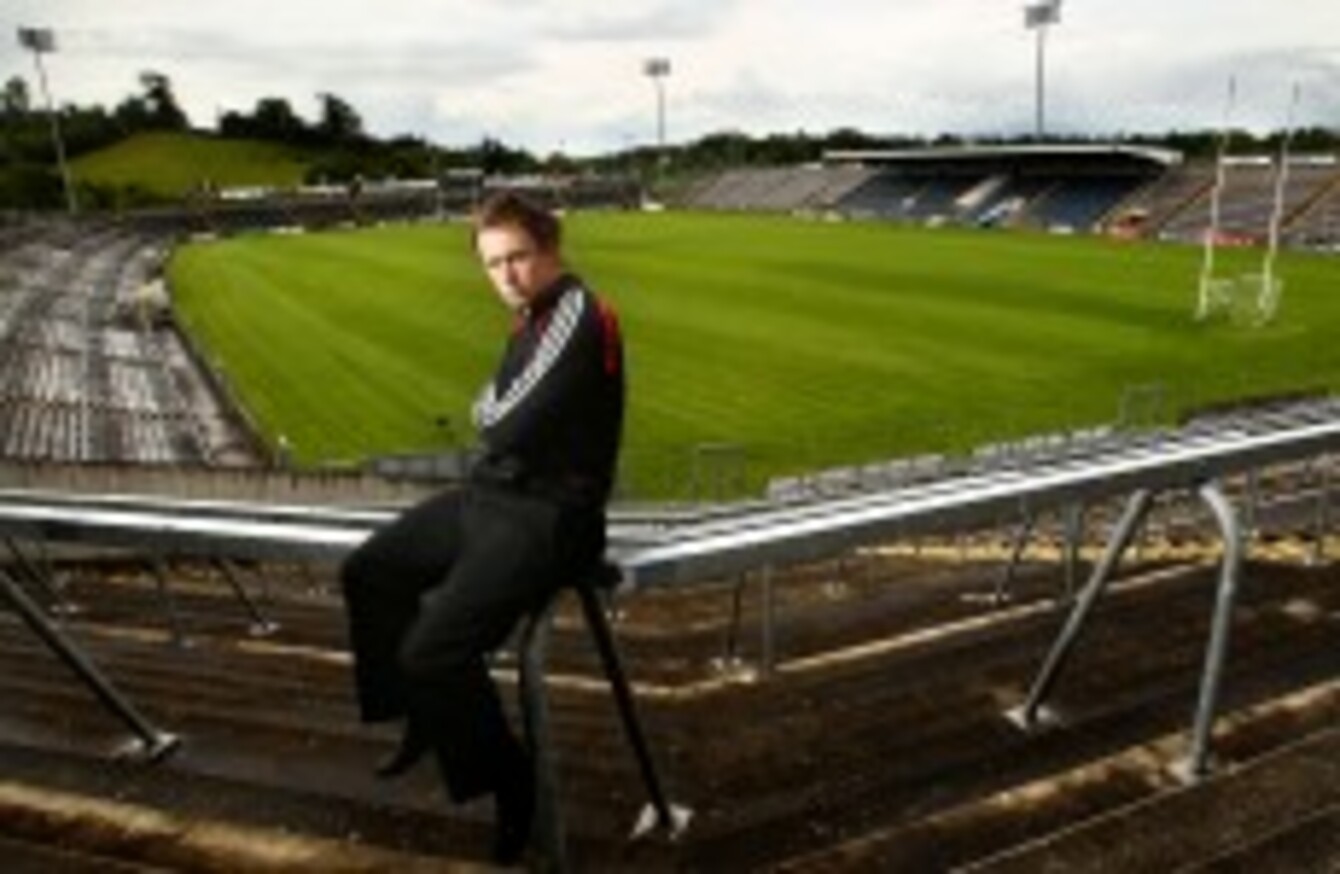 Seanie Johnston pictured at Kingspan Breffni Park last year.
Image: INPHO/James Crombie
Seanie Johnston pictured at Kingspan Breffni Park last year.
Image: INPHO/James Crombie
CAVAN GAA CHIEFS are confident that their upcoming All-Ireland SFC qualifier round two tie against Kildare in Kingspan Breffni Park will pass off without incident despite the huge interest that is set to be created as a result of Kildare player Seanie Johnston potentially lining up against his native county.
This morning's qualifier draw on TV3′s Ireland AM programme pitted Cavan and Kildare together in a tie that is the clear standout fixture of the eight games that will take place on the weekend of July 14th-15th.
The Breffni county board's PRO Declan Woods told TheScore.ie this afternoon that they will follow their normal procedures for hosting a game at the Cavan town venue . Woods also outlined that they have a history of staging big games at the stadium and cited last summer's All-Ireland qualifier tie between Meath and Louth, a repeat of the 2010 infamous Leinster final, as an example of the successful arrangements that are put in place.
"We understand that there's going to be greater interest in this game and it could bring a few more supporters and media representatives. But we don't envisage doing anything different in organising everything before the match. We're very proud of Kingspan Breffni Park as a venue. We've a track record of holding large games at the stadium like All-Ireland U21 final in 2010, this year's All-Ireland club final replay and the Meath and Louth qualifier last year which was a tense occasion. Nothing went wrong before and I don't think anything will now.
"We're just focusing on our normal arrangements as regards stewarding and policing the crowd that will attend the game. Ultimately we feel this is a great showcase for Kingspan Breffni Park. And we're just delighted to be involved in round two of the qualifiers. We've a young team but they've put in a phenomenal effort, as have the team management, and it was a great championship win for them against Fermanagh on Sunday."
Woods is also adamant that the protracted saga involving Johnston's transfer has not been a distraction for Cavan's preparations this season.
"It's been no distraction for our players. In their mind this all ended a long time ago when he left and moved on. After the joy of winning in Enniskillen on Sunday, the players went back and had their team meal where they discussed who they could get in the next round. Of course it was obvious to them that if they got Kildare, there would be huge interest in the game from outside. But it didn't really bother them if that was to transpire."
The capacity of Kingspan Breffni Park is 22,000 and it was an all-ticket affair for last year's high-profile game between Meath and Louth. But the critical difference was that game was a double-header with the qualifier tie between Cavan and Longford, and Woods revealed that it is up to GAA officials at a national level to determine whether the upcoming game with Kildare will be a ticket-only clash for supporters. The CCCC of the GAA are set to announce dates, times and venues for the eight second round qualifier ties tomorrow.
"It'll be a decision for the GAA to make about tickets. While Kildare and Cavan do both have traditionally big supporter numbers when it comes to football championship games, I'm not sure we'll get a huge amount of neutrals because of the other qualifier games that will be on. Neighbouring counties like Leitrim, Roscommon, Westmeath and Monaghan are all in action in round two as well so our game could well be clashing with theirs."