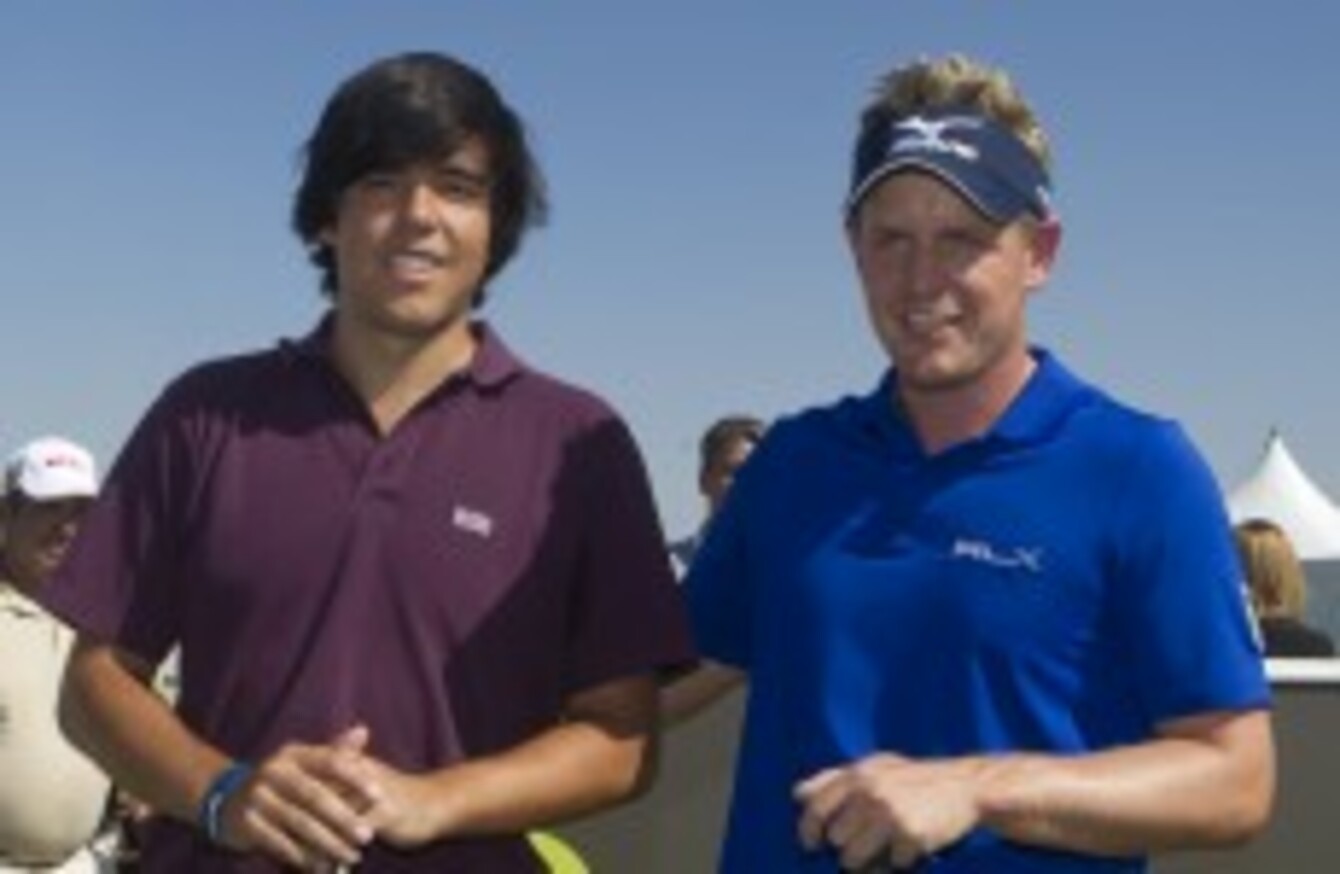 Javier Ballesteros with Luke Donald at a Pro-Am in Spain last year
Image: Paul White/AP/Press Association Images
Javier Ballesteros with Luke Donald at a Pro-Am in Spain last year
Image: Paul White/AP/Press Association Images
A GOLFING LEGACY has come full-circle today after Javier Ballesteros, son of Seve, makes his professional debut in Barcelona.
The 21-year-old law student has yet to make a decision on wheher to pursue golf as a full-time career but teed off at the Sant Cugat course after accepting an invitation to play in the Pro-Am.
Ballesteros explained that he 'was surrounded by golf at home' from an early age. He featured on Spanish national teams at the ages of 14 and 16. He added:
When I registered for the Peugeot Tour event, I didn't know that my father played his first professional tournament here and now that I know, it's double the excitement for me.
Javier's father was a giant of the golfing world. Severiano 'Seve' Ballesteros won 91 professional tournaments, including five major championships, and was involved in nine Ryder Cup wins.
Seve Ballesteros was diagnosed with a brain tumour in late 2008 and underwent significant chemotherapy before finally succumbing to the illness in May 2011.
Ballesteros in a familiar fist-pumping pose after his British Open win in 1984. (©INPHO/Getty Images)
Ballesteros junior is playing the Pro-Am section of the Spanish Peugeot Tour event with two-time European Tour winner Pablo Larrazábal.
His professional debut comes at a later stage of his golfing life than Seve, who debuted at the same course in 1974 at the age of 16. Ballesteros said:
I have no extra pressure being Seve's son, I don't really have anything to prove. I'm just going to be myself.
Ballesteros says he will finish university before looking closer at joining the professional circuit. He adds that completing his education was something that his parents had always impressed upon him.