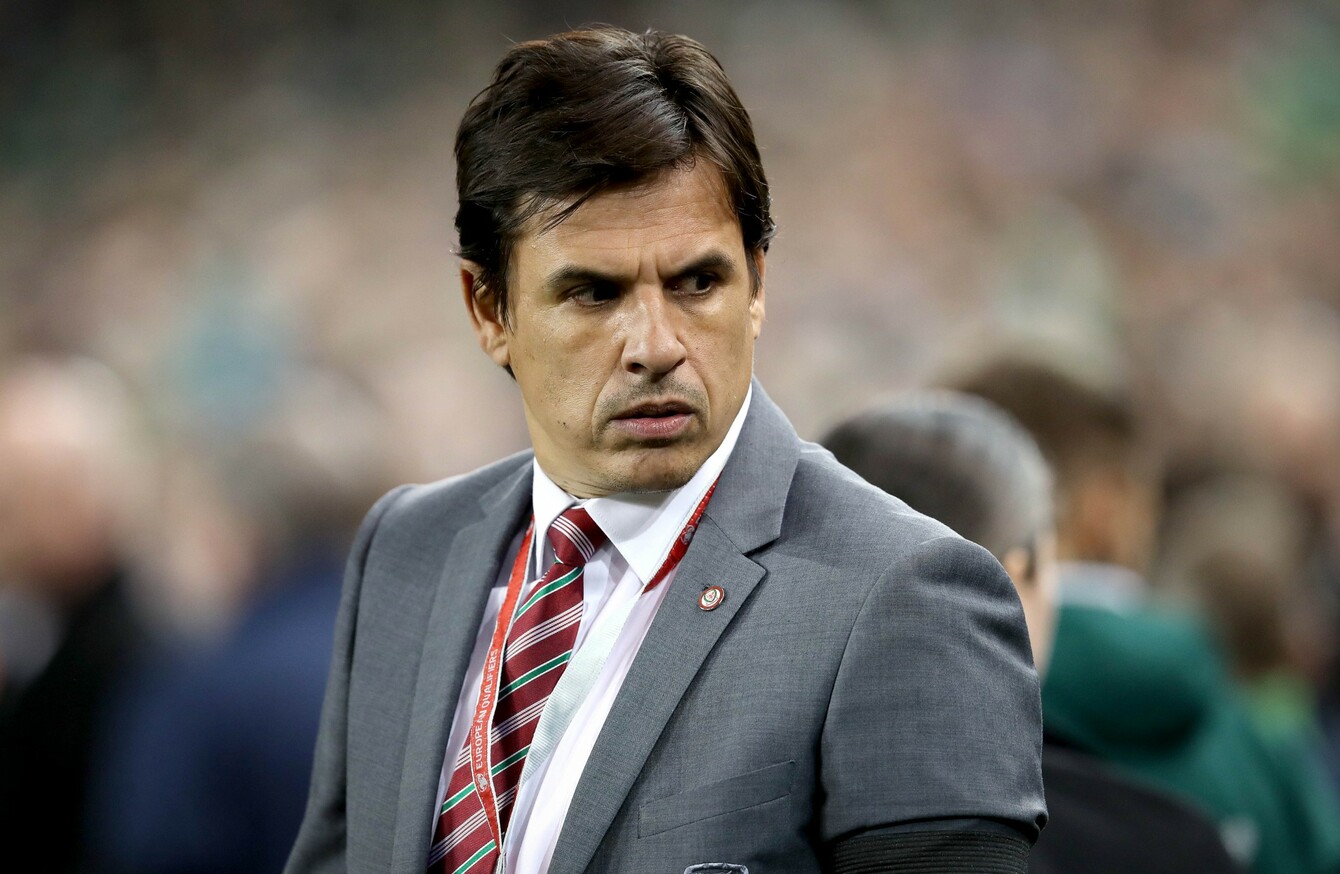 Image: Ryan Byrne/INPHO
Image: Ryan Byrne/INPHO
CHRIS COLEMAN EXPRESSED sympathy with Seamus Coleman, who suffered a suspected leg break, but also defended his players after some poor challenges in tonight's Ireland-Wales match.
Both Neil Taylor and Gareth Bale were heavily criticised for two poor tackles, but Coleman defended the character of the individuals in question.
"Sadly for Seamus, obviously, it looks like it's a bad one," the Wales boss said. "Neil Taylor is not that type of player. He's had a serious injury himself. He's a great boy, he's a cracking lad.
"I've not seen the challenge, but I've seen the outcome, if you like, and it's a bad one for Seamus, and that's a shame because he's someone I respect. He's one of the best full-backs in the Premier League, so I hope he's not out for too long.
"But yes, it looks like he [Taylor] has got that one wrong on our part. Again – I am not sitting on the fence – I have not seen it, I've only in real time when it happened and I didn't see a lot.
"I saw the reaction. I have seen a picture of the outcome, so my thoughts are with Seamus.
"Of course, Neil Taylor is devastated himself. It's not going to make Seamus feel any better, but Neil is not that type of player and he's pretty devastated about it."
The Wales boss also confirmed his player sought to apologise to the stricken Everton star after the game.
"I'm not sure if Seamus was there, but Neil went at the end of the game across to where the Republic's home changing room is. I think he was looking for Seamus and I'm not sure he got hold of him, but he went over, yes.
In a game like that, it's a typical British derby game. There's needle all the way through it. There's no excuse for a bad challenge, but there was needle all the way through the game.
"If the ball is there to be won, you have got to go for it. Until I see that again, I can answer your question a bit better. But I don't want to see players having serious injuries, that's not what football is all about.
Football is a contact sport, but nobody should have a serious injury. If I see it again and it is a real bad one from Neil, it's a surprise, he's not that type of boy because he's been there himself with a bad injury and I just hope Seamus is going to be back sooner rather than later.
"But no, I never said to Neil, 'What were you thinking?'"
The visiting coach also played down suggestions that Gareth Bale deserved a red card for his challenge on John O'Shea, moments before the Taylor incident.
"In your view do you think one or two of yours were lucky to stay on the pitch? Because there was a little bit of both, I thought. Your boys are not coming off with halos on their heads. It was going on all through the game.
I'm not complaining, it was a typical British game of football. You don't want to see anybody getting sent off, but there were one or two complaints from our boys when your boys were a little bit late here and there, and some of our boys were as well.
"He [Bale] got the yellow card from a cross, the referee thought he was late. Again when I'm looking at it, I thought he had to go for it.
"He's travelling at a great speed, he's got to go for it, he gets a yellow card and he's going to miss the next game. We thought that was a bit harsh, but we'll see it one way and probably you guys will see it another."
Coleman, however, said he was not implying that Glenn Whelan should have been sent off for leading with his elbow on Joe Allen in the first half.
I'm not saying anyone should have been sent off. What I'm saying is there was needle. We expected that. We didn't think we were going to come here and you were going to say, 'Go on, do what you like'. We knew what was going to happen.
"It was a typical derby game… The referee, it's not easy, he's got 60,000 screaming Irishmen down his neck every time there's a challenge.
"I thought it was a great atmosphere. The big disappointment is obviously Seamus and that's a great shame.
If you take that out of the 90 minutes, when it was 11 v 11, I thought we controlled possession without creating too many great opportunities, but we were definitely the team who looked like we were going to score.
"We got a man sent off and then it was all you guys, which you'd expect, but we stayed strong, We rolled out sleeves up and after the last 20, 25 minutes, I think you guys will probably be disappointed you didn't go on to win it more than we are going away with a point."
The42 is on Snapchat! Tap the button below on your phone to add!